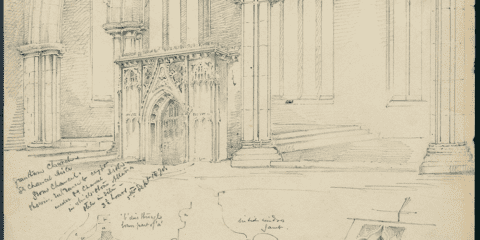 Architectural view drawings 1864 – 1874
A set of 96 drawings, in pencil and ink, on paper measuring 250 x 352mm. The drawings feature exterior and interior views of houses, churches and castles in Kent, Cambridge, Lincolnshire, Norfolk, Dublin, Germany, and France, and some detail drawings. A number relate to the architectural work of Sir Gilbert Scott. The drawings are currently being digitised for access online.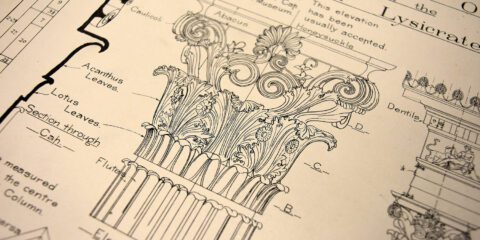 Rare architecture books and journals
The Library has published works dating from 1770 that were acquired to support the first students of architecture in Western Australia. Perth Technical School commenced a diploma of architecture in 1946, when a library was established by the school's Department of Architecture. Many of these classic works were donated by local architecture practices.
John Curtin Centre
The Library has architectural briefs, plans, models and specifications relating to the construction of the John Curtin Centre. The collection includes a comprehensive set of photographs relating to the development of the centre, which includes the John Curtin Gallery and the John Curtin Prime Ministerial Library.