"Welcome to Curtin Commons, an online storytelling space for Curtin alumni, staff, students and friends. Featuring a series of thought-provoking articles intended to inspire and enlighten, Commons celebrates the many amazing contributions of our Curtin community and how they are striving to create a brighter future for us all."
– Carmelle Wilkinson, Editor-in-Chief
Latest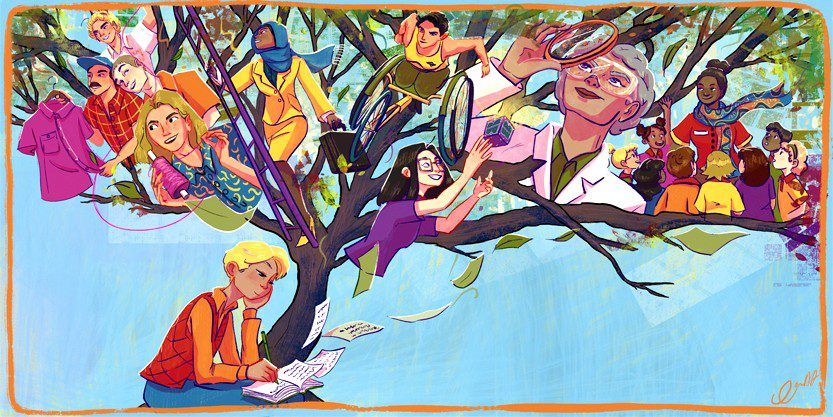 'The Branching Future' – a digitally-drawn illustration by Curtin student Nina Dakin for Curtin Commons.
For many cultures around the world, trees symbolise a creative source of storytelling. While sitting under an enchanting London plane tree on our Bentley Campus, with the sunlight streaming through the maple-shaped leaves, a writer puts pen to paper. Enlightened by Curtin's brightest minds and leaders they share thought-provoking accounts of our strong, diverse, and vibrant community. 'The Branching Future' brings to life the eclectic collection of inspiring and heartfelt stories that make up Curtin Commons.
Nina Dakin is a passionate Curtin Animation and Game Design student and President of the Curtin Illustration Club. Nina's mesmerising illustrations have featured in Grok Magazine, Curtin Writers Club, Paper Bird and more recently she presented on a panel at Perth Comics Arts Festival.
Check out the timelapse video of Nina creating the illustration here. We would love to hear what you think about the artwork, share your thoughts.
Features
Creative spotlight
For Creative Spotlight, Liam selects his top five favourite artworks which are from his most recent solo exhibition, Hope & Ruin (2021). Each piece explores the idea of the post-human world and the legacies we would leave behind. With the seed of humanity being technology, he explores how life would exist between the synthetic and the natural in the absence of the creator.
Never miss a story…
Subscribe
Subscribe to our Curtin Commons Noticeboard newsletter, and you'll receive the latest news, profiles and in-depth essays in your inbox every month!
If you're already a Curtin graduate, update your details to receive our newsletter automatically.
Give feedback
What do you think about Curtin Commons and the stories we're sharing? Have any ideas or a story you think we should cover? We want to know.
… and find out what your community cares about

Valerie Ah Chee (BSci Midwifery, 2011) cares about fostering a sense of belonging for Aboriginal women
"My biggest inspiration and role model is my mum, Dr Rosemary van den Berg, who was the first Nyungar woman to graduate with a PhD from Curtin. I worked on a painting to represent that intergenerational support, and hopefully empower other Aboriginal women to thrive at Curtin through their Moorditj Yorga Scholarship Program."

David Gribble (BApp Sci 2001, MBA 2006) cares about delivering impactful community safety programs for families in WA
"I have felt empowered to create change as part of some wonderful organisations that benefit many inspiring people – currently this is for the Constable Care Foundation in my role as CEO. Ethical decision-making, integrity and creating change for the better are my guiding personal values."

Molly Ryan (BA Fashion, 2020) cares about creating sustainable fashion
"The mindless consumption of apparel is a major contributor to the fashion industry's shameful environmental impacts. I want to promote responsible consumption of fashion products through education, awareness and innovation. We have the power to catalyse change by consuming less."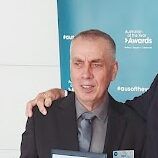 Letter to the Editor from Ken Gibbons (BApp Sci Biology, 1977)
"I read with interest the latest issue of Curtin Commons and especially the history of Grok and Curtin FM. I was the Student Guild President from 1977-1979 in a rather turbulent period in the Guild's history. Grok played an instrumental role in the survival of Curtin FM and also in the WA School of Mines (WASM) in Kalgoorlie; the University Administration was going to defund CurtinFM (formerly known as 6NR) and close the station. There were also recommendations that WASM should be closed and the courses transferred to the Bentley campus in Perth. Grok was involved in sharing the strong opinions of students who were against these proposals and was a vanguard for social issues on campus. I hope that the rich history of Grok has been preserved, as it is perhaps the best record and testament of the living history of students, their Guild and their stories of the past half century."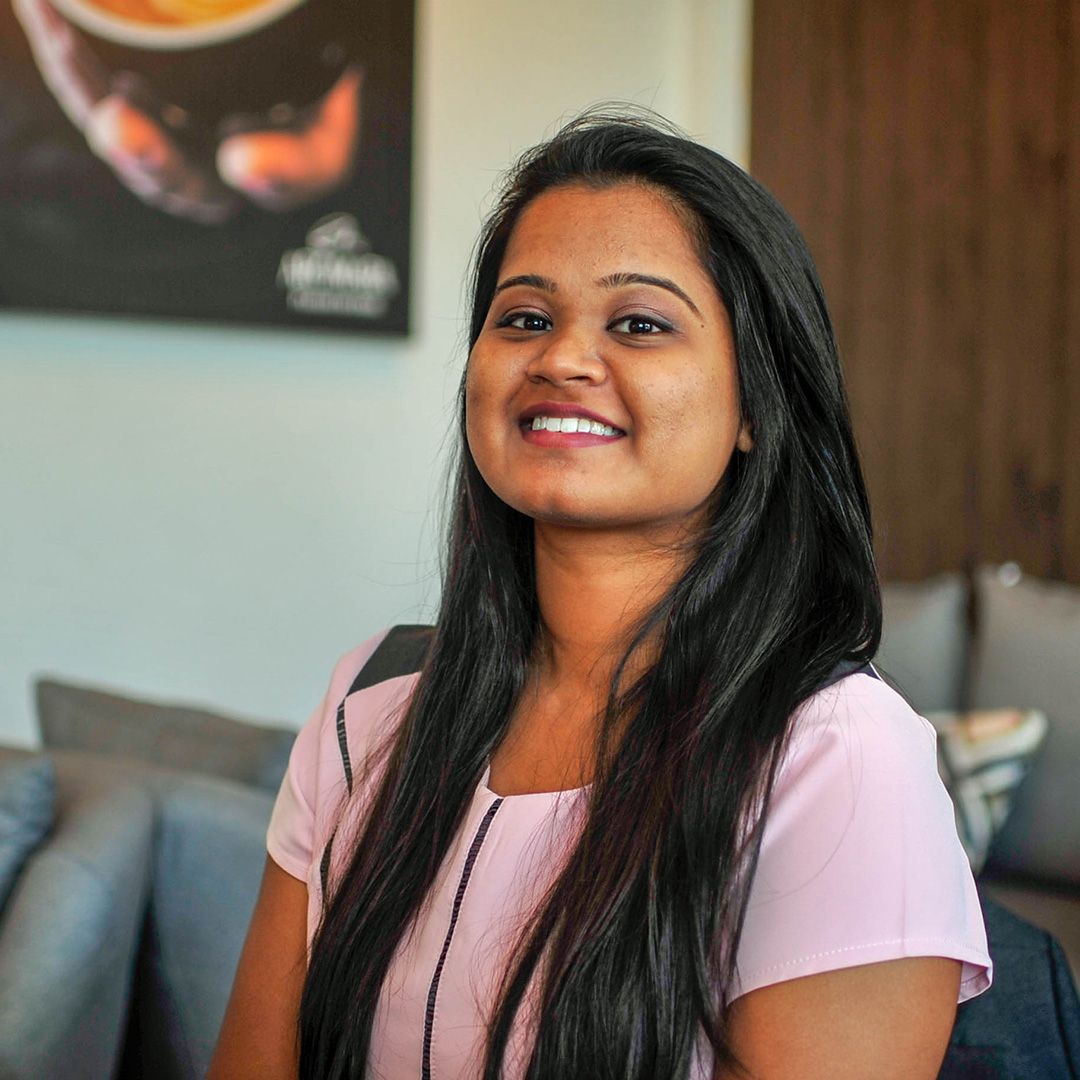 Dikshita Awotarowa (BCom Banking and Finance, 2020) cares about inspiring women to see themselves in finance
"I founded the Women in Finance and Investment Network to address the underrepresentation of women in these fields and evolve the public's perception of what a female expert in finance looks like. Hopefully by increasing our visibility, we can motivate the next generation of young girls to study finance."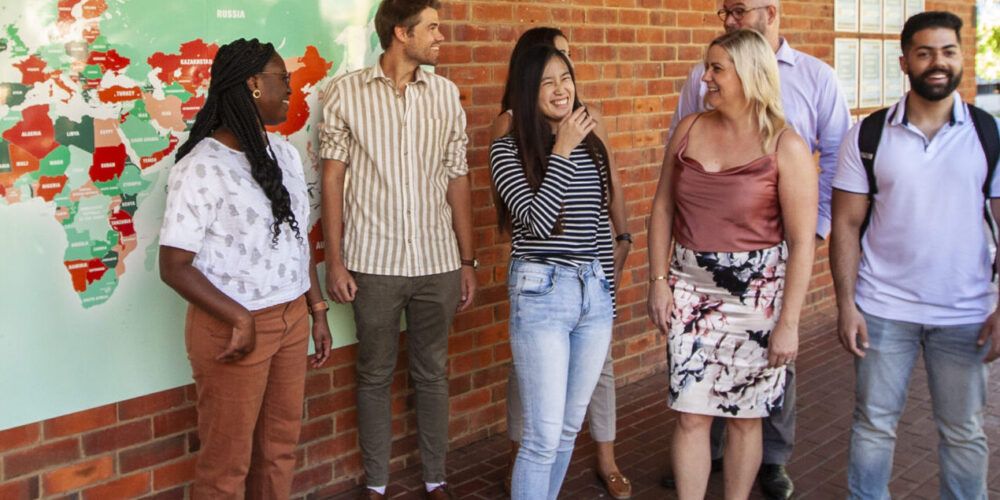 Acknowledgement of Country
Curtin University acknowledges the traditional owners of the land on which Curtin Perth is located, the Whadjuk people of the Nyungar Nation; and on our Kalgoorlie campus, the Wongutha people of the North-Eastern Goldfields.