Kaya Curtin! Engaging with Indigenous perspectives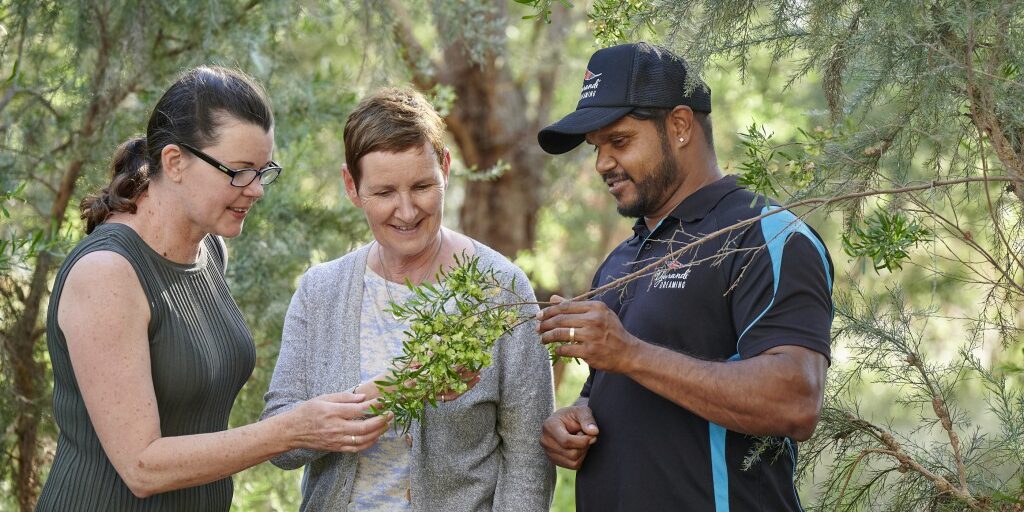 Barbara Cotter, John Curtin Gallery, Catherine Clark, Curtin University Library, and Nyungar and Yamatji man and artist Justin Martin gain inspiration from local flora for the TL Robertson Library artworks. Photograph by Frances Andrijich.
"Libraries should be welcoming for all people" – this is what we believe at the Library. However, in the past Indigenous clients and their needs were not directly addressed in our services and spaces. Deciding we could do better and inspired by cultural capability training, we set ourselves a goal to actively learn from and engage better with Indigenous people.
Encouraged by Curtin's Elevate Reconciliation Action Plan, the Library has been focusing more strongly on supporting diversity and incorporating Indigenous perspectives in our services, collections and buildings. Guided by the "nothing about us without us" maxim, we have been led by input from our Indigenous colleagues from Curtin's Cultural Capabilities team and Centre for Aboriginal Studies in our work.
We wanted to provide our staff and others in the Curtin community with a safe space to learn more about Indigenous culture and to network with like-minded people, so we started a book club. Our book club encourages Curtin staff and students to read a book on Indigenous matters, and then discuss it with each other and our Indigenous colleagues. The first book club event was held in December 2021. Attendees enjoyed discussing Bruce Pascoe's book Dark Emu and provided very positive feedback on the event. In collaboration with our Indigenous colleagues we will continue to host the book club on a regular basis.
We are also working on series of podcasts, which provide a platform for Indigenous staff and students to start conversation and to encourage wider discussion at our university. Several podcast episodes are currently in production and will be published in 2022.
We want representation and diversity to be built into core services like our catalogue. Our new catalogue facet will highlight resources containing Indigenous perspectives and make it easier for clients to engage with those materials. As we work to select materials for the facet, we are also conscious of the complexities of managing potentially hurtful and racist materials, and materials that are sacred or secret to Indigenous communities. There are no easy solutions in this regard, and we are mindful that as a research library we need to provide access to materials for research purposes. However we are keen to explore ways of making our collections safer and more inclusive for all.
In addition to our project work, we have a well-timed opportunity to remake our space and better welcome Indigenous peoples. Our main library, the TL Robertson Library, is undergoing extensive refurbishment and in our new designs we wanted to showcase local Indigenous culture and knowledge.
We have commissioned three new artworks that will feature prominently at building entrances, welcoming all into our space. The artworks are based on patterns of the Leeuwin Current which is linked to the temperature and rain of the Nyungar six seasons, and are guided by local Nyungar Elder Dr Richard Walley. Nyungar and Yamatji man Justin Martin forms part of the artist team and has worked with the community to select local plants that will be featured in one of these artworks, representing the commonalities of Western and Indigenous cultures.
Feedback from staff indicates that they appreciate engaging with Indigenous knowledge and ways of working as we improve our services and spaces. It widens our horizons and connects us to the lands on which Curtin's libraries are situated.
We have a long way to go on the path to Indigenous reconciliation, however we are hopeful our efforts will make a difference to the future.
We acknowledge the Wadjuk people of the Nyungar nation as the custodians of Country on which we live, and also acknowledge the traditional owners of Country throughout Australia. We recognise their continuing connection to lands, waters and communities and pay our respects to Elders past and present. It always was, and always will be Aboriginal land.
Written by Catherine Clark, University Librarian, Petra Dumbell, Academic Skills Advisor and Anita Sallenbach, Collections Coordinator