Postgraduate creative arts and communications
Why study with Curtin?
Five star teaching quality
Enjoy flexibility
Pair our globally relevant, interactive and practical courses with almost any previous qualification or experience.
Explore our postgraduate courses
Our diverse and flexible range of creative arts and communications postgraduate courses means you can put your passion to work by while gaining the skills, knowledge and experience to develop your passion into a meaningful career.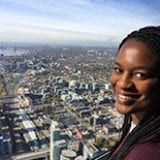 Abby Asomani, Master of Information Management
After graduating, I spent a year in Canada working with a public health start-up that leverages data to predict the spread of infectious diseases. The company was one of the first to identify the emerging risk from COVID-19. My degree allowed me to enhance my career with overseas experience, and gave me the expertise and confidence to contribute in a diverse, multidisciplinary and forward-thinking environment.
The future of internet fame
On the internet, anyone has the potential to become a celebrity. Some actively seek internet fame by carefully cultivating their online identity; while others may become unwitting internet celebrities when a stray, unflattering image of themselves is used as the subject of a meme.
In this episode of The Future Of, digital anthropologist Dr Crystal Abidin discusses the rise and fall of both 'deliberate' and 'accidental' online celebrities.
Help is at hand
See our frequently asked questions or get in touch with us below.
---
Opening hours:

Mon to Fri: 8.30am – 4.30pm, except Tues: 9.30am – 4.30pm (AWST). Closed public holidays.