The Nike Swoosh, the Coca Cola bottle, the Louis Vuitton logo, stop motion animation – these are just some of the iconic designs and creations instantly recognised in popular culture around the world. Behind them all are talented creatives with an eye for design and a keen understanding of their audience.
If you also have the drive to create unforgettable designs and push artistic boundaries, try a Bachelor of Design – a degree course where you can develop your technical capabilities and transform your talent into an asset.
What is a Bachelor of Design?
A Curtin Bachelor of Design gives you practical and theoretical skills that prepare you for a career as a professional designer. It caters for a broad range of interests, offering the following majors:
Along with your chosen major, you can study other design subjects or subjects from different learning areas, based on your interests and career goals.
For example, our Bachelor of Design grad Brittany Garbutt partnered her Advertising and Design major with subjects in photography and illustration. She then went on to establish the highly successful Pretzel Australia.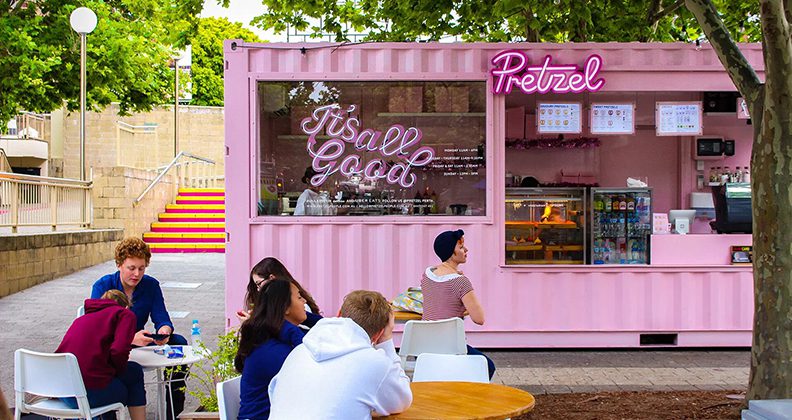 As a Curtin design student, you'll not only learn skills relevant to your chosen discipline, but you'll also develop fundamental skills valued by all employers – communication, teamwork, critical thinking, initiative and resilience.
What can you do with a Bachelor of Design?
As a designer, you can forge a career creating and improving products, materials, apps and art used and enjoyed in all areas of life, such as smart phones, mobile apps, furniture, films, clothing, advertisements and games.
"The field of design continues to grow at an exponential rate and pervades every aspect of our daily lives," says Bachelor of Design course coordinator, Jonathan Pillai.
You can find work with marketing and events firms, creative agencies, media companies, special effects companies, photography studios and publishing houses; or you can go freelance and choose your own work environments.
Careers in Design
Start your design career today
There are so many careers possible with a Bachelor of Design – careers that strike the ideal balance between creativity and practical application, and offer job stability and growth.
If you're ready to kick-start your dream design career, apply for our Bachelor of Design today.