Sustainability is a growing concern for civil society and has become a core consideration for the finance sector and all levels of government.
Transitioning towards a sustainable future requires multi-disciplinary approaches and creative thinking spanning policy, engagement, communications, the arts, and of course, planning, design and technology. Humanities scholarship is fundamental to this.
The Sustainable Futures Platform supports research, learning and engagement activities within the faculty and across the university, building on Curtin's international reputation for leadership in this space.
Current focus areas include sustainable cities, urban and regional planning and design, climate policy, circular economy, environmental and energy humanities, localisation of the SDG's, and sustainability in education.
The urgent need to respond to climate change, pollution and biodiversity loss in an equitable way highlights the importance of individual and collective action towards a more sustainable future. Humanities scholarship is committed to this agenda.
Sustainable Futures Student Research
Developing A Practice-led Policy Framework for Community Based Green Adaptation Strategy in Megacities: Dhaka, Bangladesh
MD Ashikuzzama, a Higher Degree by Research student in the Curtin School of Design and the Built Environment, is exploring research that focuses on understanding the governance landscape of urban rooftop farming in megacities to integrate social innovation with local governments' current approaches to sustainable development.
An urban rooftop farm offers individuals a personal recreational sanctuary, providing respite from the often-polluted urban environment. It facilitates social interactions by fostering the exchange of harvested produce, knowledge, and ideas among community members, promoting communal engagement and collaboration.
This study will demonstrate utilising a socially diffused practice into a formal pathway to make cities more liveable and resilient.
A socially diffused green adaption practice like roof-top farming, has immense potential in mobilizing local resources and ensuring a sustainable future for our cities in transition.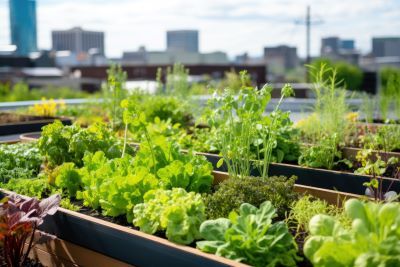 Recent news
Our Schools
The Faculty of Humanities encompasses three schools, each comprising multiple disciplines specialising in various degree programs. At Curtin, our schools offer a comprehensive education in practical and transferable skills that can be applied in multiple professional settings.
School of Design and the Built Environment
Do you possess a creative inclination and a keen interest in design, urban culture, architecture, and the environment? Or do you aspire to enhance the living standards of all individuals?
School of Education
Are you passionate about making a positive impact on others? The School of Education equips professionals with the necessary skills and knowledge to excel in a diverse range of education-related industries. Our programs have earned national and international recognition for their exceptional quality.