An absorbing modern take on a Shakespearean tragedy is now showing at Curtin's Hayman Theatre.
At Curtin's Centre for Culture and Technology (CCAT), Professor Katie Ellis researches disability representation in the media, as well as accessibility issues for disabled individuals. In 2020, she heard about a call out from the University's Research Office for projects that united health sciences and the humanities to explore the area of neurodiversity.
This week, Ellis will be part of the first audience to see Hayman Theatre's production of Teenage Dick and its layered exploration of disability representation.
Teenage Dick is a contemporary take on Shakespeare's Richard III. While Shakespeare's protagonist is a hunchbacked villain, Teenage Dick is a 17-year-old schoolboy who lives with a spinal disability and experiences classroom bullying, which he attempts to neutralise by winning the election for class president.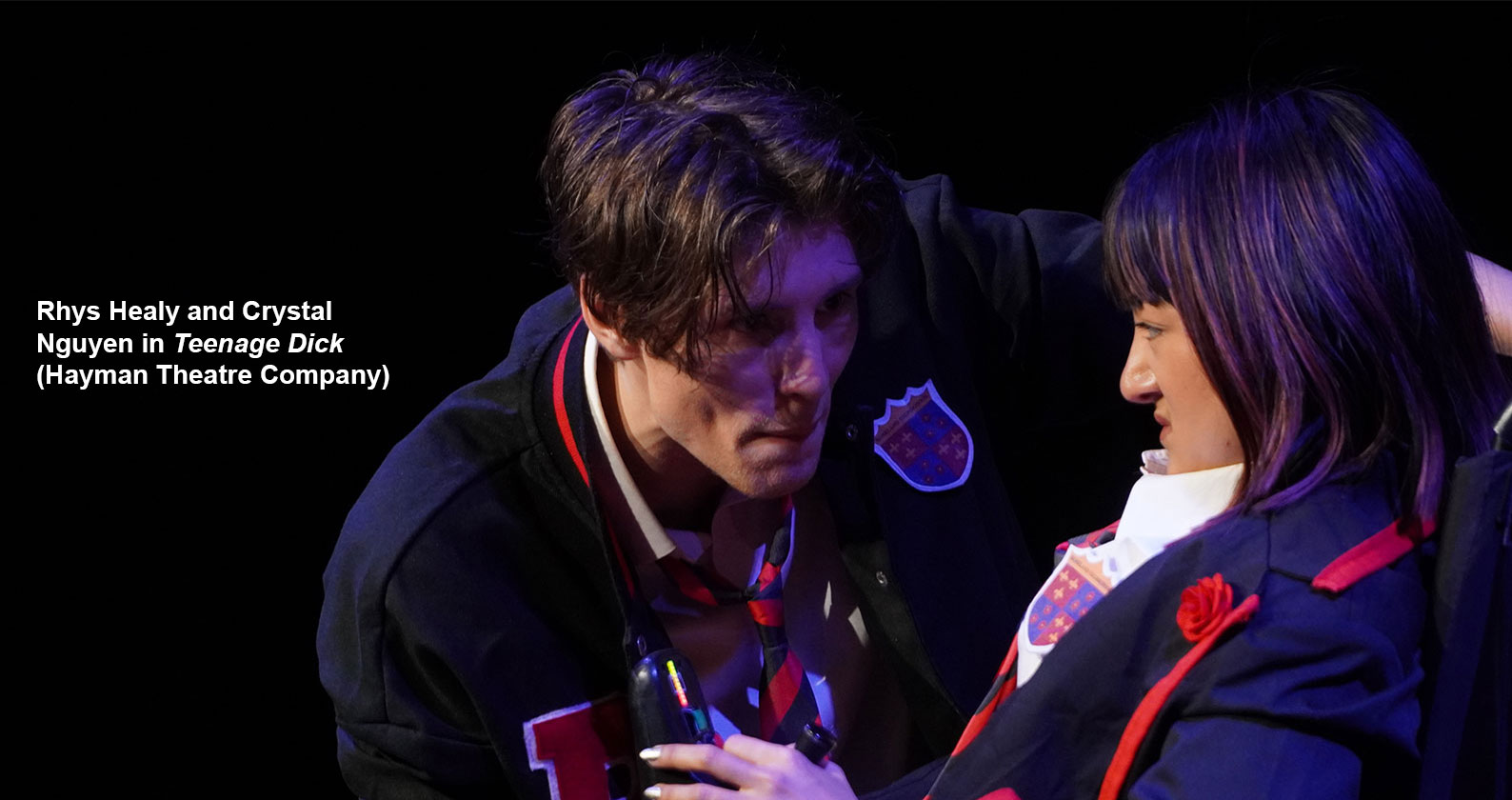 Presented by Curtin Theatre Arts and CCAT, the production is directed by celebrated Australian neurodiverse director and disability rights activist Dan Graham. Taking on the lead role is Crystal Nguyen, a Curtin Theatre Arts student whose stage career began 10 years ago with an appearance in Vietnam's Got Talent.
Award-winning playwright Dr Suzanne Ingelbrecht is assisting Graham. Also a CCAT disability-rights researcher, but with a particular focus on creative practice, Ingelbrecht says that in the initial auditions "Crystal blew Dan and I away with her talent and intuitive performing instinct".
Like Ingelbrecht, Ellis and Graham, Nguyen – who lives with the genetic disorder brittle bone disease and is a powered-wheelchair user – works passionately to challenge the stigma surrounding disability and self-expression through the arts. And belying her petite stature, she has a powerful, eloquent voice.
"I continually discover new ways of taking ownership of my strengths as a disabled performer," Nguyen says. "Playing Richard is a big role to fill, and with Kate's support I hope I can do him justice – I continue to be in awe of Kate's artistry and integrity."
She's referring to her role mentor, Kate Mulvany – an award-winning actor who's enjoyed major Hollywood production roles since graduating with a Curtin degree in Theatre Arts. Nguyen says that working with Mulvany helped her to find "the human" in the misunderstood character of Richard III. In fact, Mulvany won a Helpmann Award for her performance as Richard III, in which she chose to reveal her real-life spinal disability, scoliosis (which the real King Richard III also lived with), by exposing her bare back to the audience.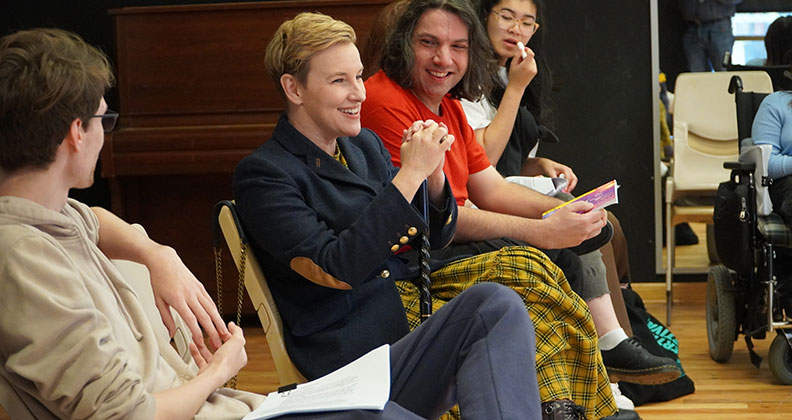 Cultural representations are changing
Ingelbrecht believes that while the past five years have seen significant changes in how disability is represented on stage, those changes are just the beginning.
She's been working with artists with disability for about 10 years, directing and facilitating creative development theatre processes, most notably with artists on the autism spectrum through her ensemble company, Fragmented Artists.
"I think one of the seismic shifts in recent times is the recognition that characters that have disabilities should be played by actors with lived disability experience," she says.
It was Ingelbrecht who suggested inviting Graham to Perth to be a guest director for the Hayman Theatre.
"I came to know Dan years ago when we collaborated on a paper* about leadership accessibility in the Australian performing arts. We've been friends and allies ever since.
"It was Dan who suggested we present Teenage Dick, because he felt such empathy for the Shakespearean character Richard III. We gave the play to Katie (Ellis) to read and she was immediately enthused – and to have Dan, an artist identifying as neurodiverse, directing!"
But of course, being 2020, COVID had a leading role, and for two years thwarted the plan to fly Graham from Sydney to Perth. In the meantime, he continued his advocacy and support for neurodiverse performing artists, and has just received a coveted Winston Churchill Trust fellowship that will see him travel to the UK and the US investigating opportunities for professional performing artists with neurodiversity. But right now, Graham – who describes himself as "a method director and a perfectionist with a disability" – is relishing the experience working with Curtin students and with Nguyen in particular.
"Crystal has a powerful authenticity. But I don't want the audience just to recognise that, and to leave happy that they've had a nice night at the theatre. I'm interested in exploring the human condition and for the audience to have felt something."
His views align with the sentiments of playwright Michael Lew, who has explained that he intended the play to "re-examine tired tropes about the disabled, create stories for people we're not otherwise seeing … ". Those motivations, in turn, link strongly with Ellis's exploration of 'disability culture' and representations of and participation by disabled artists.
Research and creativity with mutual interests
Ellis explains that there are deep-rooted historical factors – going back to biblical representations – that make the arts 'hostile' to disabled arts and media makers.
"Narratives that position disabled people as either objects of fear, pity or inspiration," she explains, "and Richard III is a classic example of the obsessive avenger, a character who's out to get the world.
"The media still plays into those cliches of people with disabilities as either a source of fear or inspiration. They are still represented within charity models that we can give to, to make us feel better about ourselves, without thinking about the role we as a society play in disabling people who have impairments."
She points out that over the past 20 years, research has highlighted the need for self-representation, agency, and access as part of an inclusive cultural sector.
"Arts and media representation, employment, and participation play a critical role in the realisation of human rights for disabled people."
Ingelbrecht agrees that the arts have a responsibility to present more creative works that serve disability advocacy "and to be more experimental in the form and type of creative works that explore disability and present to audiences".
"There are other research questions in the disability space, such as how technology can help disabled artists as well as disabled audience members – there's a lot to be done on that score that we've barely looked at."
And from his perspective, Dan Graham is hoping for "the time when diversity on stage is incidental, and truly reflects the world we live in".
The Hayman Theatre's season of Teenage Dick is from Tuesday 11 to Saturday 15 October. To support accessibility and encourage deaf and hard-of-seeing audience members into the Hayman Theatre, the performance on Wednesday October 12 will be an AUSLAN-interpreted performance and the performance on Saturday October 15 will be audio-description supported. Buy your tickets online.
* To be published in the Routledge Handbook on Critical Disability Studies (forthcoming) edited by Professor Katie Ellis and Professor Mike Kent, under the research program Digital Disability, Mental Health and Social Inclusion, at the Centre for Culture and Technology.