Finding hope amid a pandemic: stories from around the world
02/09/21. By Luisa Mitchell. 10 min read.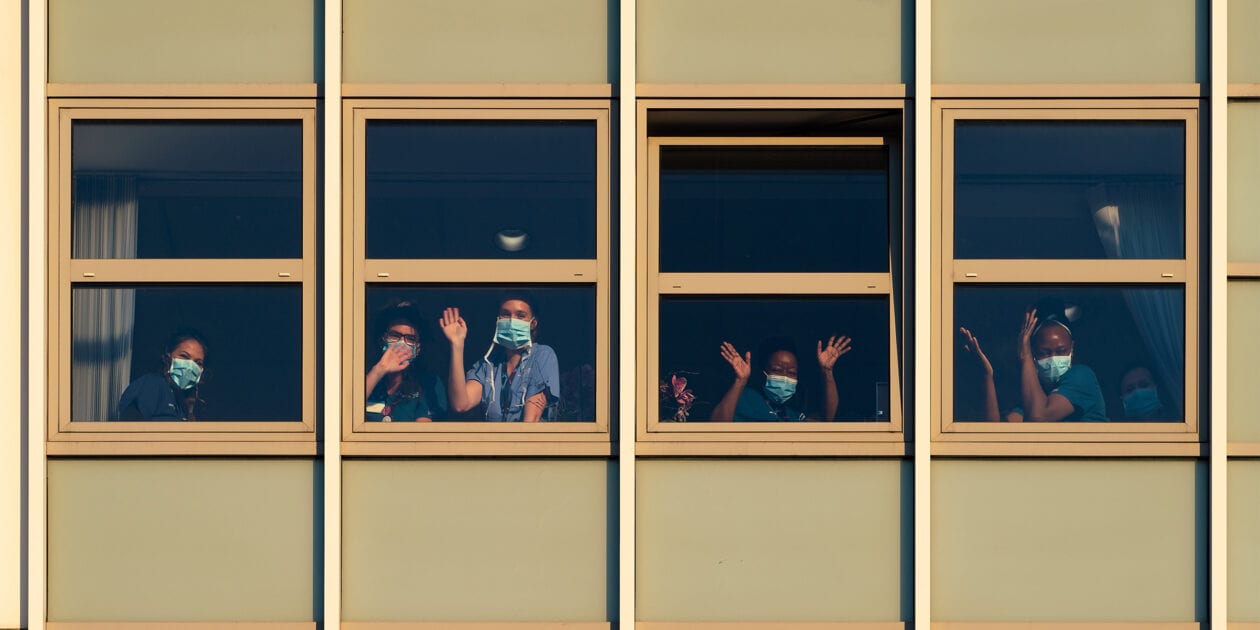 Image: National Health Service (NHS) workers wave from windows of Chelsea and Westminster Hospital as crowds cheer them on, 2020. Photo sourced from Shutterstock.
We recently spoke to Curtin graduates living and working all over the globe — London, Singapore, Perth, Kuala Lumpur, New York, and Houston — about what it has been like to experience the pandemic where they are, the challenges they've faced, and ultimately, how they are managing to get through it.
Facing the unknown at the outbreak
Australian-born Emily Regan (BS Nursing, 2015) was living her everyday life as a National Health Service (NHS) nurse at the Guy's and St Thomas' NHS Foundation Trust's Accident & Emergency department in London when early reports of a possible global pandemic reached her. Emily was initially told by senior officials not to be too concerned.
"This was ironic because a few weeks later I was donning more than respiratory-level personal protection equipment – a hair net, shoe covers, a FFP3 mask, face shield, long sleeve gown, double gloves, and changing my scrubs as I left the negative pressure room where patients were. Even then, it didn't feel real."
When Emily received a hospital-wide memo saying all study days for nurses and non-emergency surgeries were to be cancelled immediately, and that the hospital had purchased more than 200 ventilators, the severity of the situation really hit home.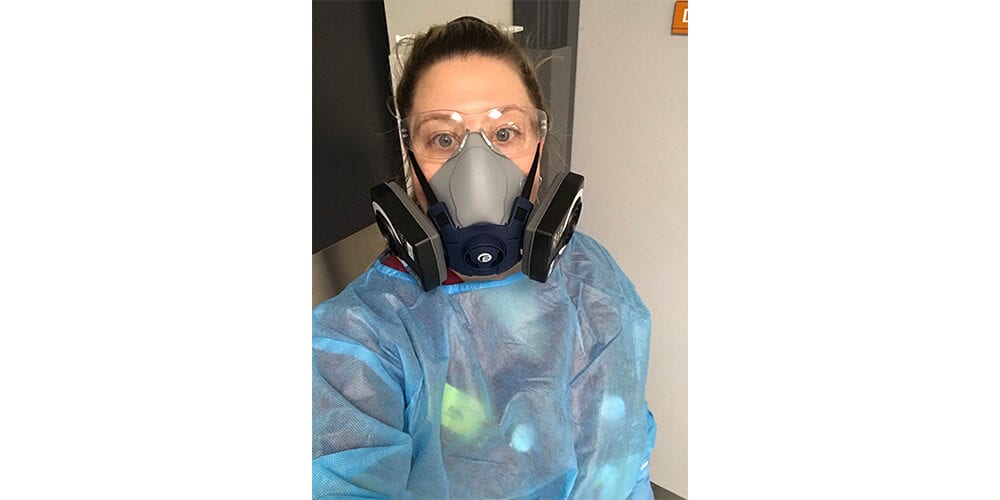 Image: Emily Regan in full protective wear at the hospital in London where she works. Supplied by Emily Regan.
Meanwhile, in Malaysia Datuk Nik Hasyudeen (Bachelor of Business, 1986) was worried about his company Lembaga Tabung Haji, which helps Muslims with limited means make the pilgrimage to the holy cities of Mecca and Medina. The Malaysian government introduced a lockdown on international travel in response to the pandemic, putting an end to Nik's 2021 plans and disrupting the outlook of a company hugely reliant on international travel.
"It was challenging when most of our normal activities had to be stopped," Nik says. "At the same time, we had to try to work remotely and still be effective. It was a new experience for all of us."
Image: View of empty Kuala Lumpur, Malaysia during nationwide lockdown to prevent the spread of COVID-19 (April 2020). Photo sourced from Shutterstock.
Jacinta Ebsworth (Bachelor of Commerce, 2014), an engagement and events specialist living in Brooklyn said that the fear of the unknown was the confronting new reality of the pandemic. "Going to a doctor's appointment in the first week of lockdown felt like a daunting journey. After that it felt like survival mode. I planned everything so that I only had to go outside once every two weeks for supplies to limit my chance of exposure."
But the worst was yet to come. For Jacinta, the hardest challenge was seeing the ways the pandemic disproportionately affected people of colour and those living in poverty.
"A couple of months into the pandemic, there had been multiple murders committed against black men and women across the country. People were unemployed and had lost their healthcare, others were on the brink of eviction, broke, frustrated. So when the Black Lives Matter protests started, an Aussie friend and I arranged to go to a protest in Prospect Park. At that point I hadn't been outside, let alone around a large group of strangers, but I thought, 'what are we even doing here if we aren't supporting each other?'"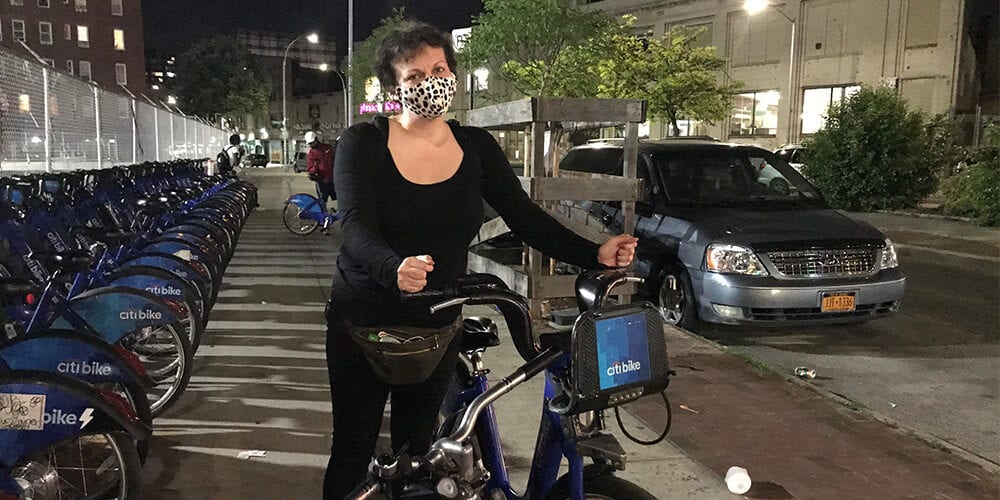 Image: Jacinta Ebsworth in New York City, 2020.
Allen Varghese (Master of Engineering, 2019) had recently moved from his home country of India to Houston, Texas, in search of a new job and a fresh start. The pandemic quickly took hold and his original plans were thrown out the window.
"I felt like the government here took the situation very lightly," says Allen, "and kept conveying false information to the public about the situation being under control. As a result, people continued to live their lives as they had before, but the government never anticipated how quickly the virus would spread."
Allen believes the US government's refusal to prioritise COVID-19 testing, contact tracing and the delay in imposing an official lockdown led to thousands of unnecessary deaths.
Jarrad Brown (Bachelor of Commerce, 2007) and Linda Le (BS Health Promotion, 2007), married partners who live and work as business advisers between their homes in Singapore and Perth, were in San Diego, California at the time of the outbreak and quickly booked flights to return to Western Australia. Linda recalls the feeling of uncertainty and a sense of rising panic at the airport as they were asked to change flights, with the long wait times making her realise the gravity of the events that were unfolding.
"Within days of returning to Australia the borders between Perth and Singapore were tightened, new rules were announced each day and we suddenly found we couldn't return to Singapore," she says.
The new day-to-day reality
Back in London, Emily was suddenly dealing with people presenting with COVID-19 symptoms week after week. The hospital was overflowing and understaffed, and with everyone anxious and upset, the atmosphere was tense.
"As lockdown went on, and then the second lockdown and the third, it really took its toll. Having no life outside work when you are working in some pretty high-stress environments and with no way to de-stress like you did before, you have to get creative. It was exhausting."
Emily said that the United Kingdom, one of the most badly affected countries in the world (and at one point, the worst-hit European country in terms of official death toll in 2020), was particularly vulnerable to the virus due to its highly built-up population, communal infrastructure and poor government management.
"People cohabitate here more than in Australia, public transport is relied on, there's a larger mix of cultures, which might have a different history with, and relation to, medicine and healthcare. There were also some disagreements on how the government was handling the pandemic and the mood in the country changed. We weren't all in it together anymore. More public protesting began around restrictions and COVID itself. The messages coming from the government weren't clear and concise, so confusion and frustration set in. When the second wave came, things weren't acted on as swiftly as they could have been and so there were even more admissions to the intensive care unit than the first wave."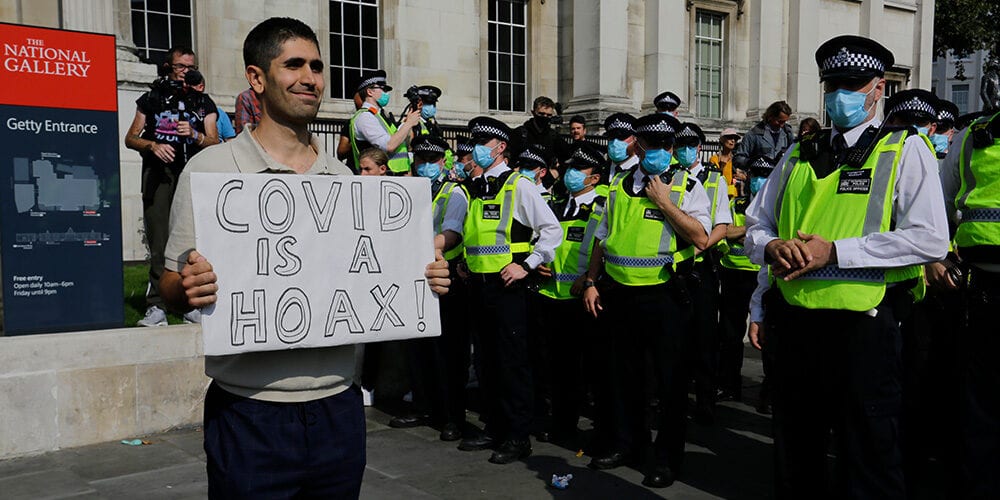 Image: A man protests in Trafalgar Square, London, against the mandatory use of face masks, COVID vaccines and social distancing restrictions. Photo sourced from Shutterstock.
Nik also noticed divided reactions to how the pandemic was being handled in Malaysia. Some people took the new lockdown restrictions seriously, while others showed a level of indifference he found frustrating. Social media, in his opinion, only made matters worse.
"Social media became a platform for unproductive public debate. There was a lot of concern from the public about ensuring people's livelihoods. Some people refused to accept the severity of the pandemic and demanded that their lives return to normal."
For Jacinta, living in New York meant she was at the centre of one of the world's worst-hit cities in 2020.
"It was chilling seeing the streets quiet and knowing there were neighbourhoods with hospitals overflowing with people lining up for treatment. Body bags were coming out to be put in refrigerated trucks and used as temporary morgues. New York City was the poster child for how bad it could get in densely populated cities if they didn't enforce lockdowns, social distancing and the use of masks."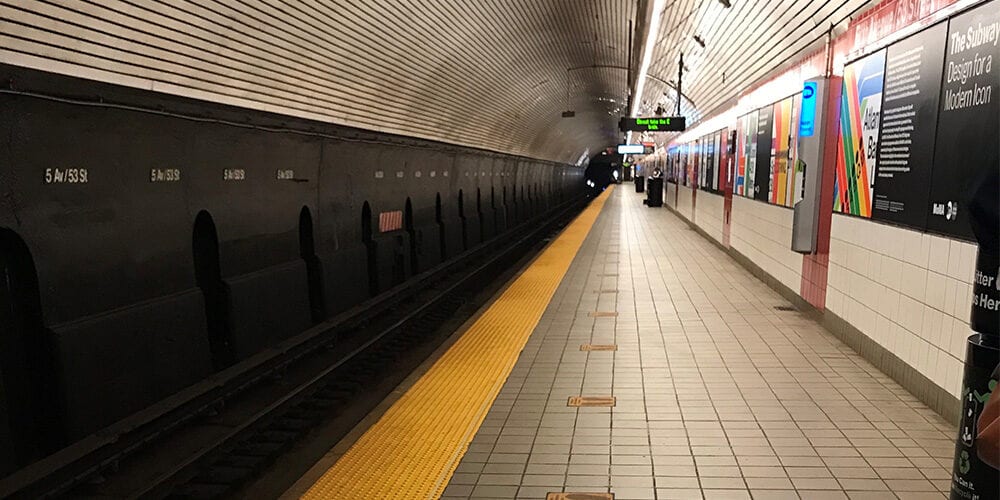 Images: An eerily quiet New York City during lockdown. Photos supplied by Jacinta Ebsworth.
Allen was one of many people who contracted COVID-19 in the US, and luckily managed to recover. He felt the impact of the virus both mentally and physically.
"I didn't expect it to take such a toll on my body. This thought strikes fear in your mind and that slows the recovery. I was down for a week with chest pains and had trouble breathing. My fever never went down that whole week. Even after I felt physically better, I was drained mentally—I knew the biggest struggle would be coming back mentally strong."
It brought us together
While just weeks before the pandemic hit people were shouting in nurses' faces and complaining about long waiting times, Emily suddenly found a huge shift in public support for people in her line of work.
"Nurses were now heroes in people's minds," explains Emily. "Local restaurants were delivering food for us, companies were giving huge NHS discounts, people were standing outside every week clapping for us. It was just amazing, the sudden support we had."
Despite all the challenges and immensely stressful work environment at the hospital, Emily says she still felt lucky that at least she got to see people every day and go outside for longer periods of time, unlike most people living in the United Kingdom who were restricted to their homes. She also believes that the experience of going through something so traumatic together helped her to forge stronger relationships with her colleagues.
"We just know what we have all been through, which no one else can really understand. No one back home in Australia, apart from maybe some friends in Melbourne, really have any idea of the impact that extended lockdowns have on you."
Linda and Jarrad also both felt unusually fortunate. The time spent behind WA's hard border lockdown gave their family the opportunity to spend more time together and bond, especially after years of difficult schedules and long-distance communication due to their busy expat life in Singapore.
Linda feels it offered her a kind of epiphany — she realised she needed to wind down her coaching business and focus instead on other businesses that she and her husband ran together.
Image: Jarrad Brown and Linda Le in Singapore again after 7 months away. Photo supplied by Linda Le.
Although he agreed with the restrictions in Malaysia, Nik still found the lack of face-to-face communication during lockdown particularly difficult.
"Normally in Malaysia we would celebrate various occasions for their significance to our diverse communities. COVID-19 took that all away. We were limited to celebrating only in our homes, with no visitors and no feasting. The spirit was no longer there."
But somehow Nik also found beauty in the way that his fellow countrymen would overcome the challenges of isolation and try to cheer up people who were struggling.
"I felt that we were more Malaysian when we were being tested by the pandemic as we had to work together to keep ourselves safe and ensure that people's livelihoods continued."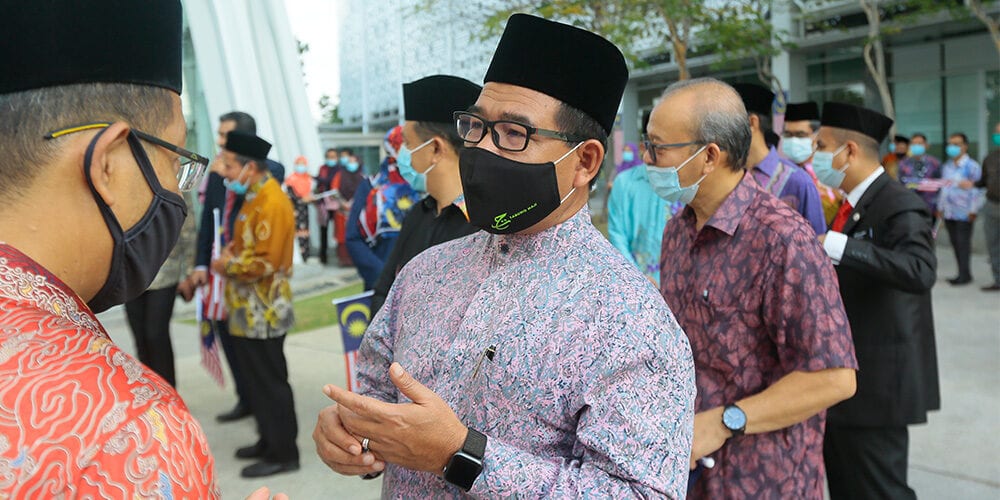 Image: Nik Hasyudeen in Kuala Lumpur, Malaysia. Photo supplied by Nik Hasyudeen.
Jacinta agrees, saying she found a sense of community through the shared experience of suffering and couldn't help but admire the creative ways in which people helped others in need.
"Restaurants started GoFundMe pages to fund meals for frontline workers and food banks were making school lunches for children who had to move to remote learning," she says.
More than a year has passed since the outbreak first started
The pandemic's impact continues to be felt in many different ways. Emily has noticed a shift in the way people relate to those working in often overlooked and underappreciated jobs.
"When the country shut down, the people having to put themselves on the front line were often making minimum wage, or close to it. They were shop assistants, public transport workers, delivery drivers and garbage collectors. All these jobs that are often not valued or are looked down on, but in a crisis they're some of the most needed."
For others, the risk of losing a loved one still hits close to home.
"During the pandemic we lost a very close friend and family member," says Linda. "Not being able to go to their funeral was so saddening. Not being able to be there to help those dearest to you was difficult."
More recently, Allen has been challenged by stories of friends and family suffering with the pandemic in India, which has seen a huge surge in cases due to the Delta variant.
"India made the same mistake America did," Allen says. "They relaxed, thinking they had control over the spread. After that, it became out of control like a raging fire. Every day I was hearing some bad news. The most heartbreaking of all was hearing that some of my friends lost either their father or mother to this virus. I wished I could have been there in person to help them. The saddest thing is knowing that people are losing their lives due to lack of medical supplies and proper treatment. This is all because of the government not being prepared."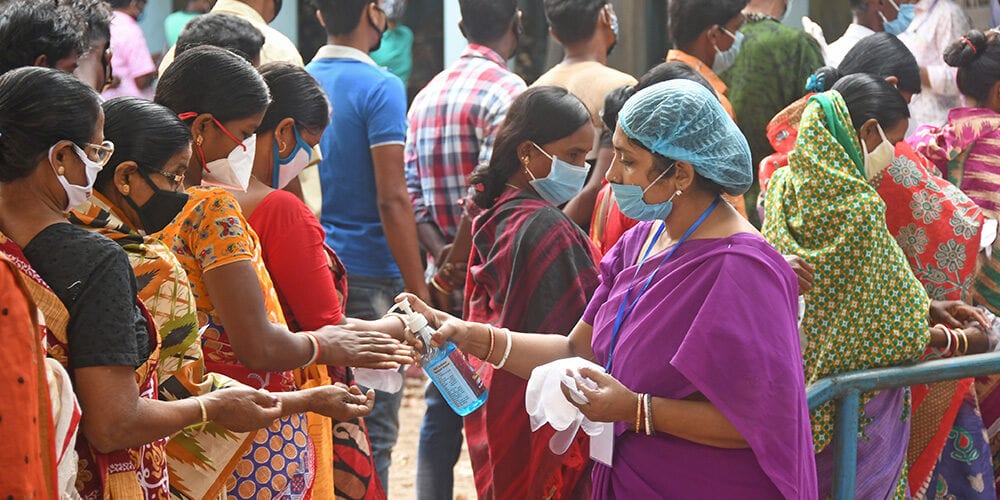 Image: People casting their votes at polling booths in Burdwan, West Bengal (India) in April 2021. Photo sourced from Shutterstock.
For Nik, the pandemic has highlighted how vulnerable we all are. "We are fighting an enemy we can't see, yet the impact on many communities is severe. The pandemic has taught us that if we want to survive, we need to collaborate and we need to give. The spirit of giving was elevated during the crisis. People from different backgrounds, races, colours and beliefs did not have any problem assisting those less fortunate, irrespective of who they were. That was amazing to see."
"I volunteered when I could for food banks and donated to causes locally and nationally," says Jacinta from her home in Brooklyn. "Seeing people shopping for their neighbours who were elderly or vulnerable and the whole city clapping and banging pots and pans for frontline works was incredible."
Yet despite these moments of solidarity and community, no one can dispute that people's lives have changed irreversibly.
"I am still trying to work through the effects the pandemic has had on me," says Jacinta.
If there is one lesson that Jarrad and Linda have taken with them, it's that we need to be kind to everyone, because we never know the battles others may be fighting. "There is so much happening behind closed doors, whether people are struggling financially, facing domestic abuse or are isolated. The best thing we can do is find a moment to connect with friends and check how they're going," says Linda.
She and Jarrad have since safely returned to Singapore and continue to catch up with their friends who are living overseas — organising cooking classes and exercise sessions – essentially creating their own 'micro-community' online. They also find a sense of fulfilment in giving back to the community by mentoring current Curtin University students… via Zoom, of course.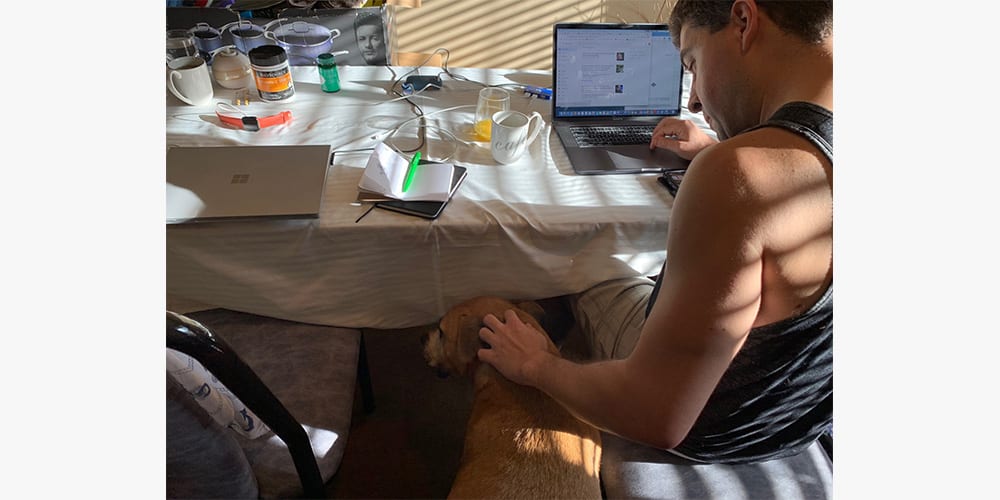 Image: Jarrad Brown working from home. Photo supplied by Linda Le.
Meet our graduates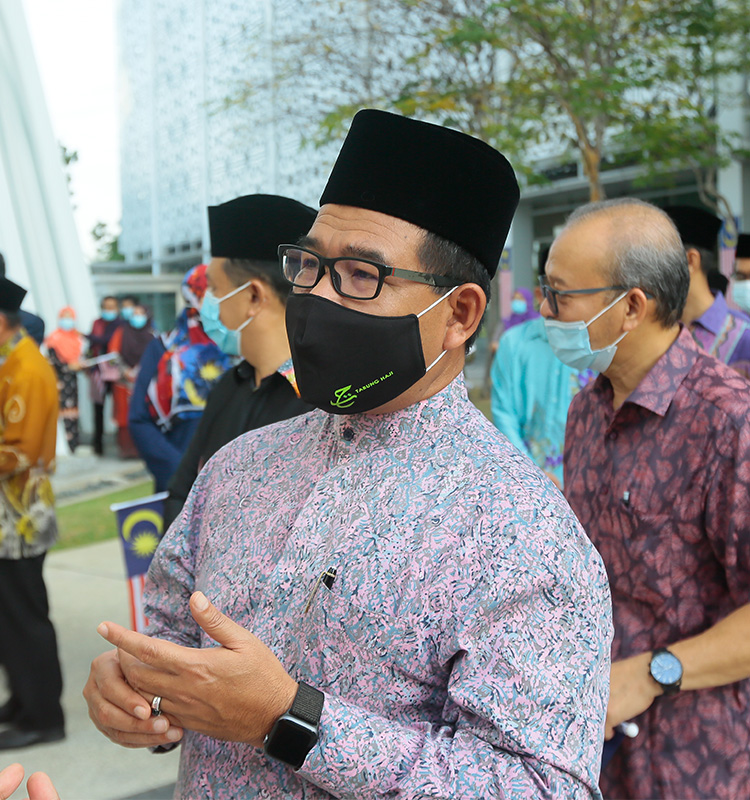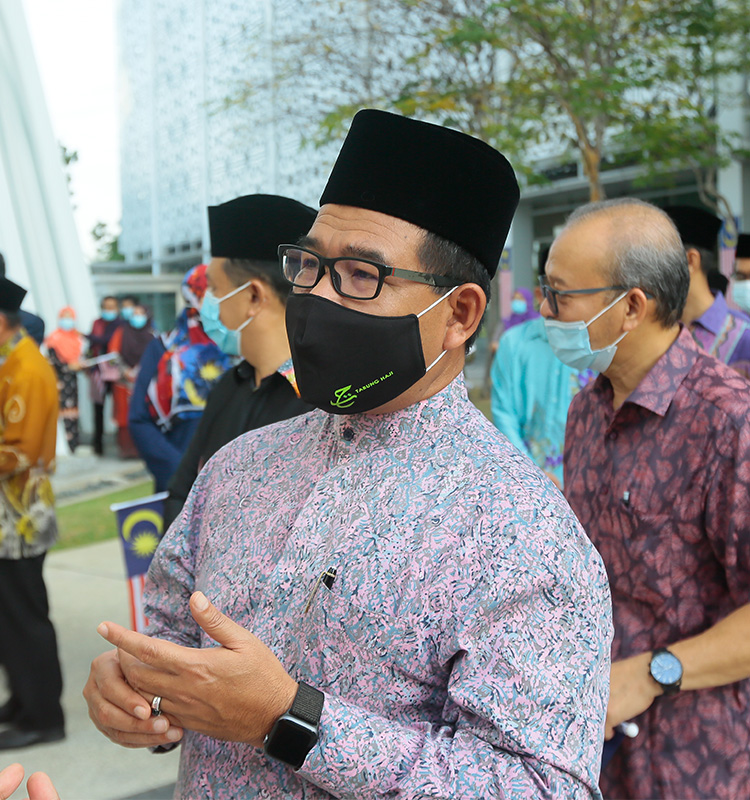 Emily Regan
Emily is an Australian nurse working in Accident and Emergency at a major London hospital. She graduated from Curtin University with a Bachelor of Science (Nursing) in 2015, and is one of our inspiring young graduates recently featured on our #Talks4Change podcast speaking of her experience working in a hospital during a global pandemic. Listen here.
Find out more about our Young Alumni Program.
Datuk Nik Hasyudeen
Nik graduated from Curtin in 1986 with a Bachelor of Business. He is now the CEO and Managing Director of Lembaga Tabung Haji, Malaysia's only Hajj institution, helping Muslim pilgrims prepare for the costly journey to the holy cities of Mecca and Medina.
In 2020, Nik was recognised for his services and bestowed with Malaysia's prestigious Panglima Mahkota Wilayah award, which carries the title 'Datuk'– similar to the British knighthood title 'Sir'. Read his full story.
Jarrad Brown
Jarrad graduated from Curtin with a Bachelor of Commerce in 2007 and is now a financial adviser for Australian expats living in Singapore and the surrounding region. Connect with Jarrad.
Jarrad is also a former alumni Chapter member and is passionate about mentoring and giving back to the next generation of students who are studying commerce and business.
Linda Le
Linda completed her degree in Health Promotion in 2007 and currently works as a business coach in Singapore.  She is also a former alumni Chapter member and enjoys mentoring Curtin business students in her free time.
If you are interested in mentoring Curtin students like Jarrad and Linda, we'd love to hear from you. Get in touch with us via alumni@curtin.edu.au.
Jacinta Ebsworth
Jacinta graduated from Curtin University in 2014 with a Bachelor of Commerce. She is passionate about education and is now the Assistant Director of Ceremonies and Events for the Pratt Institute.
As you can imagine, she has had to pivot quickly in her career to work in the post-pandemic world. Recently, she converted a student graduation with 1500 students from an in-person ceremony to an online digital experience. Connect with Jacinta.
Find out how you can help the next generation of business students make a difference.
Allen Varghese
Allen graduated from Curtin University in 2019 with a Master of Engineering (Electrical Engineering). We are pleased to share that he successfully found work in the United States as a field service technician, and has decided to continue his education – he has enrolled in a user interface designing course.
Find out more about our Science and Engineering graduates.
___
Share this article:
Explore more information featured in this article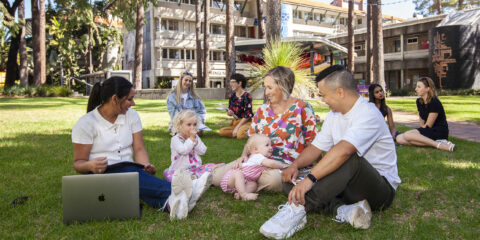 Curtin Cares
The Curtin Cares fund was launched in 2020 to help support students, nurses and teachers during the ongoing Covid-19 crisis. Now, it continues to provide assistance for students at Curtin across various disciplines. You can give to students who may be experiencing financial hardship today.