This internet browser is outdated and does not support all features of this site. Please switch or upgrade to a
different browser
to display this site properly.
Business Administration
Master by coursework
Take the next step in your career and become a confident, equitable 21st century leader , equipped with the skills to succeed in a global business environment.
Select your preferred campus:
2022
Trimester 3
On campus and online
2023
Trimester 1
On campus and online
Trimester 2
On campus and online
Trimester 3
On campus and online
Outline
If COVID-19 restrictions apply, we may need to make changes to units and/or delivery modes.
David Gribble
Bringing individuals with you on an innovation journey and communicating the passion and vision you have for the future of a business are things I really enjoy. The MBA helped me to hone these skills and gain a useful background in the theory and practice behind them.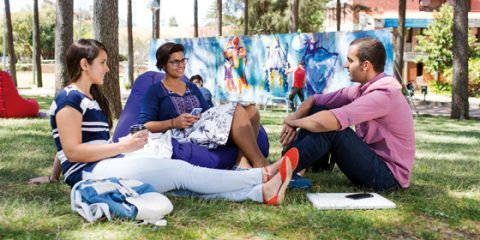 Broad career options
Explore flexible study opportunities with one of three specialisations focusing on business administration, energy futures or leadership.
Professional recognition
Curtin Business School is recognised as an elite global business school through accreditation by EQUIS, AACSB International and an EFMD Accredited MBA.
Top 1 %
Curtin is ranked in the top one per cent of universities worldwide.
Academic Ranking of World Universities 2022.
Interested in pursuing a Master of Business Administration? Join one of our upcoming MBA Information Evenings and find out how studying an MBA could advance your career.
The Master of Business Administration (MBA) is an internationally accredited qualification that gives you broad skills in leadership, strategy and financial management to further your professional career. You can complete the MBA in four trimesters full-time or over several years part-time choosing a pace that suits you and your lifestyle.
It is especially suitable if you're looking to acquire the confidence and business acumen to move from a technical role into a managerial or executive position in business, if you're wanting to career switch or move into a different industry sector.
Studying at our campus in the heart of the Perth Central Business District, you will enhance your learning through a combination of practical project work and evidence-based business theories applicable to local and global organisations.
You can specialise in a particular area or choose subjects that complement your interests or the demands of your work. Subjects include economics, finance, organisational behaviour, strategy, international business and marketing. To ensure this course is aligned with changes to industry, we've also added new units in executive financial decision-making, global business sustainability and organisational strategy.
You will learn to devise and apply innovative strategies that help your organisation to thrive in complex and volatile economic environments. In particular, you will critique and implement strategies that can help businesses prepare for the impact of local, national and global crises, and recover from them.
You will expand your networks through contacts with other high calibre students, attending industry events, seminars, guest lectures and training, so you can build on your knowledge of current industry trends and best practice.
Choose your specialisation
In your first year, you get to choose a specialisation: a set of units designed to hone your knowledge and skills in a particular area.
Business Administration
In the Business Administration specialisation, you'll develop your ability to create and critically evaluate innovative ideas and strategies within ambiguous and uncertain business environments.
Energy Futures
The Energy Futures specialisation will help teach you how to respond to significant changes within the energy sector, such as the transition from fossil fuels to renewable energy, as well as energy storage and distribution.
Leadership
The Leadership specialisation will help you to gain a nuanced understanding of current and future leadership challenges, and explore the philosophy and ethics of leadership.
Note: If you do not meet the admission criteria for this course, you should instead apply for the Graduate Certificate in Business or the Graduate Certificate in Business Futures.
Why study
This course has flexible study options so you can progress your career while working full-time and balance your studies with other commitments. These options include:

evening classes, delivered face-to-face in the heart of Perth city
intensive study units, where the contact hours for some units can be completed in one week or across two weekends
online study, including a mixture of online learning and face-to-face classes, if you can't make it to campus or live in a different state or country.

This course has various start dates: our trimester delivery means you can choose to start your course in January, May or August.
You'll benefit from increased, bespoke support, including contact with a dedicated Customer Experience Officer, an extended orientation where you'll get to meet faculty staff who will introduce you to your facilities, and regular events with guest lecturers and academic professionals.
You can access unique scholarship opportunities, including the Rob Riley Memorial MBA Scholarship and the Women in MBA Scholarship.
You may be able to gain credit towards your MBA by completing select Executive Education programs, including a one-day or five-day masterclass, or bespoke programs such as Ignition or Switch.
Career information
Careers
CEO
Chief financial officer
Chief marketing officer
Chief information officer
Corporate services manager
Finance manager
General manager
Management consultant
Managing director
Policy and planning manager
Project manager
Industries
Banking and finance
Consultancy
Education
Government
Health care
Not-for-profit
Private business
Public relations
Retail services
Resources and renewables
What you'll learn
critically evaluate relevant theories, concepts, techniques and business principles and apply them to design solutions that create value for stakeholders
employ effective business communication practices and demonstrate how relevant technologies can be applied in management and leadership contexts
formulate responsible management and leadership decisions that are evidence-based and supported by a critical evaluation of markets, resources, goods and services, finances and/ or accounting information
recognise and apply the development of appropriate policies and strategies within a dynamic global business environment to meet stakeholder interests
apply principles of ethics, sustainability, corporate social responsibility and risk management across a range of business settings
Help is at hand
See our frequently asked questions or get in touch with us below.
---
Opening hours:

Mon to Fri: 8.30am – 4.30pm, except Tues: 9.30am – 4.30pm (AWST). Closed public holidays.
Which statement best describes you?