A collection on display at the Art Gallery of Western Australia (AGWA) is celebrating the rich cultures of First Nation peoples within Australia and offering an unapologetic glimpse into how colonisation impacts their lives.
Babanyu (Friends for Life) is a collection of 39 paintings completed during 1993 to 2005 by Badimaya First Nation artist and Curtin graduate Julie Dowling – a time in which she was being recognised as one of Australia's most eminent artists.
The exhibition begins with one of Dowling's earliest works: a metre-long self-portrait titled Is it ok to be two things at once?
The work, in which half her face has been painted in Badimaya cultural symbols and her ancestors depicted within the outline of her glass lens using blood, red ochre and synthetic polymer paint, expresses her identity as a Badimaya First Nation woman and offers a challenge to anyone who might doubt her heritage because of her fair skin.
Dowling's other paintings hit similar emotional beats, drawing upon styles of First Nation cultural symbols, Roman Catholic Renaissance art and social realism in a transformative way to educate non–First Nation peoples about the Badimaya culture and how it has been sustained through colonisation.
Uncle Freedom depicts a shackled Badimaya resistance fighter sent to the Aboriginal prison at Rottnest Island in the late 1800s. Icon To A Stolen Child: Teacher depicts an elderly Badimaya woman telling her grandchildren about how she was stolen by missionaries at a young age.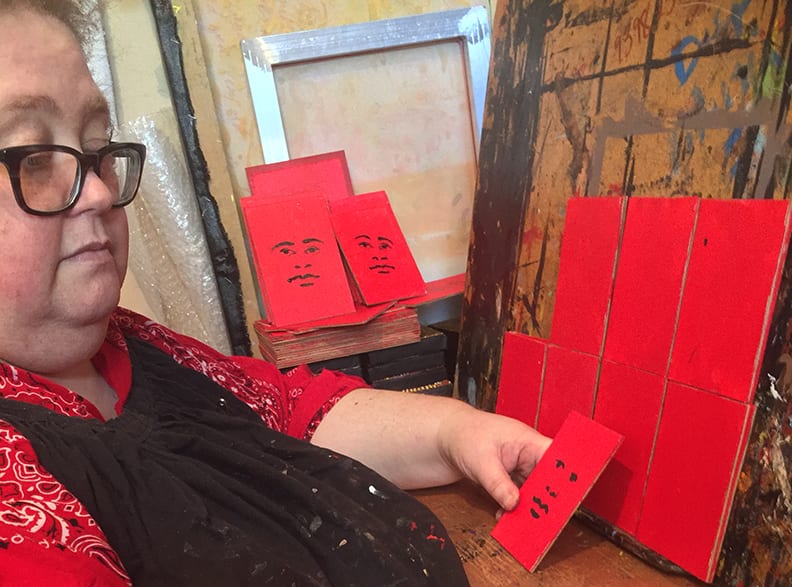 "The church has always been around in my upbringing. My grandmother had been stolen from our Badimaya First Nation family in the Mid West in order to marry a white man and work as an unpaid slave in a convent and orphanage," Dowling says.
"I think social realism began as a visual enquiry when I was a young girl. My mother, also an artist, would encourage my twin sister [Curtin Centre for Aboriginal Studies researcher Carol Dowling] and I to look for other fair-skinned Badimaya people who were stolen as children."
The exhibition came about after AGWA Curator of Aboriginal and Torres Strait Islander Art, Carly Lane approached her to choose works that best reflected her approach to art making.
Dowling, who was named Australian Art Collector's most collectable artist in 2002, believes this to be one of the largest exhibitions she has ever had in Australia.
"The motivation for me was to show the key themes that keep occurring in my art: ending racism, protecting the human rights of First Nation people, the identity of being a fair-skinned First Nation woman and showing cultural erasure both in the past and present," Dowling says.
"My family and myself are iritja: First Nation families located across the continent who act as navigators, translators, negotiators and ambassadors between communities. I now function in this same role by using my art to convey messages between the Badimaya community and the broader non–First Nation world.
"My paintings are an act of sovereign empowerment – not only for my own identity as a Badimaya woman but for all of the hundreds of millions of First Nation peoples."
Julie's twin, Carol, who acknowledged the "creative and supportive partnership" she has shared with her sister in an essay she wrote for the exhibition's catalogue, views the paintings with immense pride.
"Julie's work is both subtle and confronting. The viewer is always drawn in by the glitter and juxtaposition of themes; however, once they look at the paintings, they are confronted by a deeper discourse," she says.
"Such strong, beautiful and celebratory images of Aboriginal people in Australia is sorely lacking."
Babanyu (Friends for Life) is on display until Monday 13 August.