After suffering a career setback, Adele moved thousands of kilometres away from her family to Winton, outback Queensland to work at the Australian Age of Dinosaurs Museum of Natural History, not knowing that moving so far away would bring her closer to realising her PhD dream. 
Adele Pentland is completing a PhD at Curtin, co-supervised by Curtin University's Dr. Steve Poropat and Professor Kliti Grice, and Monash University's Professor Patricia Vickers-Rich. Adele and Steve reflect on naming Australia's most complete pterosaur to date, their working relationship and overcoming hurdles on the way to her dream job.
Adele:
When I was young I wanted to be a vet and work with living animals. But I didn't get into vet science and instead did a Bachelor of Science at Monash University in Melbourne.
I found palaeontology through the geology program. My honours research was on amber that was about 40 million years old. I spent a lot of time looking down a microscope trying to find fossil insects trapped within the amber. I had trouble getting admitted into a PhD – I was half a mark off first-class honours and didn't have any scientific publications, so it was very difficult for me to find supervisors. So, I took a job in Winton, outback Queensland, working as a tour guide at the Australian Age of Dinosaurs Museum of Natural History – and that's where I met Steve, on a dinosaur dig. Ultimately, this led to an opportunity for me to start a PhD.
My PhD is on pterosaurs from eastern Australia (Queensland, New South Wales and Victoria), mainly from the Early to mid-Cretaceous. The fossils I've worked on range in age from about 107 million years old to 95 million years old. The project was prompted by the 2017 discovery of a partial pterosaur skeleton in Winton, outback Queensland. I got the chance to name it, Ferrodraco lentoni, and work on several other fossils. Most recently, I've been working on the geologically oldest pterosaurs from Victoria, which I published on in May this year. 
The biggest outcome of this research is that the fossils on which I work are integrated into museum galleries and seen by the public. I named the most complete pterosaur in Australia in 2019 and it has been seen by tens of thousands of visitors. My research has broader implications and creates engagement with the community – they can see and appreciate the fossils that I've had the opportunity to work on.
The challenges I've faced are not specific to my project. Mostly, they revolve around having applications for awards and grants rejected. When I first started my PhD, I applied for a lot of different funding opportunities, but I wasn't successful. As a part-time student, I have a little more leeway in terms of time-frames, and it has only been in the last 12-18 months that I've started applying for opportunities again. Now that I've got more publications behind me, I've been successful in getting grants and awards.
There were two things that helped me overcome that fear of rejection: one was my mindset, the other was to try and get 100 rejections. The latter is a concept that revolves around "being in it to win it". At the start of this year, I said: "I'm going to have a big year. I'm going to try and finish off a couple of manuscripts." This year, I've published two papers as lead and was a finalist for the Queensland Women in STEM Prize. I wouldn't have had those opportunities if I hadn't tried to achieve 100 rejections. Now that I've got some successes under my belt, I feel more confident in my ability to apply for funding.
A highlight of my PhD is the Australia Post stamp series that was released last year. It incorporates five fossil reptiles on their own stamps, and I've worked on three of them: the pterosaur Ferrodraco, the sauropod Diamantinasaurus (on which I have worked with Steve), and the elaphrosaurine theropod. The only reason we realised the elaphrosaurine existed is that it was originally identified as a pterosaur, but then I realised it had to be something else. Both Steve and I were scientific consultants on the stamps, and we got to work with Peter Trusler, an unparalleled palaeoartist.  
Steve and I have always been on the same page, from day one. We're very open with our communication. He truly wants what's best for his students. I've convinced some of the other PhD, Master, and potential Master students to start calling him 'Dino Dad' because he's not only a good dad (to his daughter), but looks out and does what's best for us.  
I've learned so much from Steve; everything I know about how to prepare a manuscript and photographing fossils. We've spent a lot of time together, working in the field, museum collection trips, and those experiences have really helped us strengthen a good working relationship. If I'm assisting Steve on his research, I truly feel like he treats me as an equal and values my input.
Steve:
What led me to take on Adele was simply meeting her and hearing that she'd had some struggles getting through her Honours year. The way she was effectively precluded from getting a PhD with a scholarship was frustrating, especially when I saw the quality of her dissertation.
With a setback like that, one of the things that encouraged me to take Adele on was the fact that she wasn't content to sit and wallow in self-pity. She had decided, "If I can't go into research, I'm going to go and get a job in Winston. I'm going to move thousands of kilometres away from my family. I'm going to work on the fossils that I love, even if it's not to do research on them". And that was her path to undertaking research because she showed the initiative and tenacity to go and chase the dream.
Early on, we tried to work out a project for Adele. However, when the pterosaur came along it was a no-brainer to make it the focus of her PhD, to give her something significant to work on. It is fair to say that Adele's delivered on every expectation I could have possibly had.
When I take on a student, I want to try and know as much as I can about what they're working on before they even start so I can give them a dump of literature and say: "Start here, this is where we want to focus your knowledge". Then as they develop, it means that we've got a common starting point. I can see Adele has taken her knowledge of pterosaurs far beyond what I have myself.
In some ways, my supervisory style with Adele has been getting less and less hands-on with time. We used to meet frequently. We used to correspond frequently. Now we don't correspond or meet as much. It's because we don't really need to. Adele's become independent, and that's such an important thing.
The greatest achievement from Adele's PhD is naming and describing Ferrodraco and getting that project done when she did. For a bit of context, I set Adele a difficult target early in her PhD. We knew that there was a big conference coming up in September 2019 in Australia. It was an international conference, but it was the first time it was to be held in Australia. I set her a target of getting a paper published to coincide with that conference.
We soon realised that before Adele could achieve that goal, she would need to publish another paper first – that's two papers within the first year and a half of a part-time PhD. And guess what? She did it. To me that was the greatest achievement because it meant that when palaeontologists from overseas were landing in Australia to go to this conference, they were being bombarded with Adele on the news, and saw the pterosaur everywhere. That was outstanding.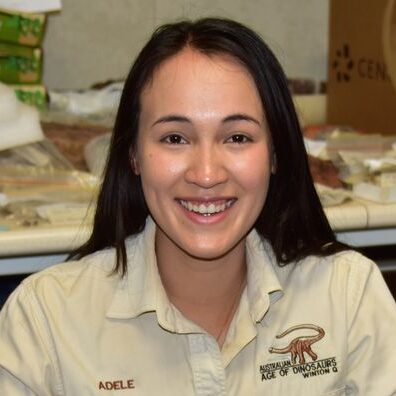 Adele Pentland
Adele is a PhD candidate supervised by Dr Stephen Poropat, Professor Patricia Vickers-Rich and Professor Kliti Grice, part of the Western Australian Organic & Isotope Chemistry Centre. Adele is a part-time PhD student based in Winton, central western Queensland and research associate with the Australian Age of Dinosaurs Museum of Natural History.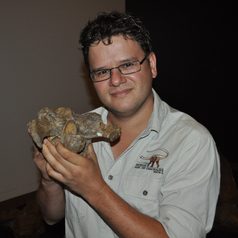 Dr Stephen Poropat
Steve is a postdoctoral research associate at the Western Australian Organic & Isotope Geochemistry Centre at Curtin University, and the Australian Age of Dinosaurs Museum in Queensland. His primary research foci are exceptional preservation in the fossil record, and the evolution and biogeography of Australasian Mesozoic archosaurian reptiles.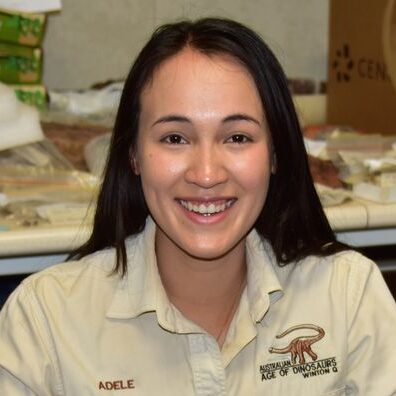 Adele Pentland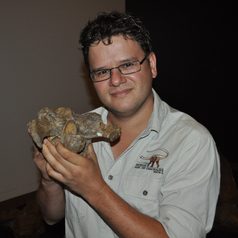 Dr Stephen Poropat
Co-Supervisors