Meet Brendan, a marketing student specialising in public relations and event management. With a background in music studies at WAAPA, Brendan sought a degree that would complement his love for music and allow him to utilise his specializations in the arts industry.
The creativity involved in marketing and its intersection with music inspired Brendan's journey into his chose field of study. He realised that while commerce was his desired path, traditional accounting or finance roles did not align with his passion. Brendan found public relations and event management to be perfect choices, both deeply tied into the arts industry.
Brendan has thoroughly enjoyed his university experience, particularly the combination of subjects that he studies. He loves the unique perspective his studies provide and how it tackles similar aspects from different angles. While group assignments posed occasional challenges, Brendan's overall experience has been "smooth sailing". COVID restrictions limited his involvement in clubs, but he found solace in extracurricular sports.
The highlight of Brendan's university degree was his semester-long exchange program at the University of Oregon. This experience was a life-changing adventure that allowed him to expand his horizons and make lasting connections.
"It was so much fun. It was the best experience ever!"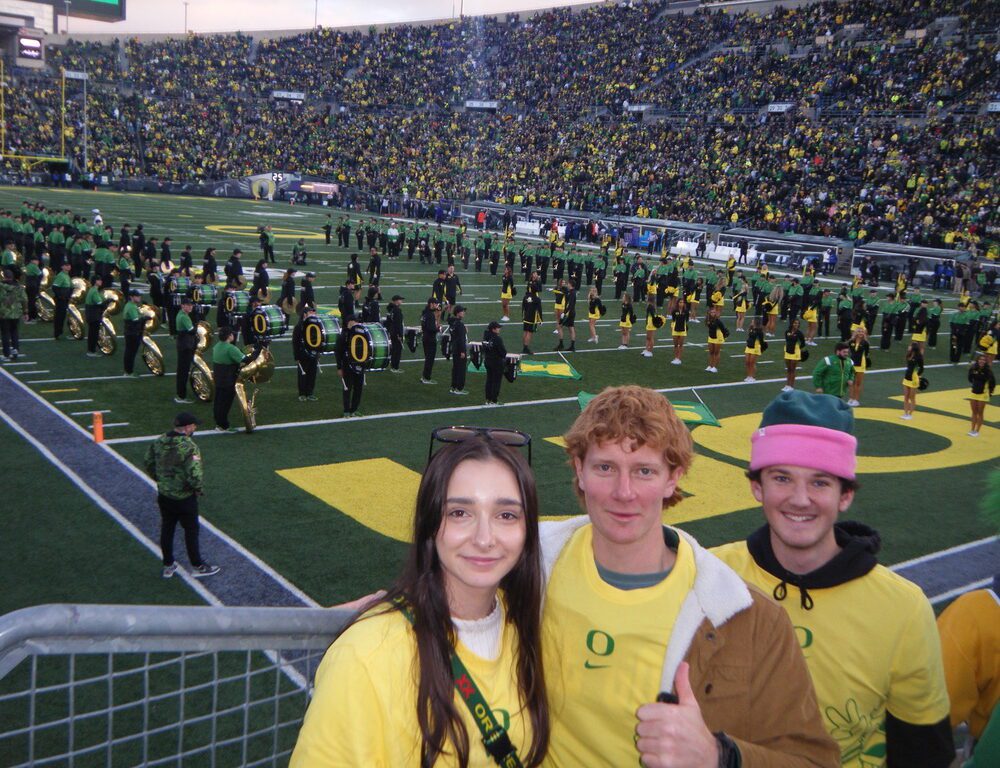 During his exchange, Brendan made lasting connections, including with two fellow Curtin students and his roommate from Oregon who became his close friends. Together, they explored new cities, exchanged cultural insights, and shared the joys and challenges of being international students. They rented a car in Eugene and drove up the coast to Vancouver and visited the Rocky Mountains. The exchange provided Brendan with a lighter workload, giving him the freedom to immerse himself in local activities and make the most of his time abroad.
Brendan's travel experience provided him with the opportunity to witness the distinct atmosphere and attitudes of the American culture, which was one of the most significant aspects for him. Engaging with people from different backgrounds and learning about their country was both eye-opening and enriching. Brendan's adventures extended beyond the academic realm as he travelled extensively, experiencing different seasons and forming cherished memories.
In addition to his exchange program, Brendan worked in a pub in a quaint country tourist town in regional Ontario. HeThis endeavour allowed him to interacted with locals, gained a deeper understanding of the community, and appreciated the place in a unique way. It was an experience that broadened his perspective and provided him with valuable insights into the local culture.
Brendan advises students to seize every opportunity that comes their way. He believes in the importance of courage and patience throughout the process, as the rewards are truly enriching. Whether it be internships or studying abroad, these experiences are what he cherishes most from his university journey.
Looking ahead, Brendan aspires to work overseas, possibly in North America or Europe, within the next few years. While he may not jump straight into international work after graduation, he plans to gain a year of local experience. Brendan is leaning towards marketing agency work, he says "it is an excellent opportunity to explore various aspects of the industry". He encourages others to step out of their comfort zones, as the most memorable experiences often arise from the initially uncomfortable.
"It's a big thing to do and it takes courage, but it's so, so worth it. And it's hard, you have to make it happen, it's a bit of a process. But those types of things are what I'll remember the most from my uni experience. I can't stress enough to just do it and take every experience and do all the things that make you feel a bit uncomfortable because they always end up being the most fun!"
Ready to create your own unforgettable uni experience? Find out more about the opportunities that await you through Go Global!