Get ready for an upgrade to our access management system – the digital gatekeeper that ensures security and efficiency.
This update will upgrade some of our legacy systems, improving the reliability of Single Sign On (SSO) access and will deliver new simplified access experiences for applications you may use, including those you will find in OASIS.
Before we dive into the details, let's demystify "access management". This concept is all about who gets access to what within our digital realm. Think of it as a security system tailored to your digital needs – ensuring you can access the right resources at the right time while keeping your valuable data under lock and key.
What is happening?
Starting from Monday 4 September we will begin the final stages of our Access Management system upgrade which means we'll commence migrating applications that use SSO to our new Access Management system.
Apps such as Adobe Live, PebblePad and Blackboard along with many others will be making the transition over the coming months.
Why are we doing this?
Our current Access Management systems are no longer stable, which creates continued risk to Curtin's operations. We need to bolster the cyber security of these systems to reduce our risk of cyber-attacks.
What does this mean for me?
Here's what you can expect:
Temporary additional login prompts: During the upgrade, you may need to re-enter your SSO login details to access systems including Staff Portal and Student Oasis. Don't worry; this is temporary and will return to a single login after the transition wraps up.
A new look interface: Get ready for a revamped login user interface modernising the previous look and feel.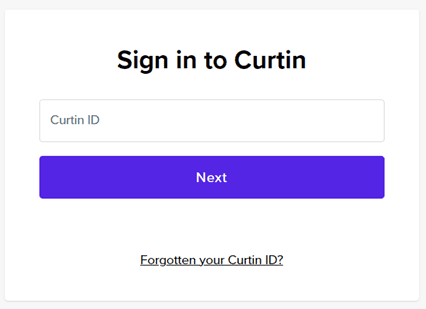 Password requirement: There are slight changes to the current password policy, so a small number of people may find your password is no longer accepted when you try to log into an application that has been migrated. If this affects you, you will receive the below message and prompt to change your password. Simply click on the 'Reset your password' link to update it, and you will then be able to access the application.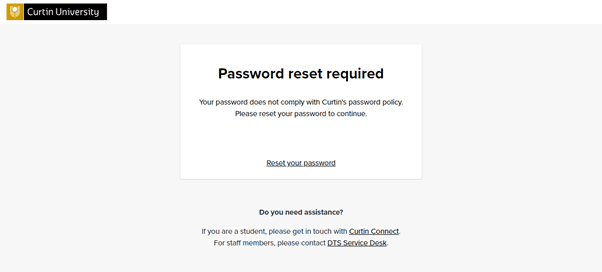 We value your input. If you have any questions or feedback, reach out to the project team; we're here to assist.