Quitting your job to start your own business is a bold move at the best of times, even more so in the midst of a global pandemic. But it was a fitting move for Curtin graduate Robbie Gibbs, who founded Risk Guidance Insurance in March this year, a brokerage providing commercial insurance to West Australian businesses.
Gibbs, 32, credits his Curtin postgraduate education for giving him the confidence and ability to establish himself in the business insurance sector.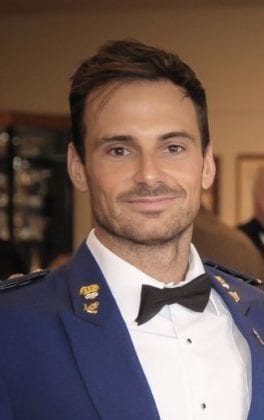 "Finishing my undergrad degree in commerce and entering the workforce, I recognised that I was still quite inexperienced," he says.
"I needed to gain a stronger knowledge of legal/contract obligations, financials, strategy, consumer behaviours and managing projects.
"Once this light bulb moment struck, I enrolled in the Graduate Certificate in Project Management at Curtin, knowing that the accreditation I received could be credited towards further studies in the future."
The six-month qualification gave Gibbs a high level understanding of project management and a thirst for more knowledge.
"From my graduate certificate I learned that the world is a bigger place than I ever imagined. This curiosity saw me go back to Curtin in 2016 to complete an MBA [Master of Business Administration], utilising my graduate certificate credits."
Curtin's MBA is internationally accredited and is an ideal program if you have a technical or specialist background and want to move into a managerial or executive position.
In the latest QS World University Online MBA Rankings, Curtin placed in the top 40 MBA providers globally, and was one of only four Australian university providers to feature in the list.
For his MBA, Gibbs balanced his studies with other commitments by studying one unit per trimester (13 weeks), and attending evening classes at Curtin's Graduate School of Business, located in the heart of Perth's CBD.
"Networking and meeting new classmates were a highlight of the MBA, as were the robust discussions of topics at postgraduate level," he says.
"Often we'd recognise that there is no black and white answer to any question, which shows the benefit of diversity and thinking big.
"I enjoyed the course so much that this year I'm back again undertaking my second masters in mineral and energy economics – I'm working hard to tailor my business education towards the resource sector, as it's the backbone of the WA economy."
The young entrepreneur is keen to apply his knowledge to help local businesses navigate the effects of COVID-19 and adapt to a new future of work.
"Many things I have learned at Curtin have helped me arrive at this new chapter in my life.
"Continual learning is something I've always done, and I know that if I remain inquisitive I will continue to grow organically and gradually gain a competitive edge."