Australian consumers have despaired at the wait for freight and the absence of household goods. Although COVID-related delays were unavoidable, the impacts could have been lessened with data sharing from the dashboard.
Australia's freight network is a significant driver of the nation's economy, so it's surprising that, rather than adopt new approaches proven in other parts of the world, our freight industry has stuck with old-school logistics and data management. And in the aftermath of COVID, the call to haul the industry into the 21st century has rumbled louder.
But at the Curtin University Sustainability Policy Institute, researcher Dr Charlie Hargroves is confident that progress is just around the corner.
"Right now, freight forwarders, logistics companies and transport agencies want the efficiency that comes from access to real-time data across the supply and logistics chain," Hargroves says.
He explains that once freight operators can share their telematics with transport agencies, new systems can be developed for better freight movement and traffic management. But there's a catch.
"Telematics is the data that travels direct from a vehicle's onboard computer to the trucking company. So being asked to be provide real-time locations of trucks to an intermediary rings alarm bells for a trucking company's legal team, who speculate that the data could make its way into the hands of competitors or be used for other purposes."
Revving up the research
Now, supported by the Sustainable Built Environment National Research Centre (SBEnrc), also hosted by Curtin, Hargroves is demonstrating an approach to link freight vehicle data with transport agencies, using a trusted third party.
"We looked at other methods of data collection – both on-vehicle data like GPS, RFID and mobile networks, and roadside data, which includes cameras, Bluetooth systems and pressure sensors – but really there's no substitute for a data stream coming directly from the vehicle."
He adds that although the SBEnrc has long been involved in industry research and is recognised for its expertise, gaining access to the telemetrics is another level of trust.
To get things moving, the Fremantle Port Authority funded a project to investigate the issue in more detail, and Hargroves has also connected with Transport Certification Australia (TCA) – an organisation used by the federal government to investigate potential traffic infringements by trucking companies.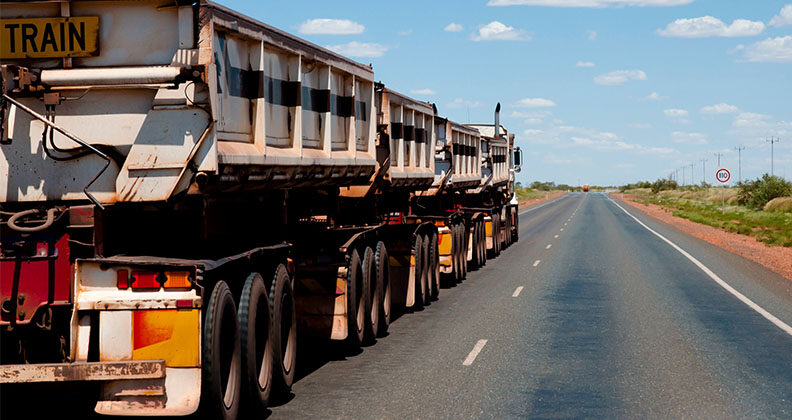 "TCA have access to the on-board data, and they can check the data if an infringement agency wants to know whether a truck travelled on a road it shouldn't have. But it's a yes/no answer – only a court order can force them to pass on location information."
With TCA and industry partner collaboration, the research team developed a 'freight observatory' approach and then created the FreightSync Roadmap. They're now negotiating data-sharing agreements with Western Australian and Victorian transport operators as part of a proof-of concept project.
"Data sharing via the freight observatory will enable us to devise systems that know what the vehicle is, where it's headed and what it's transporting, and can figure out the best way to manage the journey," Hargroves explains.
"What if we could say, there are 27,000 trucks on Perth roads, we know exactly where they are and where they're going?"
And once the system is set up to work with freight vehicles, it could be extended to buses and other vehicle types.
"It's time to leverage the past 15 years of innovation in data science and functionality to deliver superior systems," he says.