Polio hit Naprey Almario when he was eight years old – paralysing him from the waist down – but it never stopped him looking out for opportunities. After gaining a master degree at Curtin, he now runs two businesses in his home country of the Philippines, heads an organisation for disability advocacy and lectures at a local university.
After completing a degree in information technology in the Philippines several years ago, Almario established a small business, Almario Ticketing Services, and engaged several people who have disabilities.
"Working in the disability space in the Philippines isn't easy. We don't have many champions in the sector and few employers understand our needs," he explains.
"Establishing my own company meant that I could provide employment to people with disabilities."
He decided that postgraduate study would both enhance his business skills and help him with advocacy for people with disabilities. He applied for an Australia Awards Scholarship – an Australian Government initiative for young people in particular countries who demonstrate future-leader qualities – and enrolled in a Master of Information Systems and Technology at Curtin.
Education is empowering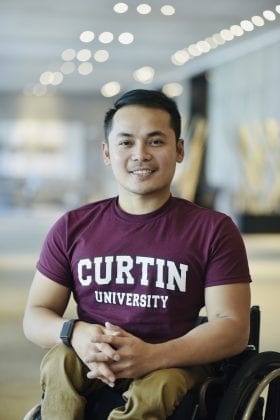 "My journey with Curtin Uni was fantastic. I loved the diversity in Perth, and, as someone in a wheelchair, I was amazed by the facilities for people with a disability," he says.
"Everything is very accessible – from the beaches to shopping malls and to university, the transportation is amazing."
He believes that in gaining his master degree he's become more empowered to advocate for people with disabilities. He currently leads a non-government organisation in the Philippines called Association of Differently-abled Persons.
"I'm passionate about helping. My experience in Australia has encouraged me to be more vocal with my advocacy – to correct what should be corrected.
"Accessibility, for example. There are many facilities in the Philippines that display wheelchair signage, yet they're not accessible at all. So, I get the management to correct it.
"You have to make a difference. Little by little, change is coming."
Not only has a master degree helped Almario advocate for disability employment and access, he's also applying his knowledge in the education context.
"Sharing my knowledge in IT has always been important to me. My very first job, back in 2010, was teaching and I still have the passion for it.
"When I came home, I had the chance to teach IT subjects at the University of Mindanao, and my Curtin qualification allowed me to be appointed as an associate professor – although, teaching is a part-time job because my focus is my businesses and advocating for opportunities for people with disabilities."
Making the most of the Curtin experience
Almario was unstoppable while at Curtin, co-founding the Curtin Filipino Students Society, contributing to Curtin Volunteers! projects and immediately using his study to benefit his business back home.
"I chose Curtin because the course was highly relevant to my disability employment project, and because of the school's advanced new facilities," he explains.
"I used my company as the focus of my unit in data mining and business intelligence. It's through data management that I've really been able to enhance and innovate the business."
Recently he founded a second business, Hub International Education Davao.
"It's a company that helps other Filipinos to travel to Australia to study. Studying at Curtin was very rewarding for me, so why not help others to have the same opportunity?"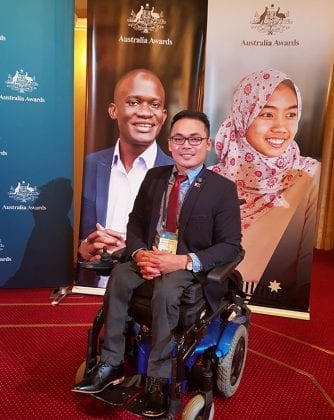 ---
See where a postgrad business degree could take you. Applications for Semester two close 23 July.