The research fighting rising mental illness in young people
02/09/21. By Luisa Mitchell.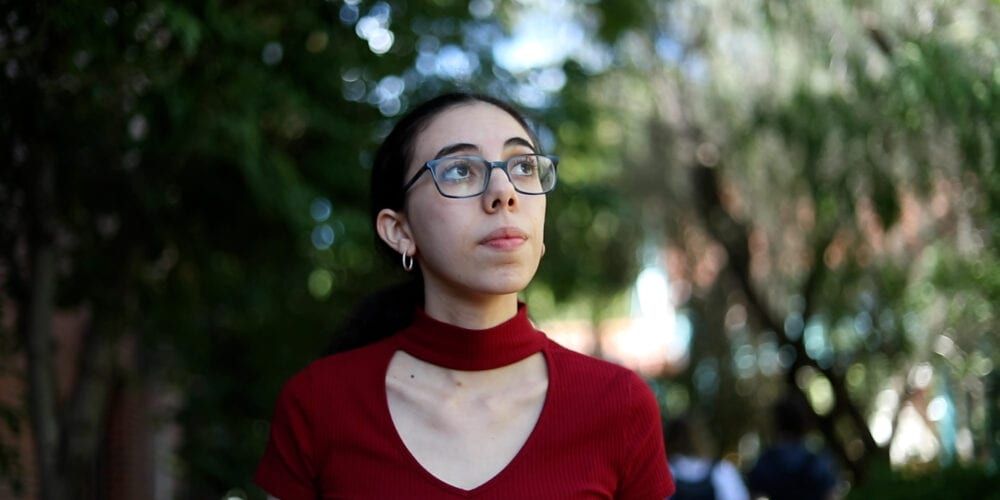 Image: Curtin University student featured in the Healthy Futures campaign video, 2021.
TW: This article discusses suicide and self-injury. If you or someone you know needs help, call Lifeline on 13 11 14.
The problem
According to a 2017 report by Orygen, the National Centre of Excellence in Youth Mental Health, one in four young people experience mental illness each year in Australia. If we take those numbers and apply them to young people studying at universities, a conservative estimate suggests that upwards of 210,000 Australian university students aged 18 to 25 will experience mental illness every year.
In June 2020, rates of psychological distress remained high among young Australians, with one in three reporting high or very high levels of distress according to a national Headspace survey. Young people's rates of wellbeing have also worsened during the COVID-19 pandemic.
Mental illness among university students in Australia is currently a relatively under-researched field, according to the 2017 Orygen report. However, a global 2020 World Health Organisation (WHO) study, which included samples from Australian students, reinforced the Orygen report's findings that there are several risk factors which could be impacting tertiary-level students' mental wellbeing.
These include academic and financial pressures, relocating to university or TAFE (particularly for rural, regional, and international students), the transitional stress from leaving high school and commencing higher-level learning, and poor diet and lack of sleep, which have been linked to independent living, late-night study cramming, and juggling work and study commitments.
As many students and graduates will testify, these risk factors are very real for those who are studying or remember their own time at university.
"Most of my friends have needed to work late-midnight at restaurants/pubs as they are studying throughout the day. Conversely, there have been periods of my education where I have needed to work throughout the day and therefore needed to study at night." – Anonymous student (Orygen, 2017).
"I don't know where to go, and I'm ashamed to be struggling with uni." – Anonymous student (Orygen, 2017).
A 2012 study by Cvetkovski et al., which utilised survey data from three national health and wellbeing surveys, found evidence of a higher prevalence of moderate psychological distress among Australian tertiary education students than non-students. Aboriginal and Torres Strait Islander students, people from low socio-economic backgrounds or rural areas and international students all appeared to be at even greater risk of experiencing these symptoms.
While universities do offer counselling and wellbeing services, they are in high demand. Services across Australia have reported an increase in demand and severity of the kind of mental illness presentations students have, according to the Orygen report.
One thing is very clear: Australian tertiary-level students need more mental health services and support.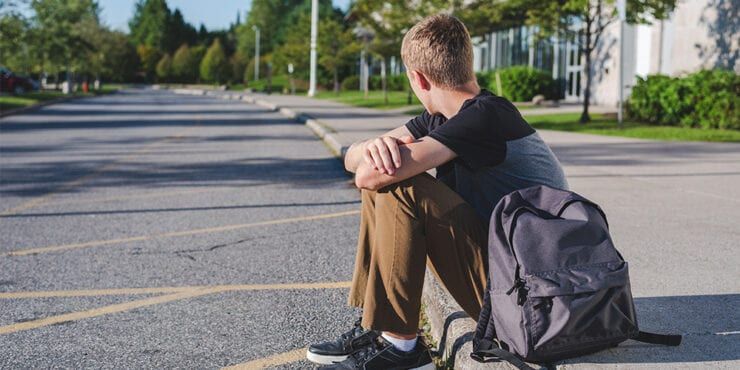 Image: A student sitting alone. Photo sourced from Shutterstock.
The interventions
University students will help to shape our future. They will design our homes, make our lives more sustainable, discover life-saving cures to diseases and guide our society through an evolving and complex world. Yet the challenge of transitioning from high school to higher education means that some students may not thrive at university as we would hope. In fact, one-in-five first-year university students drop out of their degrees in Australia each year.
With more than 75 per cent of people developing mental health issues before the age of 25, universities are well placed to provide support to this at-risk age group – through earlier identification and service referrals, the provision of mental health education programs, and research that will help us to understand and address the many factors at play.
Here are some of the ways that Curtin University researchers are working to improve mental health and wellbeing for young people:
Managing Emotion & Wellbeing Surveys – Professor Penelope Hasking
Curtin's Professor Penelope Hasking is working on Managing Emotion, an online self-directed program designed to teach students about how emotions work and how they can manage uncomfortable emotions. Early trials show the program is associated with reductions in depression and anxiety, and increases in helpful emotion regulation skills.
"The thing I liked about the Managing Emotion modules was the fact that it felt applicable; it was relatable. The bite-sized lessons helped remind me that slowing down, focusing on my breathing and gathering myself can make a huge difference." – Rebecca.
"People tend to oversimplify feelings but emotions aren't always easy. Managing Emotion has helped me reframe how I look at situations and how I feel." – Mallika.
Professor Hasking's team also used a predictive algorithm with data from Curtin University's 2018 and 2019 Student Wellbeing Surveys to identify students at risk of future suicidal behaviour. This algorithm was coded into the 2020 Curtin Wellbeing Survey and also sent to newly enrolled students in March this year.
The project found that 86 out of 1,002 students who completed the survey were at high risk of future suicidal behaviour. Professor Hasking's team were then able to contact these students for a mental health assessment and provide in-person safety planning and personalised referral options.
2. Grief literacy during the pandemic – Assoc. Professor Lauren Breen
Associate Professor Lauren Breen and other researchers from Curtin's School of Population Health know that no one has been left untouched by the emotional impacts of the global virus pandemic, including young people.
Young people are going through a lot: first jobs, first relationships, living independently. For many young people, the pandemic has impacted all these things. Their thoughts and feelings about this transitional period from adolescence to adulthood, especially during a pandemic, is a kind of grief.
Professor Breen's research has found that any kind of loss or massive transition (such as a global pandemic) can cause grief. But we don't have the language with which to talk about these losses, or the rituals to mark them. For example, not being able to attend a funeral for a loved one when there is a limit on the number of attendees, saying goodbye to a dying family member over Zoom, or even just simply losing the opportunity to travel and take a 'gap year', a tradition for many high school leavers.
Her recent paper calls for better grief literacy—understanding grief and loss and providing the skills to enable better supportive action—and challenges the traditional idea that death should be dealt with in clinical and institutional contexts. Instead, conversations about dying and grief must be normalised by discussing it openly in public spaces.
"A society that is grief literate can benefit all people experiencing all kinds of loss," says Professor Breen. "Young people can also find comfort knowing they are not alone and many others like them share similar losses."
Her next steps? Professor Breen says that she will lead a study, set to be published by the end of 2021, that will explore strategies to reduce grief for young people aged 14 to 24.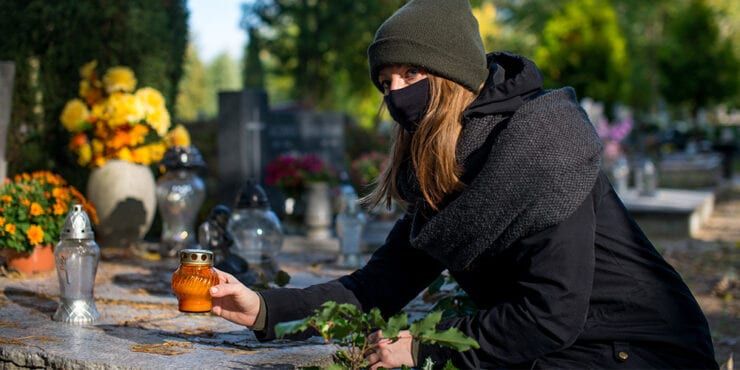 Image: Woman wearing face mask putting candle on a tombstone during the pandemic 2020. Photo sourced from Shutterstock.
3. Antidepressant use linked to youth suicide rates – Dr Martin Whitely
In 2020 Dr Martin Whitely co-published a paper that revealed antidepressant drug use by people with depression under 25 years of age was linked to rising suicide rates among young Australians. This raised immediate concerns about the safety of current treatment practices.
The research showed clear evidence that more young Australians were taking antidepressants and simultaneously that more people in this same demographic were passing away by suicide and self-harming – often intentionally overdosing on the same substances given to them to assist with their mental illness.
This paper was picked up by the Department of Health and led to the Therapeutic Goods Administration (TGA) undertaking a safety investigation in response to the findings. As a result, the TGA announced they would explore additional clinical guidelines for general practitioners around the prescription of antidepressants to young people in 2021.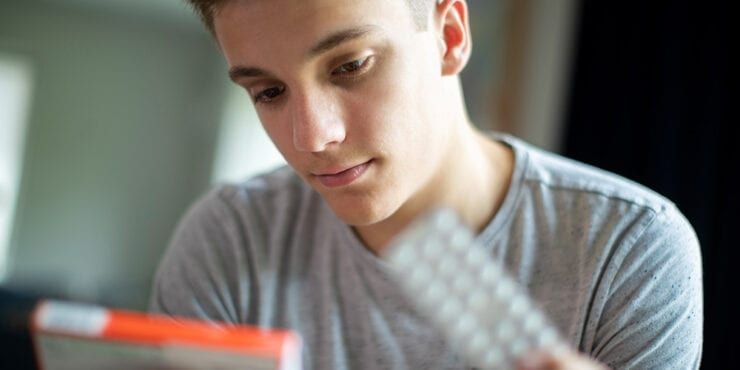 Image: Young man looking at prescription pills. Photo sourced from Shutterstock.
4. 'Our Journey, Our Story' – Dr Michael Wright
Dr Michael Wright, Yuat Nyungar man from the Moora and New Norcia area of Western Australia and Curtin researcher, is bringing Aboriginal Elders, young people and mental health service providers together to improve mental health for Aboriginal youth.
Dr Wright and his team's vision is a future where Aboriginal people feel confident they can access any mental health service in WA and receive culturally secure, appropriate and responsive care. His recent project, Our Journey, Our Story: Building bridges to improve Aboriginal youth mental health and wellbeing, has the potential to address the high rates of mental health issues affecting Indigenous Australian youth.
In 2020, Dr Wright and other researchers published a study that found racism, poverty, unemployment and disenfranchisement all substantially affect the mental health of young Indigenous Australians. And according to a 2016 report by Orygen, up to three in ten Aboriginal and Torres Strait Islander people aged between 18 and 24 have high or very high levels of distress, compared to 13 per cent of non-Aboriginal people.
By working with Aboriginal Elders and young people, utilising Aboriginal research methodologies and collaborating with state-wide Headspace centres, Our Journey, Our Story brings together different perspectives to better meet the needs of Aboriginal youth and their families.
"You need to have meaningful connections with people, that's something that Aboriginal people absolutely need," said a youth co-researcher involved in the project. "Wadjelas [non-Indigenous people] need to be able to yarn and they need to show their intentions."
This government-funded project began in 2019 and will continue until 2024.
5. MOOC edX courses – Dr Ben Milbourn and Professor Sonya Girdler
Dr Ben Milbourn and Professor Sonya Girdler from the Curtin School of Allied Health and enAble Institute see a need to promote awareness about the ways we can build mental health resilience, promote strength-based coping mechanisms and foster mental health fitness.
Working in consultation with the German National Suicide Prevention Program, Western Australia Mental Health Commission, other mental health practitioners and people with lived mental illness experiences, Milbourn and Girdler's team has created two free mass open online edX courses (MOOCs): 'Talk to me': Improving mental health and suicide prevention in young adults', and 'Managing study, stress and mental health at university'.
The respective six-week and two-week long courses teach people the skills needed to recognise and respond to mental health issues, both in themselves and young people they may know and work with. People like psychology student Michael Joboy, who reflected on how the 'Talk to me' MOOC was incredibly valuable to his personal and professional learning.
Video of 'Talk to me' edX participant Michael Joboy.
Dr Milbourn explains that the courses will help people feel confident about approaching the topic of mental health. "Given the current pandemic, these courses are being delivered at an important time where people may feel particularly vulnerable and isolated."
These research-led courses, which have already seen 50,000 people enrolled globally, are suitable for students, parents, teachers, coaches and health professionals alike.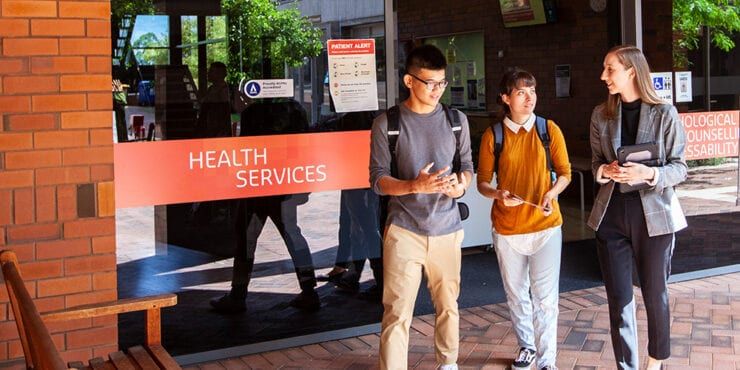 Image: Curtin University staff member with students exiting the Perth campus Health Services building, March 2021.
If you or someone you know needs help, call Lifeline on 13 11 14 or Beyond Blue on 1300 22 4636 for round-the-clock assistance and support.
___
Subscribe to Commons
Explore more information featured in this article
Healthy Futures
One in three university students meet the criteria for a mental illness such as depression, anxiety or panic disorder. One in six have considered suicide in the past 12 months. Curtin University wants to change this, but we need your support.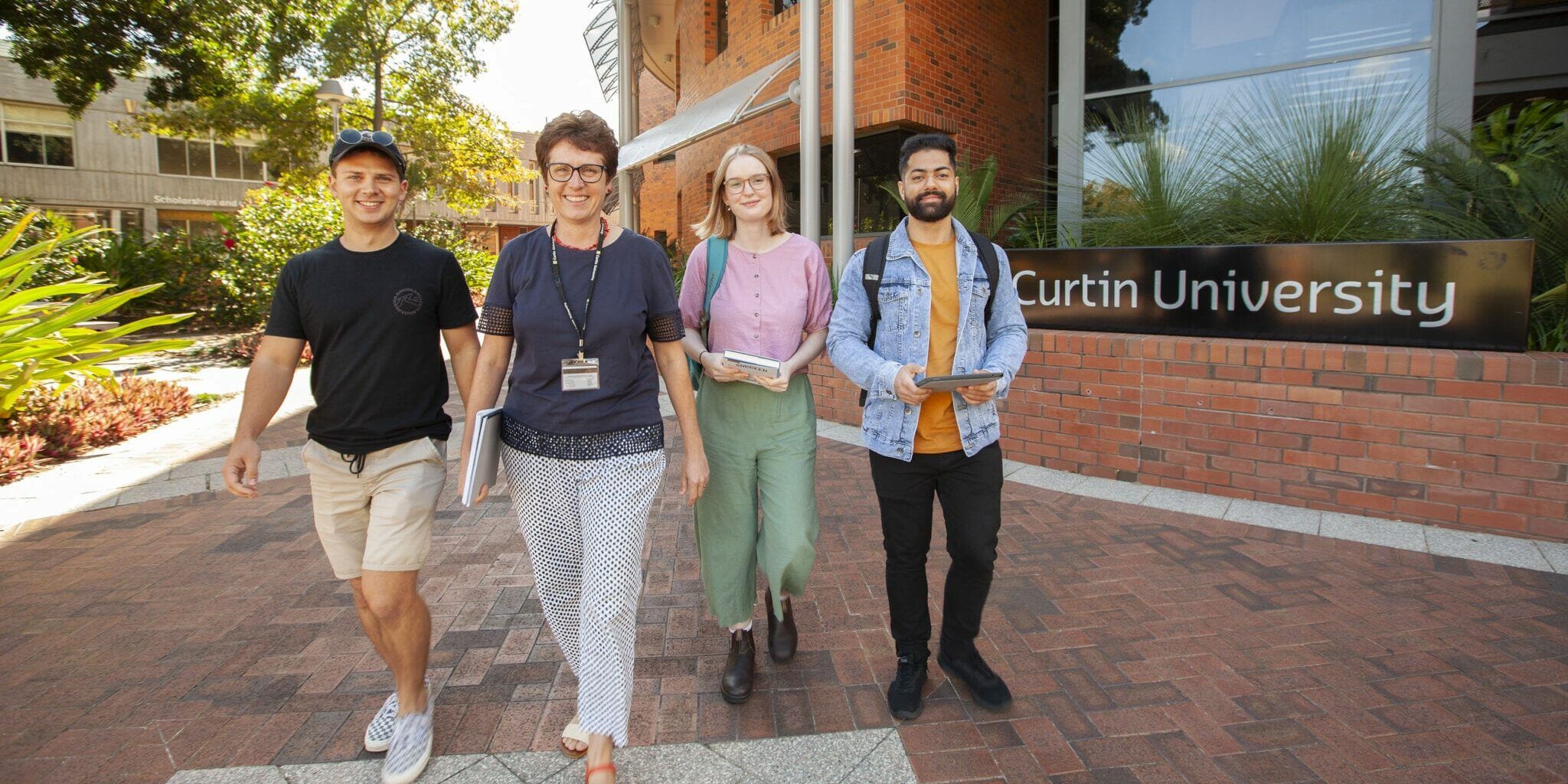 Health Sciences Community
As the biggest provider of healthcare professionals in WA, our Faculty of Health Sciences is one of the largest and broadest health faculties in the country, covering almost all specialties. Find out more about Health Sciences community.