Mining leader Vanessa Guthrie AO opens doors to education for First Nations women
02/09/21. By Luisa Mitchell.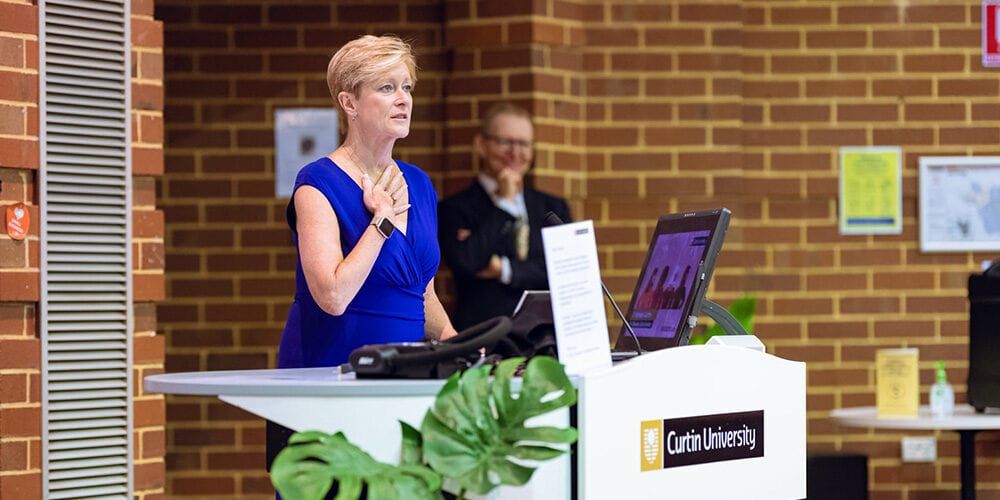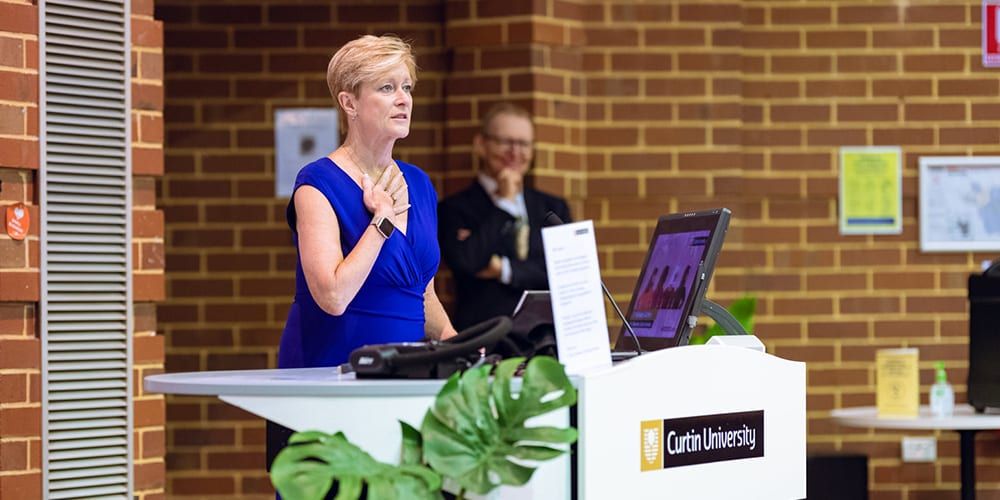 Image: Vanessa Guthrie speaking at Curtin University's International Women's Day event in 2021.
Quick read
Influential leader in the mining sector Vanessa Guthrie AO believes the reason she has been able to achieve so much in her career was her university education. She was one of the first in her family to go to uni.
Vanessa has experienced discrimination and sexism in what is a predominantly male workforce. Yet for her, this was nothing in comparison to what she saw many Aboriginal and Torres Strait Islander women deal with during her time working in regional and remote communities.
In 2019, Vanessa founded the Moorditj Yorga Scholarship to support Aboriginal and Torres Strait Islander women enter and succeed at Curtin University. Through the Scholarship, Vanessa hopes First Nations women will receive the same opportunities to thrive and develop their leadership potential as she did.
Not all women experience the same disadvantage or inequality. Vanessa Guthrie AO, a Curtin University Council member, understands this. She believes true equality for women cannot be achieved unless women of all backgrounds and circumstances are given the opportunity for a university education.
The youngest daughter of a carpet-layer from New South Wales, Vanessa discovered a passion for learning and curiosity early in life. Although discouraged by her peers from continuing her education after high school to just "get married and have kids", Vanessa knew she wanted to work in an industry that combined her passions for the natural world and improving the quality of people's lives.
Through her tertiary studies (Geology and Environmental Science), Vanessa went on to become one of the world's foremost female leaders in the mining industry. She was recognised in the global top 100 list of inspirational women in mining in 2013 and was awarded an Officer of the Order of Australia (AO) in 2021 for her contribution to the mining and resources sector and for being a role model for women in business. Vanessa's passion for learning has never ceased. Most recently, she was awarded an Honorary Doctor of Science for her contribution to sustainability in the resources sector at Curtin.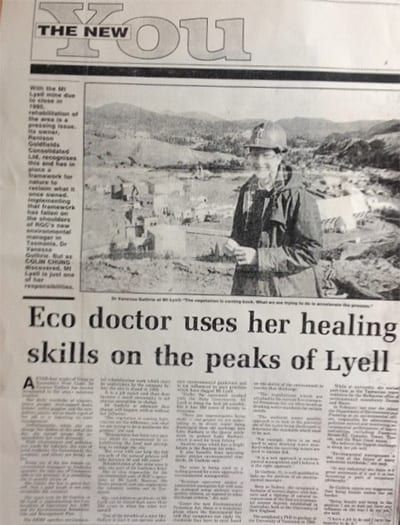 Image: Newspaper article featuring a young Dr Vanessa Guthrie. Article reads: "With the Mt Lyell mine due to close in 1995, rehabilitation of the area is a pressing issue. Its owner, Renison Goldfields Consolidated Ltd, recognises this and has in place a framework for nature to reclaim what it once owned. Implementing that framework has fallen on the shoulders of RGC's new environmental manager in Tasmania, Dr Vanessa Guthrie…" Photo supplied by Vanessa Guthrie.
Vanessa believes her education was the key to allowing her to pursue such a successful and fulfilling career.
"I was a young woman during a period of significant social change in the mid-1970s where new opportunities were presenting themselves to women in Australia, including virtually free tertiary education. That hadn't always been the case. By law, my mother had to give up her job when she married and had her first child. She couldn't have her own bank account because she was married and didn't have her own income. That is only one generation ago!"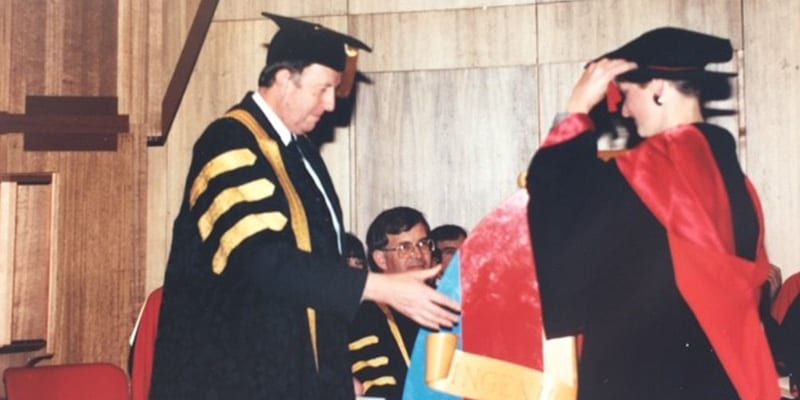 Image: Vanessa Guthrie graduating with a Doctor of Philosophy (Geology and Earth Science) in 1990, University of Tasmania. Photo supplied by Vanessa Guthrie.
Image: Former Curtin University Vice Chancellor Professor Deborah Terry with Dr Vanessa Guthrie (right) at her Honorary Doctorate Ceremony in 2019. Photo supplied by Vanessa Guthrie.
Vanessa's education enabled her to pursue a diverse career spanning thirty years in the resources sector. She has worked in various areas: operations, corporate development, environment, community, and Indigenous affairs. Today she is a director on various major mining companies' boards.
"My career in mining has been rewarding, challenging, confronting and inspiring," says Vanessa. "There are times when I have felt isolated and in despair wondering if I would ever be able to reach my full potential. While I'm grateful for the opportunities mining has afforded me overall, it has at times been a tough and challenging road."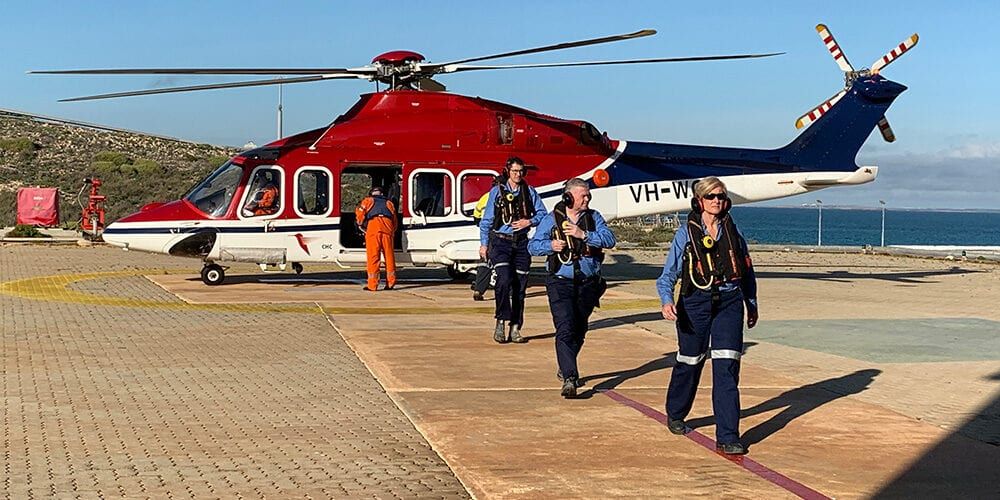 Image: Dr Vanessa Guthrie arriving at Varanus Island, WA for a board site visit of the Santos gas plant. Photo supplied by Vanessa Guthrie.
Image: Vanessa Guthrie (second from the left) at the Alcoa McCoy mine site inspecting mobile crushing facilities. Photo supplied by Vanessa Guthrie.
But for Vanessa, the hardship, glass ceilings and sexism she faced (she recalls with somewhat dry humour the memory of an exploration camp field hand refusing to work another day while she, a woman, was also working there) was nothing in comparison to the lack of basic equality and respect she observed towards Aboriginal Australian women. She says it was enormously confronting seeing the combined effects of racism and sexism that Aboriginal women were dealing with in the communities she travelled to during her work in regional mine sites.
"If I thought I had it hard as a woman, that's nothing compared to what I was seeing Aboriginal women up against. And what was worse was that there were even fewer opportunities available to them to get out of situations many were facing, like poverty, family challenges, discrimination, lack of self-belief. Many Aboriginal women I knew didn't know anyone in their families or social circles who had finished school, let alone gone to university, or had experienced other barriers to education themselves."
Vanessa says the stories she heard led her to face her own privilege as a non-Indigenous woman. She realised that women of different class, cultures, ages, abilities, ethnicities and sexualities (to name a few) were facing different kinds of prejudice to herself, and that these factors were being amplified when added on top of one another.
In 2019, Vanessa decided to do something about it. She founded the Moorditj Yorga Scholarship to support Aboriginal and Torres Strait Islander mature age women enter and succeed at Curtin University.
'Moorditj yorga' means 'deadly woman' in Nyungar language, the First Nations dialect of the Southwest region in Western Australia. 'Deadly' is an Aboriginal-English term to describe something that is 'great.' For Vanessa, the name means 'strong woman.'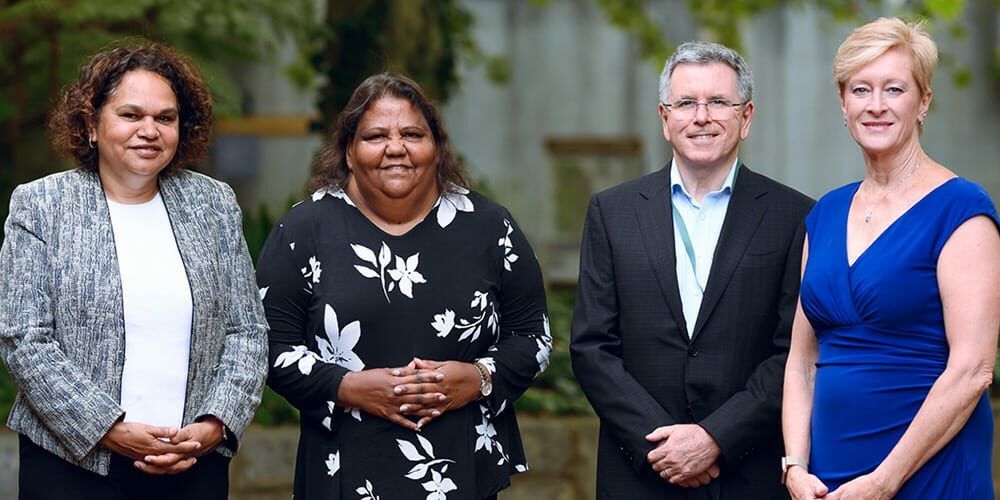 From left to right: Professor Sandra Eades, Aunty (Patron) of the Moorditj Yorga Scholarship Program; Professor Marion Kickett, Director of the Centre for Aboriginal Studies; Professor John Cordery, former Vice-Chancellor of Curtin University; and Dr Vanessa Guthrie. Photo taken at Curtin University's International Women's Day event in 2021.
From left to right: Professor Sandra Eades; Dr Vanessa Guthrie; Curtin University Vice-Chancellor Harlene Hayne ONZM; Professor Marion Kickett; and Denise McComish at the Chief Executive Women's event in 2021.
Jill*, a current Moorditj Yorga Scholarship recipient studying Indigenous Professional Practices, is a survivor of domestic violence, drug addiction and homelessness. She is using her degree to pursue a career in mental health services and have "a second chance in life." Her dream is to support other Aboriginal people who might be experiencing the same mental health challenges she went through. In Jill's own words, her journey from homelessness to university is "nothing short of a miracle".
Vanessa is thrilled to see the positive impact the scholarship is having already.
"I want to live in a world where more Aboriginal and Torres Strait Islander women can build leadership roles to achieve positions of influence, not only in their own communities, but across Australia. Education can make that happen. I've seen it for myself, and I've seen it for others. The more women we have changing the dynamic at the top of industry, and different kinds of women, the quicker we will all reap the rewards that diverse leadership can deliver."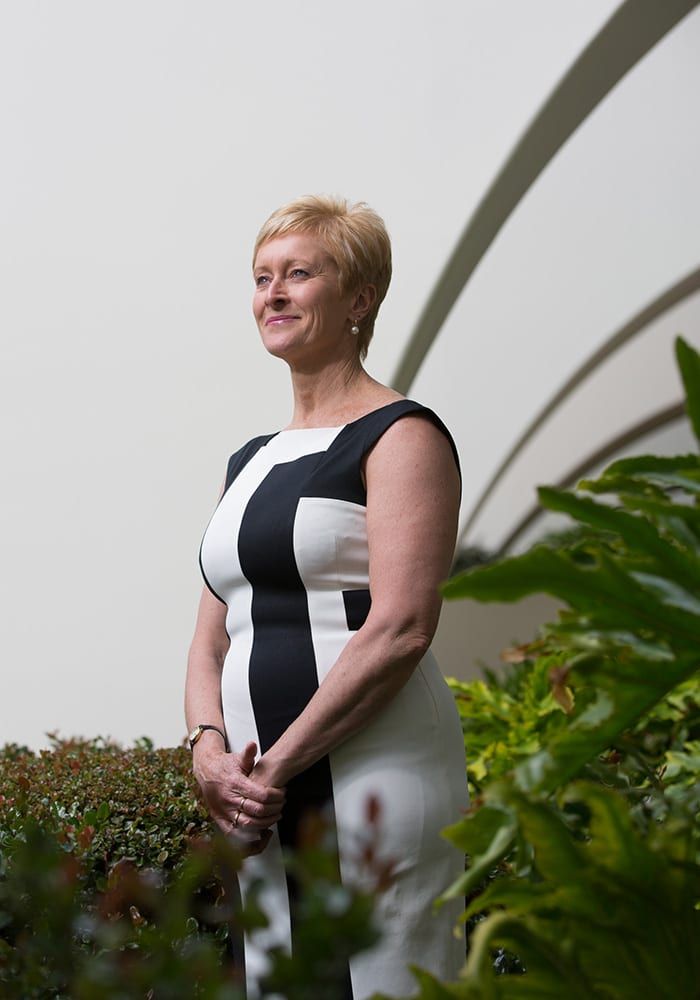 Image: Vanessa Guthrie, 2017. Photo by AC Visuals.
*The recipient is using a different name for personal reasons.
___
Subscribe to Commons
Subscribe to Commons
Explore more information featured in this article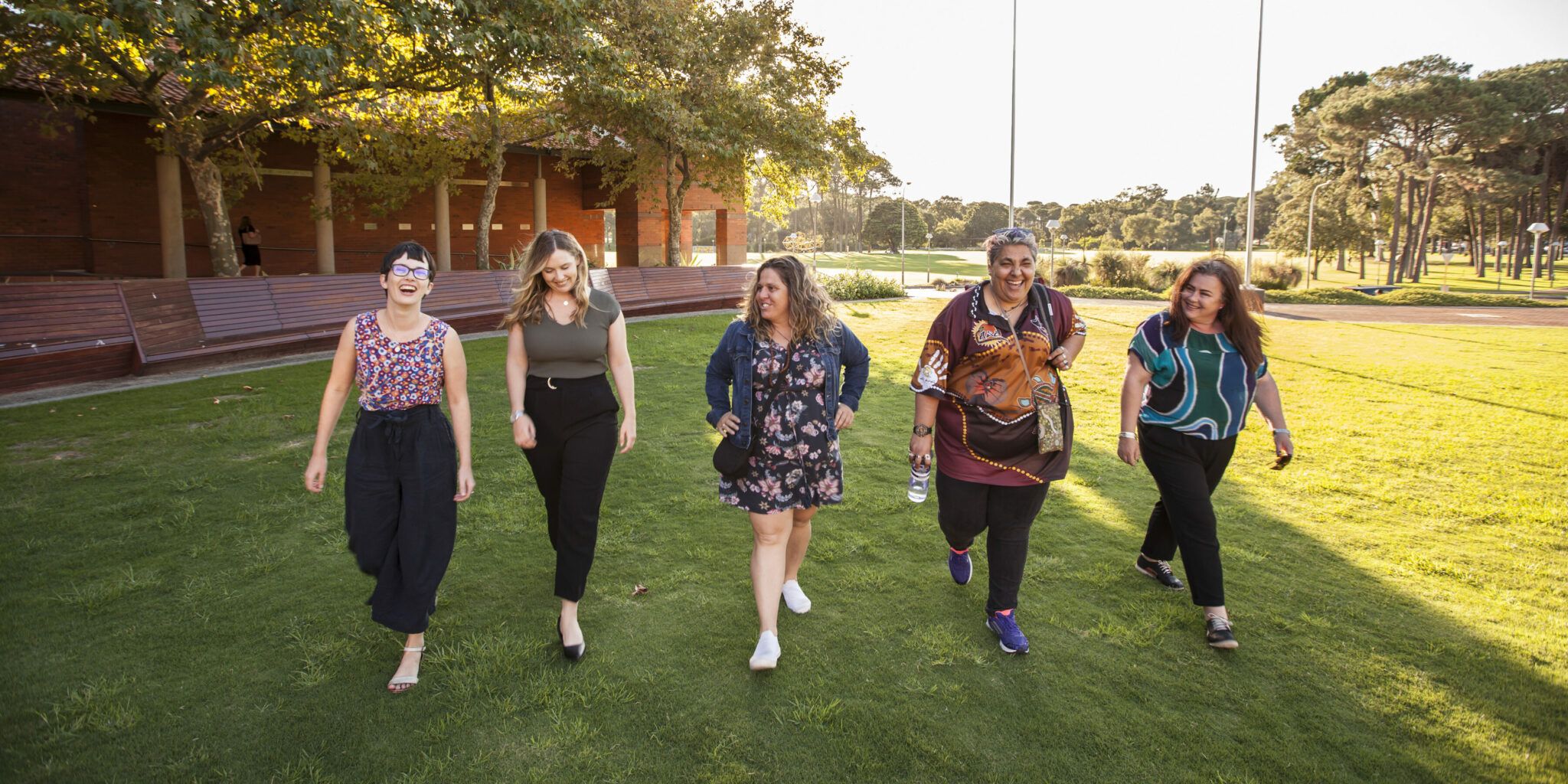 Moorditj Yorga Scholarship
Vanessa Guthrie founded the Moorditj Yorga Scholarship, which supports female Aboriginal and Torres Strait Islander mature-age students to enter and succeed at university. Find out how you can support grow this fantastic scholarship initiative.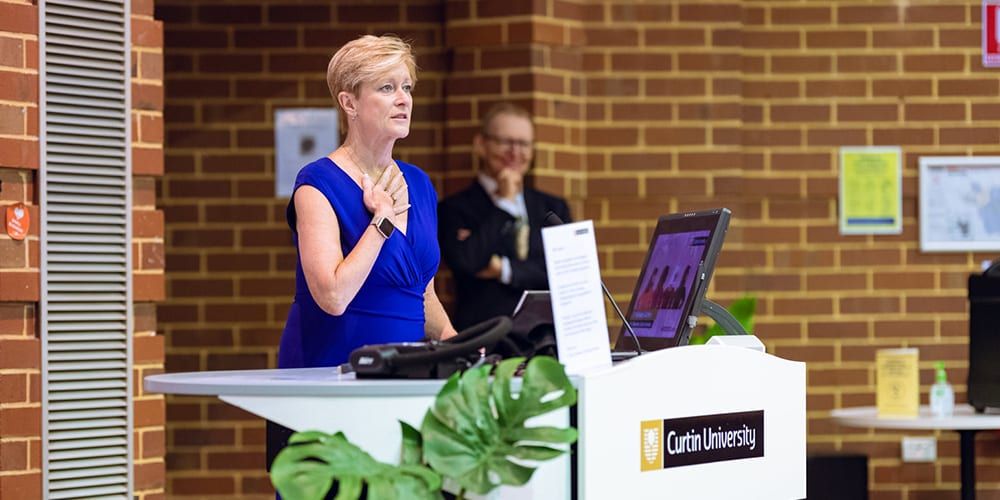 Meet the University Council
The day-to-day running of the University is under the leadership of the Vice-Chancellor and a group of senior officers from academic and corporate areas, including Vanessa Guthrie. Meet the Curtin University Council today.
Read more stories like this one