The compassionate art and life of Mel Tregonning
22/09/21. By Luisa Mitchell.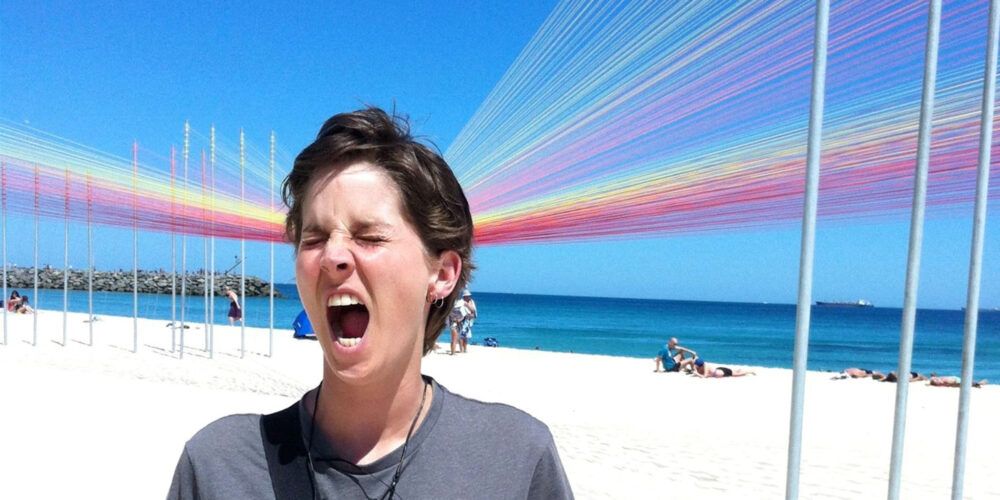 Image: Mel Tregonning (BA Graphic Design, 2004).
TW: This article discusses suicide. If you or someone you know needs help, call Lifeline on 13 11 14.
Mel Tregonning was a graphic design graduate (2004) and talented artist who, before she died by suicide in 2014, published her debut graphic novel Small Things. It received widespread critical acclaim, including praise from award-winning illustrator Shaun Tan, who helped to complete the final pages of the book after Mel's passing.
"The best art gives a voice to the voiceless parts of our lives, and Small Things does so with heartfelt precision," said Shaun.
Small Things tells the story of a young boy who feels alone with his worries. It has no words, instead using only black, grey and white shades to communicate a deeply emotional and poignant message – that everyone has their own demons, but help is always close by.
Mel's passing was a heartbreaking shock for the entire family, says her younger sister Violet. Holding the precious artworks and books that Mel spent so many hours lovingly crafting, Violet told us of Mel's life, art and the impact she continues to have on us all.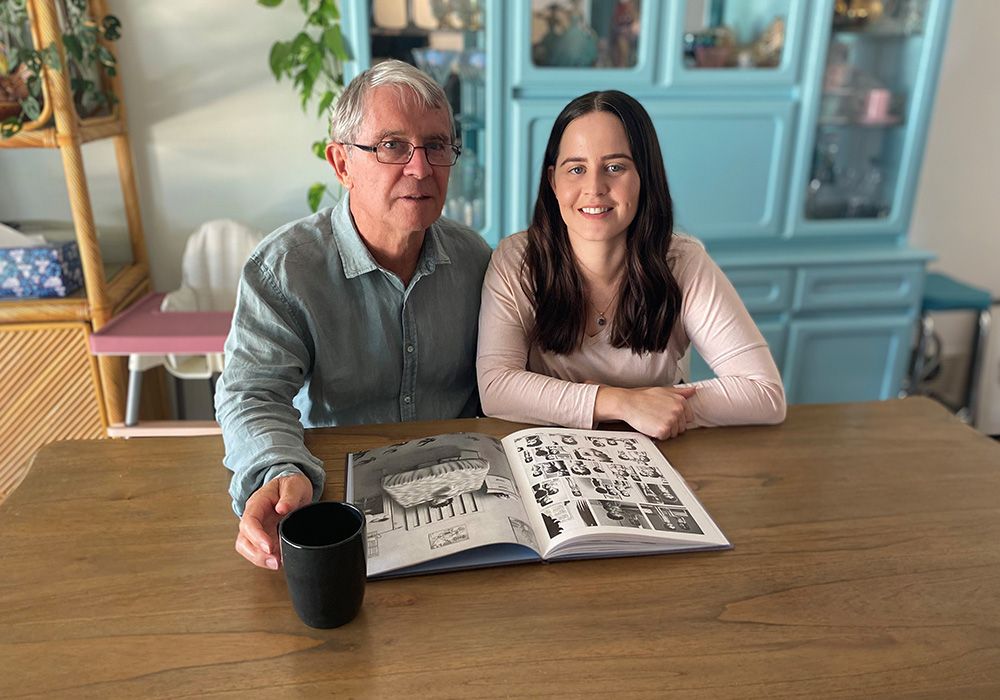 Image: Mel Tregonning's father and sister Violet reading her novel 'Small Things' in 2021.
Hi Violet. How would you describe Mel?
Mel was the greatest person I've ever known. She was kind, smart, inquisitive and unique. She had a truly creative mind which was not limited to drawing, but many different media forms, including sculpture and creative writing. She could make you think deeply and philosophically during a conversation in one moment and then be completely silly and hilarious in another.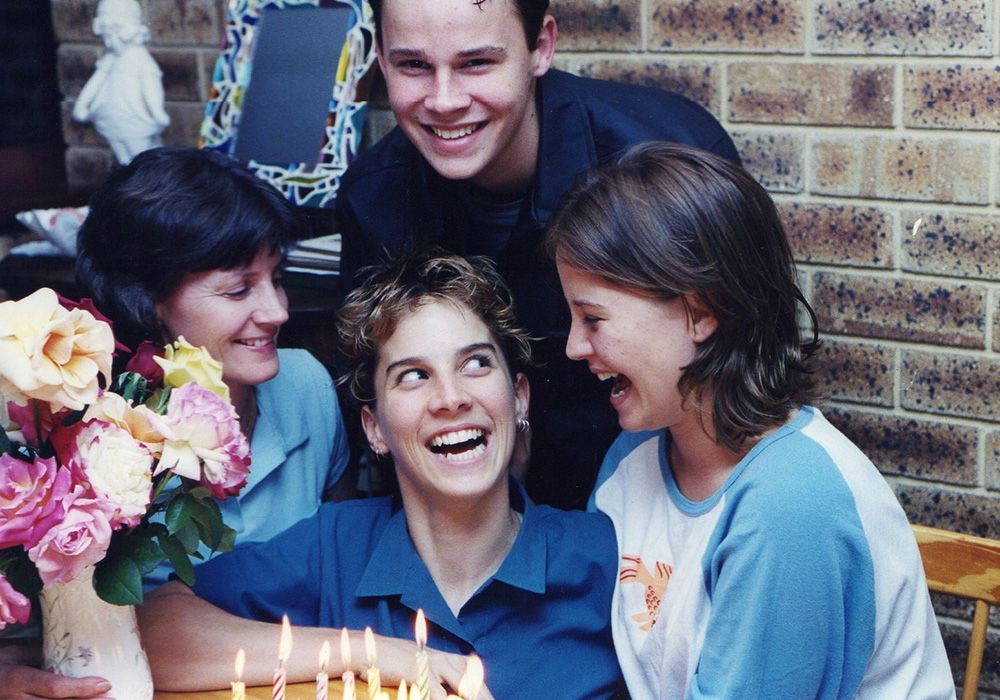 Image: Mel Tregonning (centre) celebrating her birthday in her teenage years.
What was your relationship like growing up as sisters?
We were incredibly close. We shared a room for most of our childhood and even though there was five years between us, we only parted once when Mel was 17 and moved into the studio in the backyard our parents built for her. She taught me a lot about life and the importance of being a good, honest person.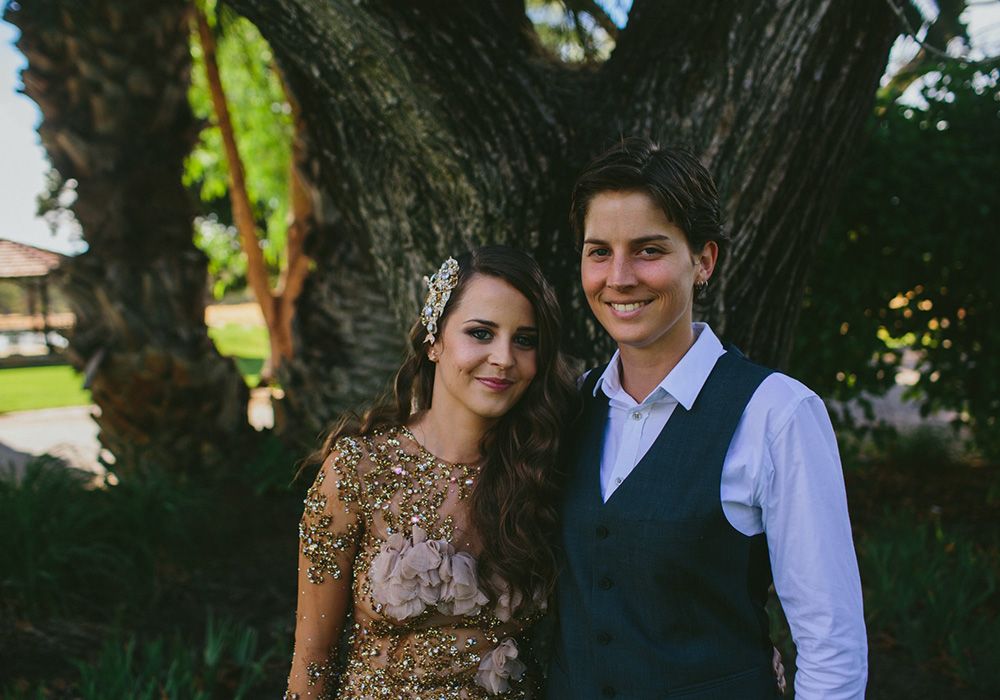 Image: Violet (left) and Mel (right).
What are your earliest memories of Mel as an artist?
Mel was constantly drawing. Her first work was a cartoon strip she created called Licorice the Cat, which was influenced by similar stories such as Footrot Flats and Garfield. She even had a few illustrations published in a pet magazine when she was only in primary school. I have a few of my favourites of hers framed in my house now.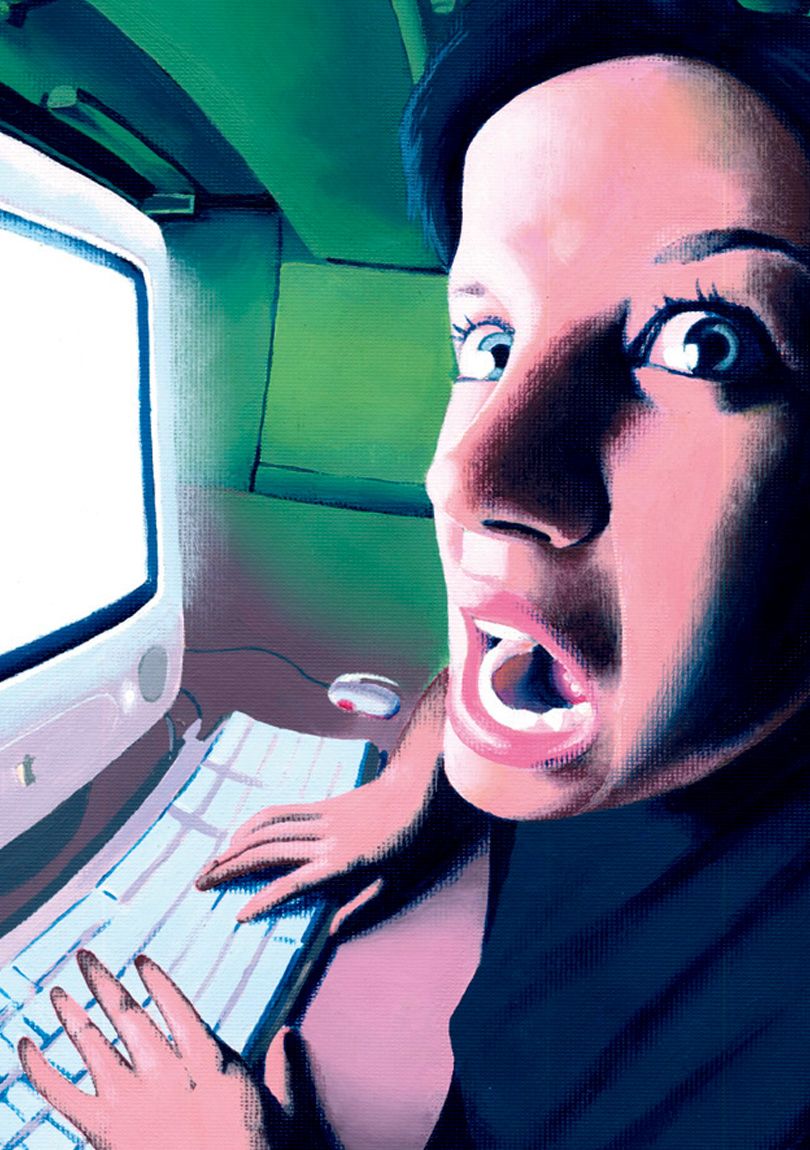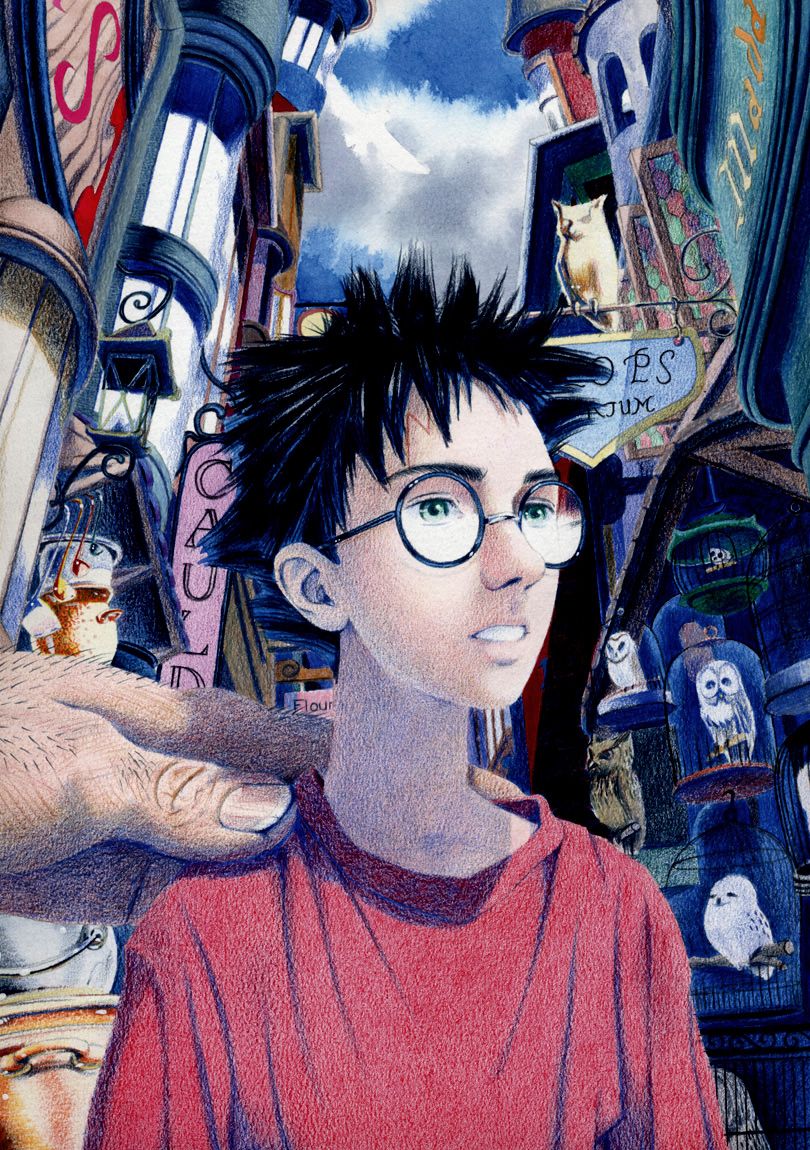 First image: 'Copyright' by Mel Tregonning.
"I was often required to pose for many hours while Mel took photos of me for various projects. This piece represents the shrieking horror of getting caught illegally downloading something and the massive fines that can ensue." – Violet Tregonning.
Second image: 'Harry' by Mel Tregonning.
"Mel was a fan of the Harry Potter books but not the movies, so she felt a need to depict what she understood the book to be describing to us all. This meant a skinny Harry with true unruly hair and beautiful green eyes, next to an actual semi-giant. Completed using skilful watercolour pencil techniques." – Violet Tregonning.
How would you describe Mel's artistic style?
Mel was able to apply a few different drawing styles, depending on what the job entailed. She worked professionally as an illustrator, so she had to create work depending on the commission. However, those that truly showed off her skills were the realism pieces, such as 'Machine'. She had a masterful talent for shading using graphite pencil. It was amazing to see just how many layers of depth could be created using only one tool.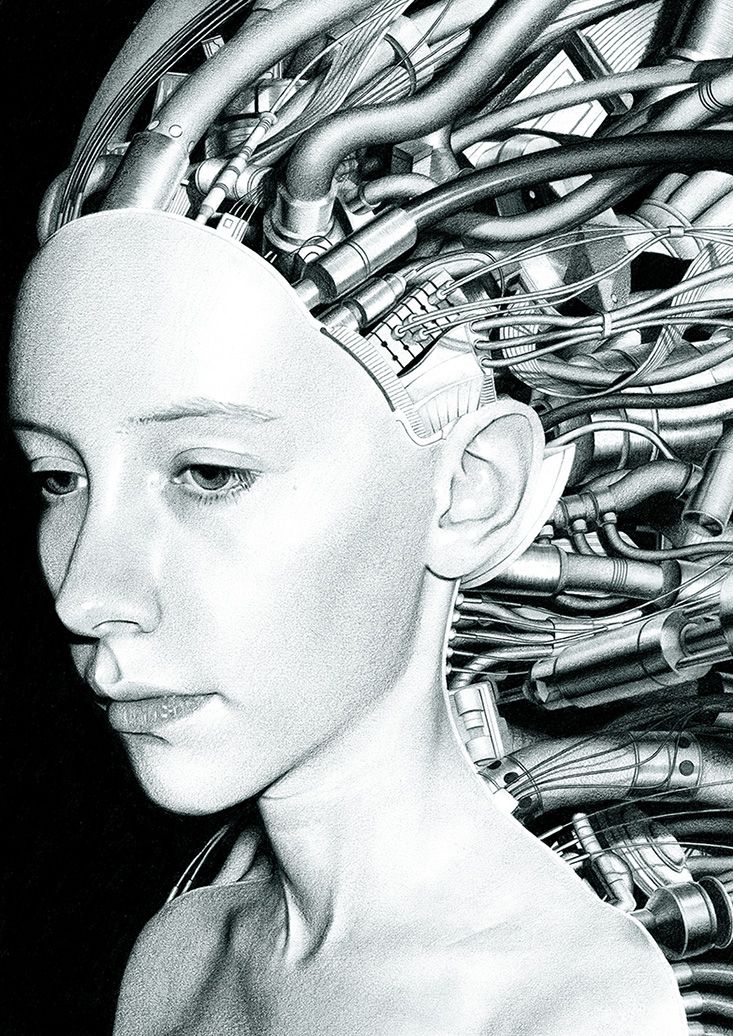 Image: 'Machine' by Mel Tregonning.
"Demonstrating Mel's incredible ability, 'Machine' is an impressive black and white realism piece featuring one of her old friends. Originally influenced by the design on Australian bank notes, Mel took it a step further as she wanted it to be finer and more detailed. In the early stages of development she used fine liner pens before moving to pencil, which is her most mastered method of illustration. As it evolved, Mel was influenced by sci-fi artist H.R Giger." – Violet Tregonning
If you could get to the heart of it, was there a theme that ran through Mel's works?
I found that some of the artworks reflected how Mel saw herself, often carrying themes of being a misfit. Mel told this story in various ways, including sci-fi works like 'Statue', which transports you to a different place, or 'school', which makes you think of how students are labelled as either good or bad based on cookie-cutter education practices.
In her younger days she would don a bag which she had decorated with the word 'freak'. She wore that proudly, almost like it was a badge of honour. She was happy being different. When we were younger, she would tell me that you shouldn't want to be normal and "fit in" as that is boring and it's important not to care what others think about you.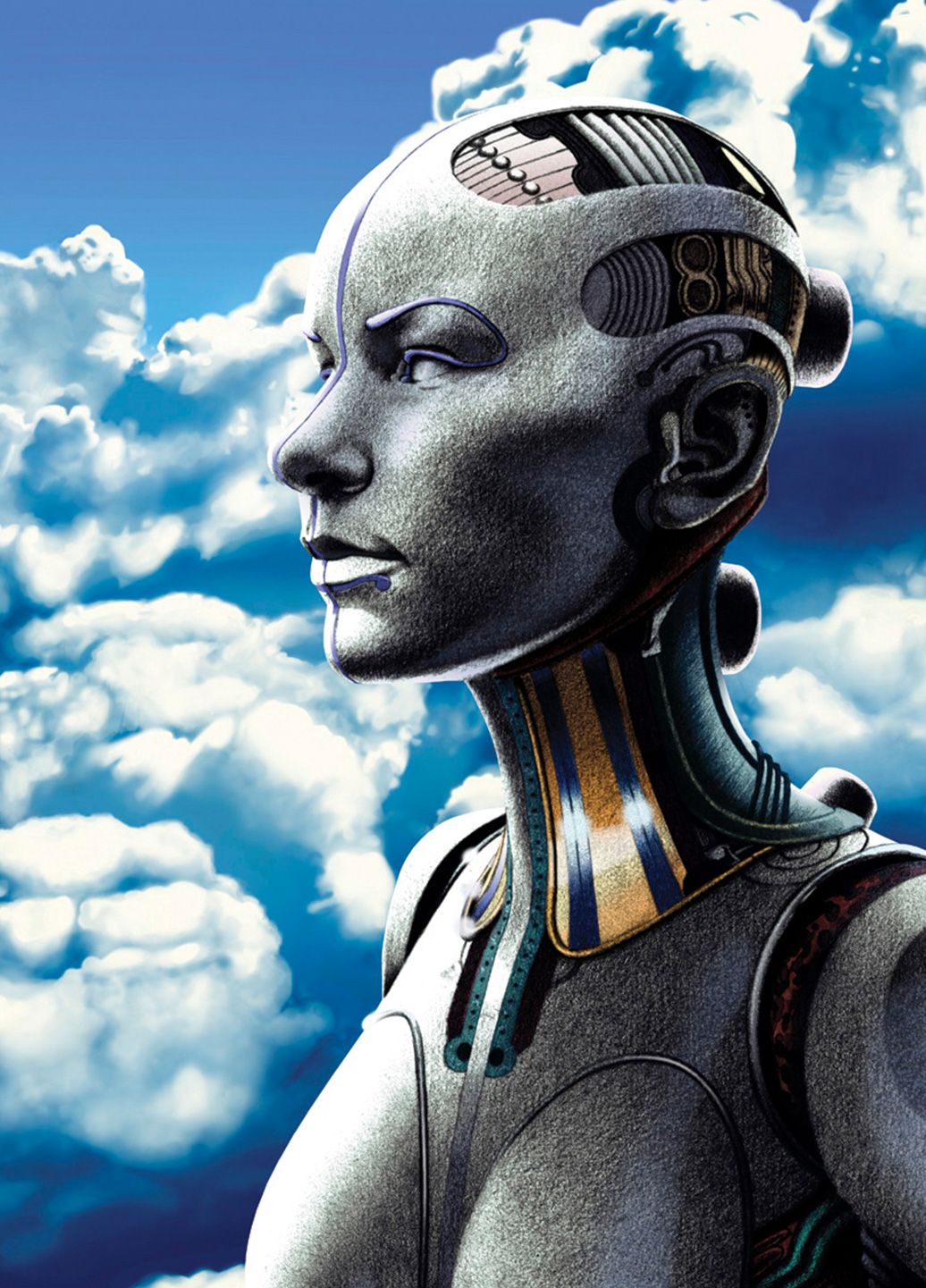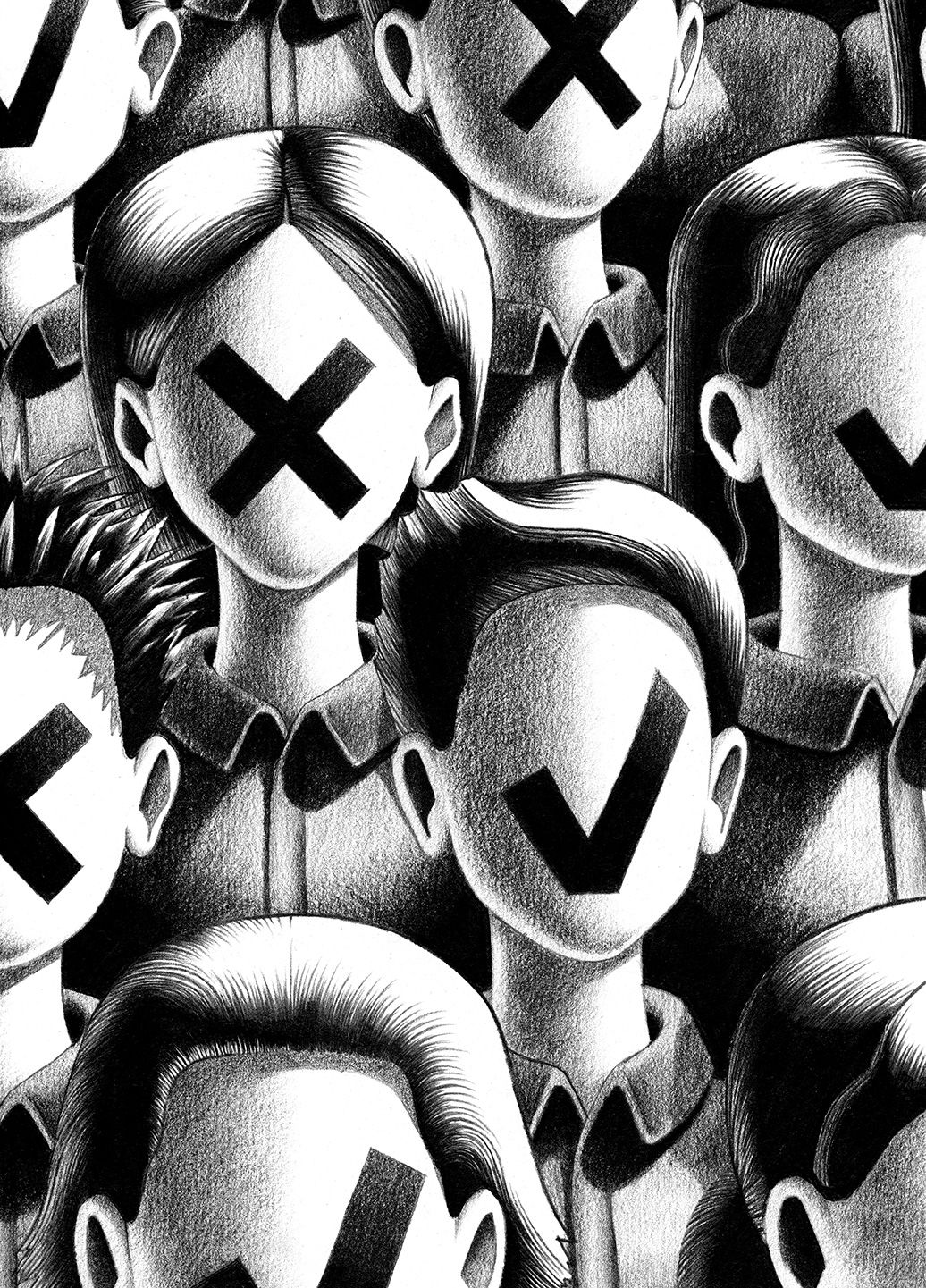 First image: 'Statue' by Mel Tregonning.
"For this piece, Mel experimented with Photoshop. It was one of her first pieces where she combined her mastered illustration with electronic enhancements. Influenced by sci-fi and Egyptian styles, it has an otherworldly, god-like quality." – Violet Tregonning.
Second image: 'School' by Mel Tregonning.
"Created with an Art Deco influence for a high contrast shedding technique, 'School' represents how youth are put into categories of 'good' and 'bad' based on their achievements in academics and sport. If you have a different learning style to the way the teacher wants to teach you, you are labelled a naughty child. 'School' is one of Mel's earlier influential pieces." – Violet Tregonning.
What did Mel get up to while she was studying at Curtin?
Her uni days were some of her happiest. She enjoyed completing her graphic design degree and was always working on interesting assignments. She made friends through various social groups on campus. We really saw her blossom into the person she was born to be during this time in her life.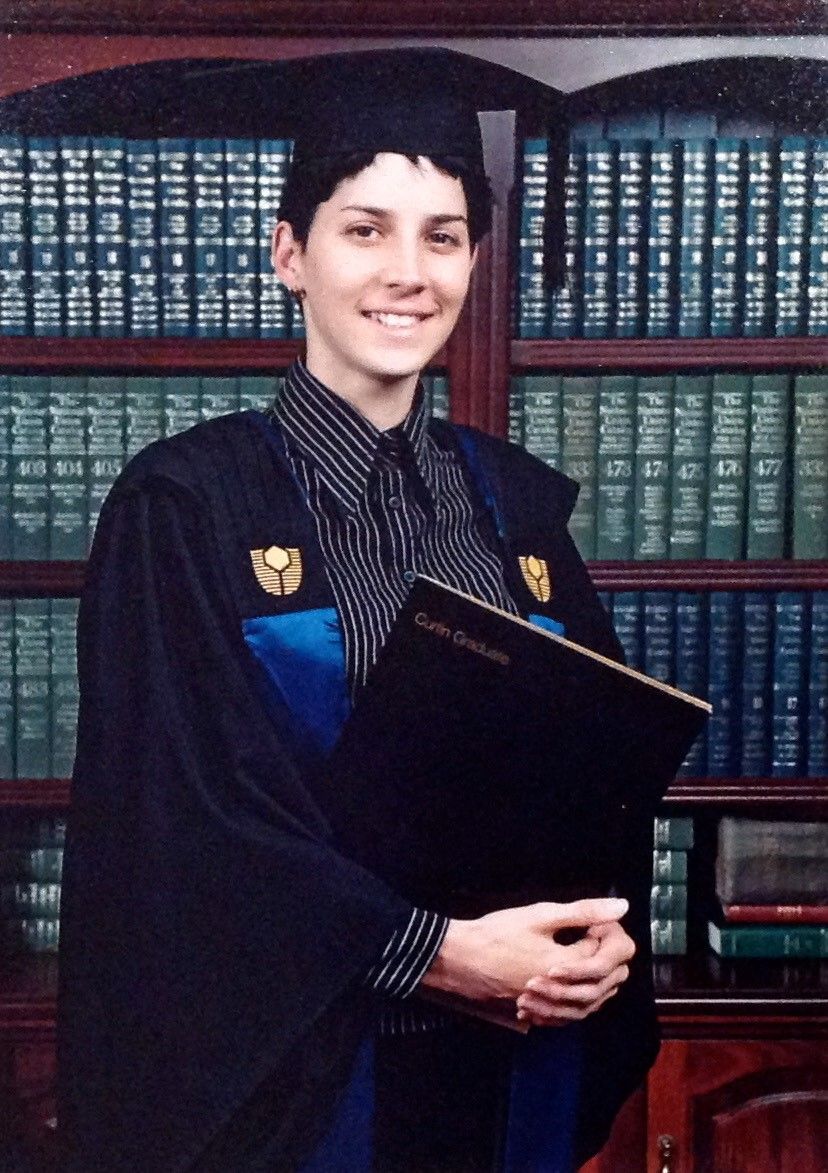 Image: Mel Tregonning's Curtin University graduation photo.
Do you know if Mel had a favourite piece of artwork of hers?
She was very proud of her realism work, so one of her favourites was 'Machine', which she called her masterpiece. This was inspired by H.R. Giger, the artist behind the visual concept of the aliens in the Aliens films. However, I am sure that some of her Small Things illustrations, such as page 18-19, would have made her incredibly proud of herself.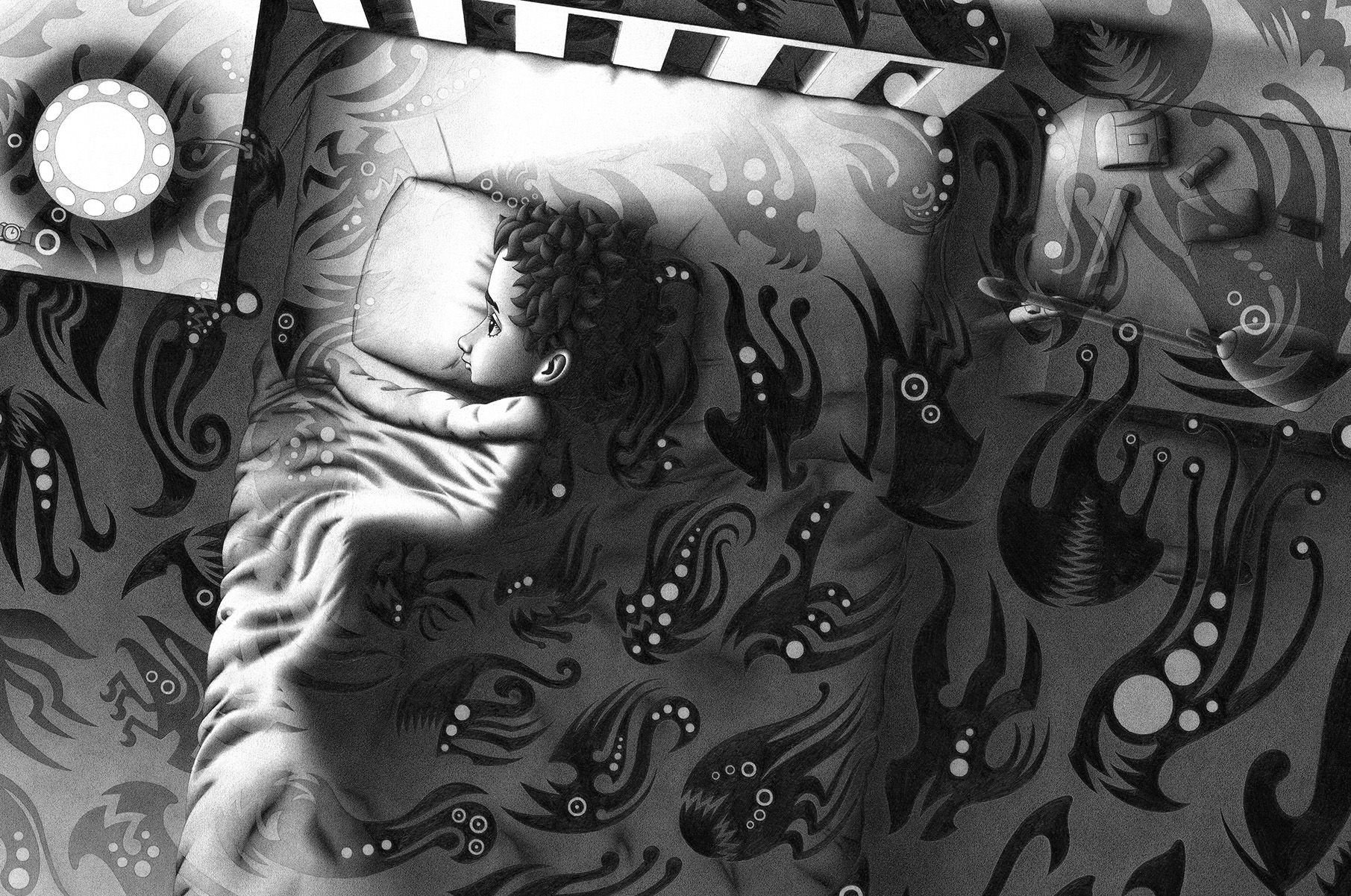 Image: Page 18-19 from 'Small Things'.
What inspired Mel to create Small Things and what did she hope to achieve with it? Or was the book more of a tool to put her feelings down on paper?
Mel never said that the book reflected the way she was feeling when people asked her this question. Whenever she talked about Small Things, it was always with excitement and passion. She was sure she was on the right path to creating a book that would connect with a lot of people.
She wanted to capture the essence of the hard place the boy in the book was in, and the overwhelming emotions he was feeling. She wanted to create a book with depth that would be pondered over, raise questions and be educational for future students – and she has certainly achieved that.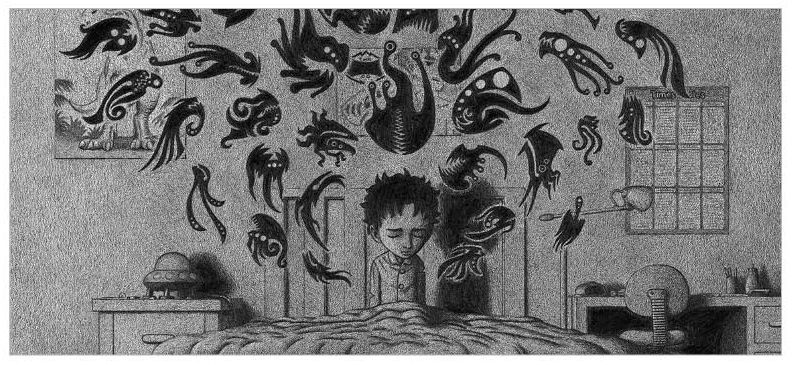 Image: Page 17 from 'Small Things'.
The book uses only images. Do you think this makes it more impactful?
She wanted the story to be left open to the individual reader's interpretation. I have seen first-hand how different scenes in the book can affect the reader in different ways. We often used to ask Mel, "don't you think some words might be helpful?" and she would say, "no, that goes against the intention to make people think about it for themselves."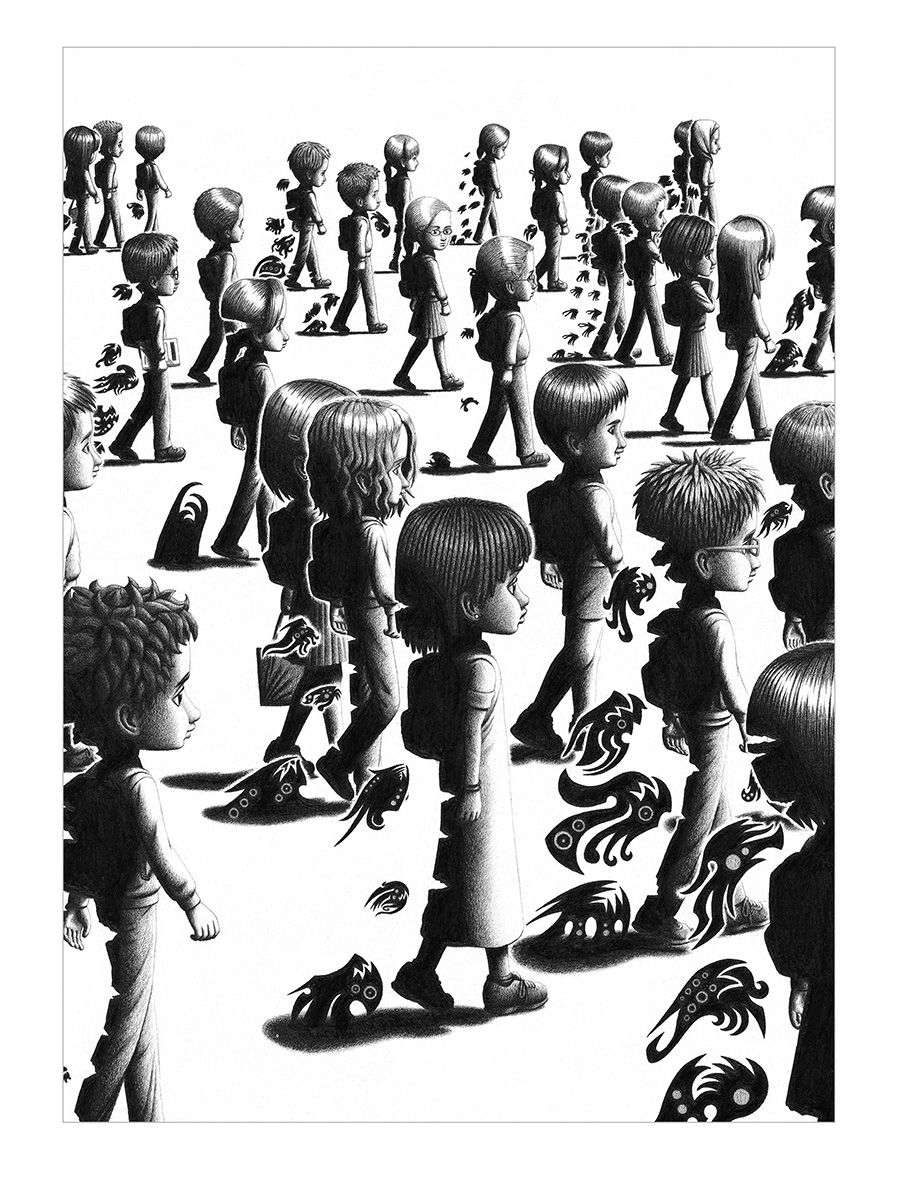 Image: Page 36 from 'Small Things'.
Mel was struggling with her mental health and died by suicide in 2014. Why do you think her story is important to share?
Mel's situation was unique as she did not present like a typical mentally unwell patient. She had a future-oriented mindset, was clean and well-presented, and spoke clearly and calmly. Nothing about her appearance or behaviour said, "I need help."
She experienced a sudden decline within the space of a week and the crisis intervention support required was not made available to her. The hospital staff did not think she looked like someone who would go home and take her life, but that's exactly what she did.
Isolation may have been the trigger for her breakdown, as she was so focused on completing her work that she made little time for social outlets. I think this is a major concern in this day and age where COVID-related lockdowns are becoming the norm. It is more important than ever to be checking in with one another and making mental health resources more available and accessible to all – especially for those who may not appear to be struggling – so that they know where to go for help if they need it.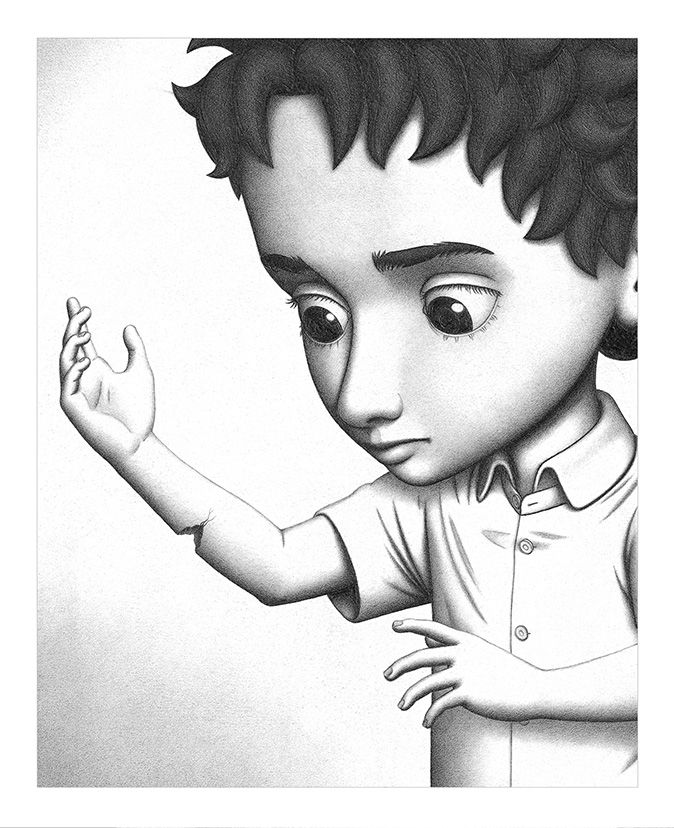 Image: Page 13 from 'Small Things'.
What do you think would be Mel's thoughts on the journey Small Things has been on if she were still with us?
I think she would be very proud of her work. She has achieved exactly what she set out to and more. Small Things has been published not only in Australia but also the UK, China, Turkey, America, South Korea and Spain. It is studied at primary and secondary schools, often within the English curriculum, and has been used by primary school teachers when they notice a student withdrawing or exhibiting mental illness symptoms.
Every artist sets out to make an impression and Mel has achieved that ten-fold.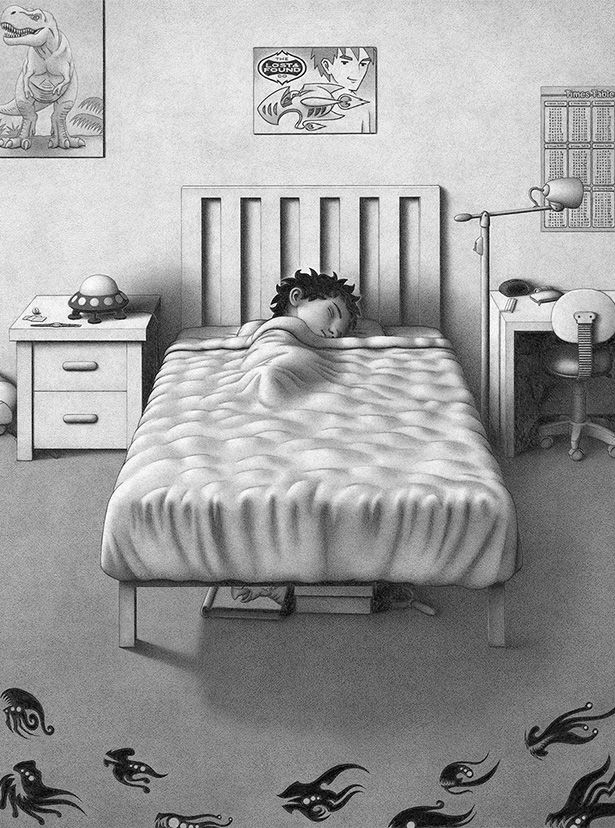 Image: Page 35 from 'Small Things'.
How do you see the positive legacy of Mel's life and art around us today?
As a family we could not be any prouder of her. This month, September, marks five years since Small Things was published, and every day we are thankful that her work is still in circulation and being reprinted. Mel's legacy will live on through this and will forever be a reminder to check in on your friends and family, and to simply be kind to one another. I can't think of a more important legacy and message to leave behind.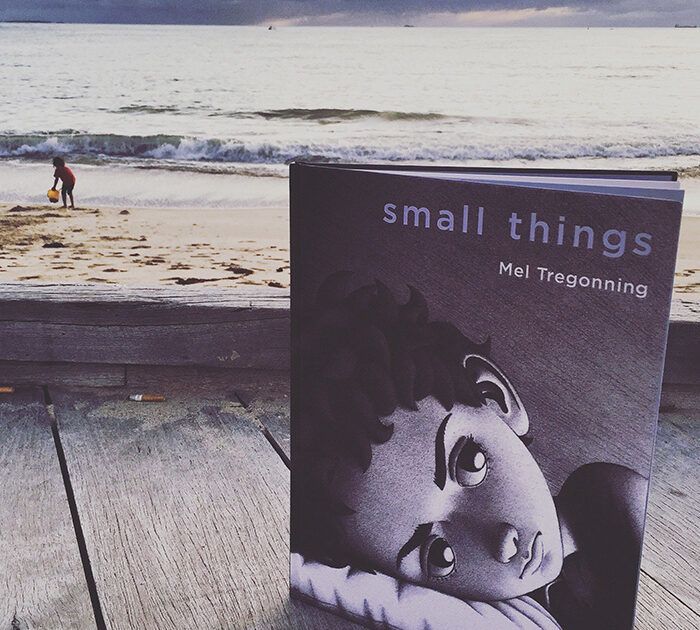 Image: 'Small Things' book. Photo supplied by Violet Tregonning.
If you or someone you know needs help, call Lifeline on 13 11 14 or Beyond Blue on 1300 22 4636 for round-the-clock assistance and support.
This interview was conducted in support of the Healthy Futures – Student Mental Health campaign to raise funds for mental health resources for Curtin University students. Support this cause today by donating here.
All artworks by Mel have been republished with permission from Violet Tregonning. Find out more about Mel's art on their website.
___
Share this article:
Explore more information featured in this article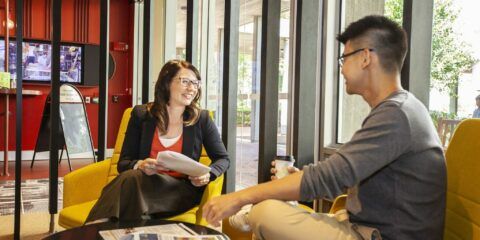 Support Healthy Futures
One in three university students meet the criteria for a mental illness such as depression, anxiety or panic disorder. One in six have considered suicide in the past 12 months. Curtin University wants to change this, but we need your support.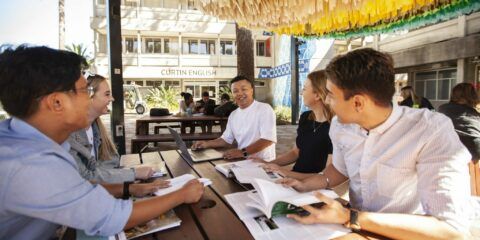 Our Humanities community
Through the humanities, we learn about the world around us, ethics, human rights and issues that relate to and challenge our own beliefs, values and assumptions. Find out more about our Humanities community.
Read more stories like this one