"Education allowed me to become a changemaker": Q&A with sustainability and equality champion Dr Sandy Chong
23/09/21. By Luisa Mitchell.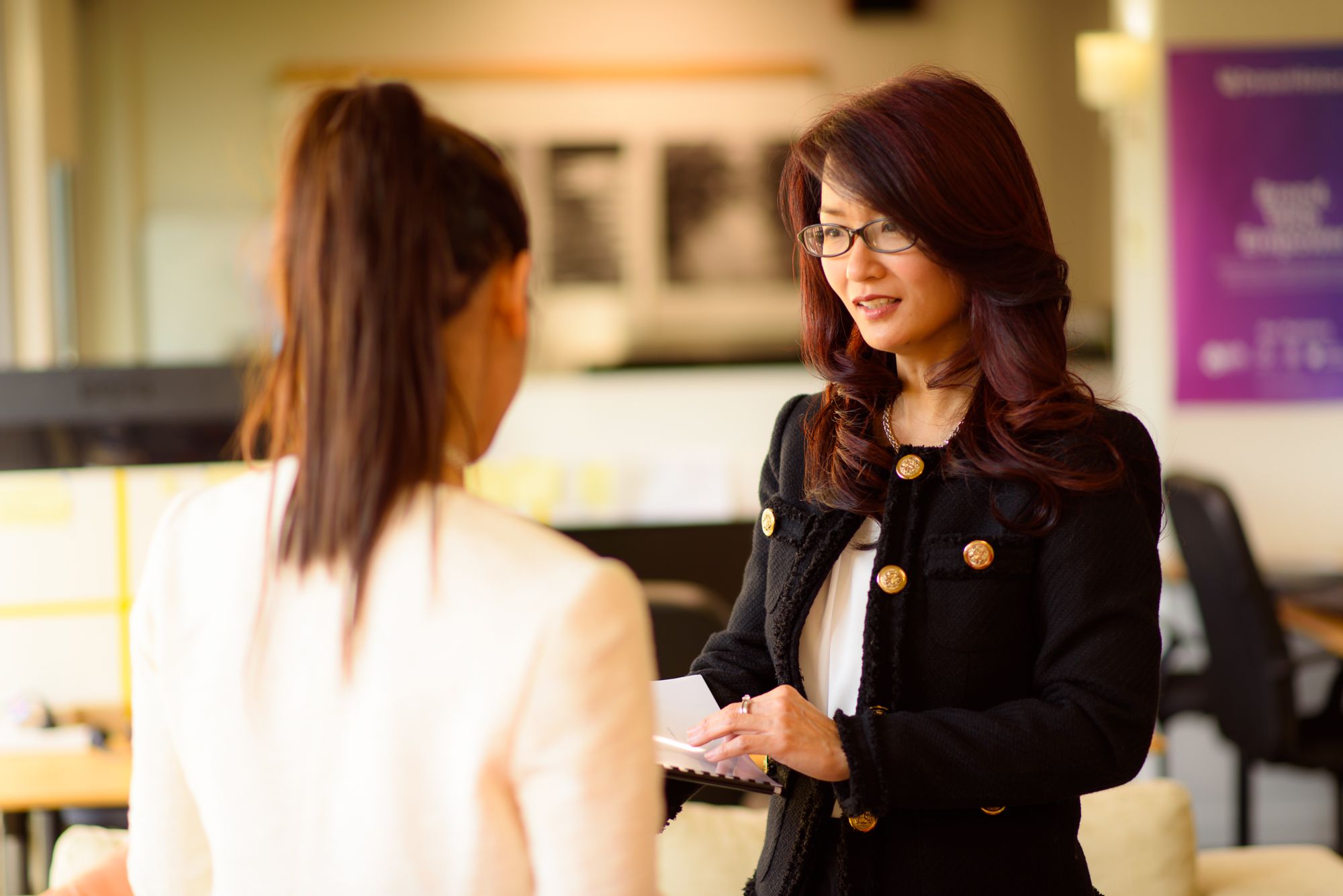 Image: Dr Sandy Chong. Photo supplied by Sandy Chong.
Businessperson, philanthropist, mentor and educator, Dr Sandy Chong (BCom Management and Marketing, 1996, PhD Information Systems, 2003) has been a champion for change ever since she began her higher education journey and decided she wanted to be a "student for life."
We chatted to Sandy about her belief that being a 'disruptor' isn't necessarily a bad thing – they can pave the way for positive change and create a better society. Who are the best disruptors? According to Sandy, the answer is women. Without education, she says we risk overlooking or ignoring women's potential to bring change to the world, and barring them from finding success in their careers, businesses and communities.
Here's what Sandy had to say about the power of education to transform women's lives and help them become better leaders, and even better disruptors.
Hi Sandy. Would you tell us a bit about yourself?
I'm the founder of Verity Consulting, an award-winning consultancy specialising in international growth and strategic communication. I also chair the Association of Southeast Asian Nations (ASEAN) Business Alliance, a coalition of business councils representing ASEAN countries in WA to promote trade and investment between them.
My real passion is sharing my knowledge with young people, both through promoting the United Nations Sustainable Development Goals (SDGs) in my role as President of the United Nations Association of Western Australia, and as State Director of Australian Harvard Women. The mission there is to encourage sharing female wisdom and getting more women to study at Harvard through the Executive Education program.
How did your education lead to a career in business?
It was back in 1996 when I did my PhD at Curtin on the adoption of e-commerce for business. This information and knowledge led to working in other countries and undertaking research projects overseas. I did a study tour in California and Silicon Valley which was fascinating and I met a lot of very smart academics and practitioners who shared their ideas, and I decided I wanted to start my own business.
In 2009 my father had a stroke, and I returned to Singapore to be closer to him. I started my own consultancy working for the Singaporean government and helping Singapore-based businesses to digitise and internationalise their offerings.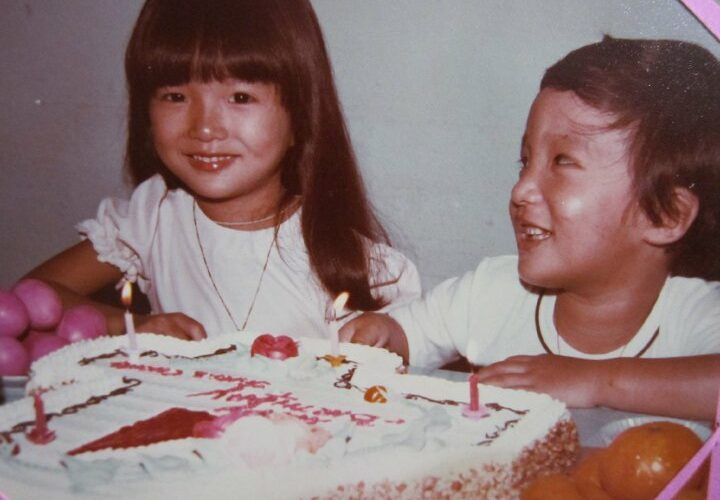 Image: Sandy as a young girl (left). Photo supplied by Sandy Chong.
Was a university education always an attainable pathway for you?
When I was little I was a bit of nerd. I always enjoyed learning and wanted to go overseas to pursue my studies, but it wasn't easy because back in the 70s and 80s Singapore was still a developing country. Our family did not have many financial resources and even for those families that did, the opportunity of overseas education was often given to the boys rather than the girls. We just accepted it as it was then.
I was fortunate to have a great father. He always encouraged me strive for the best. But I knew deep down at the time that the options for my life were very, very limited if I stayed in Singapore.
Growing up in Singapore, I had to work really hard to get scholarships at every stage of schooling to continue my primary and secondary studies. Later on, I had to work for two years to raise the funds to come to Australia and pursue a higher education. But right from the very beginning I knew that was what I wanted. I was very fortunate too, because I had girl friends from high school whose families could only afford to send one child to university, and they would send the brothers instead. These stories have always stayed with me and I feel extremely fortunate to have been able to come to this country and be afforded an education.
When I did get here, I finished my degree in two years. I crammed in all the units and got into the honours program, but even then my father said to me, "if you want to complete your studies in Australia, you have to make it on your own." I did what I could – earned a scholarship to do my honours and then another to do my PhD. I could only do that because of the amazing support given to me by this country and the University. As a result, I don't take education for granted.
Why does education stand out as being key to your success?
At every step of my life, whether I was in primary school, high school, university or doing my postgrad studies, education has been essential to my growth. The key players in my life were in these educational roles: the mentors and the professors. They played such a huge part in motivating me to pursue what I wanted to do. I wasn't the brightest kid in school or even in the class, but they were always patient in giving me their time and sharing their ideas and knowledge with me, which really helped me to become a passionate student.
If I can, I would like to be a student forever. I graduated with my PhD at the age of 30, and when I reached 40, I thought I'd give myself another challenge. I was at a juncture of my life in thinking how do I step up as a leader? How do I actually find that vision and articulate my mission? So I applied for the highly competitive Executive Education program at Harvard Business School. It was a tough one and took five years to earn alumni status, but it was one of the most life-changing experiences for me. It changed the way I think, the way I articulate my drive and my mission, and the way I lead profit and non-profit organisations.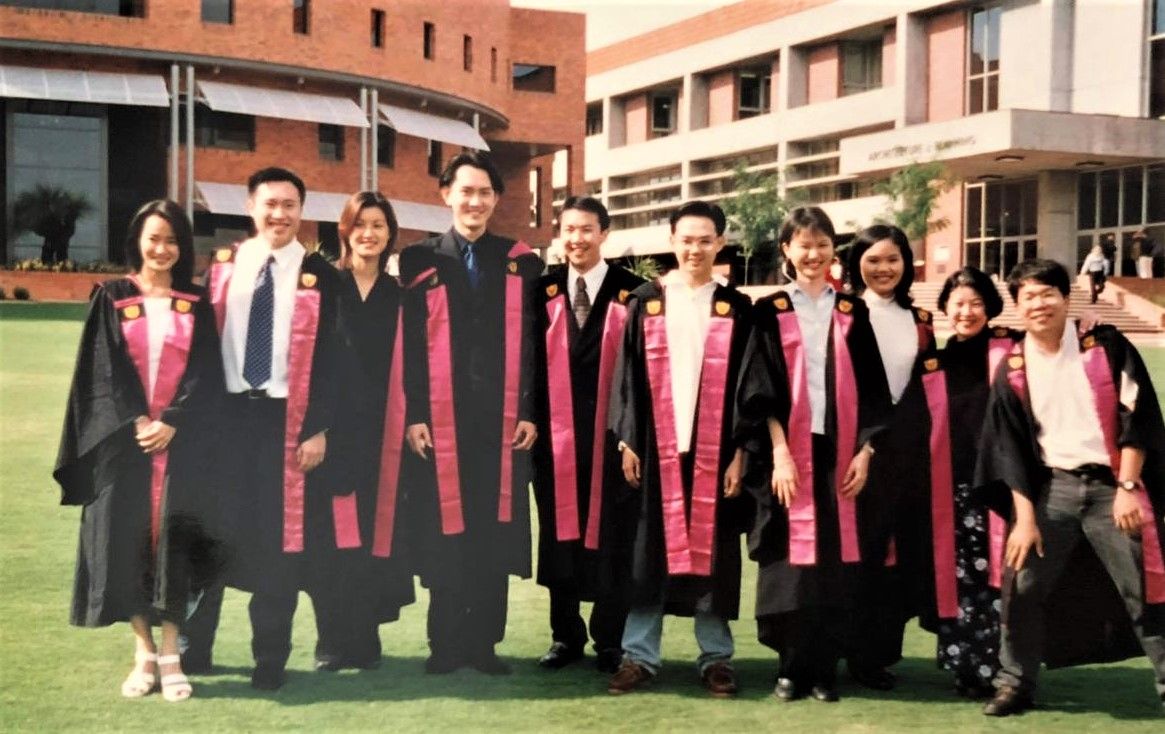 Image: Sandy (far left) graduating for the first time from Curtin University, c. 1996. Photo supplied by Sandy Chong.
Once you began your studies at Curtin, did you face any obstacles as a woman and a person of colour?
I was doing my PhD in Information Systems and this was a very male-dominated field at the time. It was hard to get anyone to take me seriously. People used to think I was an assistant, not a well-published researcher or a dedicated lecturer, so that was tough. Most of the time, I would have to really assert myself to make sure people would treat me based on my intellect and values. Of course, there was also an added challenge of being a woman of colour as well.
Having said that, I met a number of amazing people in academia who gave me many opportunities to excel as a researcher and educator. They were very kind and generous with their time and opened many doors for me. I must thank the men as much as the women who made that happen for me.
I'm glad there were people who made such a positive difference to your time at university. How has education empowered you since graduating?
I learnt how to be a better and stronger person. I learnt how to access the talent within me that I didn't know existed. I learnt how to articulate my values a lot more effectively and communicate my vision. I learnt how to be more resilient emotionally, mentally and physically.
My proudest achievement was being the first Asian woman elected President of the United Nations Association in WA. I think the fact that people elected me to that position shows that there are enough good people in our community who can recognise talent and want leadership that represents and promotes diversity.
I don't take anything for granted. As a leader, you must keep earning your stripes and proving yourself to the people who look up to you and rely on your leadership.
Image: Sandy giving an open address at the 75th Anniversary of the United Nations Day in Perth, Australia. Photo supplied by Sandy Chong.
Now you are in a position of leadership, how do you apply these learnings to your work in sustainability?
I do my best to help the WA state and local governments promote the values of the SDGs. I'm most proud of the fact that we have also now gone beyond the activism space and into the public and private sectors successfully in the last three years. Currently, we are engaging with organisations like EY, BHP, Synergy, superannuation companies and even sporting organisations like the West Coast Eagles and Special Olympics Australia, to raise awareness of the UN SDG goals. We say to them, "look, we need to make a better impact in the world and we need to start defining what leadership should look like in the business sector."
Most of the textbooks we read today are written by American or European authors in the early 90s and 2000s. They did a fantastic job at teaching us how to transform and globalise; the only issue is, they didn't consider climate change and social equality. This is perpetuated even more today by the digital divide. In other words, if you have access to Wi-Fi, information and technology, you're going to be far more ahead than those who don't.
Australia is at this interesting crossroad right now. We can already see how some countries are leading in terms of SDG ranking when it comes to closing the gap in equality, addressing climate change or providing opportunities for less fortunate communities. We just need to continue doing more so we that can meet the SDG targets by 2030.
Things are changing. It's a bit slow and of course we're all set back by this COVID crisis, but therein lies an opportunity too. We are a lot more sensitive now about the environment, mental health and the disparity between the wealthy and less privileged. As leaders, it is incumbent on us to actually do something to close these gaps.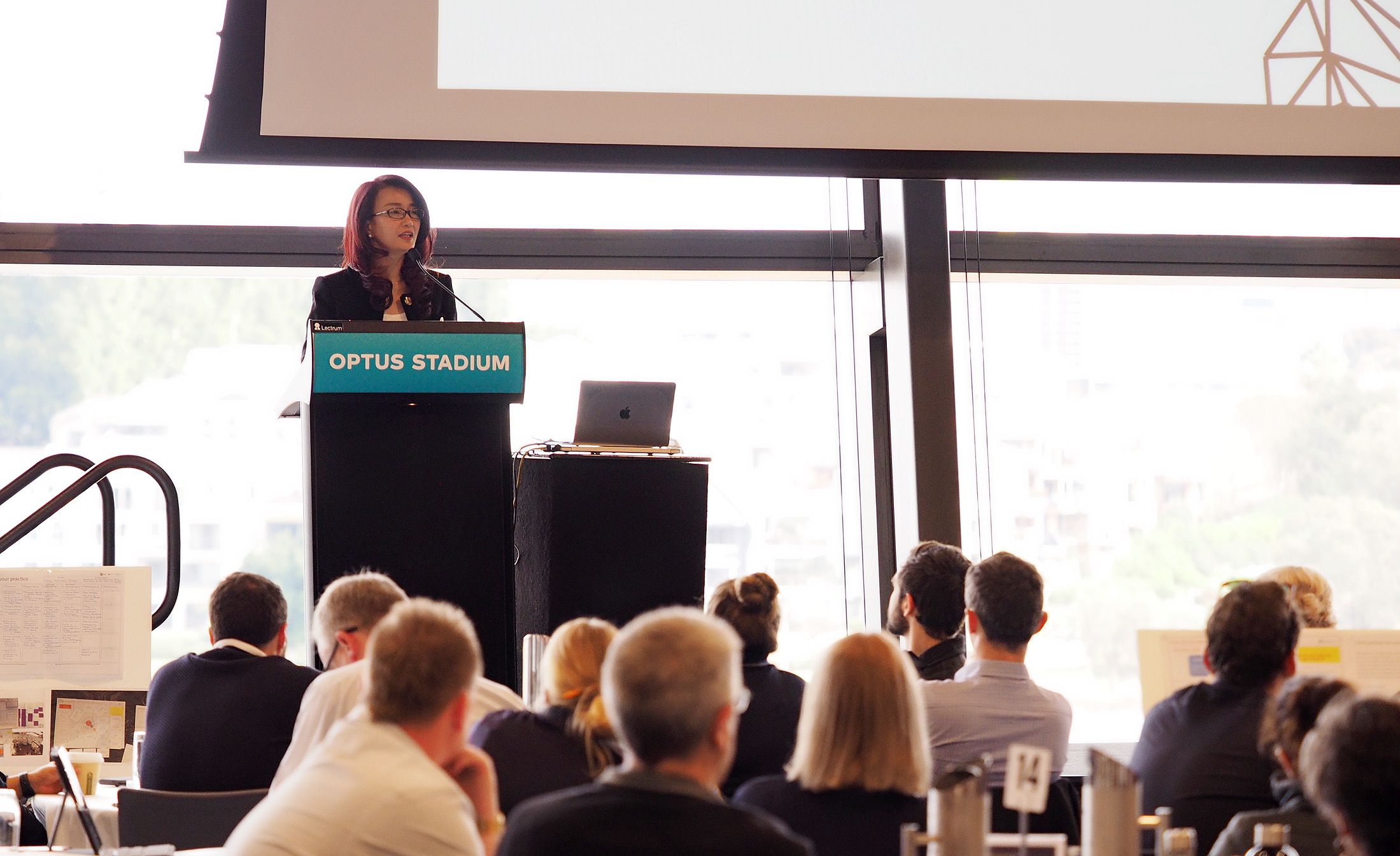 Image: Sandy says she is proud to now be engaging with more companies in the private and public sectors on the UN SDGs. Photo supplied by Sandy Chong.
You're clearly very passionate about social equality, particularly gender equality. How do you try to make an impact in this space?
In Singapore I give my time to the female start-up incubator space and encourage other female entrepreneurs to better articulate their offerings, prepare themselves for international expansion, and grow their businesses.
I'm passionate about closing the gender gap, not just in boardrooms and businesses but also in quality education. As of 2018, approximately 130 million girls in the world did not have access to education, according to UNESCO estimates. That's a real concern. Because of this pandemic, even more women and girls are deprived of education. If the family is impacted economically, the girls are the ones who often get taken out of school and may face further risk of things like child slavery.
Even in a developed country like Australia, we are not seeing the opportunity that lies within educated women. They add a lot to our economy and can help us to achieve SDG targets. An educated woman is not just good for us, our community, and our country, but good for our planet.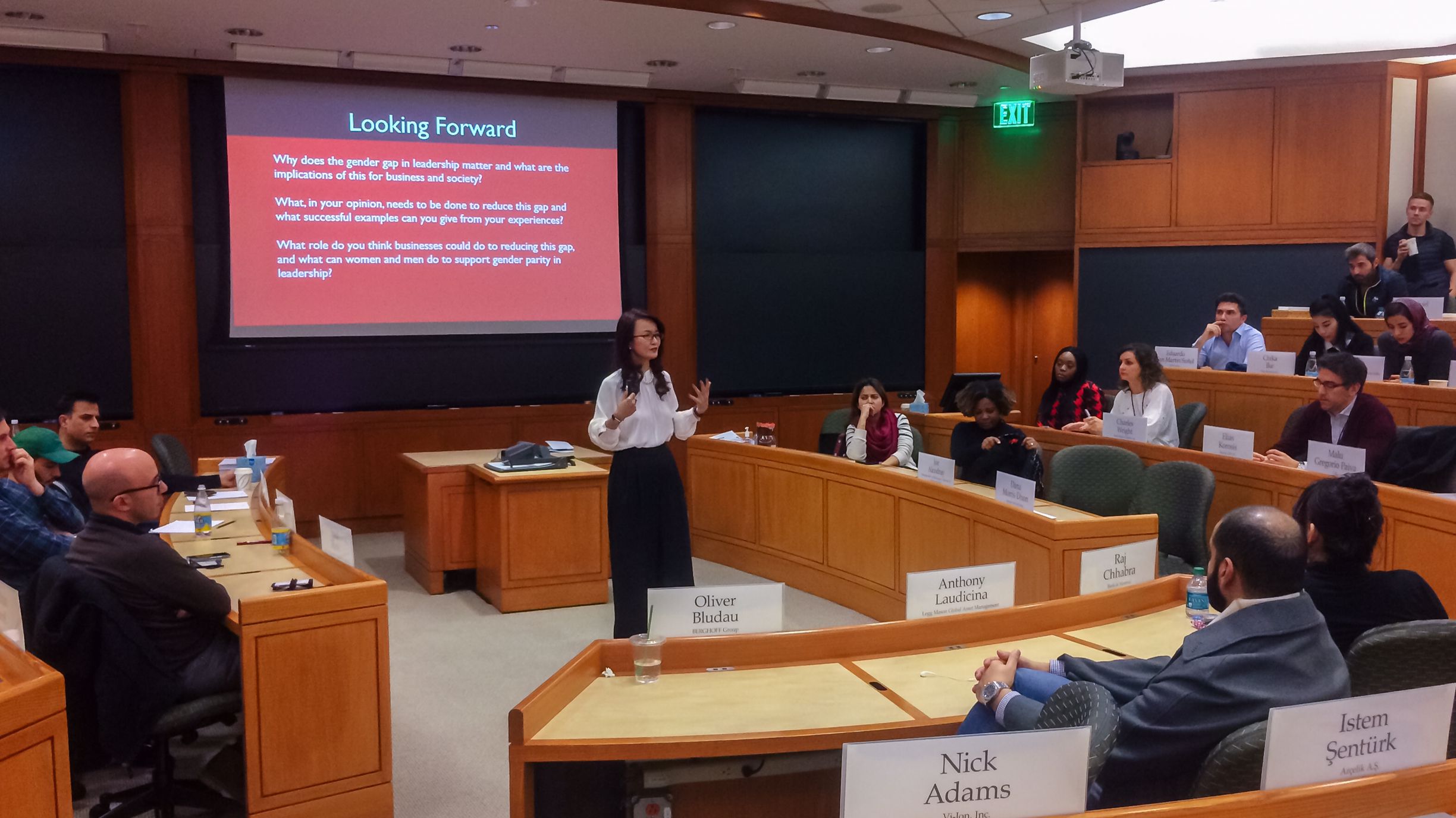 Image: Sandy speaking about women in leadership at Harvard Business School in 2018, Boston Massachusetts, USA. Photo supplied by Sandy Chong.
What advice would you give to women who don't feel they have leadership potential or deserve an education?
Sometimes I too have these doubts, but if you take a moment to reflect and ask yourself those nagging questions, then I'm pretty sure you can do it. We will always be questioning ourselves on how we can do better, what we can do more, how we can be more knowledgeable. But what is most important as a leader is having good values. If you have the right values, you will have the courage to take that leap and jump into the unknown.
I think in general women don't want to trouble people, they don't want to be a burden on others, and so they tend to carry all these burdens and do everything themselves. That's great if you're a superwoman! But the problem is that we cannot get to the goal as quickly as we want being a single entity. So form alliances. Look around you and see who can complement your skills and knowledge and then move forward together. And if you think you can change a situation or see yourself as an agent of change or being a disruptor, even better! We can always use a disruptor every now and then – they make us collectively stronger. Competition in a constructive way keeps us on our toes and makes us strive for better.
A bit of gung-ho is not a bad thing. If you don't ask, you'll never get it. And if you don't take a risk, you'll never know where you stand.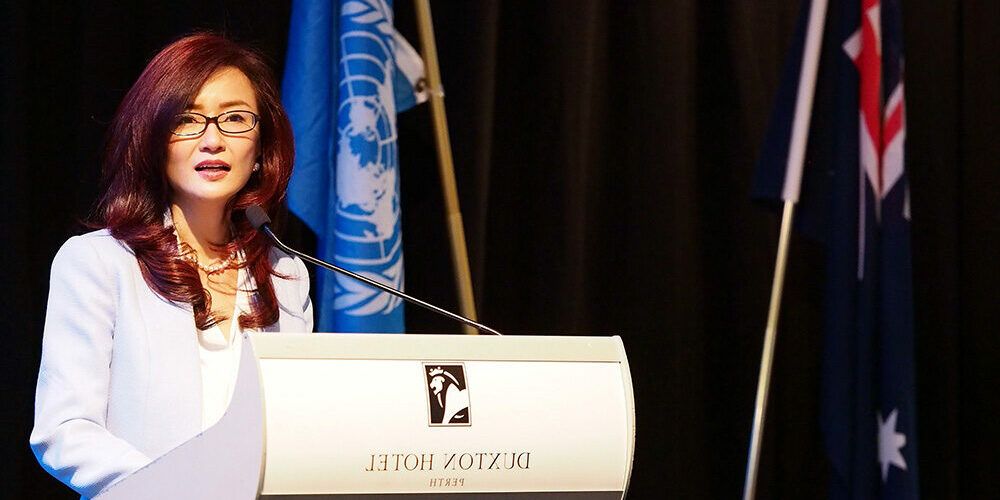 ___
Subscribe to Commons
Explore more information featured in this article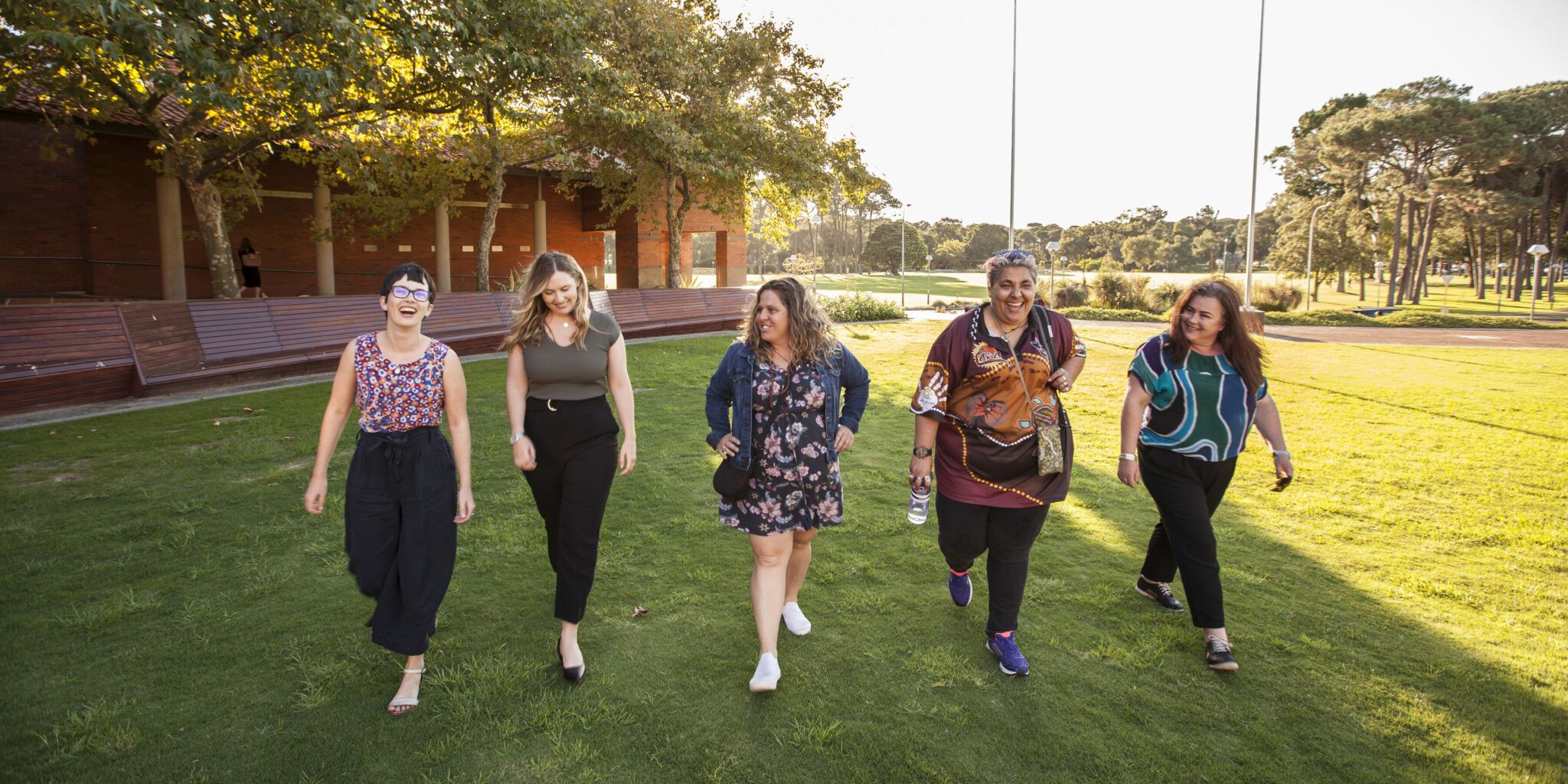 Moorditj Yorga Scholarship
This story is part of a series on 'the power of educated women'. Like Sandy, we believe in this creed. Support Aboriginal and Torres Strait Islander women to enter and succeed at Curtin University so they can return to their communities as qualified leaders and role models – just like Sandy did.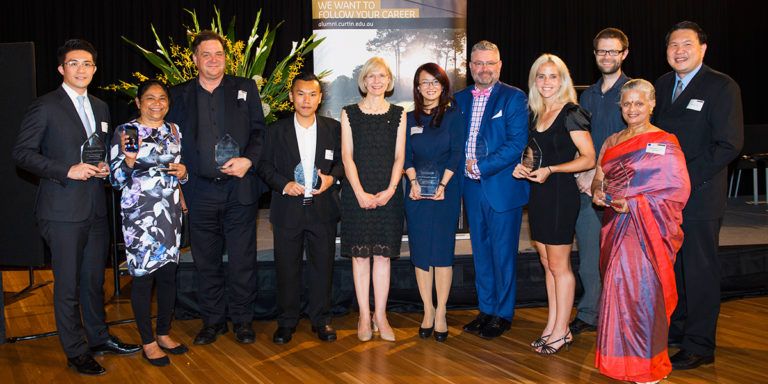 Alumni Awards
Sandy Chong was the 2015 Community Service Alumni Award winner. We celebrated her mission to serve others in the community, particularly through gender equality and sustainability. Find out more about the Alumni Awards.
Read more stories like this one