This internet browser is outdated and does not support all features of this site. Please switch or upgrade to a
different browser
to display this site properly.
Geographic Information Science
Master by research
Select your preferred campus:
2022
Research Term 2
On campus
2023
Research Term 1
On campus
Research Term 2
On campus
2024
Research Term 1
On campus
Research Term 2
On campus
2025
Research Term 1
On campus
Research Term 2
On campus
Outline
If COVID-19 restrictions apply, we may need to make changes to units and/or delivery modes.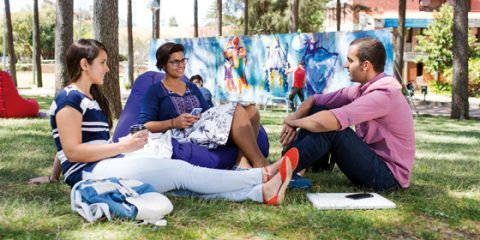 Top 1 %
Curtin is ranked in the top one per cent of universities worldwide.
Academic Ranking of World Universities 2022.
Get the Curtin edge
Access to leadership programs, specialist facilities and industry placements give you a competitive edge in the job market.
Global education
You'll have access to a range of international study opportunities.
The Master of Philosophy aims to expand knowledge beyond the undergraduate honours or postgraduate diploma level, culminating in a research thesis. Upon completion of a master by research degree, you may apply to be considered for entry into a Doctor of Philosophy (PhD) program.
A higher degree by research differs from other postgraduate degrees in that at least two-thirds of the study program must involve research. Although some coursework units may be required, the main part of your work will be in the form of a thesis written under the guidance of a supervisor and associate supervisor(s). Your thesis must, in the opinion of the examiners, be a substantial original contribution to the knowledge or understanding of any field through the discovery of new facts, the formulation of theories or the innovative reinterpretation of known data and established ideas. It must also demonstrate your capacity to conceive, design and complete independent research.
The Master of Philosophy (MPhil) is offered by most schools and departments across Curtin. Each subject area has its own CRICOS code. For further information, please contact the Graduate Research School.
Please refer to the handbook for additional course overview information. 
Why research at Curtin
Curtin is widely recognised for applied research firmly focused on solving real-world problems. Underpinning our research endeavours are strong partnerships with industry, business and government, which result in outcomes that greatly benefit the broader community locally, nationally and globally. Our international reputation for being a strong partner in industry-driven research ensures our graduates enjoy outstanding opportunities to become innovators in their fields.
Professional recognition
Depending on your area of speciality, you may be eligible for membership of various professional organisations upon graduation.
Help is at hand
See our frequently asked questions or get in touch with us below.
---
Opening hours:

Mon to Fri: 8.30am – 4.30pm, except Tues: 9.30am – 4.30pm (AWST). Closed public holidays.
Which statement best describes you?