Australians throw out 345 kgs of edible food each year, equating to AUD$8 billion. Helping reduce the amount of food that ends up in landfill is local start-up company, Kooda.
Kooda is an on-demand service that collects food scraps from Perth metropolitan households and businesses and converts them into nutritious, organic compost for your plants.
"What a lot of people don't know is that when food waste is trapped inside plastic bags in landfill, it can't break down properly and actually creates methane gas, which is more potent than carbon dioxide," says William Koo, Kooda's chief marketing officer and final-year construction management student at Curtin.
With just the click of an app, Kooda will come and collect your food scraps and organic waste from wherever you are in Perth. In return, customers are supplied with five litres of worm castings every four months, made from the very scraps collected by Kooda.
Every kilogram of food waste not sent to landfill reduces a person's carbon footprint by the carbon dioxide equivalent (CO2-e) of 1.9 kg. With Kooda currently servicing more than 160 households and commercial customers, three tonnes of food waste are collected per week.
"Our goal for 2018 is to process 15 tonnes per week," says Koo. "We have a range of customers, from individual households to commercial offices, kitchens, cafes, even a childhood learning centre, and everyone in-between.
"Kooda is great for people who don't have the time to compost properly, or who don't have the space for a compost because they live in an apartment or unit, or people who want to do the right thing but don't know where they should start."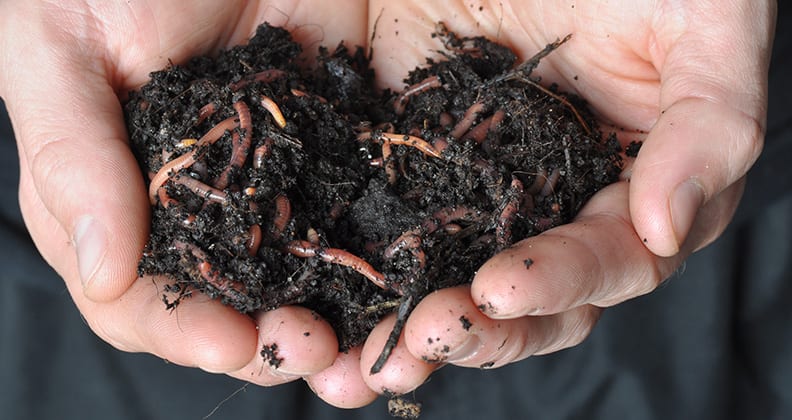 Kooda was created in 2016 by chemical engineer Carly Hardy after her own unsuccessful attempts at starting a compost in her backyard. She named the business Kooda, the Nyungar word for 'gathering basket', in recognition of the importance of returning food back to the land.
Hardy spent more than a year researching and developing composting methods before coming up with an innovative pasturisation process that means Kooda can accept almost all types of food scraps and waste.
"With our pasturisation process, people can dispose of bones, meat, oil, onions and citrus into the Kooda compost bins," says Koo. "We also accept certain non-food materials such as paper straws and BioPak plastics."
Kooda is the only registered commercial BioPak compost facility in Western Australia, and Koo hopes that with more exposure and funding, Kooda and composting can become the norm for more Australians.
"Growing up I was always reminded not to waste food, and how hard it is to grow food, and that we should respect our farmers. Sometimes I do get upset when I see how much perfectly good food is being thrown away," he says.
"But we can be part of a cultural change: if children see their parents putting food scraps into a Kooda bucket instead of a regular bin, it can become a part of their everyday thinking that food doesn't have to be wasted."
Interested in trying Kooda for yourself? Preregister your household or business.
If you would like to help Kooda expand their composting facility, visit their crowdfunding page.
Are you passionate about making the world a better place? Explore our postgrad Humanities degrees. With over 25 courses in human rights, climate policy, social and cultural studies or international relations and national security, you'll be in the right place to put your passion to work.