Former Associate Professor Marina Lommerse, and former Associate Lecturer Hayley Curnow, both from Curtin's School of Built Environment, were the creative forces behind two highly successful public installations last month as part of FORM's Public Platform, a festival celebrating art and creative ideas.
Lommerse and Curnow spent six busy weeks planning and creating The Language of Flowers, and NEST_New Nomads installations with the help of forty Curtin graduate and student volunteers.
The two projects transformed an underused area in Bayview Terrace, Claremont, into colourful, engaging spaces with over 500 suspended paper flowers and several Cacoon nests swinging from trees, as well as striking bird visuals and sounds.
There were also a dozen flower-bonneted greeters delighting people with gifts of flowers and messages around the streets of Claremont, and the Fremantle to Perth rail line.
The purpose of the installations was to use art to connect people to their community and public spaces, a subject Lommerse has been passionate about and advocating for more than a decade.
"I mobilise creative projects that promote positive change in communities," she says.
"I make projects work by bringing different interest groups together and synthesising complex problems, creating strategies and helping people find their source of inspiration."
For the Platform installations, Lommerse says she "worked with a team to reach out to the public with the intent of helping each of the team grow, including myself, and have the public connect, at least for a moment in time."
The public response to The Language of Flowers and NEST_New Nomads was strong, with approximately 5500 people interacting with both installations, and The Language of Flowers was tipped as one of the event's favourites.
The Language of Flowers installation was inspired by Vanessa Diffenbaugh's novel of the same name, as well as Lommerse and Curnow's love of flowers and interest in floriography, a method of arranging types of flowers to express secret messages that was highly popular during the Victorian era.
"The installation spoke to a lot people across a variety of ages – from very young children to the elderly," says Lommerse.
"It was a place of serenity; memories for many of family and childhood. Our intent when we mounted the installation was to educate people on the forgotten language of flowers, to bring a smile to their face, and to encourage them to share their feelings through wearing and gifting flowers."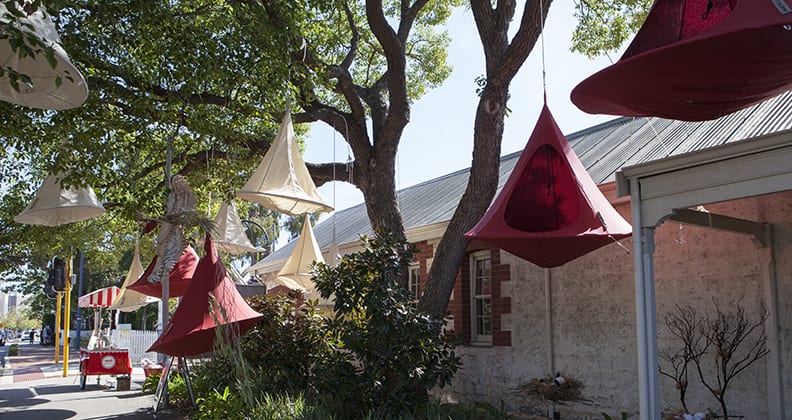 Lommerse has an extensive background in researching and practising ways to encourage positivity in communities through creative spaces and public projects. She has also written a number of research papers for the Interior Design Educators Association (IDEA) that examine "the ethos of design", and curated the association's first exhibition in 2012.
She is also the Australian Ambassador of Domaine de Boisbuchet, a cultural project based in the south west of France that offers distinguished, versatile workshop programs to artists and designers around the world.
"As the Australian Fellow, my role is to increase general knowledge of Boisbuchet in the Australian design, architecture and creative arts communities, and to increase Boisbuchet's understanding of the Australian scene," says Lommerse.
Less than a month after the mammoth FORM installations, she is already planning her next creative endeavours, including a mural in south Fremantle, and is working towards an exhibition of her paintings in early 2017.
"I love my work. And what I do has to have meaning. Meaning not just for myself, but for others because, in general, what I create is for others' use and hopefully their enjoyment and comfort."
Lommerse will be running a workshop for Curtin's Architectural Students Association's (CASA) Vertical Engagement Program on 11 May. The student-driven program will helps students bridge the transition from academia to practice.
For more information on the Vertical Engagement Program, email Sara Muna'am: sara.munaam@student.curtin.edu.au