Nathaniel Harris expects his university education will not only benefit his own life, but also the wellbeing of his Indigenous community in Western Australia.
Harris spent his childhood in the mining town of Collie in rural WA, in a community that didn't know how accessible a university education could be.
"I thought university was only for girls and white people," he laughs.
Later, as a young adult, he soul-searched those assumptions and set out to give higher education a chance. Although he'd left high school without an ATAR, Harris was eligible for a pathway into Curtin to study the one-year Indigenous Pre-medicine and Health enabling course.
His education was supported by equity scholarships from Curtin and the Australian Government.
He recalls the joy he felt when he heard he'd been awarded his scholarships.
"I was doing back-flips! I didn't expect anything – and then it came through – it was like a ton of bricks fell off my back."
He passed the enabling course with flying colours, with grades high enough to gain entry to Curtin's four-year occupational therapy degree. Continuing support from the Curtin STAR Scholarship was an added bonus.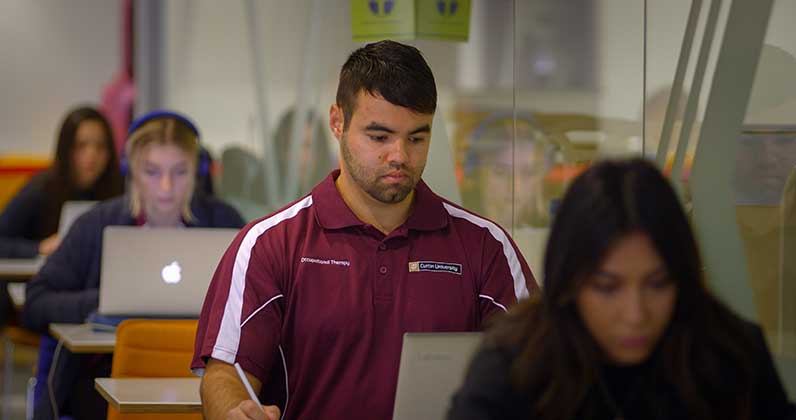 "Being a mature-age student I've got a lot of bills to pay. The scholarships made a huge difference – helping me to buy books, lab coats and equipment. And they help me pay my rent and study to the best of my ability," Harris explains.
Harris is now learning how to help people who've experienced injury, illness or disability to achieve independence, better health and satisfaction in their lives.
And with his future career as an occupational therapist in clear sight, he's also looking forward to taking his knowledge and skills back to his community.
"I'd love to open my own mobile clinic and help Indigenous people outside the city where there are few or no health professionals," he says.
"And I encourage everyone, especially Indigenous men, to see uni as a pathway. There's so much opportunity here."