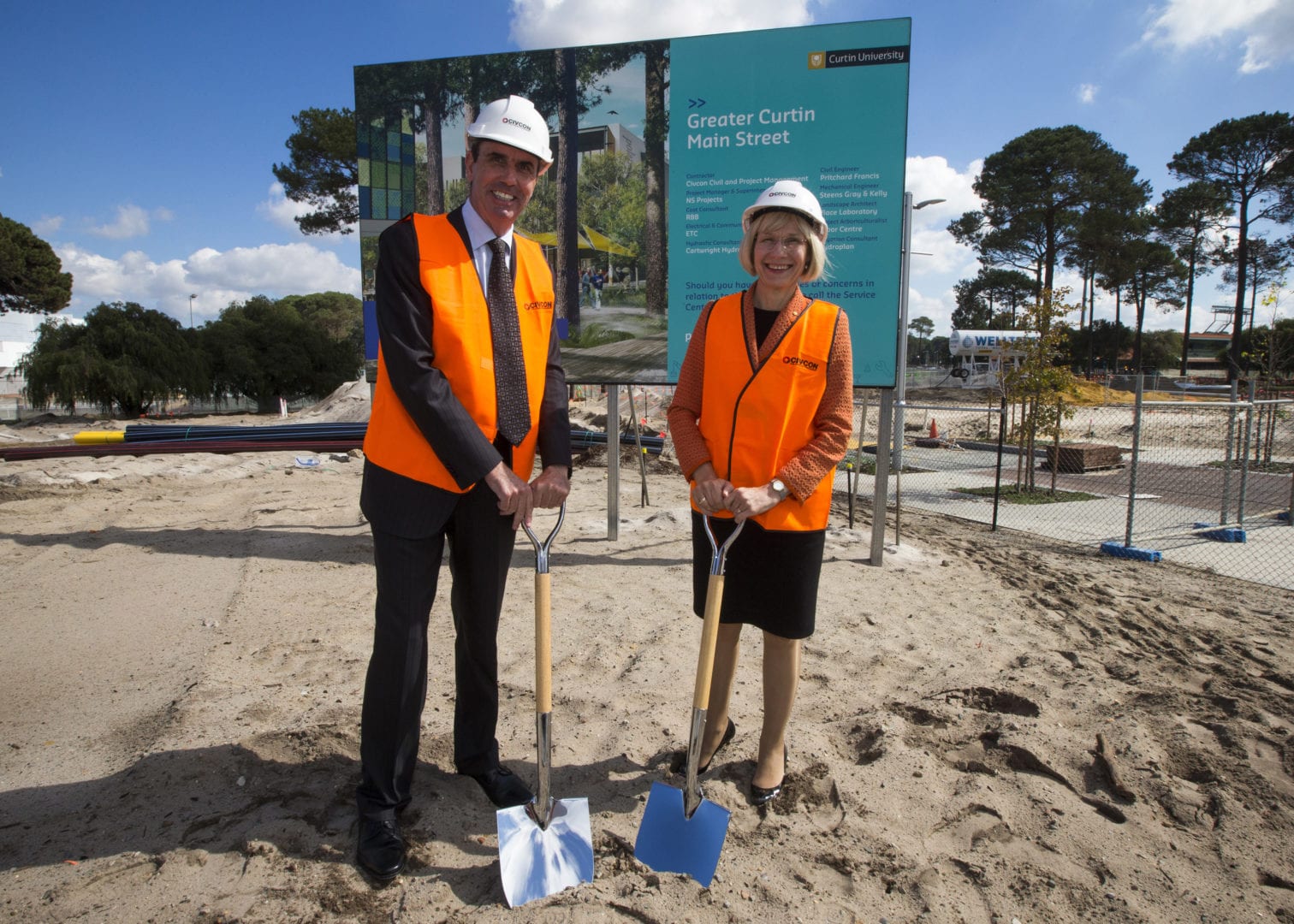 The $26 million development of the first stage of the Greater Curtin Master Plan – the Main Street Project – was marked with a sod-turning ceremony today and attended by the Minister for Education; Aboriginal Affairs; and Electoral Affairs, the Hon Peter Collier MLC.
The development is part of Curtin's vision to transform the Bentley Campus into an "innovation hub" for Perth, with an emphasis on stimulating business and economic activity both locally and for the broader Western Australian economy.
Curtin University Vice-Chancellor, Professor Deborah Terry, said the Main Street Project was designed to open up the campus and create a public realm connecting staff, students, industry and the wider community.
"Greater Curtin will transform the Bentley Campus into a vibrant and sustainable innovation precinct that will allow social and professional networks to thrive through shared spaces with state-of-the-art technology," Professor Terry said.
"Today, innovation is taking place where people come together, not in isolation. "Innovation fuelled by caffeine" and a "place that draws creative people together" are the catch cries that Curtin is embracing in pursuing the Greater Curtin vision.
"The Main Street Project will encourage the development of other facilities that support vibrant places for people from all walks of life to interact, work, study, research and collaborate.
"We want to create an urban hub of economic vitality, world-class knowledge, sustainable living, creative spirit and cultural diversity and this project marks the commencement of this goal."
[youtube]http://www.youtube.com/watch?v=vzyL1YvTtVQ[/youtube]
In addition to dynamic academic facilities, the development will ultimately encompass accommodation for up to 2,000 students, new amenities including public transport, and different and existing curated food and beverage, retail and other supporting activities to create a vibrant place for staff, students, industry partners and the community.
Stage one of the development will centralise public transport, making access to the campus easier, and there will be greater priority to pedestrian and bicycle access.
A secondary road will also be constructed, connecting Kent Street and Hayman Road, along with an urbanised, "shared street" at the northern end of the campus.
"Development along the main street precinct will provide excellent opportunities for business to locate themselves at Curtin and leverage opportunities within our academic and research areas," Professor Terry said.
"Greater Curtin reinforces our plan to retain and extend our competitive advantage as a modern, relevant university that continues to evolve and strive for excellence."
Mr Tim Urquhart has been appointed as the General Manager for Greater Curtin Stage One implementation. Mr Urquhart most recently worked with international developer Lend Lease where he delivered precinct-based developments including the Olympic Village in London.