A Curtin student – one of six of the University's students selected for the 2019 New Colombo Plan (NCP) Scholarships – has been recognised as a NCP Sri Lanka Fellow tasked with becoming an ambassador for the international program.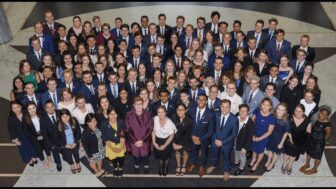 Bachelor of Commerce student Adrian Stephenson was picked as a NCP Sri Lanka Fellow, a role that recognises the top-ranked candidate for each host location. This followed him being awarded the NCP Scholarship, a signature initiative of the Australian Government that aims to develop students' knowledge of the Indo-Pacific region
He joins five other Curtin students – Megan Hood (Bachelor of Science), Kira Molloy (Bachelor of Advanced Science – Honours), Sarel Steinauer (Bachelor of Engineering – Honours), and Ernst Botha and Kevin Goggin (both Bachelor of Engineering and Bachelor of Commerce double degree) – who were among 125 scholars selected from universities across Australia.
The successful recipients were announced by Minister for Foreign Affairs, Senator the Hon Marise Payne, at a formal ceremony in Canberra last night.
Curtin University Vice-Chancellor Professor Deborah Terry congratulated the scholarship recipients, adding the program provided a unique opportunity for students to network with our Indo-Pacific neighbours.
"I'm delighted for all six Curtin students who have been selected for the highly prestigious and competitive NCP Scholarship Program for 2019 as it gives them the chance to gain additional skills for their future careers," Professor Terry said.
"As a Fellow for the program, Adrian Stephenson will be an ambassador for both the program and Australia, playing a strong leadership role in promoting the NCP during his international placement and on his return."
Professor Terry said the Curtin students would be studying at institutions in Sri Lanka, China, Singapore, Hong Kong, and South Korea.
"This scholarship provides exciting opportunities for the students to expand their knowledge of the Indo-Pacific region, study at specialist institutions and develop their networks within their field of study," Professor Terry said.
Mr Stephenson, who is currently studying a Bachelor of Commerce (majoring in International Business) at Curtin, said he was excited to take on the role of NCP Sri Lanka Fellow while spending the year studying in Sri Lanka.
"It's an honour to be awarded the NCP Scholarship and also be selected as a NCP Sri Lanka Fellow and I'm looking forward to the new experiences and challenges studying abroad will bring," Mr Stephenson said.
The NCP Scholarship Program supports Australian undergraduate students to live, work and study in various locations across the Indo-Pacific region throughout 2019.
Australian undergraduate students aged 18 to 28 studying at Australian universities are eligible for the NCP Scholarship.
For further information, visit: http://dfat.gov.au/people-to-people/new-colombo-plan/scholarship-program/Pages/scholarship-program.aspx