Australia's first Indigenous Treasurer and one of the country's most powerful social justice advocates have been presented Honorary Doctorates by Curtin University.
Former Treasurer of Western Australia; Minister for Finance, Aboriginal Affairs and Lands; and Member for Victoria Park, the Hon Ben Wyatt, was awarded the Honorary Doctorate of Commerce, for his distinguished public service to the State's economy, and to Aboriginal people through land reform and equity initiatives.
Corporate affairs and issues-based advocacy leader Libby Lyons was presented an Honorary Doctorate of Letters in recognition of her distinguished service to the social sciences through outstanding and influential advocacy for gender equality in the workplace in Australia and internationally.
Curtin University Vice-Chancellor Professor Harlene Hayne congratulated both recipients, acknowledging their significant public and community service.
"During his historic appointment as Australia's first Aboriginal or Torres Strait Islander Treasurer, Mr Wyatt is highly regarded for numerous economic achievements in an outstanding period of public service," Professor Hayne said.
"As Curtin's local Member of Parliament for 15 years, he has also been a huge supporter of University projects including the Carrolup Centre for Truth-telling and the amazing new Exchange precinct on our Perth campus."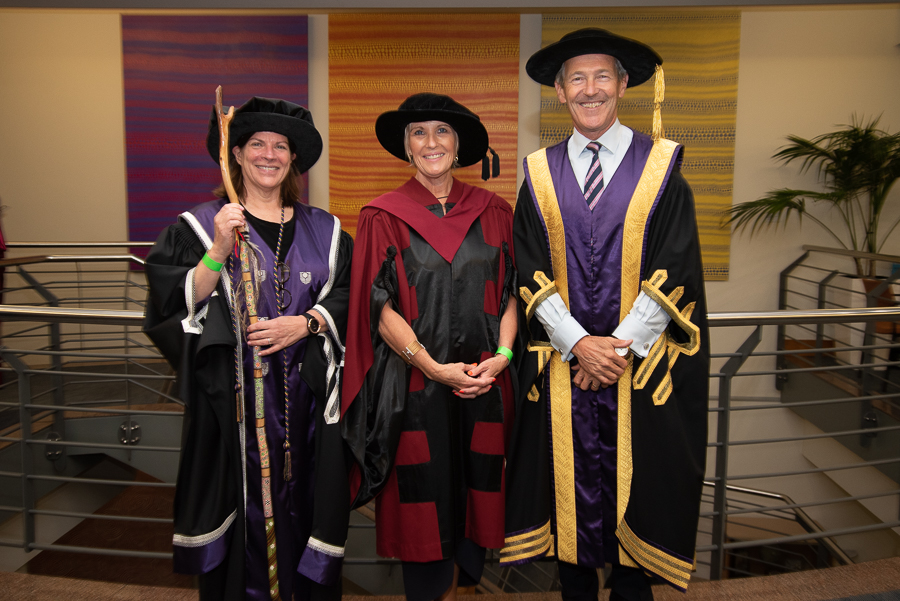 Professor Hayne thanked Ms Lyons for her outstanding contribution to the social sciences as one of Australia's most powerful social justice advocates.
"Through her work at the Australian Government's Workplace Gender Equality Agency and in partnership with the Bankwest Curtin Economics Centre, Ms Lyons worked tirelessly to inform an important series of annual Gender Equity Insights reports," Professor Hayne said.
"These reports have highlighted new insights about gender pay gaps and importantly delivered practical strategies for organisations to address gender inequality. The series has become highly influential in driving national-level policy discussions."
Honorary Doctorates are awarded in recognition of an exceptional contribution to a field of endeavour and academic discipline, as well as outstanding service to professional and public life.
Mr Wyatt and Ms Lyons received their Honorary Doctorates at Curtin University's graduation ceremonies held on the weekend and last night.