A Curtin University research project that showcases images of Perth and Fremantle's past, bringing them to life alongside photos of today, has received a Commendation at the 2017 Western Australian Heritage Awards.
The Historical Panoramas project, a collaboration between the State Library of Western Australia and Curtin University's HIVE (Hub for Immersive Visualisation and eResearch), features panoramic pictures of Perth and Fremantle dating back as far as the 1860s and juxtaposes them with modern-day views to reveal the dramatic changes undergone by both cities.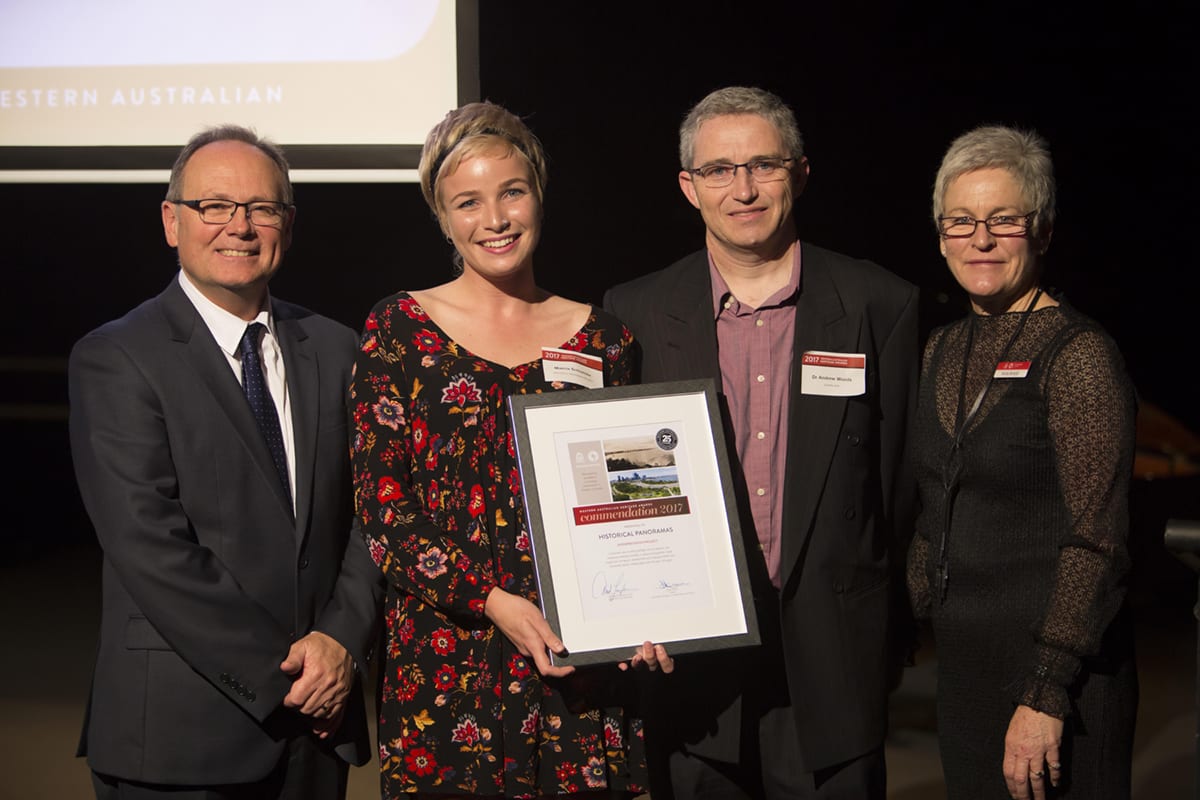 The project was awarded a Commendation in the Interpretation Project category, and received a framed certificate and an engraved medallion from The Perth Mint in recognition of its contribution to Western Australia's heritage.
Project Supervisor and Curtin HIVE Manager, Dr Andrew Woods, and now third year graphic design and creative advertising student Marcia Schneider, worked closely with the State Library last year to uncover as many historical panoramas of Perth and Fremantle as possible.
"The main feature of the project website we launched in June 2016 is a series of wide-angle panoramas that were taken from the tower of the Perth Town Hall at four different times in the city's history – 1885, 1906, 1925 and 2016," Dr Woods said.
"The project also includes panoramas from another 11 locations in Perth, South Perth, Kings Park and Fremantle – complete with tall ships in the harbour.
"This project is a great way for scholars, historians and members of the public to take a virtual tour through Perth and Fremantle over a 150 year period and it is wonderful to have the project recognised by the State's peak body for Western Australian Heritage."
What began as a summer research project by Marcia Schneider quickly turned into a fascinating historical endeavour that has unearthed over 100 historical panoramas of Perth and Fremantle.
The 23-year-old student from Rivervale started the project as part of an internship at the Curtin HIVE and quickly became hooked, spending three months trawling through archives and curating photos.
"I never imagined that this project would generate so much interest," Ms Schneider said. "The ability to compare the old with the new, allowing people to relate what they see in front of them today with these historical images from decades ago, has proven to be a really effective way of getting people to engage with the content.
"Having the tour in a digital format has helped immensely with attracting a younger audience in addition to older viewers, and the advantage of the online platform allows people to access it from almost any device with an internet connection allowing them to search and compare at their own pace, any time."
The Historical Panorama's project was also recently recognised as a finalist in the State Library of Western Australia's Library Board Excellence Awards.
More information on the Historical Panoramas project can be found at www.HistoricalPanoramas.com.au