The Carbon Scout was designed to help gold mine operators optimise process plant efficiency and reduce gold losses is to be brought to market in a collaboration between Curtin University and Gekko Systems.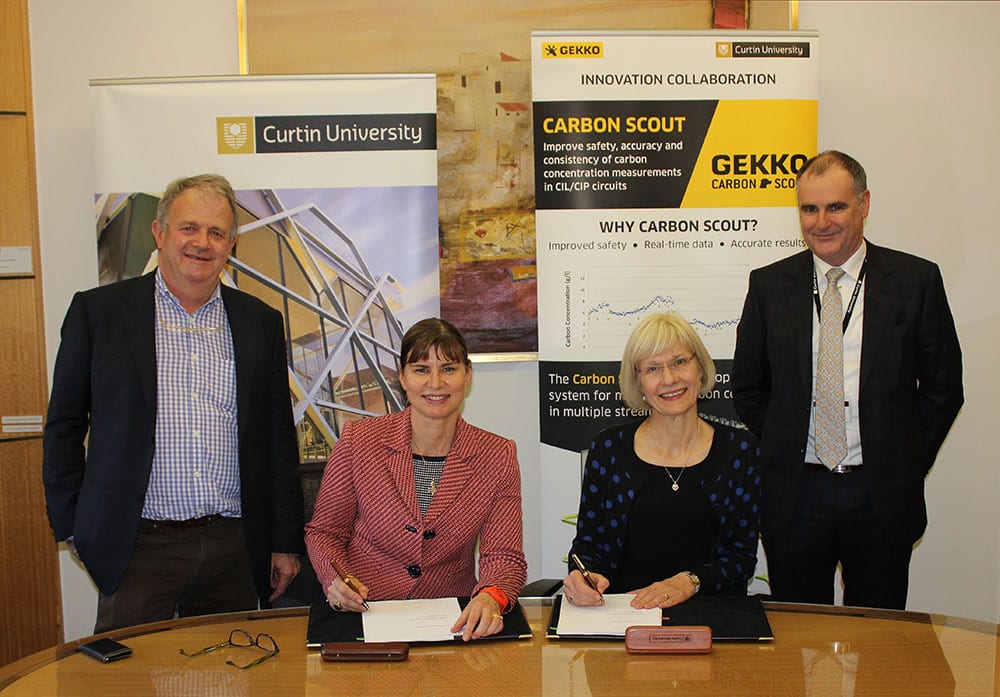 The device was developed by Dr Teresa McGrath and Adjunct Professor Bill Staunton from Curtin University, in association with Bill McCallum from Havilah Consulting.
Gekko Systems have licensed the technology from Curtin and will be responsible for the marketing, manufacture and sales of Carbon Scout.
The Carbon Scout will replace traditional manual techniques used in gold extraction with an automated measuring technology. The machine improves the accuracy and consistency of carbon concentration measurements in carbon-in-leach and carbon-in-pulp circuits. It also improves safety by removing operator exposure to cyanide and other hazards.
The agreement between Curtin University and Gekko Systems, sets the path for further development of the Carbon Scout and process control systems utilising the Carbon Scout's sampling and data collection abilities.
Curtin University Deputy Vice-Chancellor Research, Professor Chris Moran said, "Gekko Systems is a global leader in gold processing innovation and has worked with Curtin's WA School of Mines for the past 14 years through sponsorship of the AMIRA P420 Gold Processing Technology project. We are delighted to enter into a license agreement for this innovative technology with them."
"This is a great outcome which demonstrates the real impact and commercial benefit that can be realised from research collaboration."
The Carbon Scout is being trialled at mine sites operated by AngloGold Ashanti, with the aim of allowing operators to better utilise their time as well as improving financial returns to mine owners.
AngloGold Ashanti Project Metallurgist, Chris Ypelaan said "Initial indications during the development of the Carbon Scout are promising in meeting the requirements for accurately and consistently measuring carbon concentrations in our CIL circuit. Better carbon management through automation of carbon forwarding pumps will help to minimise gold solution losses and will require less input from operators allowing them to better use their time in other areas."
Technical Director at Gekko Systems, Mr Sandy Gray said: "The development of the Carbon Scout not only increases process plant efficiency but also safety on site and operations stability through intelligent control systems. This technology enables optimal gold recovery thus improving overall profits. The Carbon Scout will undertake further quality control testing and optimising at beta test sites with a full launch proposed in the first half of 2017. However, if you are interested in being kept up to date with product developments and launch please contact Wayne Lodge on waynel@gekkos.com."
Support for the development of the Carbon Scout was provided by the Australian Government's Department of Industry, Science and Innovation, through the Accelerating Commercialisation program.
**This was a joint release issued by Gekko Systems Pty Ltd**