Two Curtin University PhD students have been awarded prestigious scholarships from the Forrest Research Foundation.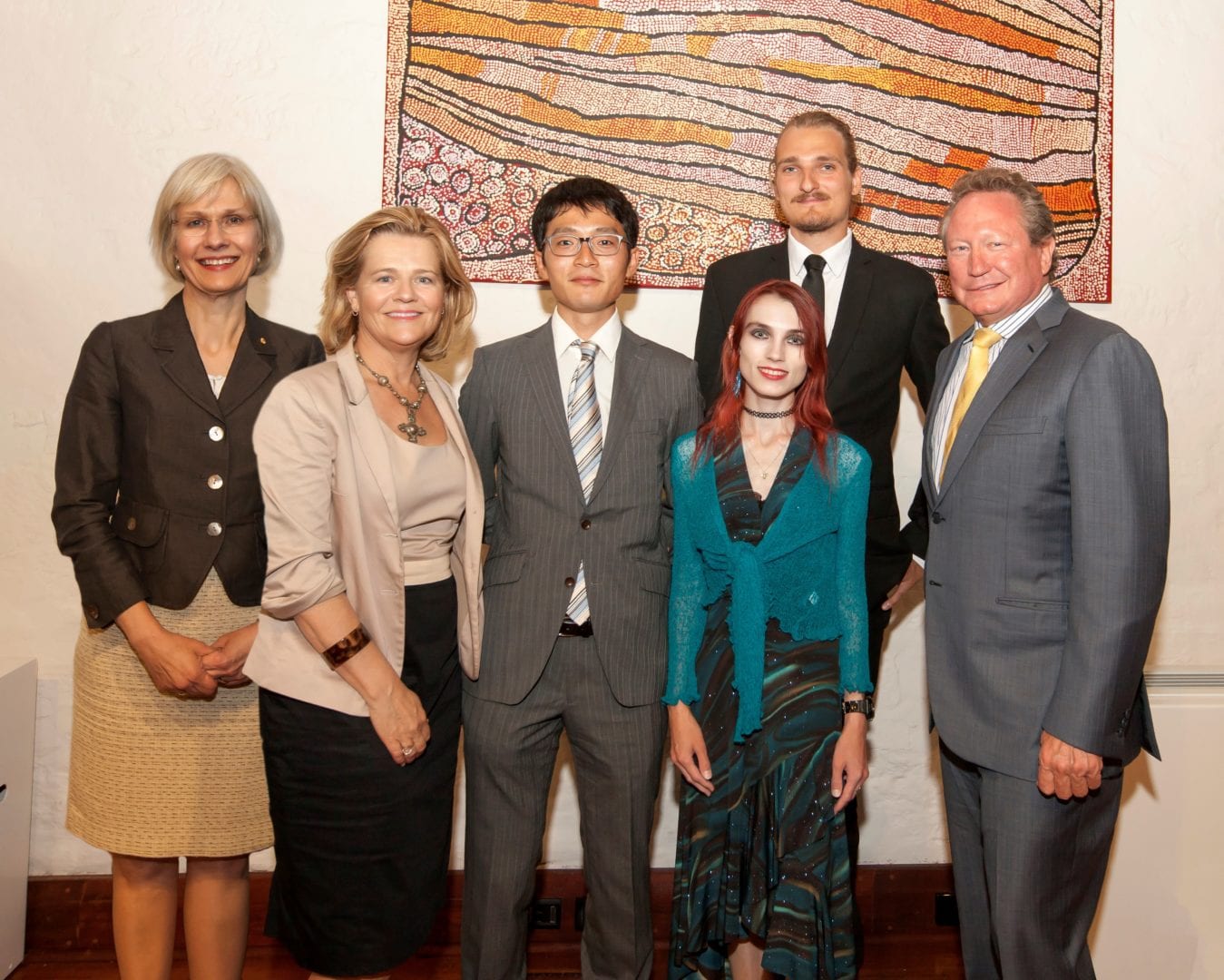 The Forrest Research Foundation Scholarship is provided to encourage and assist outstanding international and domestic students to undertake high quality research and enrol in a Doctor of Philosophy (PhD) degree at a Western Australian university.
Mr Frederik Seersholm, a University of Copenhagen alumni, and Ms Kit Prendergast were congratulated at the 2016 Forrest Research Foundation Scholars cocktail reception last night, held at Curtin St Georges Terrace.
Curtin Vice-Chancellor Professor Deborah Terry said the scholarships recognised the outstanding research capabilities and aspirations of these students.
"I am delighted to welcome Frederik and Kit to Curtin and congratulate them on being named as prestigious Forrest Research Foundation Scholars," Professor Terry said.
Ms Nicola Forrest said investing in research was critical to creating a culture that valued advanced knowledge and ideas that can change the world in which we live.
"The winners represent some of the world's best young minds and their passion and commitment to solving issues at a global level makes them ideal candidates for the 2017 Forrest Scholarships," Ms Forrest said.
Mr Frederik Seersholm said he felt privileged to be awarded the prestigious scholarship and looked forward to progressing his studies at Curtin.
"My PhD will apply genetic methods to study bone fragments from a range of different sites across the world and aims to build a detailed map of biodiversity and species composition," Mr Seersholm said.
"My research will serve to make people aware of the effects they have on ecosystems and this scholarship will assist me in achieving this goal."
Ms Kit Prendergast said she was incredibly honoured to be selected as a Forrest Scholar and apply her passion to generate world-class science.
"My research project involves assessing native bee assemblages in urban habitat fragments in South-West WA and investigating how the introduced European honeybee, Apis mellifera, interacts with these native pollinators," Ms Prendergast said.
"The Forrest Scholarship will enable me to realise the full potential of my project and the generous financial assistance will provide invaluable support and stability."
Mr Ryuta Ujihara, a graduate from Kyoto University, was also awarded the Scholarship and will be completing his PhD at The University of Western Australia.
The Forrest Research Foundation was established in 2014 following the donation of $65 million over 10 years by Andrew and Nicola Forrest through the Minderoo Foundation.
All Forrest Scholars receive a scholarship package worth over $45,000. For more information, visit http://www.forrestresearch.org.au/.