Investing in Western Australia to ignite innovation, growth and job creation in the knowledge economy.
The Western Australian foundation partners, Curtin University and Woodside, launch their initial IoE research projects, with a focus on resources and mining, astronomy and big data.
CSIRO have signalled their intent to partner with the IoE Innovation Centre, Australia.
The Premier of Western Australia, the Hon. Colin Barnett, launched Cisco's new Internet of Everything (IoE) Innovation Centre (CIIC) at Curtin University in Perth today, signifying a commitment of over $30m by the three partners.
The WA foundation partners, Curtin University and Woodside, used the opportunity to demonstrate their embryonic IoE research projects and proof of concepts already underway.
The Premier said the Centre was a hugely influential step towards a collaborative approach to innovation between industry and academia, and would cement Perth's position as a global technology leader.
"The Cisco Internet of Everything Innovation Centre will assist Western Australia to become a global collaborator in research and innovation, offering us a competitive advantage for investment, new businesses and creating jobs," Mr. Barnett said.
"It's a fantastic example of leadership by industry, and will have a real economic impact."
The Centre will include a state-of-the-art laboratory, a technological collaboration area, and a dedicated space to show IoE in action. It will bring together start-up companies, industry experts, developers, researchers and academics in an open collaboration environment to create a "connected community" focused on cloud, analytics, cyber security and IoT network platforms.
Mr. Irving Tan, Senior Vice President of Cisco Asia Pacific & Japan, said, globally, IoE is already positively disrupting industries, providing the catalyst for investment to open the Centre in Western Australia. He said the intent is to focus on accelerating innovation in Australia's resources, agriculture and astronomy sectors, and more broadly around big data.
"Already through our initial Western Australian IoE Centre partners we are seeing exciting innovations including work around the energy 'Plant of the Future' with Woodside, and ongoing progress led by Curtin University around the Square Kilometre Array which will be the largest, most capable radio telescope ever constructed. The new IoE Centre will be complete later this year, and Cisco experts, industry partners and ecosystem start-ups will work together to develop next generation technology solutions, complete proof of concepts, and do rapid prototyping," Mr Tan said.
As Australia's leading liquefied natural gas (LNG) company, Woodside brings more than 30 years' operational and technical expertise to the partnership under the 'Plant of the Future' research focus area.
Woodside CEO Peter Coleman said the Plant of the Future will link Woodside's vast knowledge base with artificial intelligence, data analytics, and advanced sensors and control systems.
"We are taking a collaborative approach to enhancing our operations as part of our digital transformation journey. This partnership will create a globally competitive centre for excellence that could be leveraged in our LNG operations, as we progress our remote operations capabilities," Mr. Coleman said.
Curtin University Vice-Chancellor Professor Deborah Terry said Curtin had been a major player in the development of Australia's capability underpinning the SKA project and had created a broad base of computational and data scientists.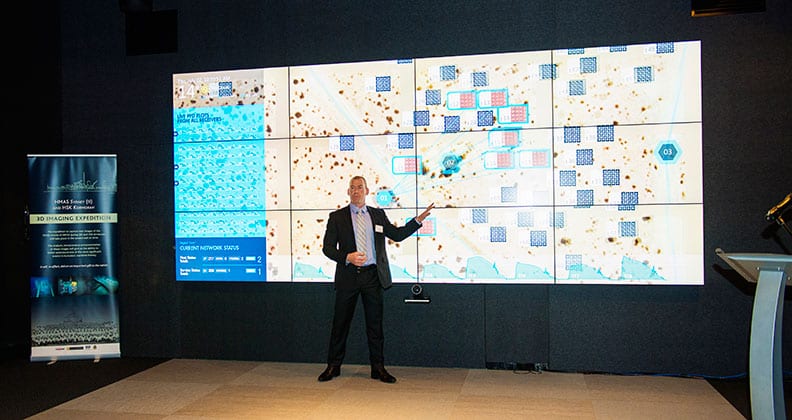 "We look forward to hosting the Centre on our Bentley Campus and working with our partners to help unlock economic and social benefit from our capability in astronomy, geosciences and big data, and the many benefits the Internet of Everything Innovation Centre will bring," Professor Terry said.
Cisco's Smart Campus projects, including at Curtin University, address education challenges and allow more connected and remotely accessible labs and teaching spaces. This connectivity permits new patterns and styles of teaching and learning, and other important functions such as efficiencies in lighting, security, and ubiquitous Wi-Fi.
The Premier of WA witnessed the signing of a tri-party Memorandum of Understanding (MoU), while officially launching the IoE Innovation Centre in Perth.
CSIRO's David Williams, Executive Director for National Facilities & Collections (which includes responsibility for the Australian Square Kilometre Array Pathfinder, Pawsey Supercomputing Centre and the delivery of national IT infrastructure and services for research), has also signalled their intent to join Cisco and the centre foundation partners, with details to be completed over the next month.
The Cisco IoE Innovation Centre, Australia, will include a hub in Perth and Sydney opening later this year, and is one of eight globally including in Rio de Janeiro, Toronto, Songdo, Berlin, Barcelona, Tokyo and London.
Learn more about the Cisco Internet of Everything Innovation Centre