Programming robots and protecting endangered species are all in a day's internship for science and engineering students Monique Guest and Ilke Dincer – two of seven recipients of an AUD$6,000 Innovation Central Summer Internship scholarship program.
The 12-week, full-time program enables university students from all years and academic disciplines to complete a real-world industry project under the supervision of a Curtin researcher and industry expert.
For each project, the students apply their knowledge of the Internet of Things, network technologies or data science to solve a problem for their industry partner, while developing skills in project management, planning and critical thinking. Students can choose from a number of projects, which range across a broad spectrum of industries including health, agriculture, local government, transport and infrastructure.
Spot the quoll
For Monique Guest, a second-year data science student, it was the appeal of working on a project with an environmental focus that led her to apply for the program in 2019. She undertook an internship with the environment and IT teams at Consolidated Minerals (ConsMin) to help them accurately record and monitor the presence of endangered northern quolls at ConsMin's mine in the Pilbara.
"The project involved using machine learning and artificial intelligence techniques, including image recognition, object detection and spot recognition algorithms, to uniquely identify northern quolls in motion sensor images," Guest explains.
Prior to Guest coming on board the project, the ConsMin environmental team could only identify northern quolls by manually searching through thousands of images taken by motion sensor cameras at ConsMin's mine site. All animals, including dingoes and feral cats, triggered the sensors, which meant the team also had to categorise each image, taking several hours.
Over the course of 12 weeks, Guest developed a programming system using Python and Google's open-source library, TensorFlow, which could automatically identify and categorise a range of animal images to within 99.97 per cent accuracy.
The internship was Guest's first industry experience, and she had to overcome a number of challenges, including creating and presenting her program in a way that could be easily understood and used by non-IT personnel.
"The most challenging component was breaking down the project into small and manageable steps. The initial project included the ideal end goal, but it was up to me to decide what steps to take to get there.
"It was rewarding seeing the object-identifying model in practice. There was a lot of learning and debugging required to get there, but it was incredibly exciting the first time it correctly identified a picture of a northern quoll."
Sarah Thomas, Guest's industry supervisor and superintendent of environment and approvals at ConsMin, says Guest's work has enabled her team to re-focus their time on implementing new conservation measures for the quoll's long-term survival.
"I think the internship with our business has helped Monique to realise how valuable the project is to our team and the greater industry."
In fact, Thomas and Guest, along with team members Kaylee Prince and Erle Metcalf, were nominated as finalists in the Lateral INCITE Awards, which recognise outstanding performances and contributions by members of the ICT and telecommunications community in Western Australia.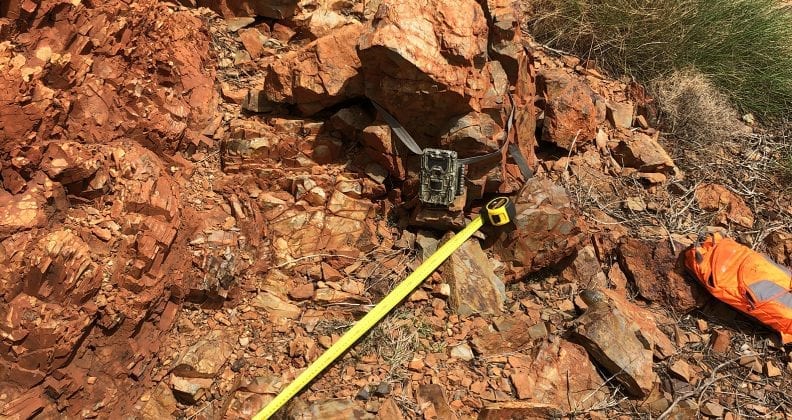 From the animate to the robotic
Like Guest, Ilke Dincer's project involved machine learning, but her end-goal was to control a mechanical robot during her internship with Woodside.
"My project was to create a system to control a robot using virtual reality. We wanted to be able to see what the robot sees, and pick up and move items using the robot, but controlled from another room using VR," Dincer says.
Dincer is in her second year of a double degree in electrical and electronic engineering and data science. She says the internship made her aware of the complexities involved in real projects, and that outside of the classroom, answers aren't always within easy reach.
"You start thinking you know how to do something, then part-way through realise there's a part that you have no idea how to do. This leads to doing some research and learning some new skills, then trying to fix the problem, and maybe solving it or maybe not.
"There's not always going to be a perfect solution to what you want to do. Sometimes you'll have to combine a few different things or invent something new, which is really amazing and not something that you get to experience as much in university."
Innovating internships
Dincer and Guest's internships were sponsored by Innovation Central Perth, an alliance between Cisco, Woodside, Data61 and Curtin, which provides collaboration opportunities for industry and researchers. The broader aim of its summer internship program is to show students and industry the possibilities of data and new technologies, and the scope of fields in which they can be applied.
From an industry perspective, ConsMin's Sarah Thomas says the exposure to new knowledge and technology has been invaluable.
"As environmental professionals, we were not aware of the innovations and technology available to make so many of our tasks more efficient and in some cases more accurate.
"[The project] was a great collaboration for us internally between our ICT and environmental departments, and we will continue to work closely with them for synergies in this arena."
The internship has given Guest practical insight into what a career in data science might be like, and has confirmed her ambition to apply her skillset to an environmental field once she graduates.
"It has reaffirmed for me that I would like to work as a data scientist on an environmental or conservation project, and that I enjoy the artificial intelligence and machine learning side of data science," she says.
For Dincer, the experience has only opened her up to more career pathways in electrical engineering and robotics.
"It's a field that is a lot more detailed and expansive than I've experienced and I found it really interesting. I still want to branch out a bit though, try some new things before I make a choice," she says.
"Doing this internship has also taught me that I don't have to worry about picking the perfect job after I graduate – I can move around and try out different fields years later, too."