From baby boomers to Gen Z, obesity is Australia's multi-generational malady. The number of cancer deaths related to obesity, including liver cancer, is increasing and is the main reason Australia could be approaching its first modern decline in life expectancy.
The human liver is a particularly hardworking organ, removing toxins and processing nutrients in all blood en route from the digestive system. While its work rate makes the liver prone to damage, it can efficiently regenerate its tissue; this ability, however, also appears to be responsible for permanent damage and cancer.
At last count (in 2012), there were more than six million cases of liver disease in Australia. Fatty liver and alcoholic liver diseases are some of the conditions that precede end-stage chronic liver disease. Whether caused by pathogens, toxins or excess fat, repeated liver inflammation can lead to an out-of-control process of repair. This pathological fibrosis progressively disrupts the organ's architecture, leading to liver cirrhosis – the most common cause of liver failure and cancer.
With the demand for whole-organ liver donations unlikely to be met, it's fortunate we're getting closer to diverting the processes of liver scarring and tumour growth and to the reality of bio-engineered liver tissue.
At Curtin, the Liver Disease and Regeneration Group is investigating how to hijack the liver's cell-communication system to mediate liver regeneration instead of disease progression and cancer.
The group is led by senior research fellow Dr Nina Tirnitz-Parker.
"The cells secrete protein molecules that act as signals, called cytokines, which bind to a matching receptor on other cells and affect the target cell's path of development," Tirnitz-Parker explains.
"For example, injured liver cells may release cytokines to simulate the growth of stem cells, to make them divide and differentiate into mature functional cells that replace the tissue lost to injury.
"However, when stem cells or other cells are stimulated for a long time and never receive a 'stop' signal, they can create tumours.
"We need to understand the full picture – how do we switch on a pathway when we need it and how do we switch it off again. Which cells are participating in the communication, and how can we use their communication channels to therapeutic advantage."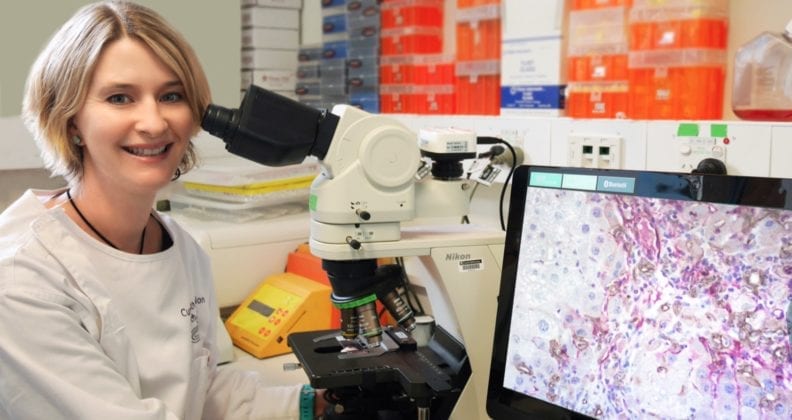 Tirnitz-Parker began her medical research career 16 years ago in Germany, where she studied matrix metalloproteases – the proteins responsible for breaking down scar tissue and aiding in wound healing. In 2012, two years after joining Curtin, she obtained funding as part of an Australia-wide team awarded a National Health and Medical Research Council (NHMRC) project grant. She wasted no time in establishing a liver research group, aided by a grant from the AW Morrow Gastroenterology and Liver Centre in Sydney.
Tirnitz-Parker says Curtin now has comprehensive capabilities in fundamental and translational science of stem cell biology, fibrosis and hepatic cancers called hepatocellular carcinoma and cholangiocarcinoma.
By early 2019, she'll have four PhD students working on distinct investigations into liver progenitor cells, or LPCs.
"Progenitor cells are like stem cells. We used to think LPCs were the heroes that rebuilt functional tissue, but we now know their darker side: they're also involved in fibrogenesis, or scarring, and in the formation of cancer, either as precursor cells or regulatory cells," she says.
"Our aim is to determine how to modify the signals within the cells' communication systems, so that pathological cells are re-programmed into functional cells.
"This could also provide the basis for bio-engineered liver tissue, with regeneration from a segment of tissue or isolated cells replacing the need for whole-organ transplants."
TWEAK-ing the focus
Tirnitz-Parker has numerous national collaborations, including with researchers based at Royal Prince Alfred and Liverpool hospitals in Sydney, The Alfred Hospital in Melbourne, Sir Charles Gairdner Hospital and Harry Perkins Institute for Medical Research in Perth.
Her current (second) NHMRC project is a collaboration led by Professor Grant Ramm at the QIMR Berghofer Institute for Medical Research in Brisbane; and Professor John Olynyk, Head of Gastroenterology at Fiona Stanley Hospital. Their focus is a cytokine known as 'TWEAK' and its role in liver wound healing and regeneration.
In 2003, Tirnitz-Parker identified TWEAK as a direct growth factor for LPCs during liver regeneration, while undertaking her PhD research at the University of Western Australia.
"We're now investigating how TWEAK may kick off a cascade that produces liver scarring and cancer.
"The next phase of our research will look into translating laboratory research findings."
Tirnitz-Parker recently received her third consecutive NHMRC grant – an outstanding personal achievement and a clear sign of support from the Federal Government for her team's research direction. The team will use the $1 million grant to deliver the fundamental basis for future phase-one clinical trials to pharmacologically inhibit chronic liver disease progression and cancer.
International peer recognition of the team's expertise has been one outcome of their work to date, with Tirnitz-Parker recently invited to contribute an article for the high-impact journal Hepatology. The article (in press) is co-authored by Professor Stuart Forbes, who leads the Centre for Regenerative Medicine in Scotland.
Her international linkages include researchers based in Scotland, USA, Germany, Canada, India and England. And, closer to home, she has an upcoming meeting with researchers at Khon Kaen University in Thailand, to explore opportunities for collaborative research into cholangiocarcinoma.
She also serves on several notable journal editorial boards, including the International Journal of Biochemistry and Cell Biology, and makes time to review grants for the UK's Medical Research Foundation and the Dutch Digestive Foundation, as well as for the NHMRC.
"Liver research is a complex field and collaborations are essential. They're particularly important in areas of medical research that are under-supported in Australia," she says.
Antarctic-bound for research scholarships
In November 2019, Dr Tirnitz-Parker will be one of 100 female leaders from around the world on the fourth Homeward Bound voyage to Antarctica.
While she knows the experience will be personally "life-changing", one of her aims is to raise funds for medical research scholarships.
"Unfortunately there isn't enough seed funding in Australia for medical research.
"About $75,000 is needed to support a PhD – I'm hoping to raise enough to fund two. I do have a lot of personal motivation – like millions of other Australians I have liver and pancreatic cancer in my family."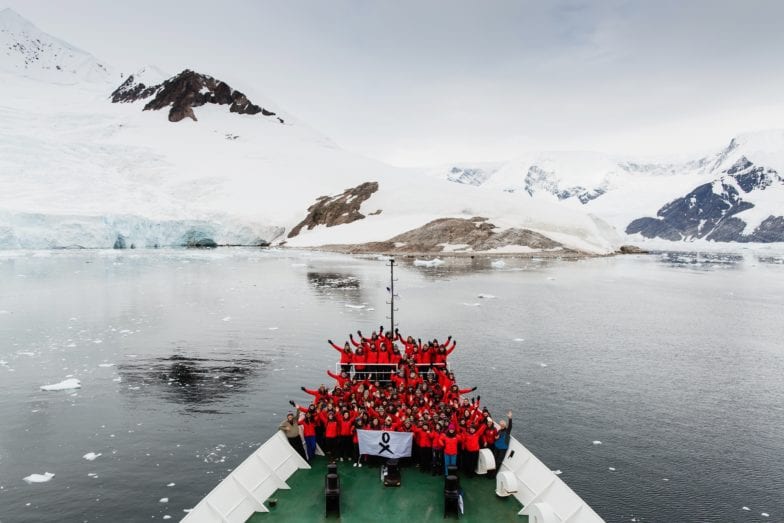 The aim of the Homeward Bound initiative is to build a 1,000-strong global network of women who can support each other in creating change.
With the voyagers all having a background in science, technology, engineering, mathematics or medicine (STEMM), the Homeward Bound initiative is also helping to address the gender imbalance in STEMM professions.