We have never had more data at our fingertips than now. Research shows that a mindboggling 2.5 quintillion bytes of data are created daily around the globe, with the vast majority of the world's data generated in the last few years alone! 
In healthcare, the increasing use of technology has added to this pool of 'big data'. This includes telehealth, electronic patient records, electronic referrals and prescriptions. This digital health data has huge potential to improve population health and clinical and medical settings, when accurately analysed and understood. 
This is where health data analysts come in! As skilled and highly valued professionals, healthcare data analysts, also known as public health data analysts and population health data analysts, gather, analyse and interpret data from a wide range of sources to drive better decision making in public health and improve patient care. Healthcare data analysts work on wide-ranging, impactful projects from helping research cures for cancer to managing financial risk. 
What is healthcare data analytics? 
The process of studying health-related data, including clinical, pharmaceutical and insurance data, is known as healthcare data analytics. Studying this data can provide amazing insights, lower costs and conquer today's biggest healthcare challenges. 
Here are some ways in which healthcare data analytics can be used:
Public health officials can use data to track the spread of diseases (eg: COVID-19) and determine the optimal response 

Pharmaceutical companies can better understand the effectiveness of a new treatment 

Patients can access preventative treatments based on their individual health records 

Administrators can forecast demand for their healthcare services and optimise accordingly

Insurance companies can track claims, identify where best to invest and reduce fraudulent acts 

Doctors can detect diseases in the early stages and determine the best way to treat diseases by analysing patient records. 
What does a health data analyst do? 
Health data analysts identify patterns and anomalies in big data and present their findings and recommendations to colleagues, researchers and leaders in healthcare. They work with sources like electronic health records, medical images, government records and smart devices. 
As a healthcare data analyst, you could work in a variety of industries including hospitals and clinics, not-for-profit healthcare, health insurance and state and federal government. 
Healthcare data analyst skills 
To succeed as a healthcare data analyst, it's important to have the right skillset.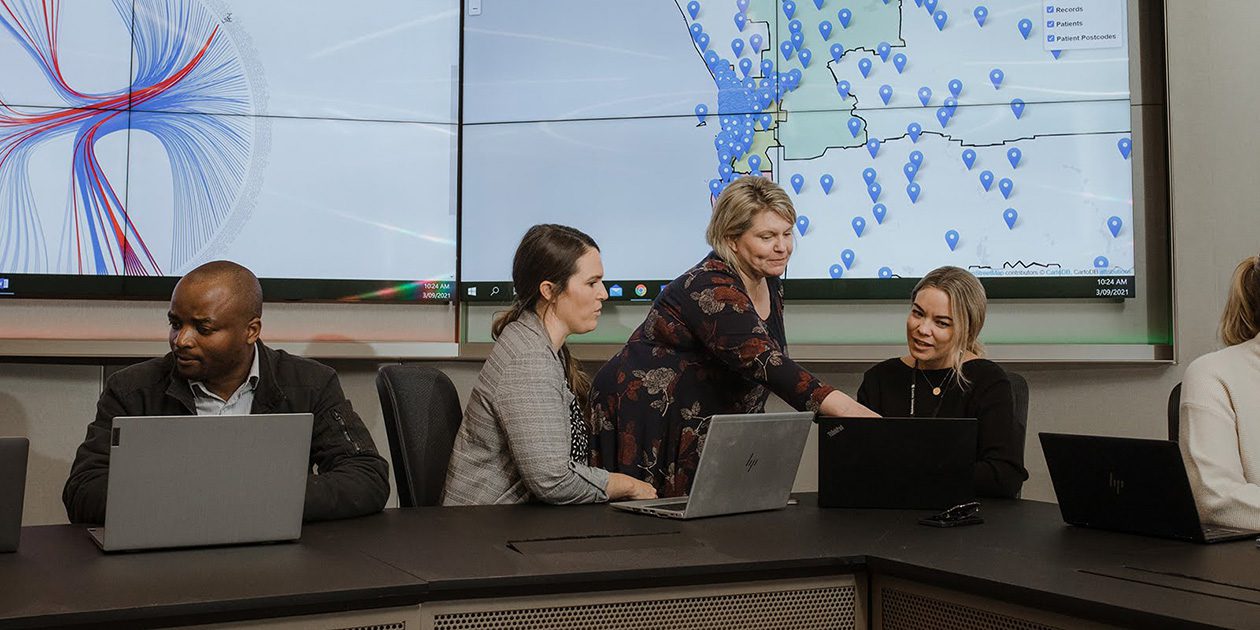 Proficiency and experience in data science, machine learning and data visualisation are essential. Many employers will also be looking for skills in analysis tools like SQL and SAS, scripting languages like Python, R or Ruby and the ability to confidently use Microsoft Office programs such as Excel, PowerPoint and Power BI. 
If you're a good communicator who enjoys solving complex problems, you'll find working as a healthcare data analyst can be exciting and fulfilling. 
Health data analyst duties and responsibilities 
Health data analysts have a number of important duties and responsibilities. Depending on the area you work in and the seniority of your role, these can include: 
Gathering and organising health-related information from various sources  

Analysing data and building models to identify trends, patterns and anomalies 

Developing solutions, optimising systems and processes, and suggesting alternative practices 

Understanding data storage and data sharing methods 

Exploring new machine learning algorithms or natural language processing techniques to improve data analysis 

Helping design or implement new systems to retrieve, store, transform and manage data 

Using healthcare data to respond to administrative needs 

Converting data into information that is readily understood 

Making recommendations to management through written reports or presentations 

Liaising with colleagues and managers to ensure implemented changes are working. 
Health data analyst salary  
As a graduate in an entry-level role as a health data analyst, you can expect to earn a starting salary of between $70,000 – $90,000 per annum. As a senior health data analyst, you could earn up to $130,000 per annum. 
How to become a health data analyst 
There is growing demand for experts who can collect and analyse healthcare data. If you're interested in becoming a health data analyst, it's important to have the right skills and qualifications. At Curtin, you can gain a solid foundation in public health with our Bachelor of Science (Health Sciences). In this degree you'll explore how social, economic and environmental factors affect health and wellbeing and choose from an exciting range of units which include big data and health, epidemiology and biostatistics, healthcare systems in Australia and health promotion planning.  
With our Health Data specialisation, you'll develop the critical skills you need to excel as a healthcare data analyst. You'll learn how to analyse big data to reveal patterns and trends and learn about data capture, cyber security, data visualisation, artificial intelligence and machine learning. You'll also gain the skills to interpret data and make decisions and learn how to present your results effectively to different audiences. 
If you're a graduate who's looking to specialise or switch careers, Curtin's Graduate Certificate in Big Data and Digital Health is ideal. This course is suited to healthcare workers as well as graduates from other disciplines looking to switch fields to data analytics. You'll learn the basics of biostatistics and explore how big data is generated, communicated and governed in health. You'll also take an advanced unit in machine learning. 
If you're looking to start a career as a health data analyst, these courses will ensure you're ready to hit the ground running with the essential skills employers are looking for. 
Health data analyst career path 
Launching a career as a health data analyst can lead to many exciting opportunities. You can find work in data management, community development or specialise in public health research with a postgraduate degree. Curtin offers a Master of Public Health, a course with a strong global public health focus, where you can collaborate with peers all over the world. You'll explore health monitoring and surveillance, disease prevention and control, health promotion, protection, policy, planning and management. 
If you're interested in pursuing a career in epidemiology, Curtin's Master of Public Health (Practice) is an accelerated course that focuses on the prevention of illness and disease, and the protection and promotion of health and wellbeing in Australia and globally.   
Pursuing a career which combines the sought-after fields of healthcare and data analytics, is a smart and exciting choice. If you're ready to jump into this dynamic profession and make a difference, learn more about Curtin's Bachelor of Science (Health Sciences) or Graduate Certificate in Big Data and Digital Health.