Renna Gayde
25/05/2022. By Renna Gayde. 5 min read.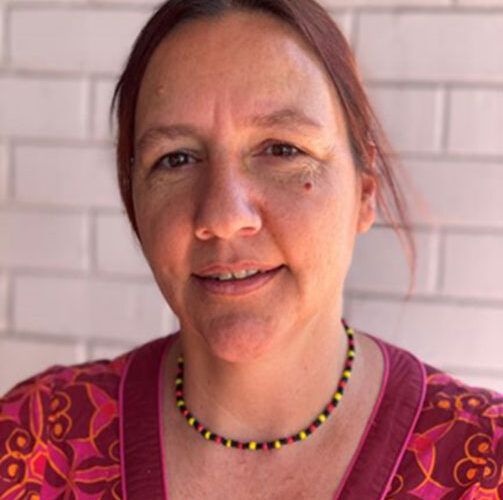 I am Bunyarinjarin, a Walbuja Woman from the Yuin Nation, my grandmother's country is widely known as Boderee National Park, Jervis Bay Territory.
I was displaced at age 13 due to my father's violence, and have been living on Noongar Boodja since I was 18 years old.

My four beautiful daughters were born on Wadjuk and Menang Country and I have spent the past 27 years living and overcoming my own trauma. Whilst incredibly challenging, that journey has led me to where I am today.
Having never had the chance to attend high school, I honestly never believed that I would be able to pursue a degree at University. In 2019, I was invited to visit Curtin campus and from the moment I stepped into the Centre for Aboriginal Studies, I have felt as though I was coming home.

Completing the Indigenous Tertiary Enabling Course (ITEC) was the best investment I have ever made, it has proven to be an investment in myself, my children and my community. Whilst studying ITEC and exploring my options and pathways, I kept coming back to Social Work, I feel it is my calling.
As incredibly challenging given the history and my own personal history with the social workers, I am deeply committed to the values and ethics of the profession. I am following my path as it unfolds, guided by my old people, and I feel if I go to bed grateful and wake up prepared, I will be exactly where I need to be.
My hope is to continue the work of those who have come before me in addressing and healing the relationship between the social work profession and First Nations People's.
More than anything, receiving the Moorditj Yorga scholarship has increased my confidence and validated that I am on the right path. As a sole parent having lost my partner, the father of my youngest children back in 2014, and with no family support on this side of the country, this scholarship allows me to breathe.
I am so very grateful to be able to continue with less financial pressure, because worrying about money reduces my capacity to be my best self and engage with the opportunities and learning available to me through Curtin.
The mentoring and support from the Moorditj Yorga Coordinator, Trish Hall-Wall will help position me as best I can so when I graduate, I am able to pursue whichever pathway feels right; with maximum potential to create positive change for ALL people, particularly our women and children. The focused mentoring program in my final year, will increase my networks and opportunities to best use my degree for positive and lasting change.
It is difficult to put into words how much receiving this scholarship will change my life, and my children's lives. I commit to giving back with deep gratitude and humility with great opportunities and capacity that this scholarship affords me.
___
Share this article: