Visual literacy opens a world of opportunities to young author
31/01/2022. By Carmelle Wilkinson. 5 min read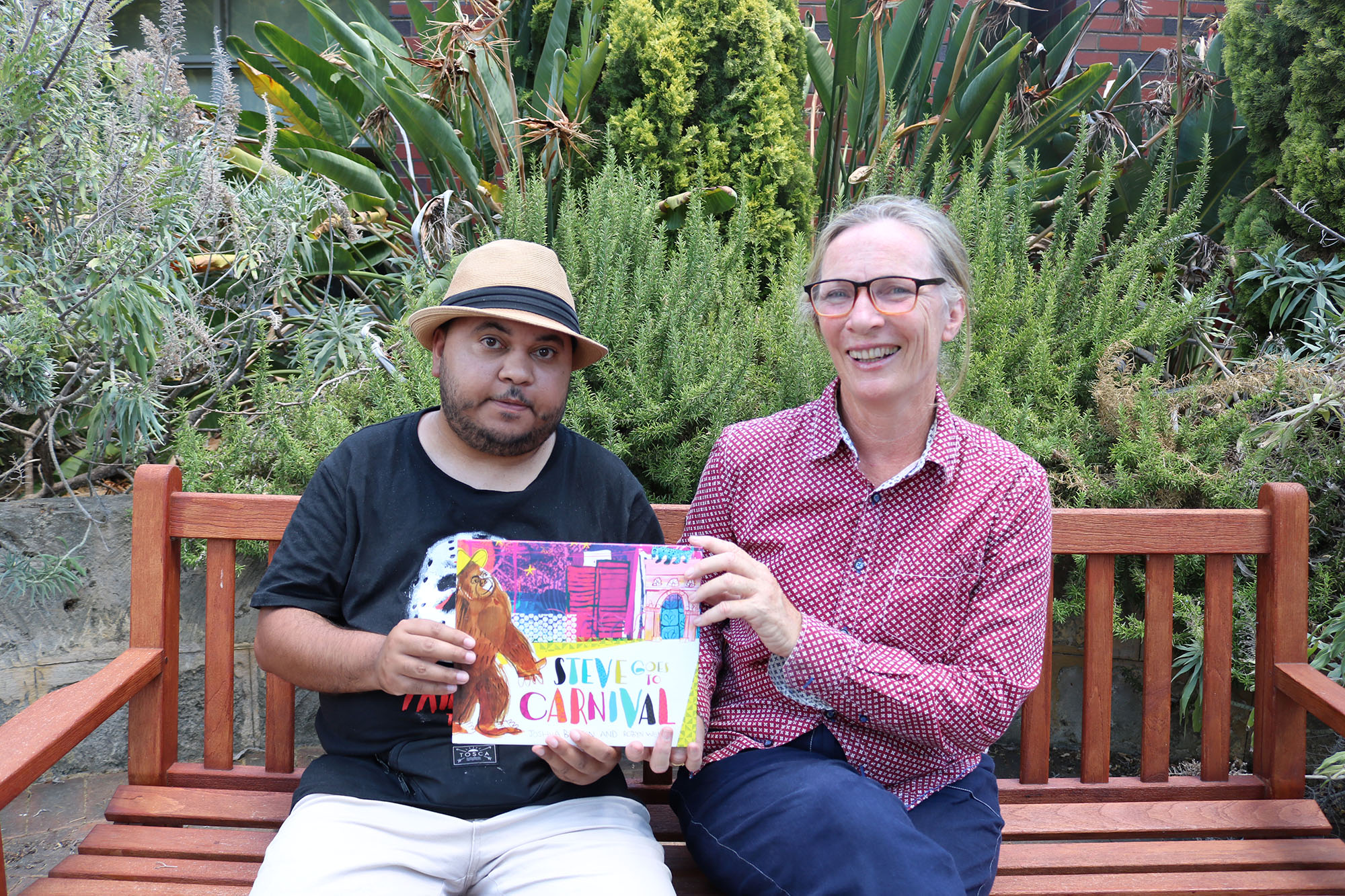 Joshua Button with mentor Robyn Wells.
Growing up with an intellectual disability, Joshua (of the Walmajarri people in the East Kimberley) had always felt frustrated that he wasn't performing as well as his peers.

A 10-year-old Joshua had all but given up hope of ever learning to read or write, until mentor Robyn Wells (BA Fine Arts, 1985) walked into his classroom 18 years ago.

The fine arts graduate used a visual approach to learning to help Joshua overcome learning difficulties and unlock his creative mind.

By combining exploratory art processes with text development, in just six months Joshua had become an independent reader, with his reading level improving from level 0 – level 18.

Now 28 years old, Joshua is an accomplished author and illustrator with not only three children's books to his name but also a T-Shirt printing business in the pipeline.
Joshua wearing one of his new T-Shirt designs.
While proud of his accomplishments, he humbly acknowledges his success wouldn't have been possible without guidance and creative tuition from his support worker and mentor Robyn.

"I'm very grateful for her, she helped me when no one else could, and because of her I learnt how to read and write,'' he said.
"Before I met Robyn, I needed a lot of help with my reading and writing. I lacked focus and concentration and my communication skills weren't too good."
After completing two years of fine arts at Curtin University in 1980, Robyn moved to Derby to explore the beautiful and remote Kimberley region, before returning to Perth to complete her third year of studies in 1985.

Following graduation, Robyn then moved to Broome, not knowing where her fine arts degree would lead her.

Unbeknown to her, her journey of pursuing the arts would be driven by a little boy named Joshua Button.

"I've known Joshua since he was a young child, he lived next door and attended St Mary's Primary School with my children ,'' Robyn said.

"When he was in Year 5 the school called me, asking if I could work one-on-one with Joshua to assist him with his literacy.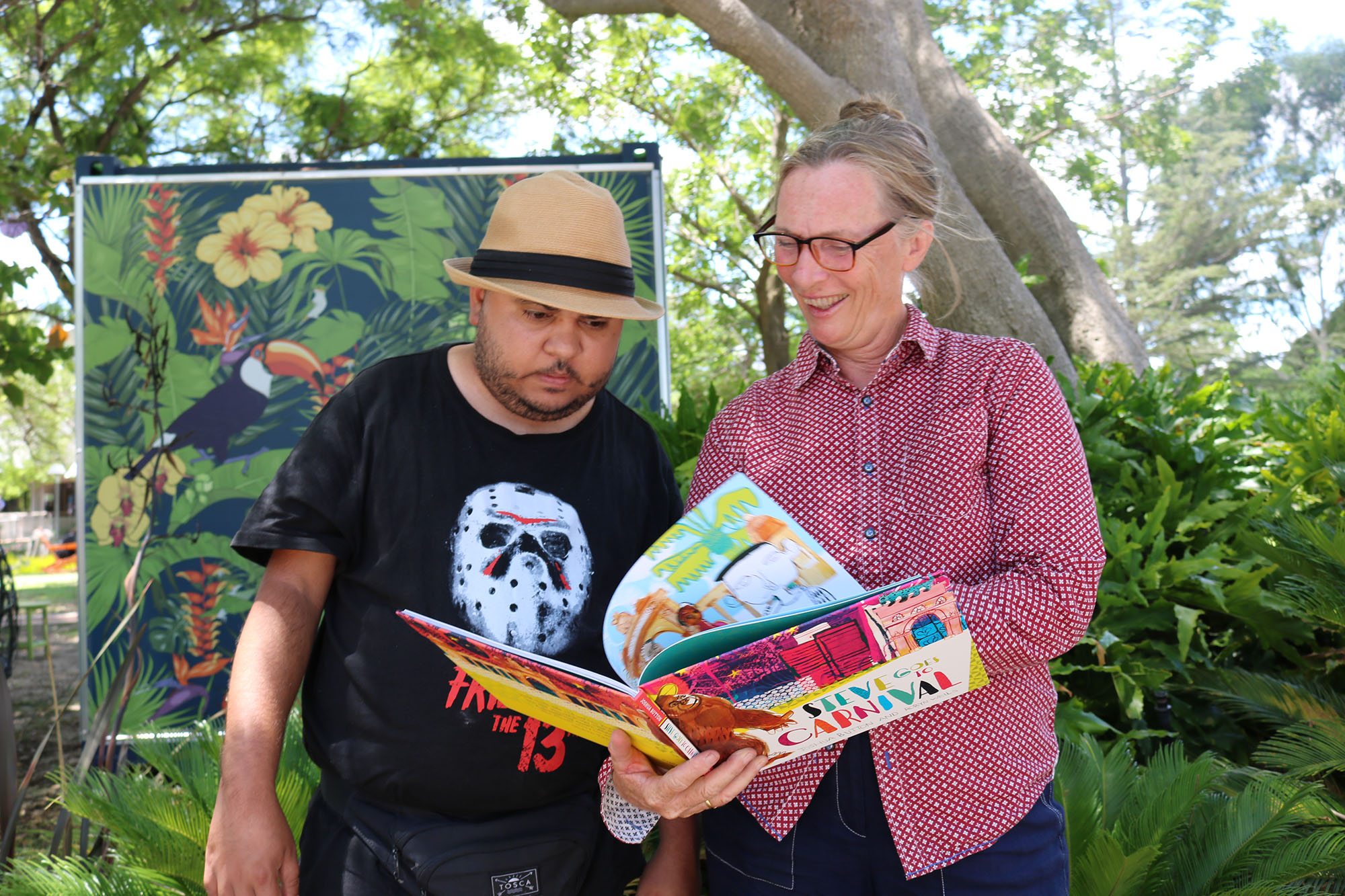 Joshua and Robyn look over the illustrations in Steve Goes to Carnival.
Interpreting and making meaning from still and moving image texts, such as artworks, posters, graphics, animations and film clips became a vital and successful tool in Joshua's literacy journey.

"At this stage Joshua wasn't reading, so I used a variety of visual and artistic methods to engage his interest,'' Robyn said.

"A huge poster wall with illustrations of the world and nearby planets helped his understanding of the world around him and served as an important starting point to develop and hone his communication skills.
"Joshua came into class one day and excitedly began to tell me about a meteorite that almost crashed into Earth over the weekend, and when I asked him how he knew that he told me he read it in the newspaper – for me that was a wonderful moment."
They say a picture paints a thousand words and in Joshua's case this certainly rings true.

With Robyn's guidance, Joshua is the proud author and illustrator of three books – Joshua and the Two Crabs, At the Zoo I See, and award-winning children's book Steve Goes to Carnival, which received a White Raven Award from the lnternational Youth Library of Germany in 2016.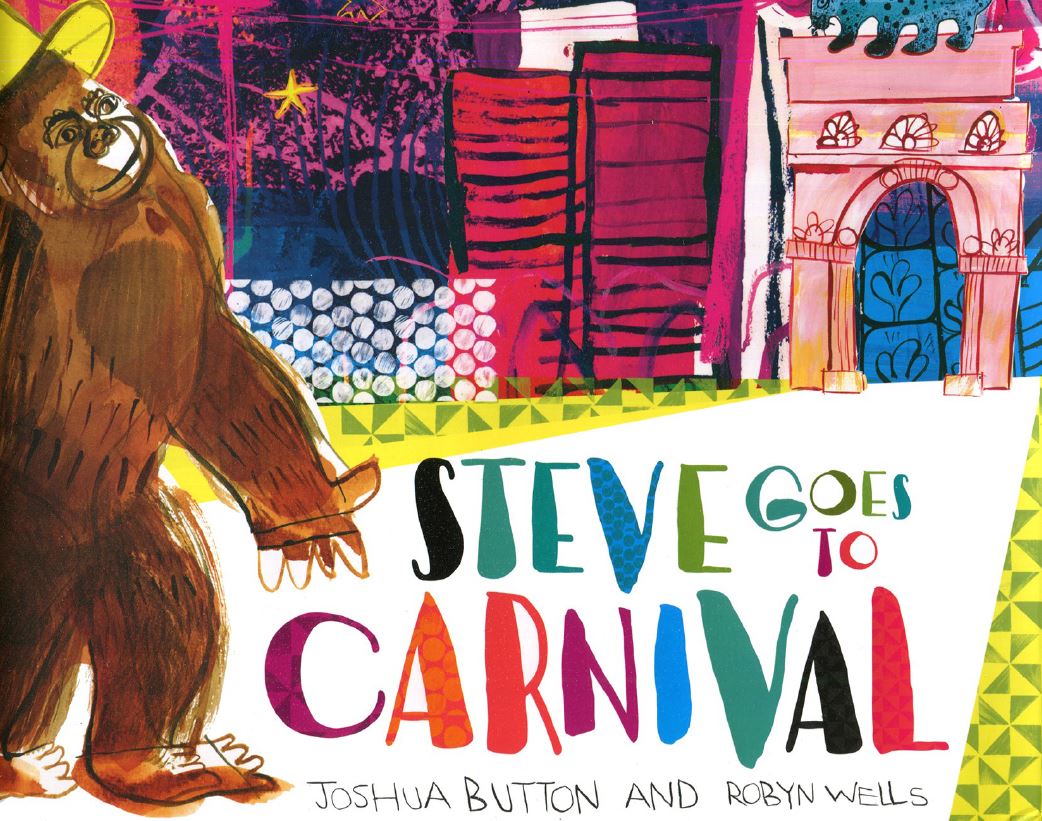 Joshua's third book Steve Goes to Carnival has received international attention.
Artwork from Steve Goes to Carnival was also purchased by the WA State Library and featured at the 2017 AWESOME Festival in Perth.
His first book (Joshua and the Two Crabs) tells the tale of Crab Creek, a tidal creek in the mangroves of Roebuck Bay, where Joshua's family often went fishing.
Joshua's illustrations detail the extraordinary colours and textures of the pindan cliffs and turquoise waters of Crab Creek.
The eloquent use of stencils, sponges and paint splattering techniques capture the excitement of running through the mangroves in pursuit for crabs.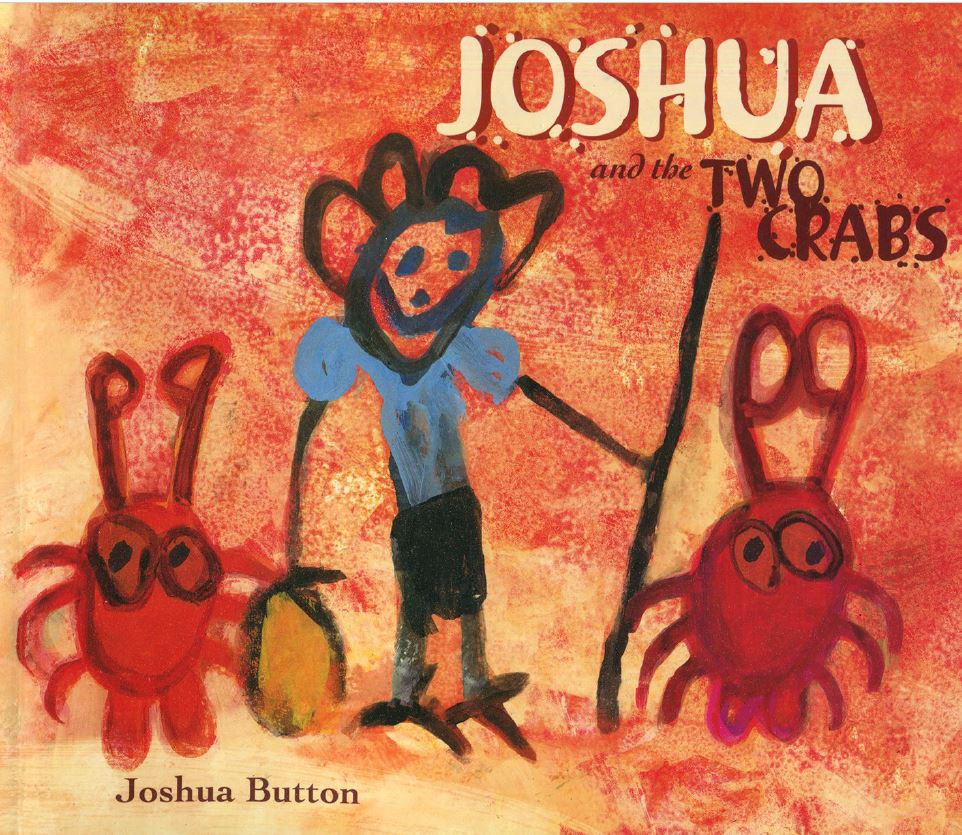 Joshua and the Two Crabs was Joshua's first book, and a story about the mangroves in Broome.
"Joshua's fine motor skills have vastly improved over the years. You can really see in Steve Goes to Carnival the level of brush control he has, with delicate brush strokes applied to bring the characters to life,'' Robyn said.
In addition to working with Joshua as a mentor and being a co-author of his latest books, Robyn has held a fascinating array of roles over the years, including graphic designer and local history researcher.
She has also worked with the Catholic Education Office, assisting with linguistics to create dictionaries, language maps, songbooks and a variety of educational resources.
Robyn currently works with Yiriman Women Bush Enterprises in the Kimberley, using her art skills to help Aboriginal women develop botanical drawings and graphics for their bush medicine products.
"I'm so thankful for my fine arts degree at Curtin as it's opened so many doors for me – more so than I could have ever imagined,'' she said.
"Working with Joshua has been an incredibly rewarding experience and seeing the joy he gets from drawing or reading a book is just amazing.
"His courageousness and patience are something to be commended. Turning up at school every day and not being able to join in with his peers is the equivalent of me attending music school every day and not knowing how to play an instrument."
Robyn said watching Joshua's appetite for literacy grow was an incredible journey and one which she attributes to their shared passion for the arts.
While Joshua takes a hiatus from writing books, he plans to turn his attention to an exciting new venture – printing wildlife designs on t-shirts and tea towels.
However, it won't be too long before he has paintbrush and notepad in hand ready to embark on that next literacy adventure – with mentor Robyn there championing him on.
Joshua's books are available from Magabala Books, Joshua Button Enterprises on Facebook and Paper Bird, Children's Books in Fremantle and the Fremantle Arts Centre.
Robyn Wells
Robyn Wells has a degree in fine arts from Curtin University and has lived in the Kimberley in Western Australia for many years.
___
Share this article:
Read more stories like this one