This internet browser is outdated and does not support all features of this site. Please switch or upgrade to a
different browser
to display this site properly.
If COVID-19 restrictions apply, we may need to make changes to units and/or delivery modes.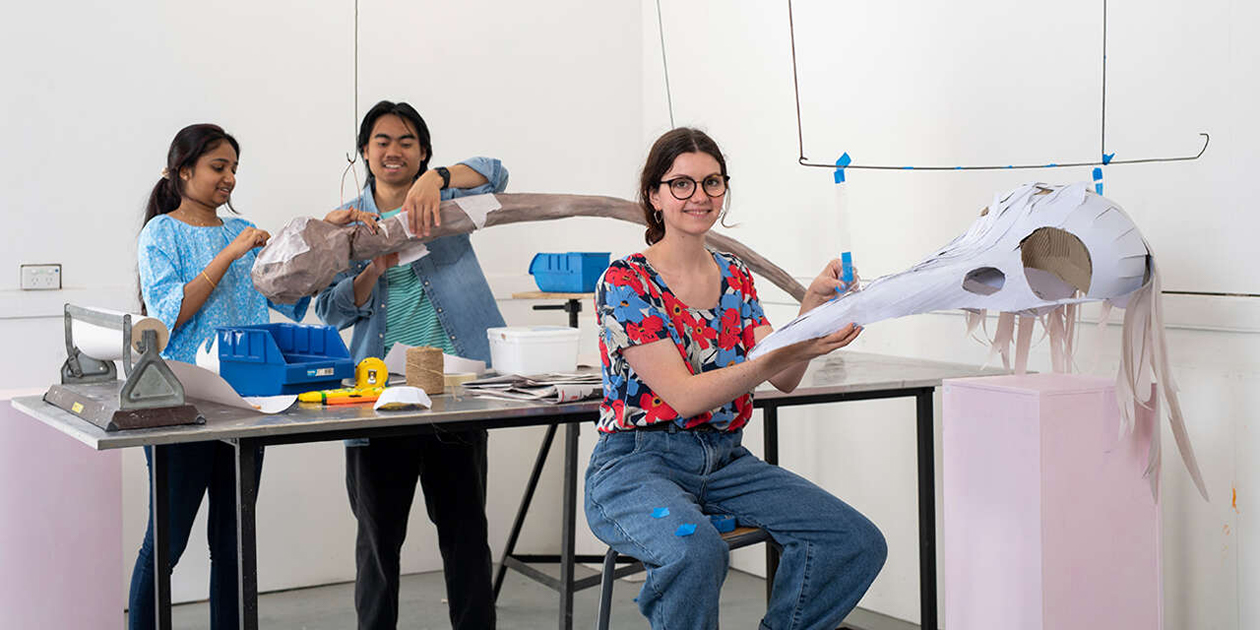 Fine Art
Undergraduate Major
MJRU-FINAR
Major

Fine Art Major (BCA)
200
Outline
Pursue a creative career and contribute to the artistic, and cultural needs of contemporary society.
If COVID-19 restrictions apply, we may need to make changes to units and/or delivery modes.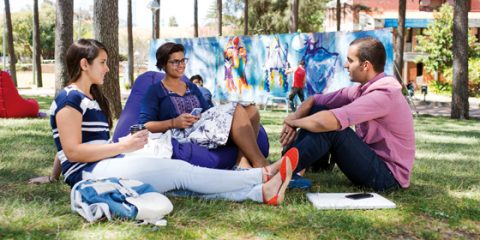 Transferable skills
Humanities courses teach transferable skills for international careers.
Specialist pathways
The Bachelor of Arts is flexible, so you can follow your interests and create a unique, tailored program.
Industry links
Access professional expertise with our artist-in-residence program.
Professional artists are creative people who contribute to the artistic, aesthetic and social needs of contemporary society.
This major is designed for those who wish to be professional artists or pursue a career in the creative industries.
You will focus on various disciplines, including painting, print media, sculpture, drawing, installation and new media.
In the first two years of your course you'll engage in studio-based activities, focusing on painting, print media, sculpture, drawing, installation, new media and emerging disciplines.
In your final year you'll undertake self-directed projects, culminating in the opportunity to present your artworks at the annual graduate show.
You'll also benefit from our artist-in residence program. Each semester Curtin appoints a new artist-in-residence, so you can access the diversity of professional expertise.
Fine art is offered as part of the Bachelor of Creative Arts. 
How to apply
This major sits within the Bachelor of Creative Arts degree. To apply for this major, you will apply for the Bachelor of Creative Arts. In step 3 of the application process, confirm the major you wish to study.
Applying as an undergraduate student is easy. For information tailored to your situation, visit our easy to follow instructions to get your application started.
Ready to apply?
Why study
Art at Curtin is a respected centre for visual arts education in Australia and abroad.
You'll have access to excellent facilities and technical support for practical work in a range of media.
You'll have the opportunity to gain hands-on professional experience in presenting artwork to the public through the John Curtin Gallery and through our links with local art agencies and institutions.
Student profile
View our student profile table to get an indication of the likely peer cohort for new students at Curtin University. This table provides data on students that commenced undergraduate study and passed the census date in the most relevant recent intake period for which data are available. It includes those admitted through all offer rounds and international students studying in Australia.
Career information
Careers
Artist
Artisan / craftsperson
Arts administrator
Gallery professional
Curator.
Industries
Arts
Creative Arts
Community Arts
Public Art
Fashion.
What you'll learn
apply discipline knowledge of creative production in both studio practice and Fine Art critical discourse; contribute to evidence based practice through visual research: critically evaluate visual culture, technology and literature relevant to the discipline.
think critically and reflectively: experiment and innovate with creative practice to generate entrepreneurial solutions.
demonstrate effective visual, spoken and written communication using appropriate technologies suitable to both studio practice and art critical discourse.
recognise and acknowledge the importance of engaging global, ethical and sustainable practices appropriate to contemporary Fine Art production.
appreciate and employ understandings of cultural diversity and visual language in the practices of Fine Art: acknowledge interrelationships of local indigenous values to global perspectives in Fine Art Practice.
employ best strategies of Fine Art production that will enhance relevant professional practice, community engagement and leadership.
Advanced standing
At Curtin, we understand that everyone's study journey has been different.
You may have already studied some of the units (subjects) listed in your Curtin course, or you may have work experience that matches the degree requirements.
If this applies to you, you can apply for credit for recognised learning (CRL), which means your previous study is recognised and matched against a similar unit in your intended Curtin course.
A successful CRL application exempts you from having to complete certain units within your course and means you could finish your degree in a shorter amount of time.
CRL is also known as recognition of prior learning, advanced standing and credit transfer.
Use the CRL search to find out how much CRL you qualify for, or contact us at:
Webform: Submit here
Curtin Connect: 1300 222 888
How to apply
Please review information on how to apply for the campus of your choice
Apply now
Help
Help is at hand
See our frequently asked questions or get in touch with us below.
---
Opening hours:

Mon to Fri: 8.30am – 4.30pm, except Tues: 9.30am – 4.30pm (AWST). Closed public holidays.
Curtin course code:

MJRU-FINAR

Last updated on:

11/08/2022
Which statement best describes you?