Star athlete bringing her superpowers to the field
07/11/2022. By Carmelle Wilkinson.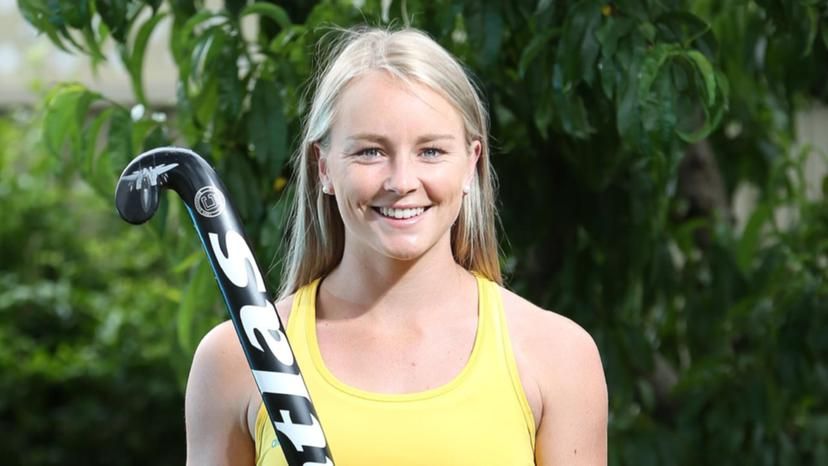 Jane Claxton (Hockeyroo Captain). Credit: News Corp Australia, Bianca De Marchi.
Growing up Hockeyroo Captain and Curtin Occupational Therapist (OT) graduate Jane Claxton never dreamt about playing hockey for Australia.
While she knew she wanted to play an elite sport, it's safe to say hockey chose her.
Surrounded by mad hockey fans, including her dad Bob and older brother Matthew, who currently plays hockey for South Australia, Jane picked up her first hockey stick at age 4.
"Every weekend we'd go watch dad play and me and the other kids would run around and play with our hockey sticks, while the mums sat on the side lines drinking wines,'' she laughed.
"For as long as I can remember hockey has always been a part of my life.
"When I was 5, I joined Minkey, which is like mini hockey, and I pretty much played right through. Although I did take a little sabbatical when I was about 10 or 11, because it got a little rough playing in a mixed team."
It wasn't until her dad started a hockey team with her girlfriends when she was in high school, that Jane returned to the sport.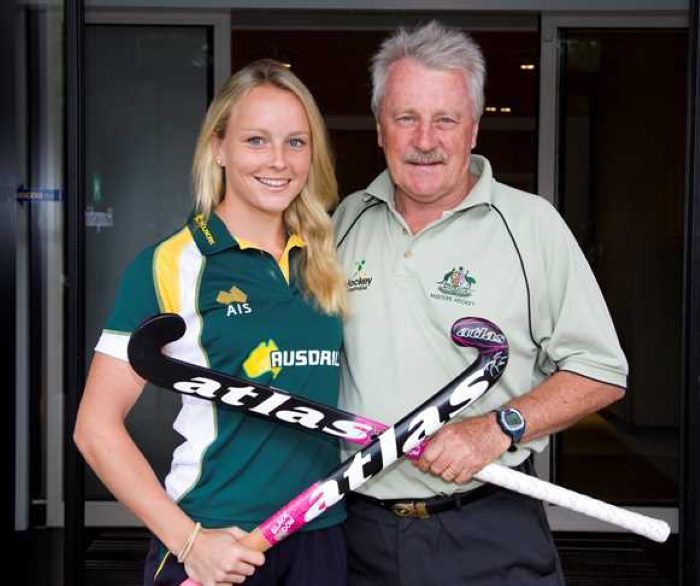 Jane with her dad Bob, who is a keen hockey supporter.
"I think my mini break from hockey broke my dad's heart, so he created this team purely to bring me back to the sport,'' she said.
"My dad has been my unofficial hockey coach ever since. He's retired now, but he still finds ways to get involved. He currently volunteers for the Oceania Hockey Foundation where he promotes hockey in nations like Samoa, Vanuatu and Fiji."
Born in Adelaide, Jane moved to Perth in 2013 to take up a scholarship with the Hockeyroos.
"When I was younger, I wasn't regarded as overly skilled, and I was told a few times that I wouldn't make it. Despite the comments, I was super fit, and I kept trying. I didn't stop trying.
"I'm probably the most competitive person I know."
Jane said turning up to daily training sessions and giving 100 per cent finally paid off.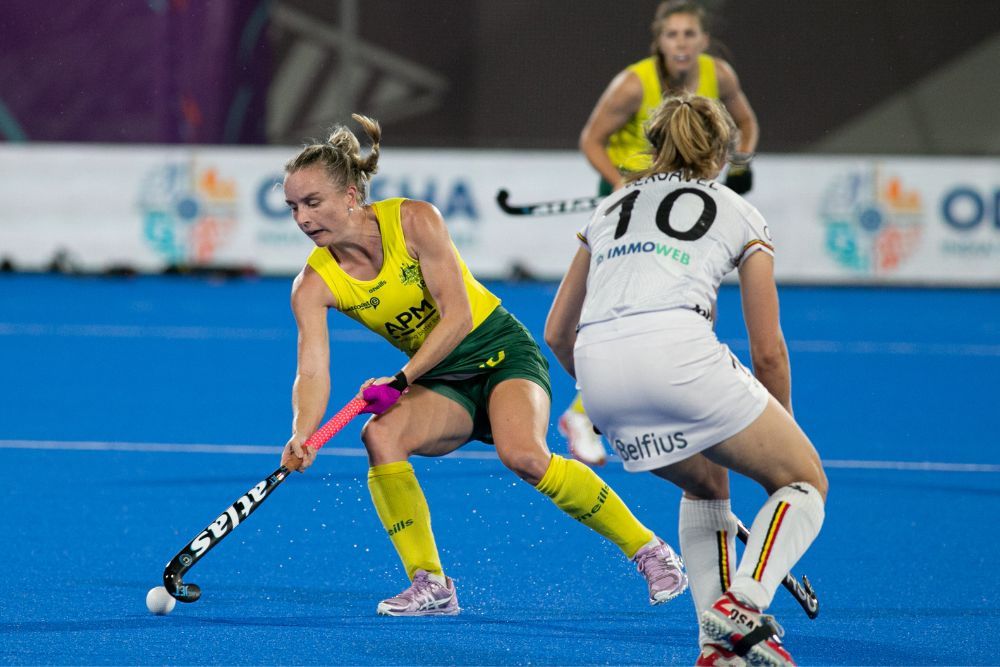 Jane in action at the World Cup in the Netherlands.
"It wasn't until I was in the under 20s playing at a national tournament that I was noticed,'' she said.
Since becoming a Hockeyroo, Jane has played in over 100 international games, including the Commonwealth Games, two Olympics (Rio de Janeiro 2014 and Tokyo 2020) and a World Cup.
Off the field, Jane works as an Occupational Therapist at Konekt in Perth, which provides rehabilitation services to support veterans across Australia.
Graduating from Curtin in 2019 with first class honours, she started her OT career in vocational rehabilitation, assisting injured workers back into the workforce.
"At school I really enjoyed biology and the human anatomy side of things, so I always knew I wanted to work in the health space one day,'' she said.
"While the medical profession appealed to me, it didn't really gel with elite sport, and I felt I wouldn't be able to juggle the two.
"OT piqued my interest because it can be quite diverse and there are endless opportunities."
Balancing work and a professional sporting career hadn't been easy for the Hockeyroos Captain, but her strong desire to make her younger self proud keeps her grounded.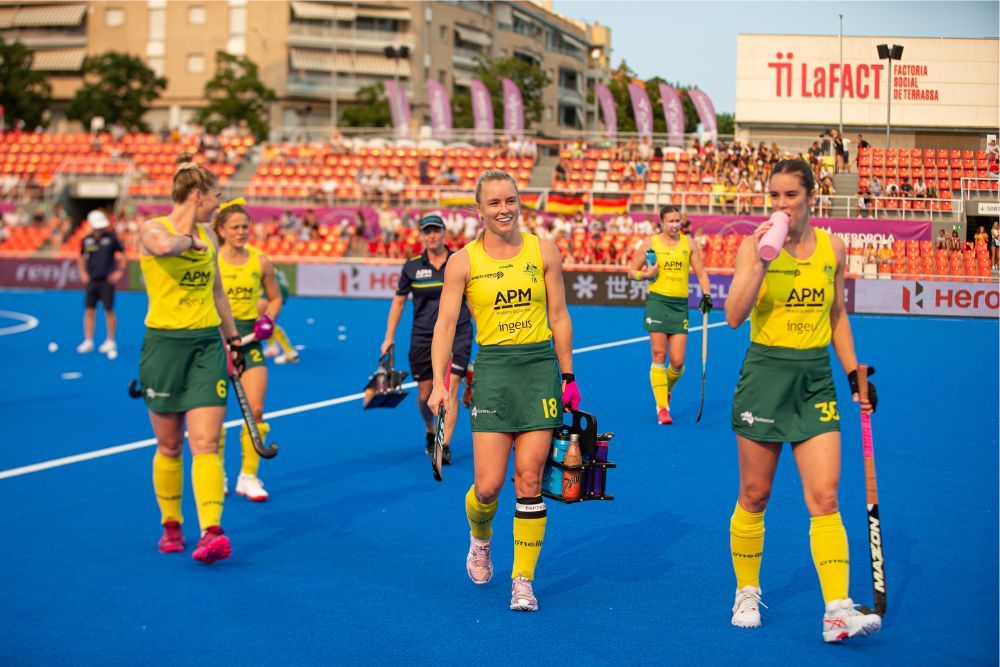 Jane and the Hockeyroos during warm-up.
"I remember watching the Sydney Olympics as a little girl thinking how cool it would be to play at such a high level and have thousands of people around the world watch you,'' she said.
Jane admits accepting the title as Captain of the Hockeyroos took some convincing.
"I've never placed a lot of emphasis on being in a leadership role, so when I was first approached, I really struggled with it,'' she said.
"Being a captain is high-pressure role and suddenly you're not worrying only about yourself and how you're playing, but the entire team.
"I was super hesitant at first and I had to have a lot of conversations with various people to see how I would manage this, but in the end, it's been an incredible experience, and I'm glad I accepted."
Easing into her role, Jane said it was important to her that the team didn't see her as a motherly figure, but rather a lead by example type of figure.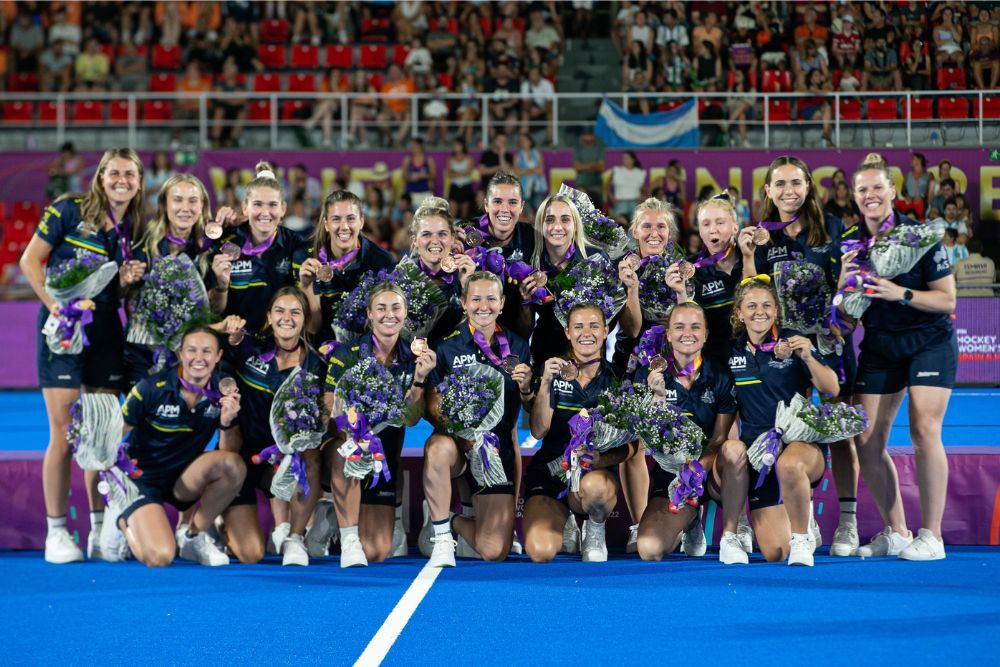 The Hockeyroos celebrate a win at this year's World Cup.
"Obviously my advice to the girls changes with every game, but for the most part I always tell them to be themselves and bring that superstar power to the field,'' she said.
"Every game brings its own challenges and despite the pressures you may place on yourself to win, you need to get to a place where you can shut off the outside noise and just focus on you.
While it was important to keep one's mental health in check, Jane said maintaining a healthy body image was equally as important.
"Just as you shouldn't try to be anyone else, you shouldn't compare your body with someone else. Everyone has a different body shape, and as long as you're healthy and fuel your body right, there is no need to diet or deprive yourself,'' she said.
"A good relationship with food is so important, especially in women's sport. While I usually eat pretty healthy, I don't believe in dieting and if I want pizza or ice cream, I will have it.
"My ideology is that if you tell yourself, you can't have something, the more you want it. Just live in your own lane and do what's right for you."
Balancing life, work and gruelling training sessions can be a lot at times, but Jane wouldn't have it any other way.
"I actually get restless if things are too quiet. I like to keep busy,'' she said.
And her advice for a happy work/life balance?
"Don't expect yourself to be motivated every day. There are times I rock up to training and I struggle to get through it,'' she said.
"But I guess the key is to show up. Turn up, do the work and motivation will follow. It's about removing those pressures and expectations, and being kind to yourself."
Having won silver at the 2014 World Cup and gold and silver at the last two Commonwealth Games, Jane said her next big competition on the horizon was the Paris Olympics in 2024.
___
Subscribe to Commons
Read more stories