Extinction expert inspires evolutionary scientists of the future
29/09/2022. By Carmelle Wilkinson.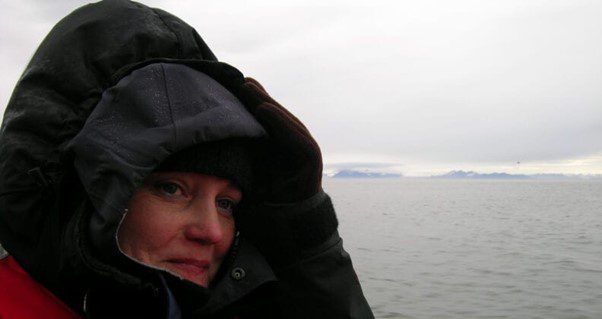 A fieldtrip to Svalbard (between Norway and the North Pole) known for its rugged and remote terrain is not for the faint hearted – just ask John Curtin Distinguished Professor and WA Scientist of the Year Professor Kliti Grice.
The extremely cold and unpredictable polar conditions bring a plethora of hazards to those brave enough to explore its magnificent, including frostbite, hyperthermia, severe sunburn, and the threat of avalanches.
Armed with an arctic suit, gloves, thermals, enough dry food to last two weeks, a satellite phone and rifle for protection from the polar bears, Kliti and her team were there to sample the largest extinction event in the Earth's history, across the Permian-Triassic boundary.
Occurring about 252 million years ago, erupting volcanos in Siberia are believed to have triggered the mass extinction when the supercontinent Pangaea was formed.
This extinction event involved a cascade of events which caused global warming of the planet, an increase in greenhouse gases in the atmosphere, acidification of the oceans and depleted oxygen levels in the water – leading to the extinction of 95% of marine and 70% of terrestrial species at the time.
"Being out in the field with geologists like my colleague Professor Richard Twitchett (Natural History Museum, London) in Svalbard examining rock samples in the Arctic, was an experience I'll never forget,'' she said.
"Our global finds included the presence of toxic hydrogen sulphide in the oceans during the biggest mass extinction event."
Growing up in West Yorkshire in the Bronte countryside, England on a hobby farm, Kliti enjoys being outdoors and travelling and exploring new places.
After completing her PhD in Organic Geochemistry at the University of Bristol, Kliti moved to The Netherlands Institute for Sea Research on the island of Texel, and then onto Perth in 1998 where she began working at Curtin.
Highly regarded for her research into mass extinction events that have shaped life on Earth, Kliti is a leading Australian scientist and pioneering female in STEM and a fellow of the Australian Academy of Science, who last year received an Australian Laureate Fellowship the only recipient in WA.
This year, she was announced WA's Scientist of the Year at the 2022 Premier's Science Awards.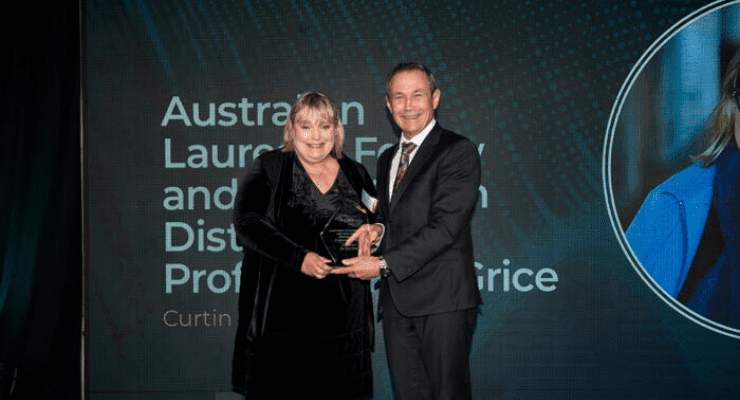 John Curtin Distinguished Professor Kliti Grice with the Deputy Premier of WA, Hon Roger Cook MLA at the 2022 Premier's Science Awards.
A champion in her field, and the first Curtin female researcher to win this prestigious title, Kliti is a dedicated educator and mentor for WA's evolutionary scientists of tomorrow.
Being named WA's Scientist of the Year is such a remarkable achievement, you must be so proud. How did it feel when you heard your name called out?
I felt deeply privileged to be considered for this award along with the other two finalists, both of whom are outstanding scientists and would have been equally deserving winners.
The valuable support I've received from Curtin and the Australian Research Council (ARC) over the past 22 years with the excellent array of infrastructure and equipment to support my research has made all the difference.
The honour of being recognised not just for my work, but the work of my team of students, technicians and researchers, significant global collaborations and my own my mentors along this journey was a wonderful feeling.
Unlocking the secrets of Earth's early life through important research must be exciting work. What inspired you to pursue a career in science?
I guess going back to my school days, science was one of my favourite subjects. In particular, chemistry.
I also loved geology, art (creativity) and loved being in nature, so it was a natural progression to reconstruct ancient environments and ecosystems.
For me, researching mass extinctions raises some big Earth Science questions, of significant paleobiological interest and I love trying to answer these questions.
Someone once said to me it must be very depressing working on extinction events, but it really isn't, because with extinction events, evolution of life occurs and that's pretty exciting.
When we extract tiny molecules, which are invisible to the naked eye from rocks and fossils, and analyse them, we can learn so much from such a small sample.
You are taken back in time and can look through the lens to events that occurred millions of years ago.
These small molecules can also tell us a lot about global warming, ocean acidification, rising and falling sea levels, toxic gases, tsunamis and wildfires to asteroid impacts for example, which can benefit our understanding of our planet's environment and ecosystems.
Most of us know about the extinction of the dinosaurs, but your work looks at the planet even prior to this time, doesn't it?
Yes, I research the past 600 million years and the big five mass extinction events to help resolve the cause or consequence of key contributors to massive losses in biodiversity and habitats.
I look at what caused these events, what life was destroyed, who recovered and who evolved by looking at the molecular fossils, from microorganisms – eukaryotes, bacteria and archaea and their stable isotopes in rocks.
Most of us know about the dinosaur mass extinction 66 million years, which was unique because it was due to a meteorite impact, but the other mass extinctions were caused by changes in the atmosphere and oceans due to plate tectonics.
My team and I study the molecular signatures (biomarkers) of biomolecules that have been made by micro-organisms, plants and animals, and deposited in lakes and oceans, thousands and hundreds of millions of years ago.
What research are you currently working on at Curtin?
Last year, I was fortunate to receive an Australian Laureate Fellowship. The project aims to unlock a hidden record of our planet's past and the life it supported, by analysing fossils for new evidence of natural products.
By analysing these preserved and uncontaminated fossils (including soft tissue) in concretions from different geological settings and timeframes we are better positioned to answer ecological, paleoenvironmental and evolutionary questions of contemporary relevance.
For example, reporting the oldest report of intact red blood cells (four times smaller than modern) in a 183 million year old vertebrae of a reptile like organism (ichthyosaur) was attributed to an evolutionary adaptation to low oxygen conditions in the atmosphere and oceans.
Based on your understanding of past extinction events, what's the likelihood of a naturally occurring mass extinction event happening in our lifetime?
Unless there is a giant asteroid or comet on a collision course with Earth – and we have no evidence this is imminent – I thankfully cannot see a mass extinction event happening in our lifetime.
Would you like to see more females join the field?
Absolutely.
Actually, it's been wonderful to see more diversity in the lab over the past few years. Some 65-70% of female scholars at PhD level have researched in my lab.
When I started over 20 years ago, it was very different.
I hope I can continue to inspire our next generation of scientists and encourage more females to pursue a career in science – it's an incredibly rewarding career path.
Do you have any advice for other students interesting in STEM?
Love what you do, set goals, celebrate your successes be bold to chase your dreams.
Be confident in your ability and learn as much as you can from your mentors and peers.
I love working with PhD students and early and mid-career scientists and helping them develop and take their first steps into their careers.
I also like sharing the excitement of finding something new about evolution or molecules with the students and people I work with, for me that's the greatest reward of all.
I'd also tell students to be open-minded about what opportunities are out there, embrace multidisciplinary science and enjoy your productive collaborations, reach for the highest goals and surround yourself with a great team with different skills.
I also have a very supportive family – my son and my husband who have shared this valuable journey with me, sharing all the responsibilities as parents and celebrating science.
___
Read more stories