Aboriginal fashion creates ripples of change
12/10/2022. By Carmelle Wilkinson.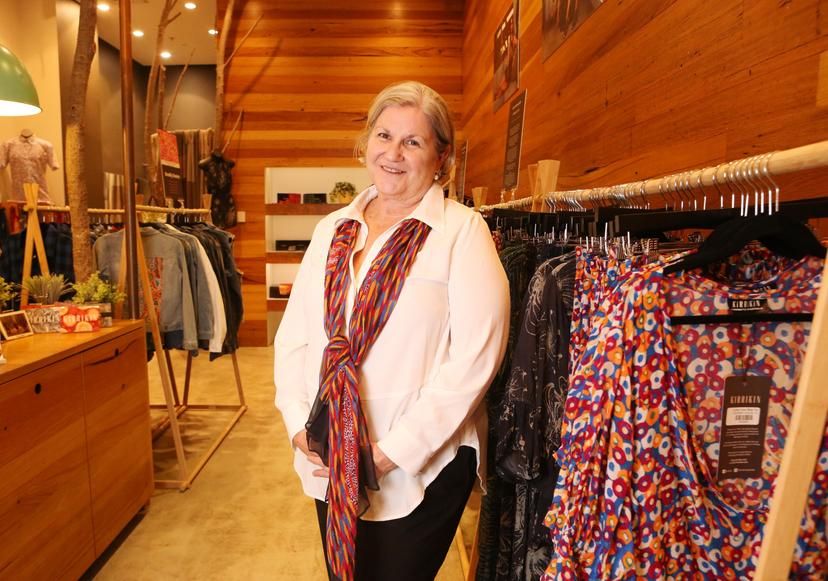 Founder and designer of Kirrikin Dr Amanda Healy.
Beyond the vivid colours and beautiful symbols, Aboriginal art can be a powerful vehicle for reconciliation, cultural preservation and change.
With the ability to connect communities and shape the future, founder and designer of luxury fashion label Kirrikin, Dr Amanda Healy said it was heart-warming to see Aboriginal fashion and culture slowly emerge on the international runway.
The Curtin Business graduate and Lifetime Achievement recipient recently returned from Europe, where she showcased Kirrikin's latest collection – Ripples.
Founded in 2014, Kirrikin features artwork of contemporary Indigenous artists on resort wear, dresses, scarves and ties.
Inspired by Australian society's evolving cultural landscape and Amanda's Indigenous roots, the new line refers to the ripples of change that have been bubbling away in the broader Australian community.
"One of the obvious areas of Aboriginal participation has been in the artistic fields, and fashion is now emerging as an offshoot of that,'' she said.
"The purpose of the fashion shows in Europe was to provide a much broader scope for our Aboriginal businesses and creatives and open our store fronts to the world.
"Next year, we might be able to call the collection Waves."
Amanda said fashion shows in Brussels, London and Dublin coincided with international initiatives by the Embassies, including the unveiling of Aboriginal artworks in Belgium.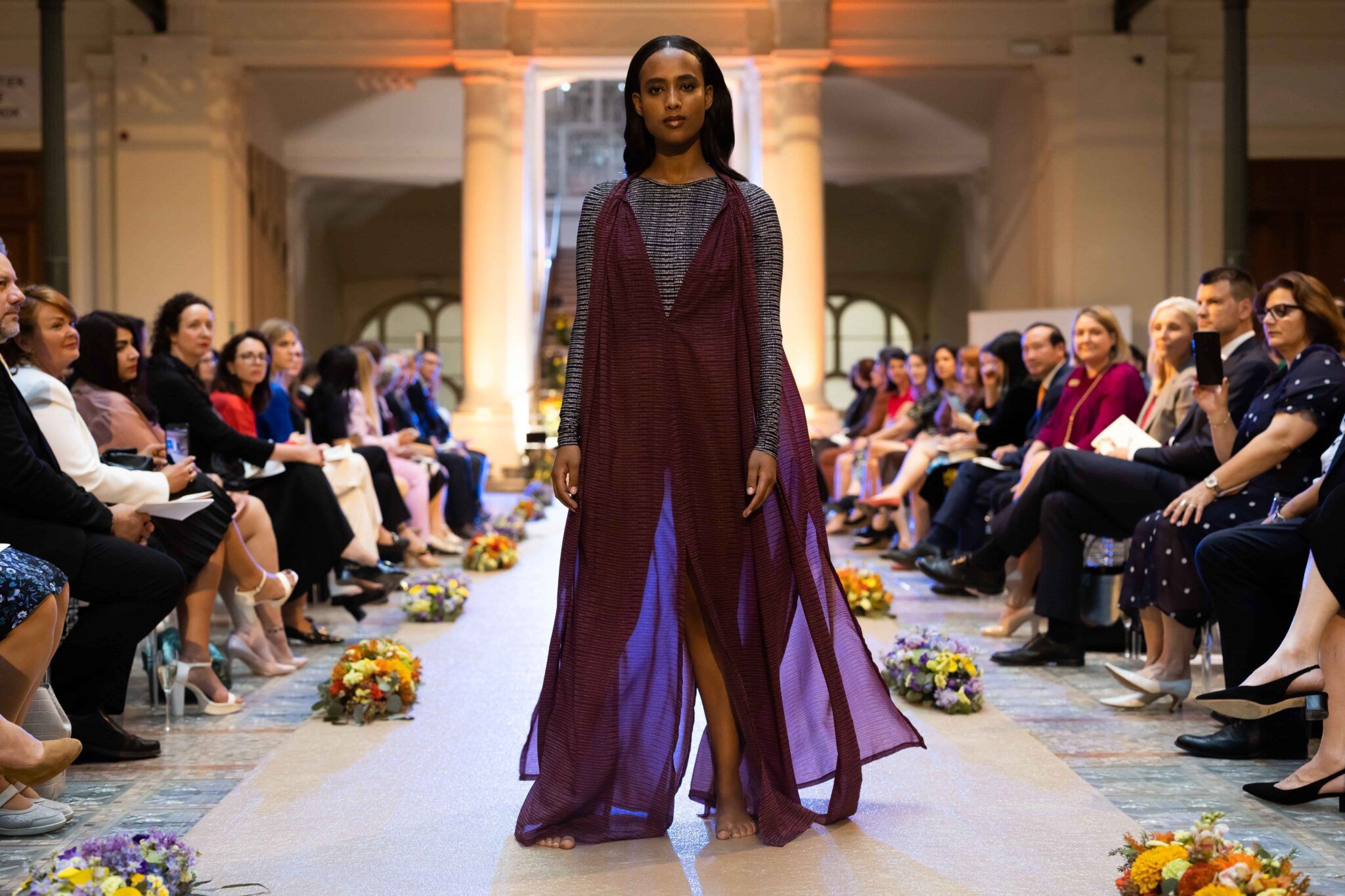 A Kirrikin model on the runway in Brussels.
"Being able to showcase emerging and established designers from across the country was an incredible experience,'' she said.
"For me though, the most important thing is to shine a light on our culture and kick down doors for the younger ones coming through.
"Fashion is something we all interact with every day – like it or not, so it is a product that is hard to ignore."
Earlier this year Kirrikin reproduced stunning artwork from Curtin Alumna Valerie Ah Chee onto beautiful exclusive silk scarves, to promote Curtin's Moorditj Yorga Scholarship for mature-aged Aboriginal and Torres Strait Islander women.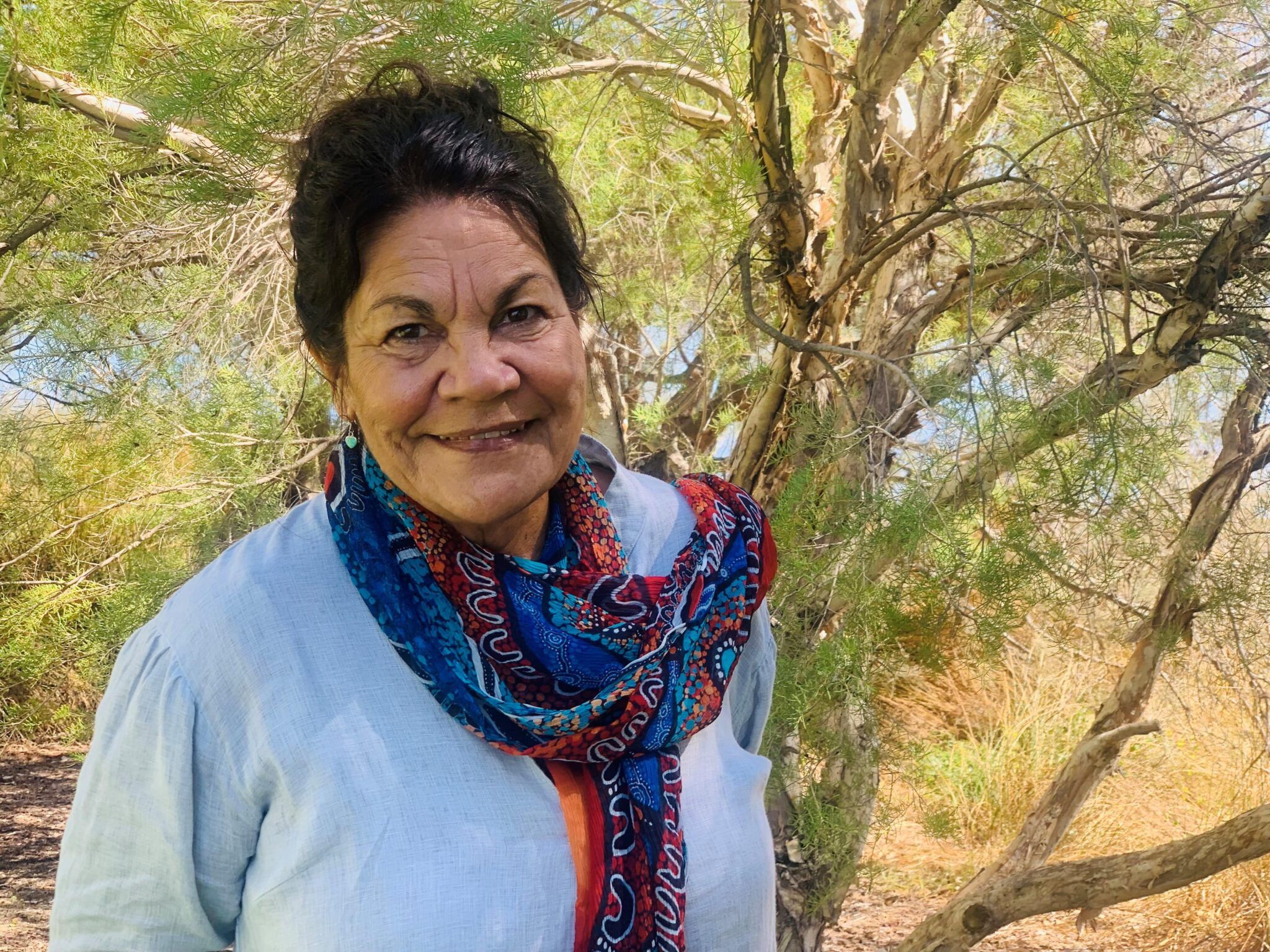 Curtin Moorditj Yorga Scholarship Coordinator Trish Hill-Wall wearing the MYS scarf with pride.
A visual representation of Aboriginal culture and the transfer and continuity of knowledge and wisdom between generations, the scarves are also a symbol of empowerment, and a nod to the many strong women in our lives.
As a notable and respected member of the Curtin community, Amanda studied social science at the Western Australian Institute of Technology (WAIT) before returning to Curtin to complete a Graduate Certificate of Small Business Management in 2008 and an MBA in Business Administration and Management in 2016.
A believer in the power of education, Amanda attributes her success to her thirst for knowledge.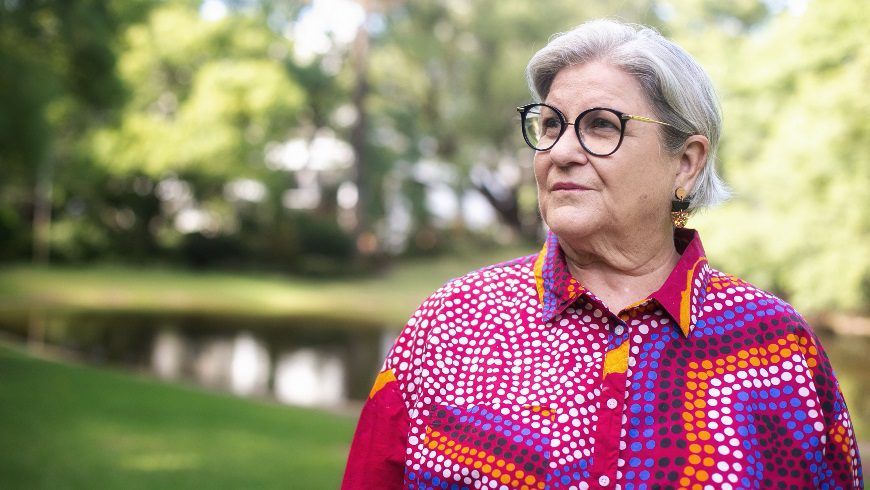 Dr Amanda Healy recently received a Curtin Lifetime Achievement Award at our Alumni Awards Ceremony.
"Although I acknowledge it is not for everyone, I think a tertiary education can provide exceptional opportunities in who we work with, and what we can do."
A Koori woman from the Wonnarua nation of the Hunter Valley region in New South Wales, Amanda has always embraced her cultural background.
She is also owner of mining company Warrikal, a mechanical maintenance business which provides professional support services to the resources sector in WA and has a 20 per cent Aboriginal workforce.
"Indigenous Australia is just starting to find its feet, particularly in a business sense, with a huge amount of Aboriginal businesses emerging over the last 10 years,'' she said.
"I think the more we tell our stories that are deeply imbedded in culture, then the better people understand. It is great to see the explosion of stories about our history, and the promotion of our products.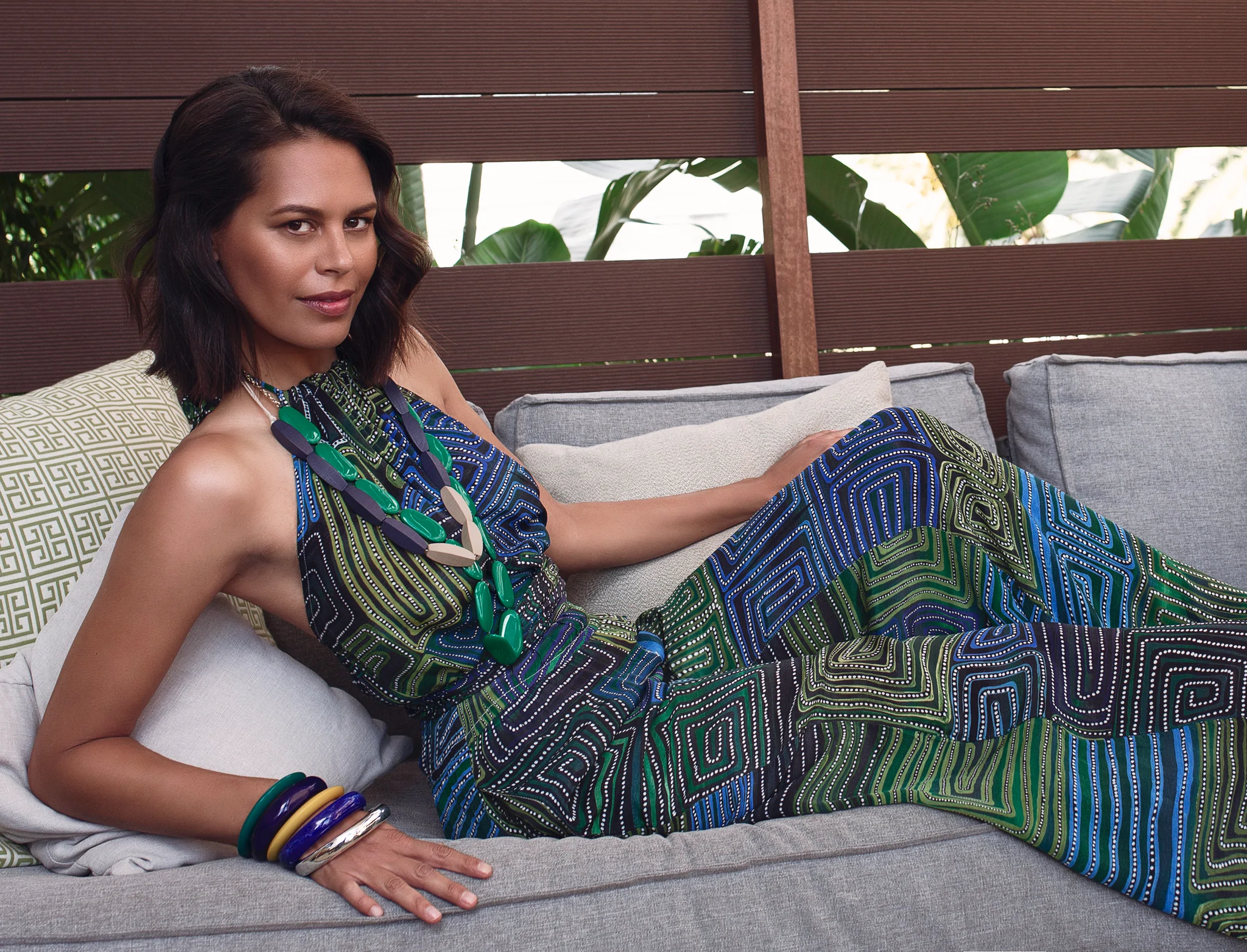 Model wearing a Kirrikin dress.
Forging a successful 35-year career in the mining industry which spanned across Australia, Canada and Africa, and starting her own award-winning engineering company (which she later sold to a multinational engineering firm) was no easy feat in a predominately male-dominated world.
Coupled with the fact she's also an Aboriginal woman (who account for owning less than 1 per cent of businesses in Australia), makes Amanda's story that much more remarkable.
Through her passion for fashion and mining, Amanda is changing the narrative.
"I started Kirrikin after struggling to find any authentic Aboriginal products on the market," she said.
"I also fell in love with Aboriginal artwork and saw an opportunity to make them into beautiful products and give back to the artist.
"All profits from Kirrikin are returned to participating artists, community projects or back into business growth."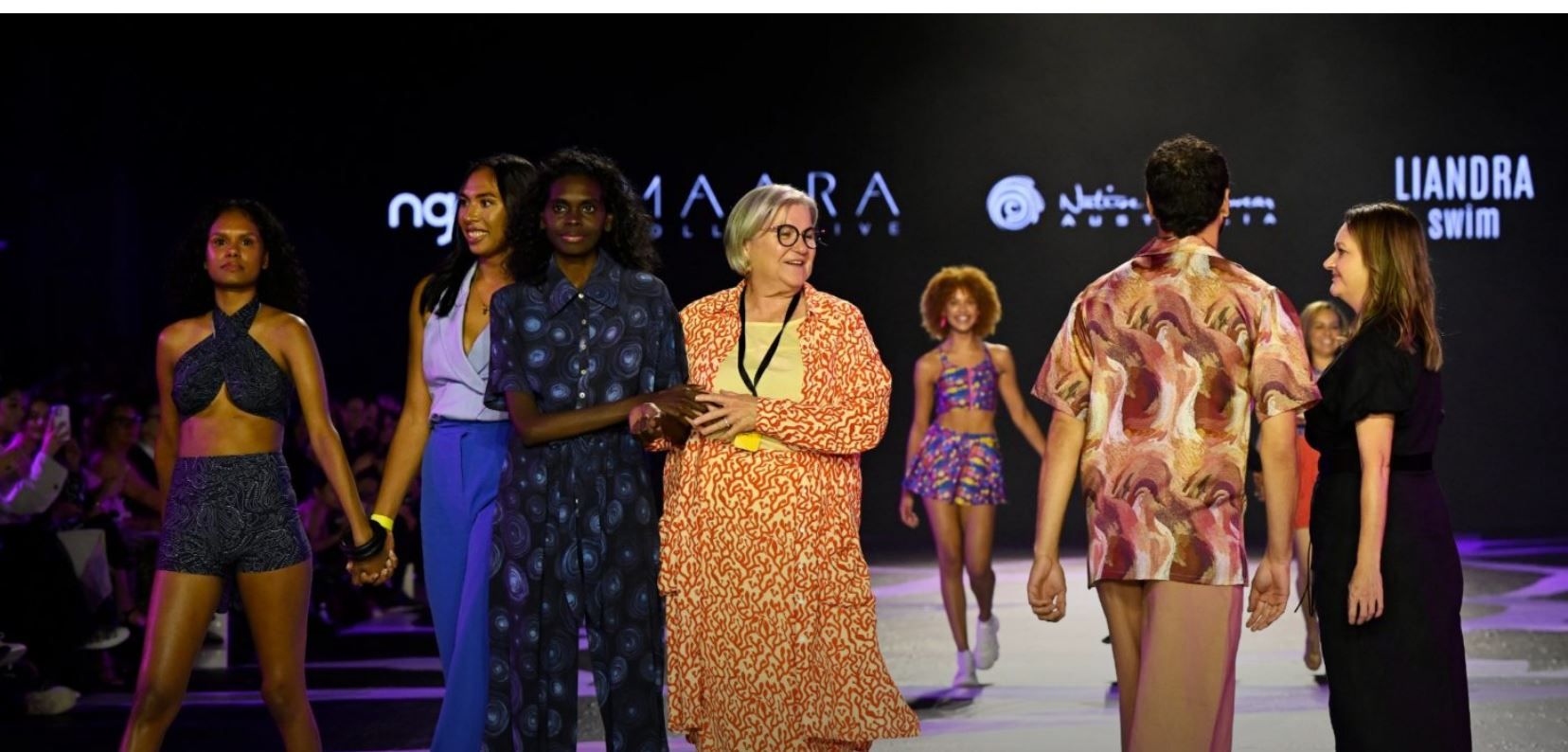 Amanda is passionate about preserving Aboriginal culture and making a difference for Indigenous youth.
Through her business enterprises, Amanda also provides training, mentorship and work opportunities for Aboriginal and Torres Strait Islanders, and is committed to making a meaningful contribution to overcoming entrenched disadvantage.
"There are chronic inequalities between Indigenous and non-Indigenous Australians in health and life expectancy, and in education and employment outcomes,'' she said.
"As a Koori woman, I fully understand that intergenerational trauma and disempowerment underpins these issues. Work opportunities that give Indigenous people control over their future are vital to addressing this."
From Country to couture, Amanda believes the sharing of culture and passing on of knowledge and storytelling can change lives.
Amanda's Curtin Lifetime Achievement Award winner video.
"My greatest motivation in life is seeing the younger generation talk about their past, not accept the status quo and take responsibility in creating new spaces.
"I have a deep pride in our younger generation and I'm looking forward to watching the social change in the next five to 10 years."
Her advice for budding young entrepreneurs, artists, and business students?
"Keep moving forward and always look out for opportunities, despite them often not being for women,'' she said.
"I cannot think how many times I have been rejected for jobs and promotions, but my greatest advice is don't take rejection personally."
___
Read more stories like this one