When a collection of Carrolup artworks came home to Nyungar country in 2013, a unique and precious resource was returned to Western Australia.
Lost overseas for more than 60 years, the exquisite artworks by young children of the Stolen Generations offer a rare glimpse into the lived experiences of Aboriginal children during a dark chapter of our past, when systemic racism and discrimination tore Indigenous families and culture apart.
Curtin University is embarking on a project to create a dedicated home for these artworks that will become a centre for truth-telling, healing and reconciliation.
Aboriginal and Torres Strait Islander people are warned that photographs/videos on this page may contain images of deceased persons, which may cause sadness or distress.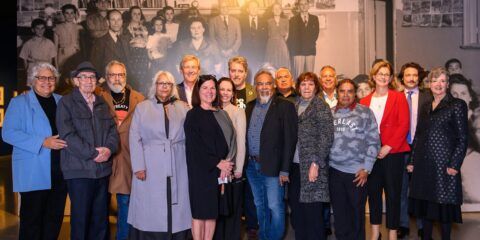 News
Read more of Carrolup in the media.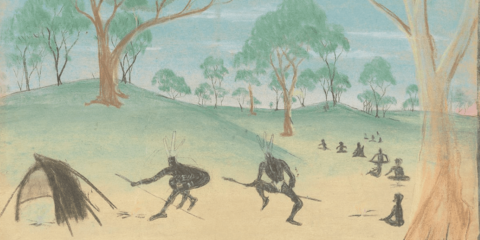 Exhibitions
Interested in more exhibitions at John Curtin Gallery?
The Carrolup Centre will commemorate how young Aboriginal children – forcibly separated from their families, isolated, segregated, traumatised and living in an unknown place – still found beauty and connection to Country through their art. It will be an enduring reminder that while racism seeks to destroy all that is good about a people, it never can. Like water, cultural beauty and goodness always finds a way; at Carrolup, that way was through children.
Tony Hansen,
Chair, Carrolup Elders Reference Group
Vale Alma Toomath
It is with deep sadness we share the news that Alma Toomath (nee Cuttabut), the last known artist from Carrolup, passed away on 23 May 2021 in Albany.
Aunty Alma was a Stolen Generations survivor, taken from her family as a young child and detained at the Carrolup Native Settlement in the 1940s. She played a key role in the Establishment Ceremony last November at the John Curtin Gallery, where she entrusted her own artwork, alongside others repatriated from Colgate University to Western Australia in 2013, into the care of the Gallery to be protected and remain accessible to Aboriginal and non-Aboriginal people throughout Western Australia and beyond.