World-renowned wildlife campaigner on quest to protect orangutans from extinction
13/04/2023. By Carmelle Wilkinson.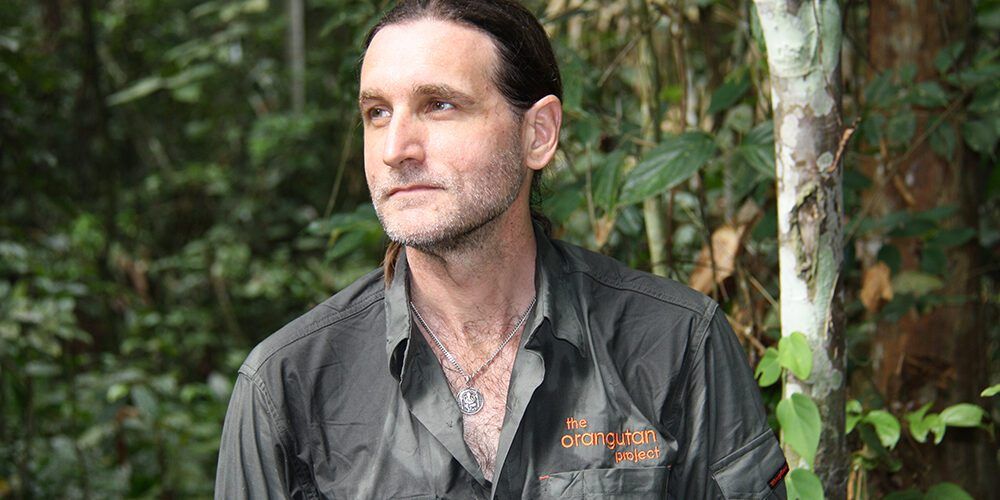 Curtin Bachelor of Applied Science graduate and Founder of The Orangutan Project Leif Cocks.
Every Australia Day, the rumble of light aircraft and the explosion of fireworks above her home in South Perth, would strike fear in the heart of Mawas.
Bombed by the Japanese during World War II, she remained shaken by the terrifying ordeal years later.
Thankfully, her friend and Curtin Bachelor of Applied Science graduate Leif Cocks was there to comfort Mawas and hold her hand through the terrifying ordeal.
I should probably mention Mawas is an orangutan.
Following graduation, Leif landed the job of a lifetime at Perth Zoo, where he had the opportunity to get up close and personal with these noble and majestic animals.
Leif's close bond with orangutans led him to establish The Orangutan Project in 1998.
Over his 15 years at the zoo, first as senior zookeeper and then Supervisor of Primates, and finally as Curator of Exotics, Leif formed a special friendship with many of Perth's resident orangutans.
A bond so strong it inspired him to establish The Orangutan Project in 1998.
For the past 30 years the organisation has improved the welfare of orangutans in captivity, reintroduced them into the wild and protected the rainforests they call home.
"While zoos can do wonderful things, like offer top class medical care, some animals particularly large intelligent animals like elephants, orangutans and other great apes, don't do too well in these environments,'' he said.
"Working with orangutans who have been taken from zoos or confiscated by the government from the illegal pet trade, is much like working with a person in prison or a refugee camp.
"There's psychological damage, trauma and stress from being in those conditions. And while we know they can live in these surrounds; they aren't able to actually develop and flower into their true potential."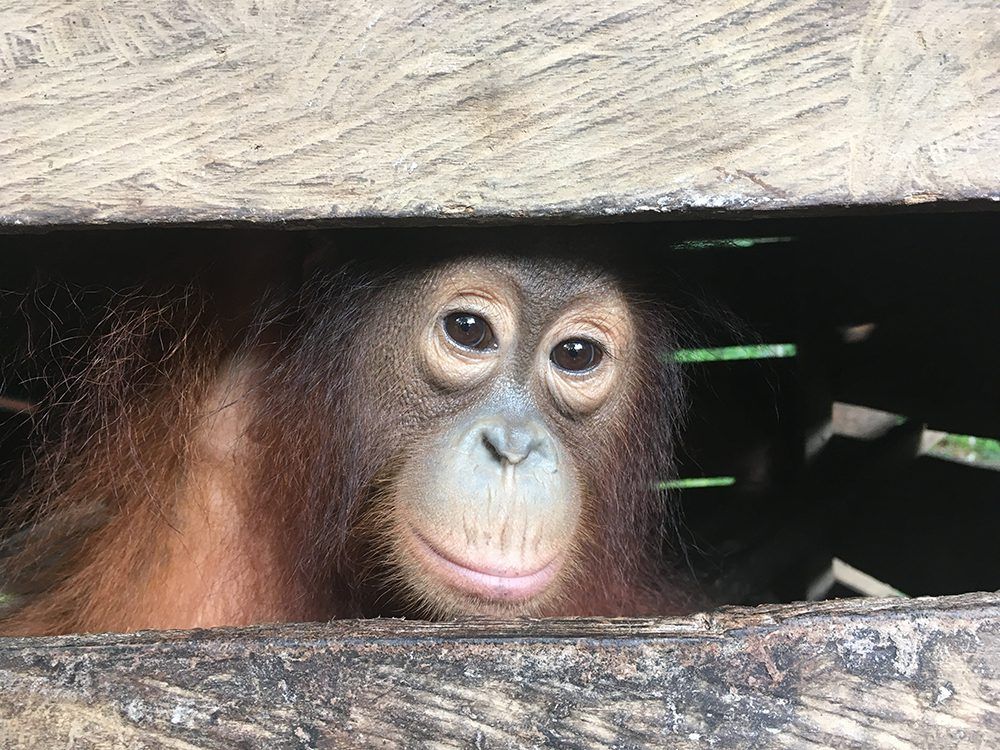 An orangutan on-route to his new home in the wild.
The Orangutan Project helps to successfully relocate orangutans from these unnatural environments to the rainforests of Borneo and Sumatra.
To date, Leif has helped support the rescue of over 200 orangutans.
His work also includes educating and empowering local Indigenous communities living around these forest ecosystems on sustainable living practices and protecting their local environment.
"Protecting and restoring all these elements is vital for community development and stability,'' he said.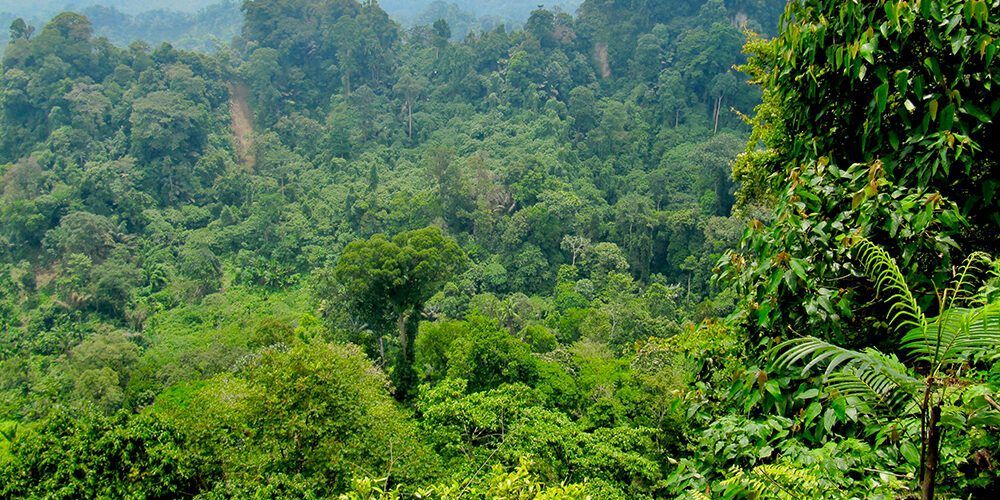 Sumatran ecosystem.
While Leif's office for a large portion of the year is now a jungle, it's a far cry from the high rise building he grew up in in Hong Kong.
"My Dad worked in advertising, so I lived there until we moved to Australia when I was 15,'' he said.
"I always had an interest in animals, but living in a giant metropolis like Hong Kong, it wasn't necessarily a place where you could connect with nature.
"The pets I had were my cats, and the tropical fish and terripins that I had in my bedroom."
Nowadays, Leif has created a circle of trust with a number of orangutans, many of whom he's befriended from birth.
"I've been present at a number of births, where the mother orangutan places her baby's hand on mine and they tightly hold my finger,'' he said.
"It's pretty amazing. They are such self-aware persons, and we need to respect and treat them as so.
"Oh, and once you're a friend, you're always a friend."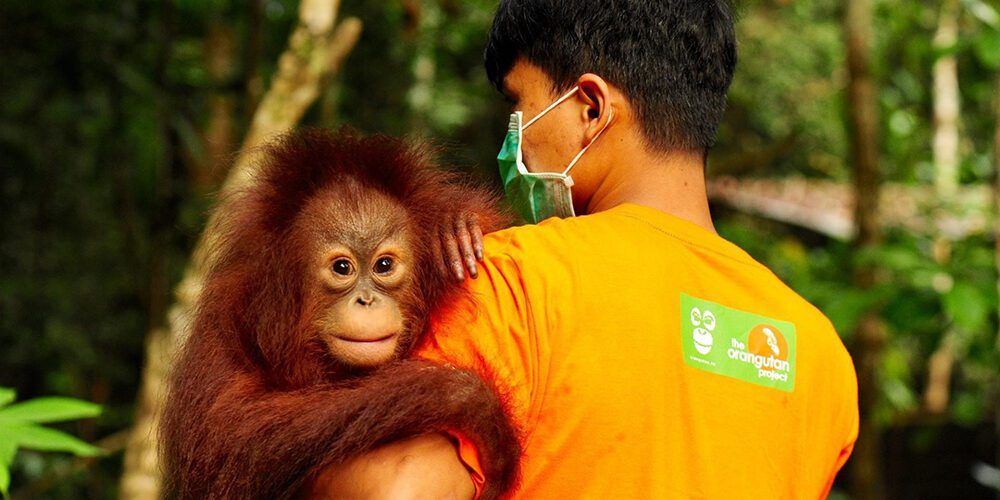 The Orangutan Project are a group of passionate staff, volunteers and partners working together to protect orangutans from extinction.
As well as these amazing connections, reintroducing an orangutan to their natural world is a great privilege that Leif admits doesn't come without challenges.
"We had this one orangutan come to us from Singapore Zoo. He had been given soft drinks, which sadly contributed to him developing diabetes,'' he said.
"To pass the time when he was ill and had to remain inside, we'd let him flick through women's magazines like New Idea and to everyone's amusement he would go through the pages and rip out all the pictures of Nicole Kidman.
"You see, back then she had the curly red hair."
Leif said assisting an orangutan with reintroduction was a well measured and timely process.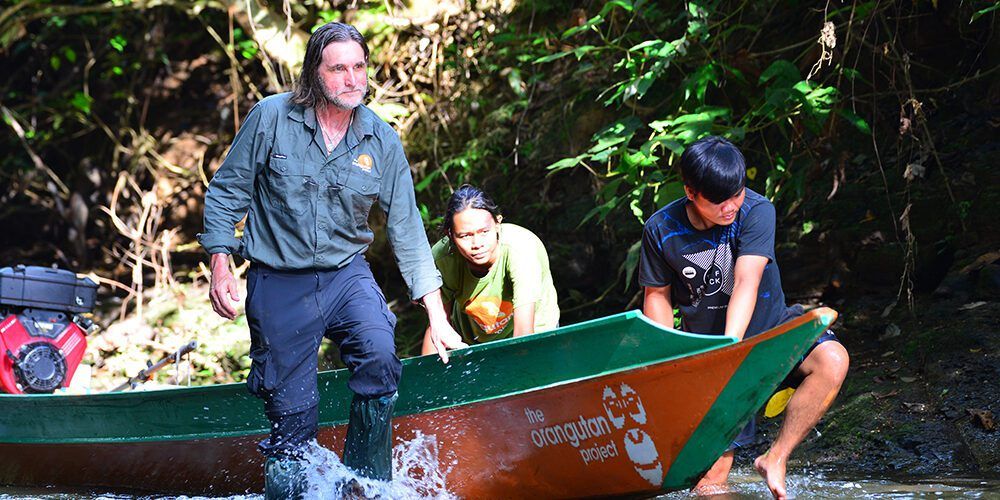 Leif said protecting an orangutan's home was crucial to their survival.
"We usually follow them for three years to make sure they have enough food finding skills and are able to fend for themselves in the wild before we leave them,'' he said.
"One of the biggest problems faced when reintroducing orangutans to the wild that have spent considerable time in captivity is their inability to be able to recognise and find available food sources, especially during seasonal variations."
Leif said another problem, and probably the biggest threat, is that 80% of orangutans are currently living in unprotected forests, placing them at greater risk of extinction.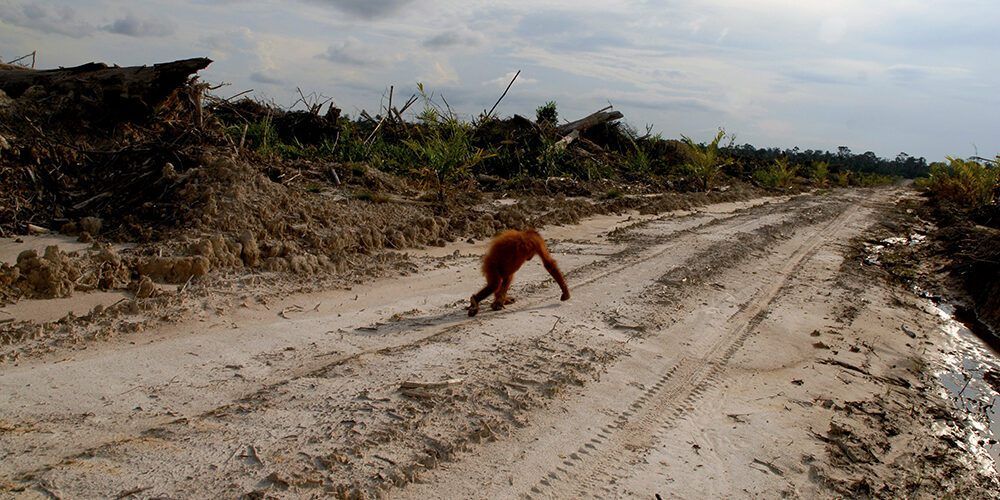 A lone orangutan runs through the remains of his rainforest.
"Since their home is being converted to plantations, logging concessions, mining and other agriculture or destroyed from encroachment from immigrants, The Orangutan Project works closely with our partners and other organisations to protect their forest habitat,'' he said.
Leif also acknowledged the impact climate change has had on these natural surroundings in the past few years – with a reduction in humidity, increasing temperatures and increased droughts and fires.
"It worries me that there are still people that don't want to recognise the effects of climate change,'' he said.
"It's not enough to assume we will be fine. We need our rainforests, and we need our animals.
"People may look at me and think oh he's just a radical greenie, what does he know? But I'm seeing firsthand the environmental changes caused by climate change and I'm genuinely concerned."
Orangutans have placed Leif in their circle of trust.
Leif's love, respect and compassion for orangutans continues to earn him global respect in the conservation field and praise as a passionate campaigner for orangutans.
His current work with partners in the lowlands surrounding Bukit Tigapuluh National Park in Sumatra is helping breathe life back into a region that saw orangutans become extinct in the 1830s.
"The end goal is to have enough genetic viability to establish a new population of orangutans,'' he said,
"The project also explores community-driven initiatives to create sustainable economic enterprises including jungle-honey, vanilla and a local school, so that eventually, the project will be economically sustainable."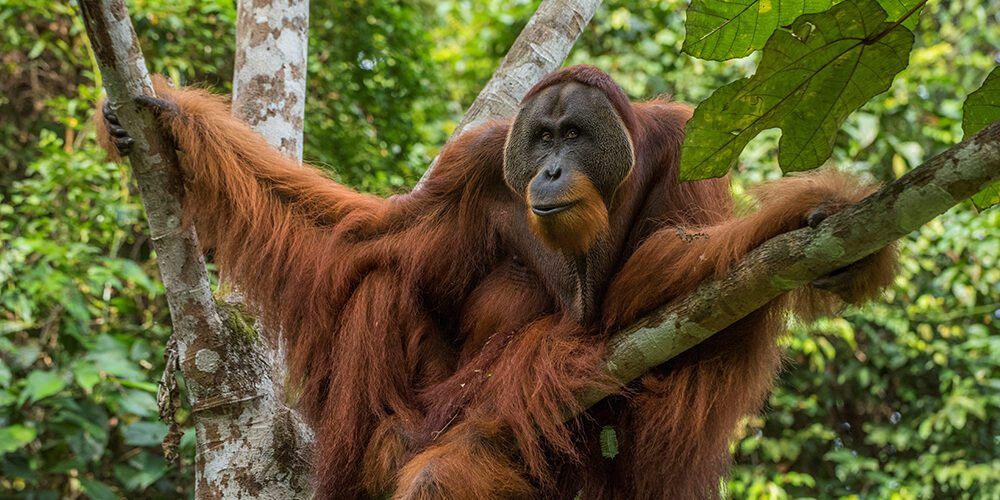 An orangutan hanging out in Sumatra.
Leif said one of the most rewarding and wonderful things as humans is to give love, freedom and security to other living beings.
"It's enriching to our own selves, much more than money, fame or power that people normally chase," he said.
"These are dignified animals, and we owe it to them to live in dignity."
For more information or to donate please visit The Orangutan Project.
___
Subscribe to Commons
Read more stories