Unwavering strength, resilience, and grit shines in road to recovery
02/05/2023. By Carmelle Wilkinson.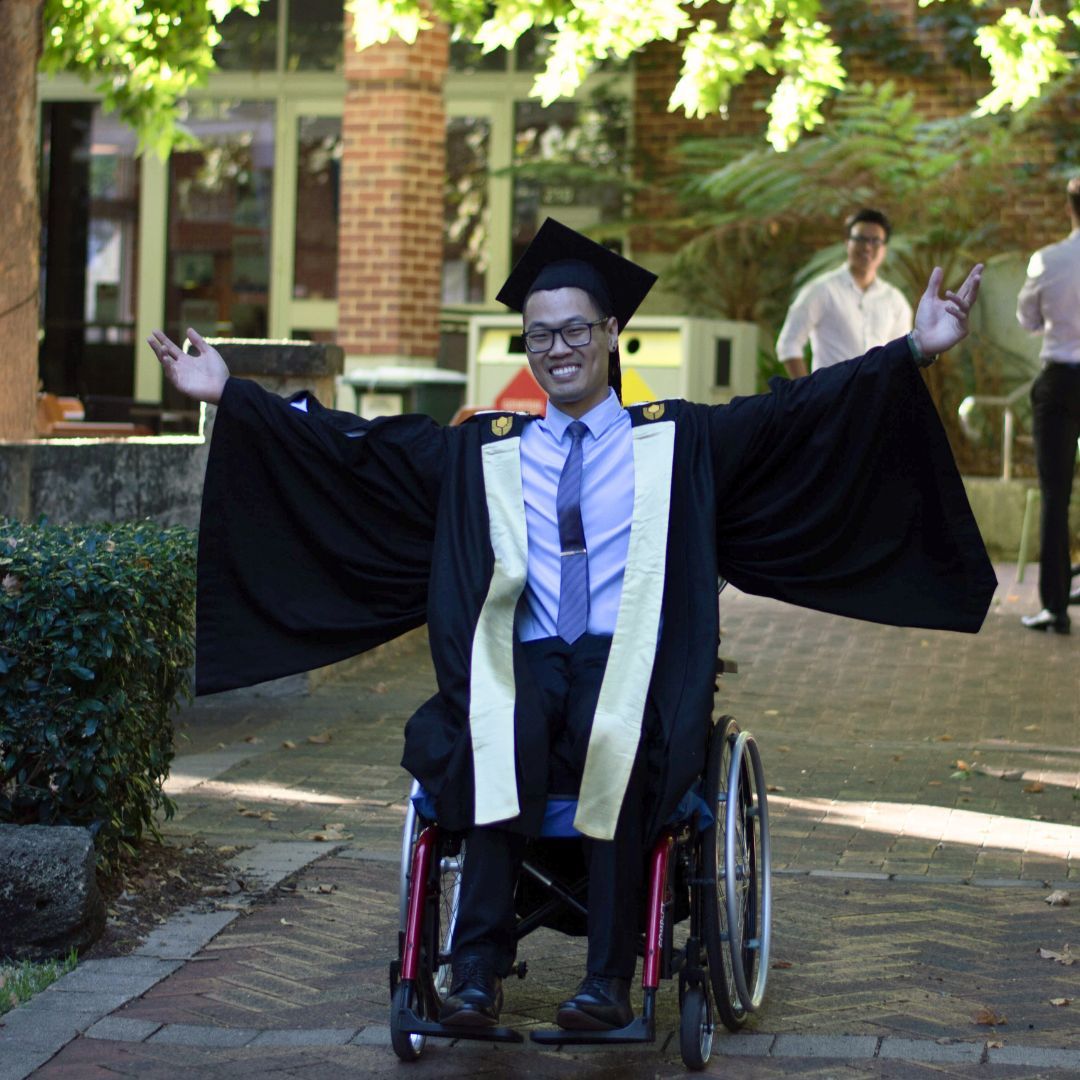 Ted Lee at his graduation in February this year.
Tuesday April 20, 2021 started out like any other day.
Curtin mechanical engineering graduate Ted Lee was cruising along Tonkin Highway on his motorbike headed for uni.
Eight weeks out from completing his studies, he could almost see the finish line, when tragedy struck.
"I misjudged the distance between myself and a 4WD and clipped it, which caused me to fall off my bike and onto the road.
"Unfortunately, a semi-trailer just happened to be passing by at that exact moment and it went right over me."
Ted said while the moments following the accident were a little hazy, he could never erase the pain he felt all over.
"Everything was in slow motion, but I remember the pain, everywhere hurt,'' he said.
Thirteen days later Ted opened his eyes in an ICU ward at Royal Perth Hospital.
"I was in such a bad way when I arrived that the doctors placed me into a medically induced coma,'' he said.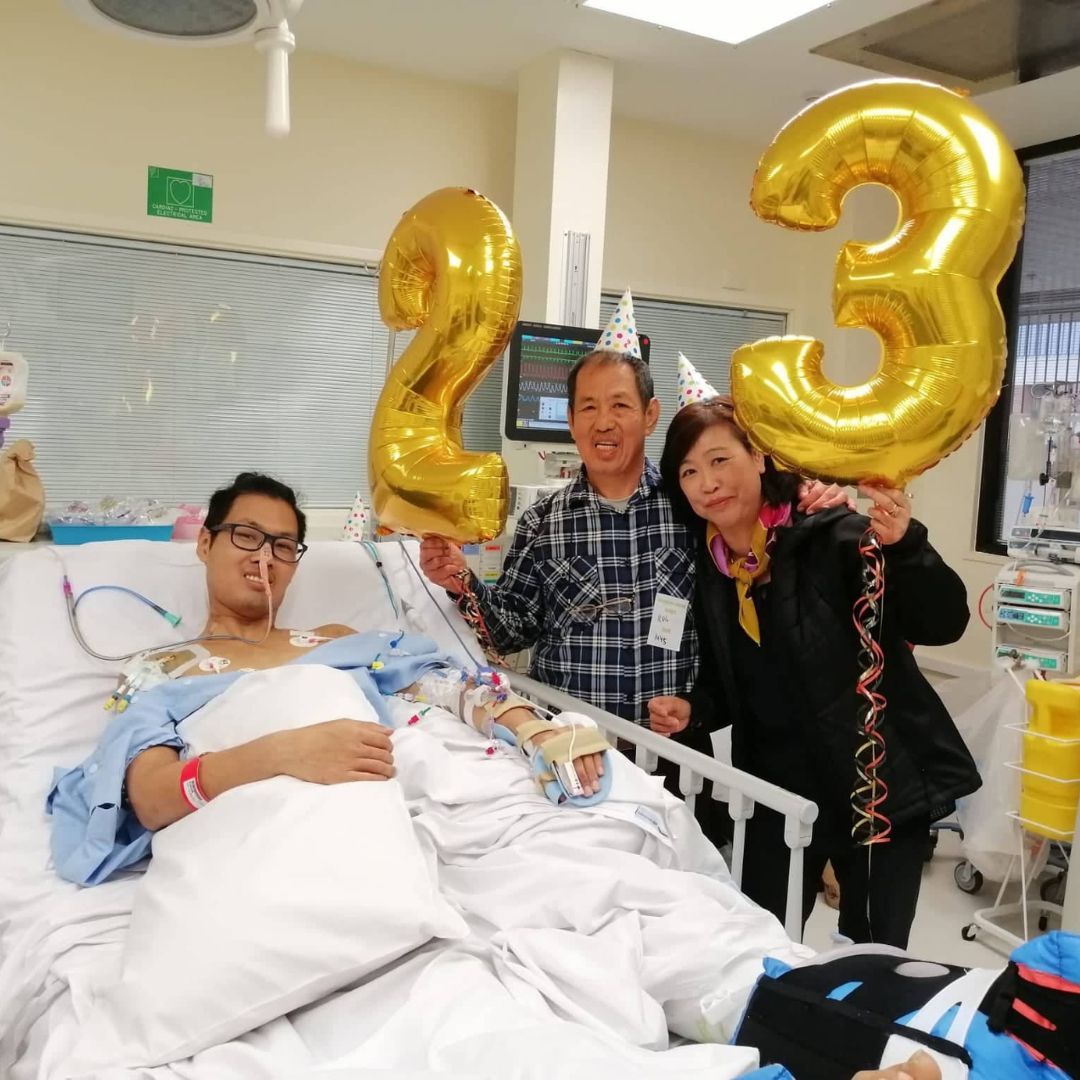 Ted celebrated his 23rd birthday at hospital with his family by his side.
Ted's catastrophic injuries included severed arteries, several broken bones and damaged spinal nerves which led to paraplegia.
"I lost a scary amount of blood, I am very lucky to be alive,'' he said.
After a month and a half in ICU, Ted was moved into a trauma ward for another three months.
"The room I was in had no windows, so I'd spend my days just staring at the ceiling and going through the motions. Waking, eating and then wishing to go back to sleep.
"I can't recall how many times I broke down, but it was a lot.
"If it weren't for my incredible girlfriend and my mum and dad, I couldn't have done it."
After 275 days in hospital and 30 surgeries, Ted was finally able to go home.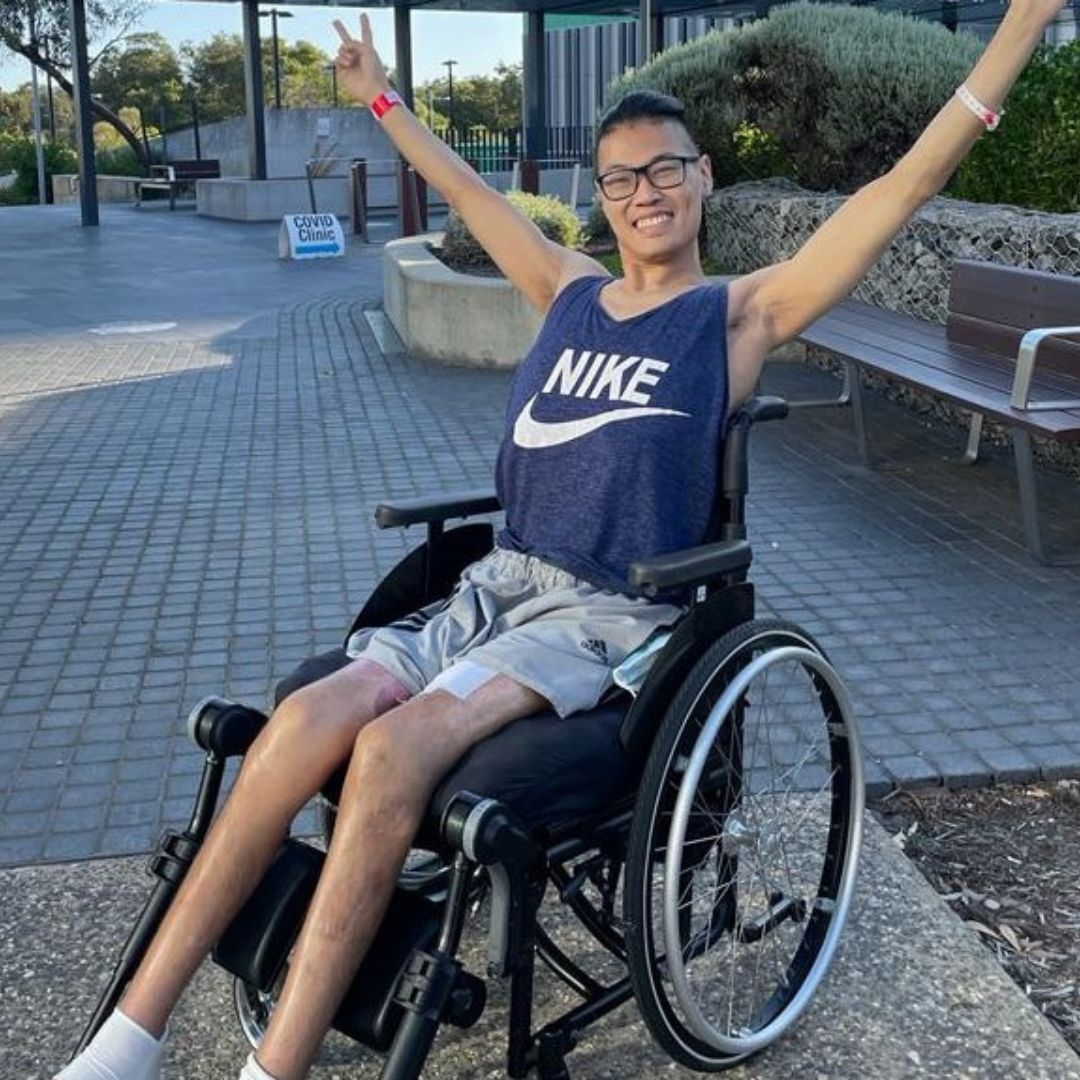 After more than nine months in hospital, Ted was thrilled to head home.
Despite the limitations that came with being in a wheelchair Ted was more determined than ever to return to Curtin and complete his degree.
"To make them proud."
Returning to campus had its challenges, however, Ted credits his supportive professors and peers for making the transition as smooth as possible.
"My professors made sure that I could complete my laboratory-based thesis within the constraints of my health and safety limitations, and I cannot express how grateful I am for that,'' he said.
"I was also very fortunate that Curtin is quite accessible, so aside from maybe taking longer to get to class because I had to avoid the stairs, it wasn't that difficult."
Earlier this year, Ted graduated with a Bachelor of Mechanical Engineering (with First Class Honours) and Bachelor of Finance (with Distinction).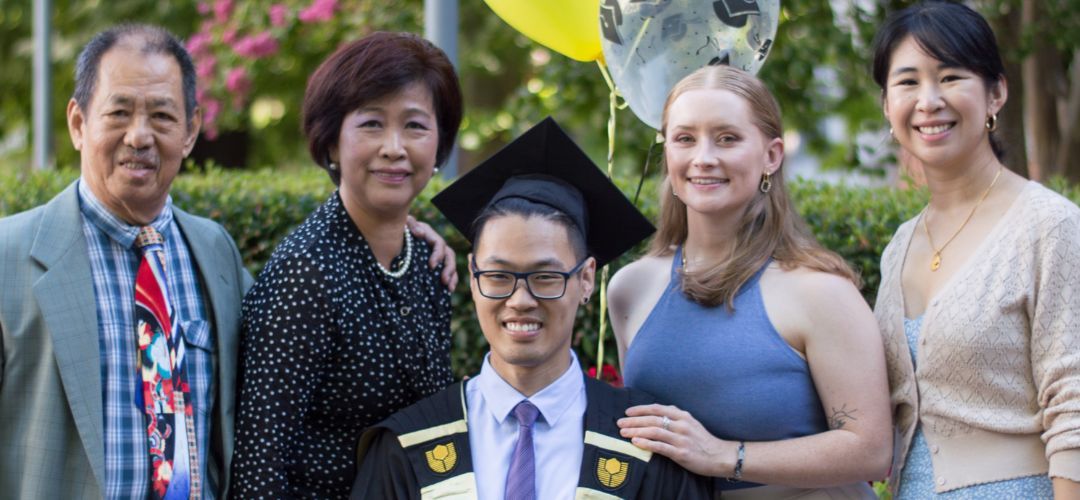 Ted at graduation with his dad Lawrence, mum Josephine, girlfriend Grace Wilkerson and sister Amy.
He's also started working for an engineering consultancy firm where he carries out hydraulic calculations, system modelling and engineering design work.
Initially, drawn to Curtin for its focus on sustainability and social impact in engineering, Ted hopes to one day make positive change in the field, where he can lead projects that create meaningful social, economic, and environmental benefits.
He also hopes to somehow use his story of survival to help others.
"I'm not exactly sure what I'll do, but I have been asked to give talks,'' he said.
However, Ted admits he humbly regrets ever purchasing one.
"I wish someone had stopped me. My parents tried, but I was young and stubborn and many of my friends had motorcycles,'' he said.
"My mum even tried to make some crazy deal with me, like if I bought the motorbike, I had to eat red meat again. At the time I was a vegetarian.
"While I have many regrets, this is actually something I've only recently come to accept.
"There were times in the past where I wished the truck had finished me off, but reaching where I am today, I am so grateful. Some riders aren't as lucky."
While life may have new challenges, Ted maintains a positive outlook and hopes his story can help others overcome their own personal struggles.
"Go at your own pace, no one can judge you for that.
"You don't have to put all this pressure on yourself. Don't be afraid to take a step back every now and then if you need it, and when you're ready you can fully recommit.
"I think when you're mentally ready you perform better. I don't think I could have gone back and finished my degree if I wasn't mentally ready."
Two years on, Ted is determined to move on and live his best life.
"The other day my girlfriend and I received the keys to our new home, and we are now looking forward to moving in,'' he said.
And while, the former travel enthusiast won't be climbing the Rockies again anytime soon, it doesn't seem to faze him.
"There will be other adventures. I'm just happy I've reached a place where I am at peace and happy and I hope I can use my story to inspire others in some way,'' he said.
___
Subscribe to Commons
Subscribe to Commons
Read more stories