Thick skin and resilience key to illustrious media career
13/05/2022. By Carmelle Wilkinson.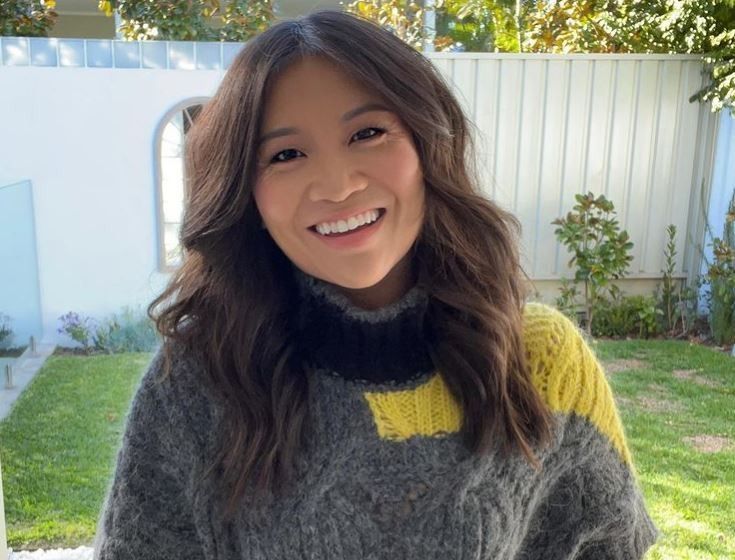 Nine News presenter Tracy Vo at home in Perth.
Boarding a flight to Johannesburg in the middle of the night, to report on the passing of former South African president Nelson Mandela, is one of those career moments Nine News presenter Tracy Vo (BA, Journalism 2004) will never forget.
A symbol of strength and freedom, the 95-year old's death made headlines around the world.
"Within hours of hearing the news I was on a flight to South Africa and upon touch down it was pretty much live coverage straight away,'' she said.
"It was such an incredible experience, you really felt like you were part of history.
"That's one of the things I love about this job. Reporting live is so much fun, and it brings such a rush of adrenalin, I never get tired of it. If I did, then I'd have to start looking for a new career."
Gracing our TV screens at 6pm on weekends, Tracy bring us the latest headlines from the Nine News desk.
But beyond the glamourous hair and make-up and stylish wardrobe attire, is someone with a fascinating background, the brightest of smiles and an even bigger heart.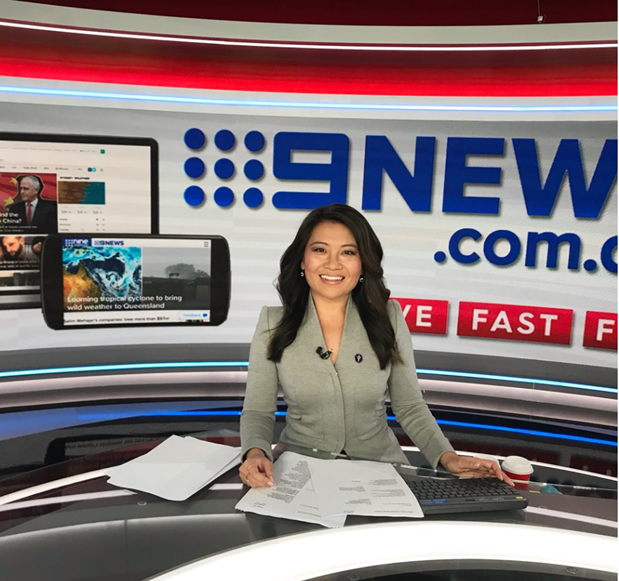 Reading the latest headlines from the Nine News desk.
Reflecting on her illustrious media career which began in 2004, the 38-year-old is the first to admit some days were harder than others.
"Stories that cover young families battling an illness or tragic accidents aren't easy. I can get quite emotional,'' she said.
Thankfully, in between those heartbreaking stories, Tracy said there were stories that lifted the human spirit and gave hope.
Such was the amazing rescue of four-year-old Cleo Smith.
Snatched from her family's shared tent while camping at the Quobba Blowholes in WA's north, the little girl was missing for 18 days before she was found alive and well by WA Police.
"I received a call from our news director at about 4.30am that morning who told me the good news, that Cleo had been found,'' Tracy said.
"Shortly after that call we began the morning coverage and live crosses. That's the sort of off the cuff reporting that I just love."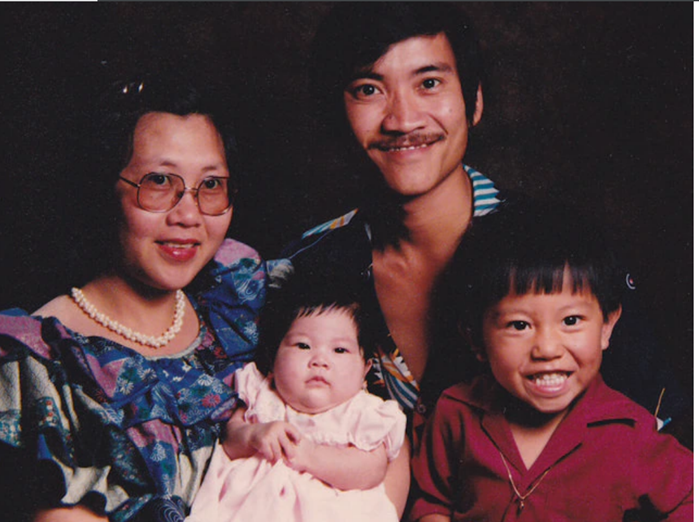 Tracy and brother Trevor with their parents Lien and Tai.
Growing up in Perth's northern suburbs, Tracy admits it was never a childhood dream of hers to be a journalist.
"Truth be told I wasn't great at Maths or Science, but I was good at English, so I guess I followed my strengths,'' she joked.
"My brain is wired to be intrigued and I ask a lot of questions, so journalism was the perfect fit.
"I also enjoyed watching the news and current affair shows with my parents.
"I grew up with 60 Minutes, the Sunday program and most nights, we'd watch National Nine News which is of course Nine News these days."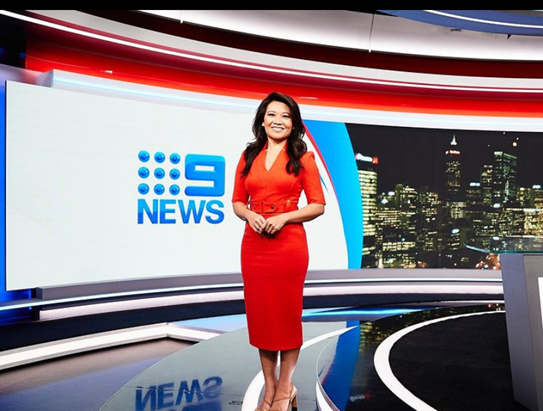 Tracy was inspired to pursue a career in broadcast by her Curtin lecturer Les Walsh.
Tracy said she initially had her eyes set on a career in print journalism, but that soon changed after her potential for broadcast news was discovered by her Curtin lecturer and radio great Les Welsh.
"Les was amazing. He always pushed me further and it was because of him that I gave radio a go. He told me I had a great voice, and I started reading some radio bulletins on Curtin FM, and it kind of kicked off from there,'' she said.
Following graduation, Tracy moved to Sydney to work at radio station 2SM.
She then moved into television taking on a variety of roles at Sky News Australia, before becoming a Nine News reporter in 2007 where she also spent a period of time in Canberra's press gallery as Nine's political reporter.
After 10 years in Sydney, it was time to head home to Perth where she continued to cover breaking news stories, including Schappelle Corby's release and the mystery of missing Malaysia Airlines Flight MH370.
A stint on the Today Show in Sydney at the start of 2020 was cut short by the pandemic, and Tracy returned to Perth to be closer to her parents.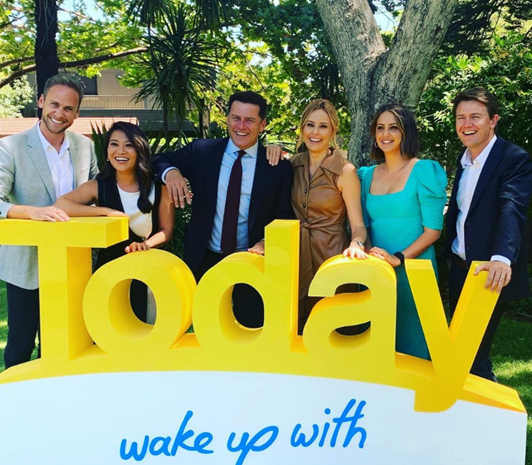 Tracy with the Today team, before the pandemic hit.
"I got back just before the borders closed,'' she said.
"I'm very close to my family. I speak to Mum and Dad almost every day. With Dad falling into the vulnerable group, I just wanted to be closer in case they needed me."
Tracy said it was her parent's courage and resilience as refugees which paved the way for her bright and promising future.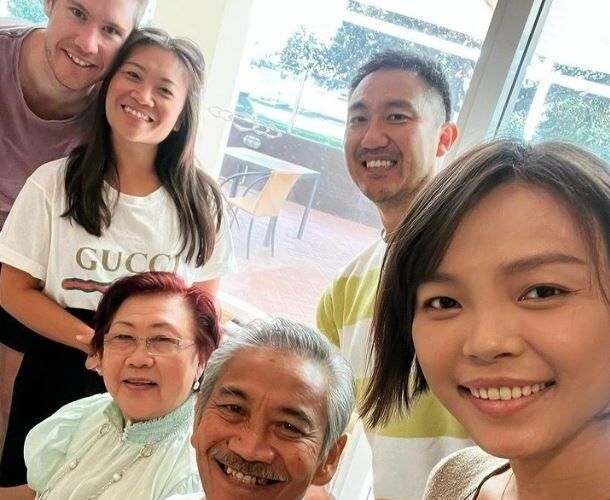 Tracy has strong family values and has embraced her Vietnamese heritage.
"My parents sacrificed a lot so my brother and I could have the best possible life,'' she said.
"My parents taught me resilience, respect, humility, compassion and gratefulness. Qualities which I've valued and carried throughout my personal life and career."
Fleeing Vietnam in their 20s, just after the Vietnam War in 1978, they boarded a leaky boat with 16 relatives and 121 strangers in the dead of night bound for Australia.
Not knowing what the future would hold, their extraordinary act of bravery is detailed in Tracy's memoir Small Bamboo.
Now, almost 40 years later, their decision to escape Vietnam has been rewarded by a happy and successful life for their family in Australia, the country they are now proud to call home.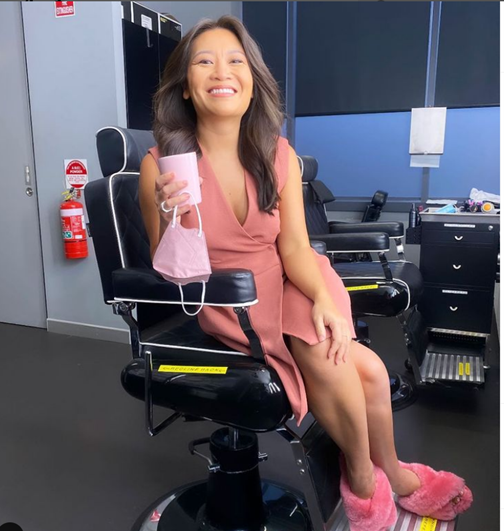 Taking a moment from presenting to enjoy a cuppa.
Born and bred in Perth, Tracy said she's a proud Australian and an even prouder West Australian.
"Throughout my career, I have embraced who I am and my heritage. I have never felt out of place. However, this wasn't always the case,'' she said.
"I remember one day in primary school, one of the girls started talking about everyone's skin colour in the playground and she pointed to me and said Tracy has ugly skin and everyone laughed. I was crushed.
"Up until that point, it hadn't occurred to me that I was any different.
Tracy said looking back now, those early childhood bullies may have actually prepared her for life on the road as a hard news journalist.
"You need to have thick skin in this job, or you won't survive,'' she laughed.
Nowadays, the confident news presenter says hurtful comments don't hold the same weight as they once did.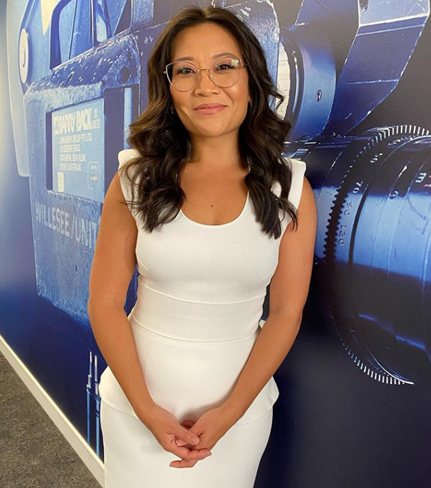 Tracy says childhood bullies gave her a thick skin and prepared her for life as a hard news journalist.
"When I first started reading the news, I was getting rather brutal and racist tweets, but I've since learned to just brushed it off,'' she said.
Forging a successful career as one of the only Vietnamese faces on Australian television, Tracy is breaking the mould and celebrating diversity.
"I'm really flattered when people are inspired by what I do. Particularly kids, who come up and tell me they want to be a journalist, I think that's just wonderful,'' she said.
Going on 15 years at the Nine Network, Tracy said she still experienced jitters before going on air.
"That rush is still there. When the lights come on and we hit the one-minute mark, I still feel the nerves. But it's good nerves. I feel so grateful to be able to do this,'' she said.
"I'm getting a bit older now though, so not sure if I still enjoy the chase as much, I may have to leave that for the younger ones haha."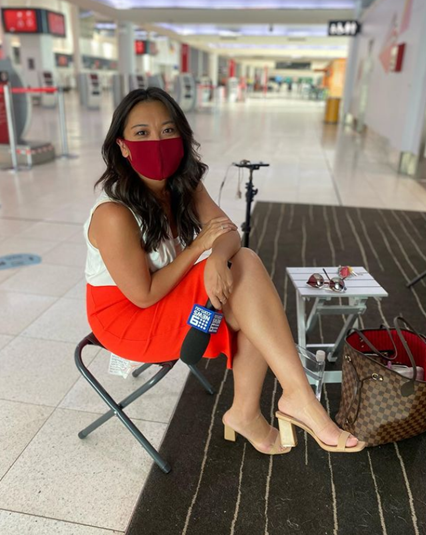 Waiting at Perth airport lounge to board a flight.
And her advice for any inspiring future journalists?
"If there's one thing about this industry that I've learned, is that it's a marathon not a sprint. It's a lot of hard work, graveyard shifts, and early morning starts. But it's all worth it,'' she said.
"The industry has also changed quite a lot since I started my career in 2004. Back then it was quite tough and very male dominated, whereas now we are seeing more female in executive roles such as news directors and producers, which is amazing."
When Tracy isn't sharing the latest news with West Aussies, she's whipping up delicious home cooked meals for her loved ones.
"Any chance I get I love to cook,'' she said.
"I can make a mean laksa. My Mum and Dad are both amazing cooks so naturally it's rubbed off on me.
"I'm known in the newsroom as the feeder. I'm always bringing in food for everyone. The last thing I brought in were home baked Anzac biscuits for Anzac Day."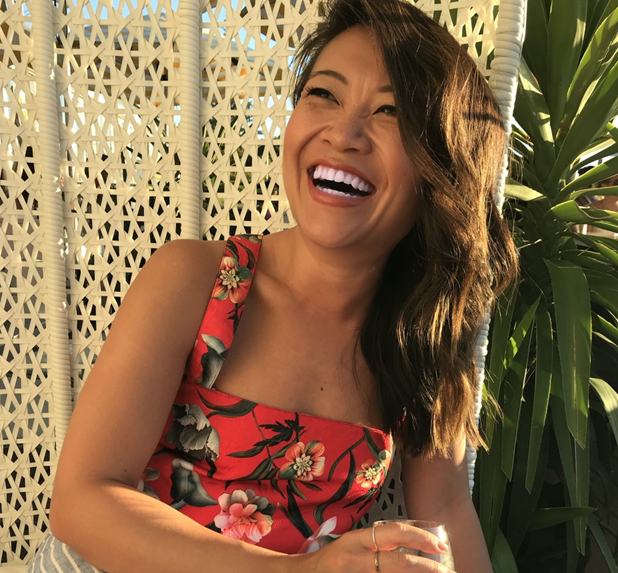 Tracy Vo has a positive outlook on life and hopes to stay in the media game for a while longer.
And what does the future hold for TVo? (as her friends call her)
"I'd like to mix it up. Just recently I did some shooting for a location production related to food and that was lots of fun. But I'd definitely love to stay in the game for a while longer," she said.
___
Share this article:
Read more stories like this one