Landscapes share an important connection in artist's journey
23/02/2023. By Raquel De Brito.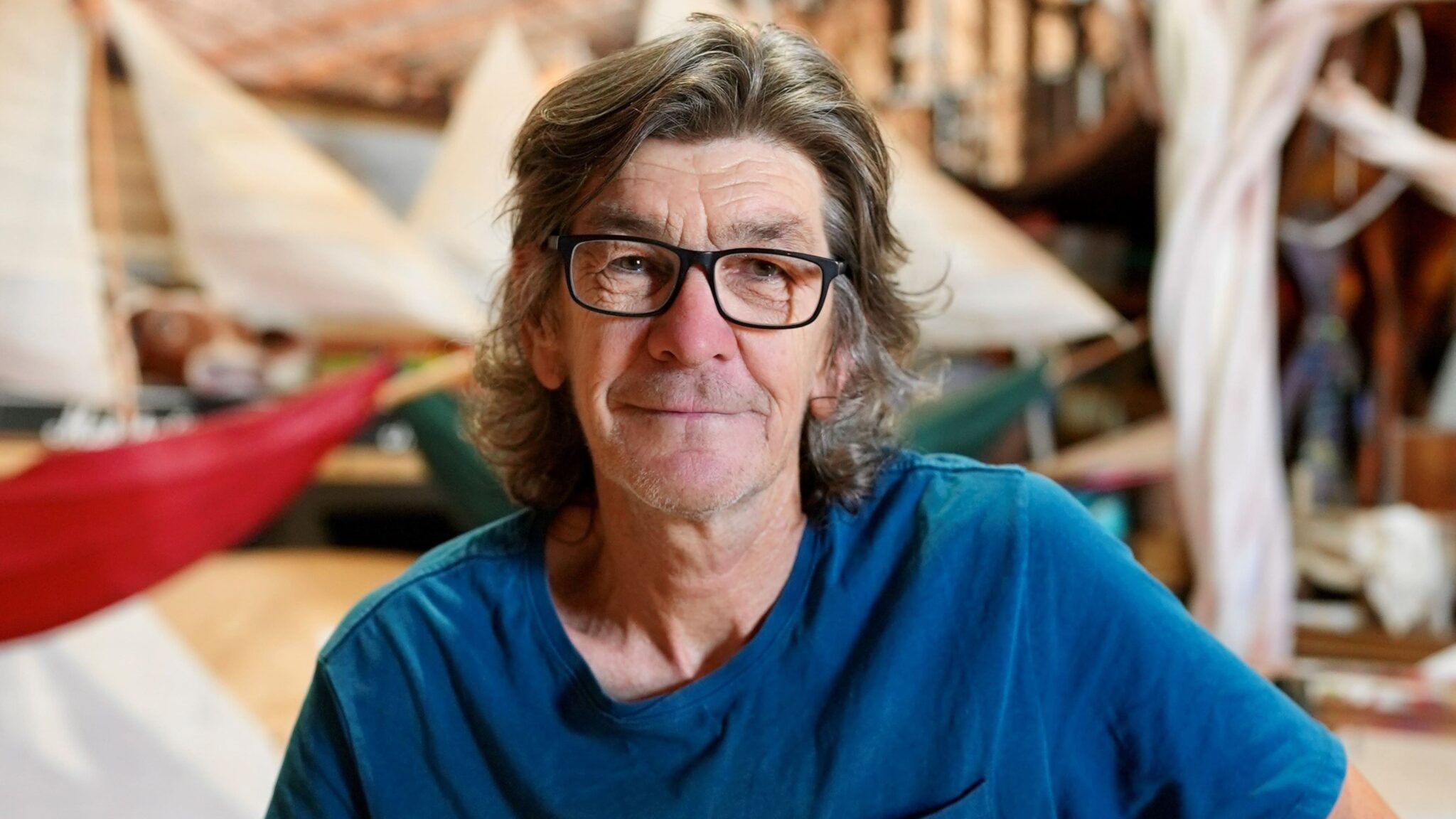 Chris Hill.
The lush green scenery depicted in Claude Monet's iconic Water Lilies series may be in stark contrast to the desolate, rugged red earth found in WA's Kimberley region but the two landscapes share an important connection in Chris Hill's journey as an artist.
Like many, the Curtin Fine Arts graduate was captivated by the French Impressionist's oil on canvas paintings when he first came across his work as a pre-teen in South Wales.
And though he could have drawn plenty of inspiration from Wales' famed countryside of rolling valleys and quaint villages to paint his own masterpieces, it was only when he reached WA shores that a landscape captured him in quite the same way as Monet's work did.
Often taken to galleries by his mother, who was keen to pull him from his working class neighbourhood to experience things beyond his simple everyday life, Chris said he became quite enamoured with the world of art.
"My mum liked to go into the city and have a taste of what she thought was culture but the whole art thing has followed me all my life, really. I'm a very visual person and I think that was the start of it all anyway," he said.
After studying architecture in England, Chris quickly discovered it was only the artistic side of course that resonated with him and so when he moved to Australia, he decided to complete a degree in Fine Arts.
For Chris, it wasn't just experiencing a landscape different to anything he'd ever encountered, it was immersing himself in the region's Aboriginal culture and the dizzying clashing of colours from red dirt to the ancient rocks, to the river and the bright blue sea.
"That was the beginnings of it for me and then we moved to Broome, and I had a number of exhibitions over the years there based on similar landscapes," he said.
"The North-West colours, especially the blues and the reds and all that kind of stuff, it's such an incredible contrast. People from the north tend to paint about their landscapes more and what surrounds them or what impacts them; the weather, the sun."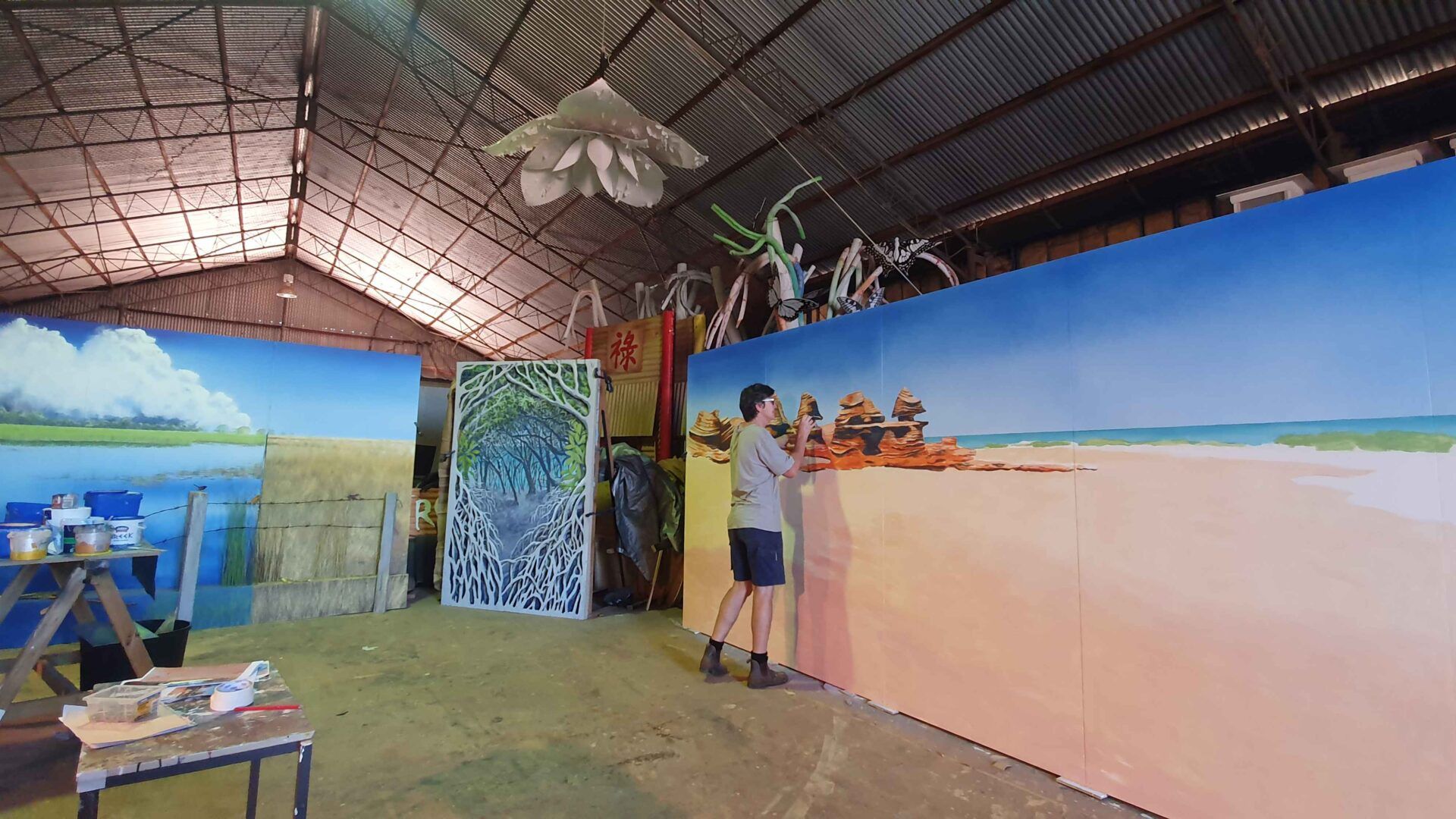 Chris is inspired by the colours of Broome.
His work organically evolved into creating props and sets for Theatre Kimberley, Goolarri Media, Marrugeku Dance, Megabala Books, Shinju Matsuri Festival and even Perth Festival.
Chris has also taught painting and sculpture at Broome's North Regional TAFE, Broome Regional prison, and in numerous community arts workshops.
But one common source of inspiration that has continued from his first glimpse of a Monet to his first painting of the Kimberley, and now in the magical set and prop designs he creates, is his love of nature.
It's a passion he hopes he ignites in viewers of his work.
"You go to some parts of the world and their landscapes are totally artificial and their birds are imported from somewhere else. Whereas when you come up to the Kimberley, there's so much variety in birds and animals and landscapes that we're a unique part of the world," he added.
Being raised by his father, who was from the post-war generation, Chris was taught to never be wasteful and it's a principle he tries to apply to his art, particularly because of his love of the environment.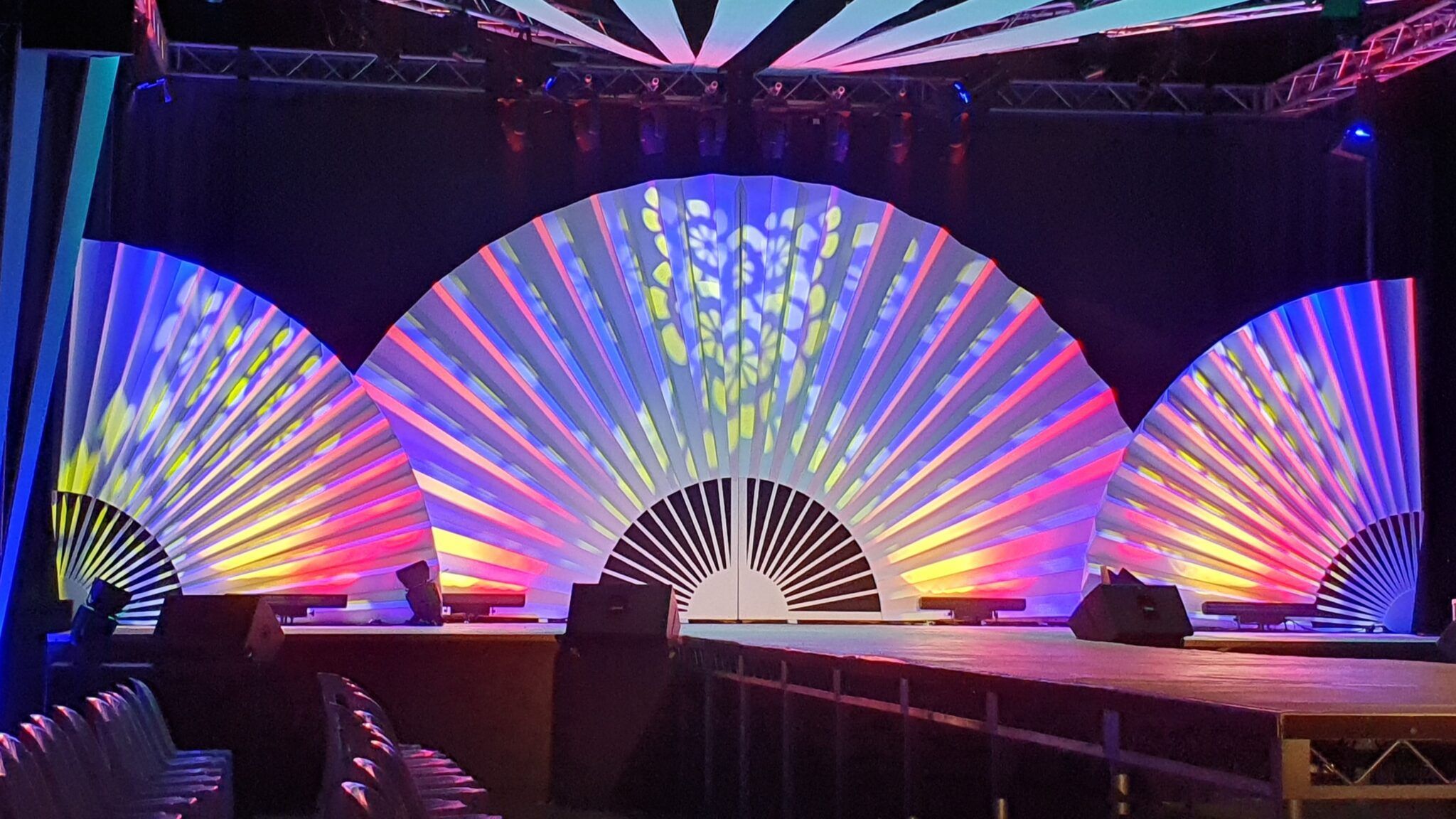 Chris Hill is a talented artist and set designer.
Fittingly, he was a 2022 recipient of the State Cultural Treasures Awards, which honour senior WA artists who have made a lifelong contribution to their art form and their community.
"When you realise you've been doing it for 30 years or more, and the amount of events and the number of people that you've interacted with, I was more than happy to accept the award," he said.
Chris also shares his knowledge of the field to inspire the next generation of behind-the-scenes creators and offers practical advice for those hoping to make it in a notoriously difficult industry to break into.
"You don't necessarily have to be the world's greatest artist to get into the industry," he said.
"As long as you're keen, you can learn on the job and then you can go on and do further studies after if you really want to but be keen, turn up on time and get off your phone."
___
Read more stories like this one