'Grok' and the grads it inspired: reflections on over half a century of Curtin's student rag
02/09/21. By Luisa Mitchell. 10 min read.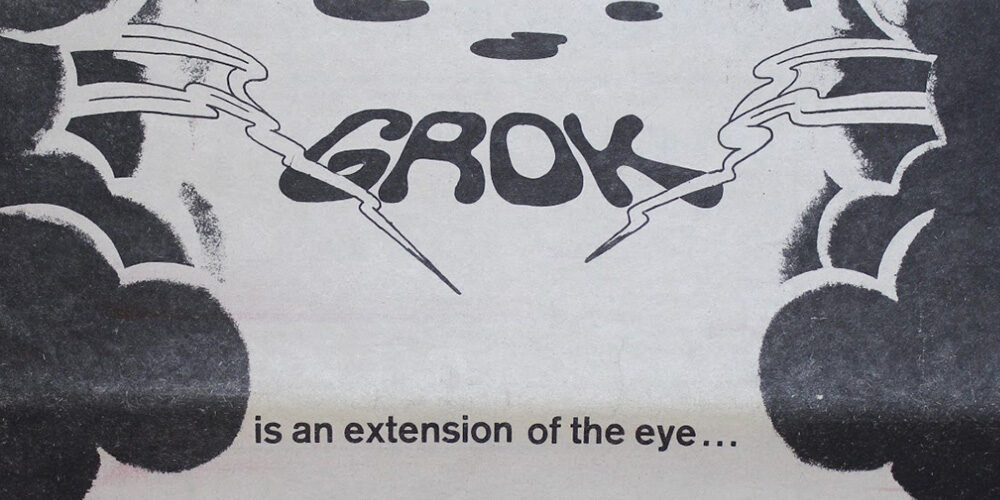 Image: Part of the cover of Grok, 1973, Volume 5, Number 1.
Passed around by Student Guild members, shared among student protestors walking down the streets of Perth's CBD, and more recently transformed into an online blog, the small and sometimes carefully, sometimes haphazardly, constructed student newspaper known as Grok has a long history in Perth.
Curtin University's student rag – magazine, newsletter, blog, whatever you want to call it – has changed names many times since its inception over half a century ago in 1969. From Aspect, to Grok, to PaperWAIT, to L'Grok for that chic French spin, to the Nyungar word Aliwa (meaning 'look out') and back to Grok again, the publication has been a forum for students to express their views on art, politics, culture and life for as long as Curtin has been in existence.
Many students who wrote in its editions have gone on to careers as journalists, storytellers and artists. Many look back at the student rag as the beginning of their careers in communicating, giving them the skills to lead, negotiate, write, edit and much more.
Here is the history of Grok and the graduates it inspired.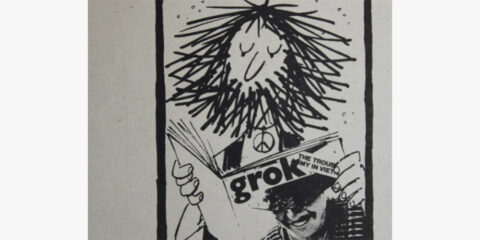 A reflection of the world since 1969
Grok has covered local, national and international news and current affairs for over fifty years. It has become a portal through which we can look back in time and see the shifting character of Australian culture and society.
Initially with a conservative bent under the title Aspect, Grok has, for the most part, been a highly progressive, and at times radical, paper. One thing that hasn't changed over the decades is its desire to tell diverse stories and increase the reader's understanding of student issues, concerns and lifestyles.
The term "grok" was coined by Robert A. Heinlein in the 1961 science-fiction novel Stranger in a Strange Land. This proto-hippie novel was a celebration of free love and counter-cultural rebellion, following the life of a human born on Mars who is raised by aliens.
Heinlein coined "grok" to mean "to drink" in Martian. More specifically, it meant to take something in so thoroughly that it became a part of you. Grok was later incorporated into English language dictionaries as a verb: to understand thoroughly or intuitively.
First image: Part of the cover of the third 'Grok' issue in 1972, with the first design of Grok's logo. / Second image: Rod Cole c. 1972. Photo supplied by Willo Ravenswood.
In 1972, then-Chief Editor Rod Cole (Bachelor of Applied Science, 1974) adopted Grok as the new title of the publication.
A passionate progressive and left-wing idealist, at the time Rod was running the paper the Vietnam War was in full swing and young Australian men were being conscripted into a conflict many disagreed with. The growing death toll and atrocities experienced by the Vietnamese troubled many young people, including Rod.
In 1972, Rod and the Guild Welfare Committee Chairman Paul Bridges (Associateship in Social Sciences, 1974) used Grok to ask readers to offer up their homes to hide people avoiding conscription. An image from 1972 showed Paul burning his registration as a display of resistance.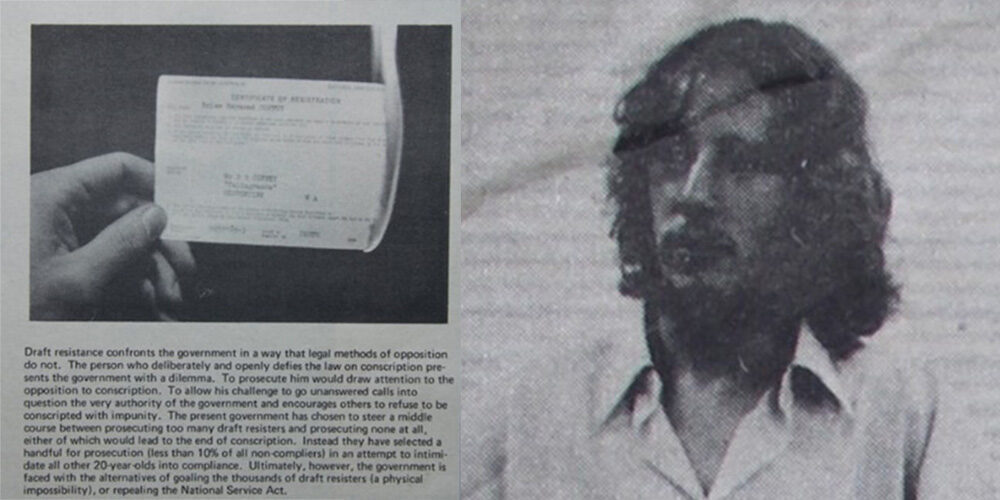 Image left: Paul Bridges burning his registration card to be drafted in the VIetnam War. Image right: Paul Bridges in the early 1970s as a Curtin student.
Anti-war articles were only just the beginning of a continuing flow of criticism challenging the status quo in the 1970s editions of Grok. Revolution was in the air and for the first time, many people who had felt invisible, underrepresented, or had experienced discrimination began to give voice to their truths openly.
Women's liberation and gay liberation movements became more established in Perth, with Grok reprinting speeches by feminist groups and reporting on birth control and the opening of women's sexual health clinics in nearby suburbs.
In 1979, an entirely women's run edition of Grok was published: Volume 12, Number 7. This was edited by the Guild's Women's Officer Barbara Weimar and the issue was provocative: one page showed a photograph of a woman who had died after an attempt at self-abortion. The content was meant to spark conversations around women's liberation, equality, and control over their own bodies.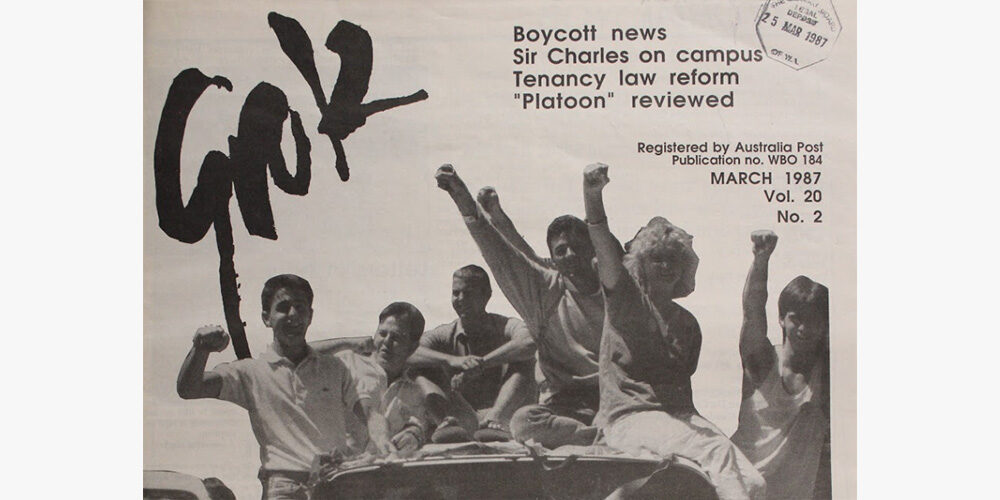 Image: Part of the cover of 'Grok' 1987, Volume 20, Number 2.
Other editions were filled with protests against South African apartheid, calls for Aboriginal land reform and political rights, support for the Palestine Liberation Organisation, debates on international politics, fear of the looming threat of nuclear weapons during the Cold War, and the constant concern of funding cuts to education across Australia.
In 1972, Grok also reported on the Aboriginal Tent Embassy being established outside Parliament House in Canberra, a protest by Aboriginal Australians against the government's approach to land rights and a call for Aboriginal sovereignty and self-determination.
Articles never moved too far away from student issues, including one of the biggest obstacles at the time: the introduction of university fees in 1989 under the HECS scheme. Prior to this, university education was free in Australia. Student protestors believed the HECS scheme would make education less accessible and egalitarian.
Grok fostered the writing and journalistic dreams of leading authors today. One of Australia's most well-known and celebrated authors, Tim Winton (BA English, 1980), first published some of his short stories, such as 'The Woman at the Well,' 'Seven Tens' and 'The Happiest Man in the World,' in Grok's 1979 and 1980 editions while studying at Curtin (known then as WAIT).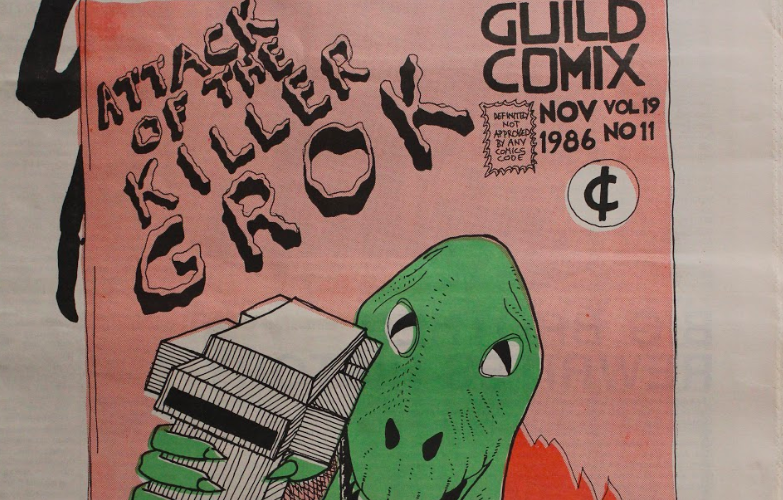 Image: Part of the 'Grok' 1986 cover, Volume 19, Number 11.
In the 1990s, Grok entered a golden era of fame and success. Former Editor Adam Connors (BA Honours English, 1995) reported that Grok was distributing around 7,000 magazines on campus and around the city, with it being one of the most prominent alternative publications in Perth. This was Grok's largest circulation to date.
The early 2000s brought a shifting media landscape, with the expanding Internet leading to discussions around the 'death of newspapers'. Increasing cuts to funding caused the paper to disappear and then re-appear over the course of a decade.
Those we spoke to for this article said the newspaper was their strongest memory of their time at University. The 1972 Sports Editor, Garry Feeney (Associateship in Social Sciences, 1972), said the paper's staff was a group separate from everyone else.
"We were the people who were in everything. We did the parties, the drugs, the protests and demos, student politics, the student newspaper and the dramatic society. There was a lot of crossover. It was heady and exciting because you really felt like you were a part of what was happening in the world. It was an illusion. This was Perth — the second most isolated city in the world. Nobody gave a damn what we did or said, but for a while there it felt like they did."
Adam Connors has high praise for Grok, stating that what set the publication apart was that it was "the get-yourself-in-trouble, push-the-boundaries, tackle-the-hard-topics-around-student-unionism-and-sexuality and hold-the-Guild-accountable" magazine.
In 2018, under the leadership of Jay Anderson (MA Research in Fine Arts, 2021), Grok was transformed from the skeleton frame of its former glory into a renewed, thriving community of passionate writers and close friends. Some of the changes Jay made included revamping the paper's presence online with a new website and social media pages.
Grok's current Chief Editor, Mohammed 'Ayo Busari,' is continuing Grok's legacy of reporting and storytelling. He says the magazine has given him the opportunity to work with passionate, imaginative people and boosted his confidence to share his art in an entertaining and creative way.
Over its lifetime, Grok has not only captured the growth of the University, but it also captured glimpses of Australia and the world through its articles, reports, poems, short stories, designs, photographs and reviews. To look through Grok is like looking through the contents of a time capsule holding snippets of our student body's shared experience.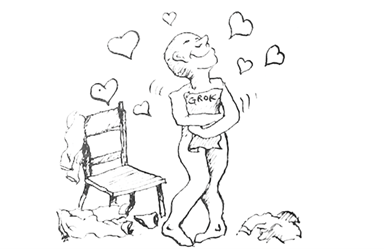 Where are our Grokians now?
Adam Connors
Adam Connors (former BA English student, 1995) works as the network producer for regional and local ABC News in Brisbane. His journalism career has taken him all over the world. Starting out as a young film journalist with The West Australian and The Australian, Adam later travelled to Hong Kong working with Time Magazine. His experience in putting the first editions of Grok online in the 90s led to an opportunity to also put Time Asia and Time Europe on the Internet. More recently, Adam has written about a range of issues for the ABC, including the Murray-Darling crisis and conflict in Papua New Guinea.
Melissa Davey
Melissa Davey (BA Journalism, 2007), Grok's Editor in 2007, is the current medical editor for Guardian Australia. While her recent articles predominantly cover COVID-19, lockdowns and vaccinations, Melissa won Walkley and Quill awards for her investigatory work into disgraced surgeon Emil Gayed and contributions to women's visibility and gender equality. Melissa was also one of the only journalists to cover the trial of Cardinal George Pell in depth.
Tim Winton
Award-winning author Tim Winton (BA English, 1980) wrote some of his first short stories in Grok, and his first novel 'An Open Swimmer' while studying at Curtin. It won the Australian/Vogel Literary Award in 1981 and launched his literary career. He has gone on to publish 26 books in over 30 countries and is the only author to have won the Miles Franklin Award four times. In 1998 Tim was awarded the Centenary Medal for service to literature and the community. Curtin University has named a lecture theatre in his honour.
Deanne Cheuk
Deanne Cheuk (BA Design, 1994) contributed illustrations and designs to Grok in the early 90s. She is now a world-renowned New-York based art director, illustrator and artist, having worked on numerous prestigious publications, including Tokion Magazine. Deanne became a magazine art director at the age of 19, soon after graduating from Curtin. Since then, she has been commissioned by major companies such as Levi's, Nokia, Nike, MTV and The New York Times Magazine. Most recently she published a novel, 'Mushroom Girls Virus,' and launched her own product line.
Craig Reardon
Craig Reardon (BA Film and Television, 1984) was Grok's Music Editor in the early 80s and interviewed renowned bands such as INXS. After graduating, he moved to Melbourne to pursue a career that has spanned music video production, web branding and marketing management. He is now a virtual and business marketing specialist and is also writing a semi-autobiographical book based on his student days in Perth.
Rod Cole
The man who named the paper as it is today, Rod Cole (Bachelor of Applied Science, 1974) has spent his life campaigning for justice promoting environmentalism. He worked as the first gardener of WA Herbarium, now known as the Department of Parks and Wildlife, helping to document WA's flora, and co-founded the Campaign to Save Native Forests WA in 1975. In the 1980s, Rod's interests turned to psychology, and he worked as a counsellor for the Child Abuse Prevention Service in Sydney before becoming a psychotherapist specialising in Jungian thought.
Check out what students are writing about in Grok Online today here.
This article was originally published here and has been edited by the author, Luisa Mitchell.
___
Share this article:
Explore more information featured in this article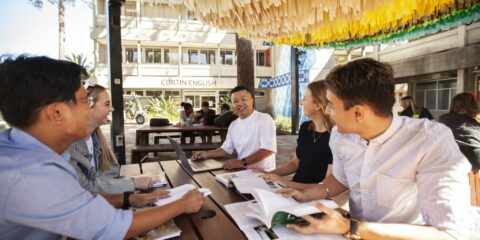 Humanities
Through the humanities, we learn about the world around us, ethics, human rights and issues that relate to and challenge our own beliefs, values and assumptions. Find out more about our Humanities community.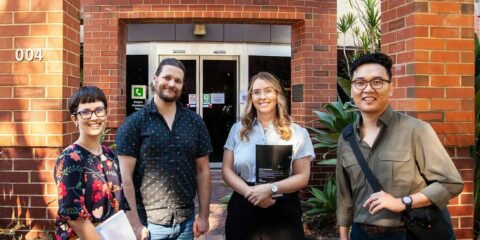 CurtinFM Radio
Many of our journalism students started out practising their skills at CurtinFM Radio, formerly known as 6NR. Students are still benefitting from this fantastic volunteer-run station today.