Entrepreneur uses business knowledge to diversify and create meaningful change in WA
03/04/2023. By Carmelle Wilkinson.
John Barrington AM.
From a young age, WA business leader John Barrington AM learnt the importance of giving back.
A Cottesloe Surf Life Saving Club member since he was six, John not only developed a competitive spirit in his early years, but a strong desire to help others.
Now, an esteemed and successful WA entrepreneur, the Curtin Business graduate remains committed to developing and strengthening WA's business community – all while acting as a social service crusader.
As Chair of the Harry Perkins Institute of Medical Research, the John Curtin Gallery, Curtin School of Management and Marketing and Deputy Chair of the National Portrait Gallery of Australia, John has lent his experience and interdisciplinary business knowledge to diversifying and creating meaningful impact in WA.
From founding the John Barrington Consultancy Group in 1994 to expanding your repertoire in 1999 to launch Nerve Systems – an early data mining predictive analytics company, it seems entrepreneurship was always on the cards for you?
I was a teenager when I decided I wanted to go into business.
My father was an entrepreneur and dinner time conversations were always about business, usually interrupted by business phone calls.
Bizarrely, my father was dead against me going to university and it was my mother who turned him around and I had three wonderful years here at Curtin.
My father would have loved for me to join one of his businesses following high school, but I always wanted to walk my own path.
I was the first person on both sides of the family to go to university.
In a bold and courageous move, you recently stepped down as CEO of Artrya, an artificial intelligence healthcare company you helped co-found in 2018. Surely that wasn't an easy decision to make?
As co-founder I always knew that a time would come when it would be in the best interests of the company for me to step aside as CEO.
That time was now.
Artrya Limited, is a proudly owned Western Australian company whose main purpose is simply to save lives by using AI to detect the real cause of the world's largest killer: heart disease.
I believe new leadership and a new skillset will bring a range of new possibilities for the company and, as the largest shareholder, I remain keenly interested in the company's growth.
Your insight, diligence, collaborative nature and inclusive approach, has set the standard for business leaders not just in WA, but throughout Australia. You must be extremely proud of what you've been able to achieve during your 40 year career?
Yes, I'm proud of my solid career portfolio, but I've only been able to achieve this by working with great people and doing things I am truly passionate about.
That's how I operate and how I've always operated. I find areas I am interested and passionate about and then throw myself in – I love making a contribution.
I've always had a strong interest in business.
I'm intrigued by how organisations work and how these groups of people best work together to optimise outcomes.
My work as a strategist over 25 years always started with defining purpose, whether it be for a company seeking a new direction, a non-profit trying to make a difference or an individual trying to make their mark.
We all gain by identifying who we can respectively serve and how we can benefit those people.
Throughout your career, you've always made time for community. Serving as the chair on several boards, including the Perth International Arts Festival and John Curtin Gallery. Where does this spirit of giving back come from? And is there an artistic side to John Barrington we don't know about?
Haha definitely not.
I don't have a creative bone in my body. I did piano and guitar lessons once, but I was hopeless.
I'm just an art consumer. I love seeing humans perform and being creative, it inspires me.
So does giving back.
When I was six, my mother enrolled me in Cottesloe Surf Life Saving Club.
The motto of the Club has always been 'Vigilance & Service'. I trained in surf rescue, learnt cardiopulmonary resuscitation, and I developed a competitive spirit.
I recognised that members were willing to risk their lives to save other people, and I thought to myself that's a good way to live your life.
The Club became instrumental in the development of a core belief I have carried with me throughout my life: the importance of service, of giving back.
Once you experience the joys and satisfaction of some sort of community service, you'll discover that the purpose of life is not just to be happy, but to be useful, to be honourable, to be compassionate.
In my teenage years I formed a view that we all take a lot out of society, and we need to give back.
When I was 17, I became the youngest captain of Surf Life Saving Club Cottesloe – which didn't go down too well with my father, he was livid. Being the businessman he was, he was concerned this would distract from my last year of high school.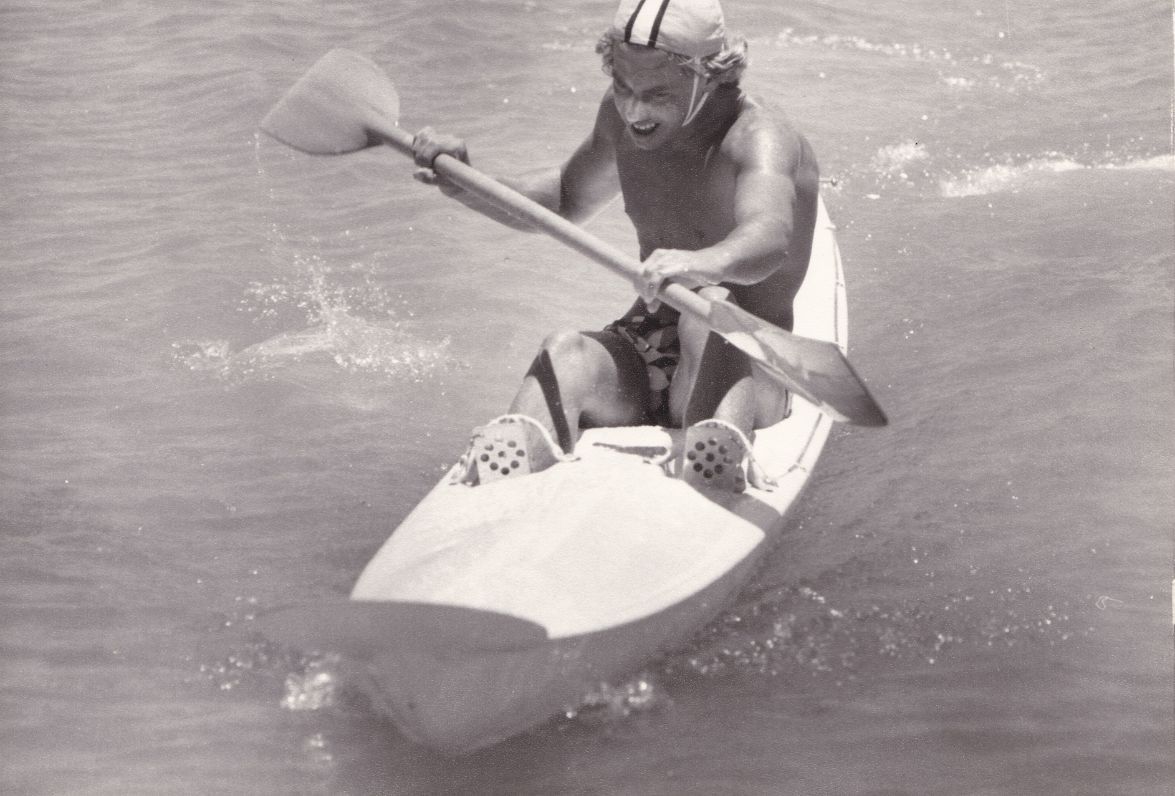 John winning the Surf Life Saving WA Cadet Surf Ski state championship in 1973.
Club captain is an incredible honour and responsibility at just 17 years of age. How did you find the experience?
It was great. I was club captain for three years and during this time was responsible for 600 members.
A highlight of my term was putting through our first ever group of women to get their bronze medallion.
Previously, while women were allowed to join the club and assist with fundraising, they weren't able to be a surf life saver, because it was assumed women couldn't swim, paddle a surf ski or row a surf boat as well as men – which as we know is completely untrue.
I know many women who are better swimmers than me.
I'm incredibly proud I was a part of this important change in Australian Surf Life Saving history.
In later years, everywhere I've since chaired boards I've been a champion for diversity.
I genuinely believe in supporting women, young people and other diversity in the workplace and driving more diversity into leadership and board roles.
As a champion for both business and the arts, do you have any words of wisdom for our students and alumni community?
If you have a strong purpose in life, you don't have to be pushed. Your passion will drive you there.
Passion and satisfaction also go hand in hand, and without them, any happiness is only temporary, because there is nothing to make it last.
So how to find what you are passionate about? Well, that's the hard bit. It takes time and effort. You need to try new things, offer yourself to new experiences and experiment.
I often tell new graduates, their generation will see the most change in history and they'll probably have half a dozen careers. Changing careers every 8-10 years.
My advice is to seize all the opportunities that come your way.
Do the hard work and throw yourself into it.
I used to feel guilty or embarrassed to say I work 7 days a week, but I've now reached a point in my career and life where I am thankful I get to do what I love every day.
___
Read more stories like this one