Curtin's first cohort of medical graduates, report to frontline
13/12/2022. By Carmelle Wilkinson.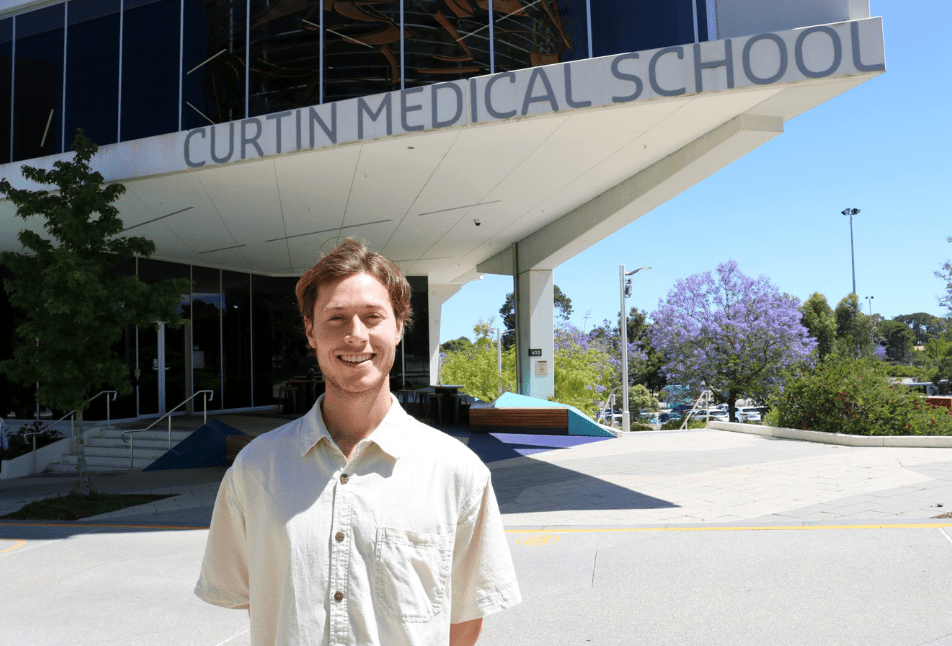 Curtin graduate and Rhodes Scholar James Leigh outside the Curtin Medical School.
Warning: This article discusses death.
Curtin medical graduate and recent Rhodes Scholar recipient James Leigh might have been destined to be a doctor.
An old photo dug up by his mum recently, shows a smiling five-year old sitting at a desk in pre-primary with the word 'doctor' in front of him, dressed in a white coat and hair net.
"I honestly can't remember taking that photo, but maybe medicine was always in my future,'' he laughed.
"My parents are both teachers so I can't even say it runs in the family. I just wanted to help people and I knew medicine would allow me to work anywhere in the world and there were so many different fields within it."
The 23-year-old junior doctor who is currently completing his first-year internship at Fiona Stanley Hospital, was recently awarded an Australian Rhodes Scholarship to study at Oxford University.
The early Christmas present will see James pack his bags and head to the UK in September next year, where he plans to do a Master of Science in Applied Digital Health.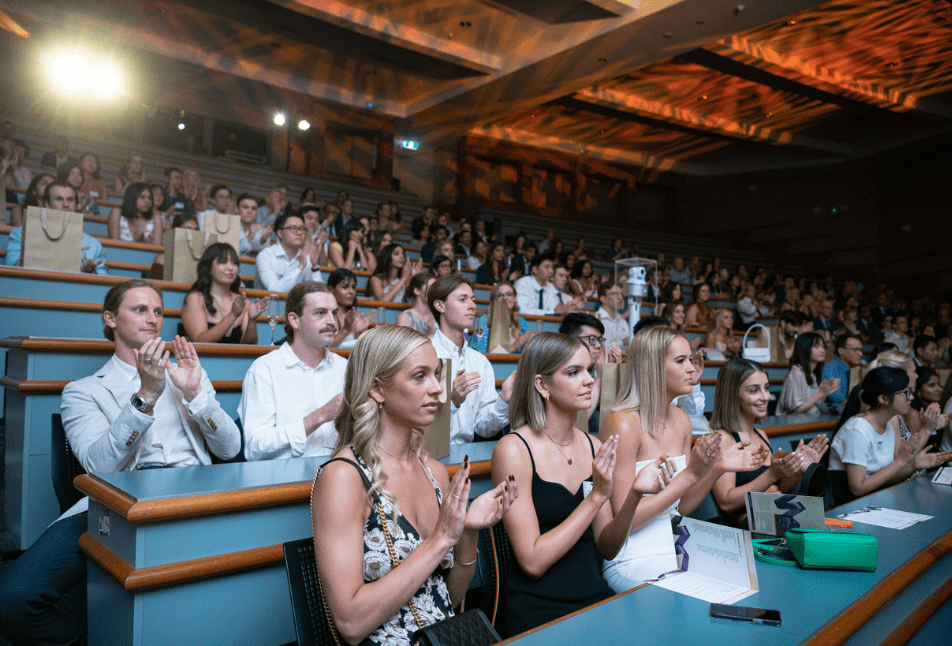 Curtin's first cohort of medical students at their graduating ceremony last year.
One of Curtin's first cohort of medical graduates, James reflects on his first year on WA's frontline and provides a candid insight into a hospital's Emergency Department (ED) with its bright fluorescent lights and incessant beeps and alarms.
"The funny thing about working in ED is that 4am in the morning looks the same as 4pm in the afternoon,'' he said.
"With no clocks or windows, you're pretty much in your own little ED bubble with no idea of what's happening in the outside world.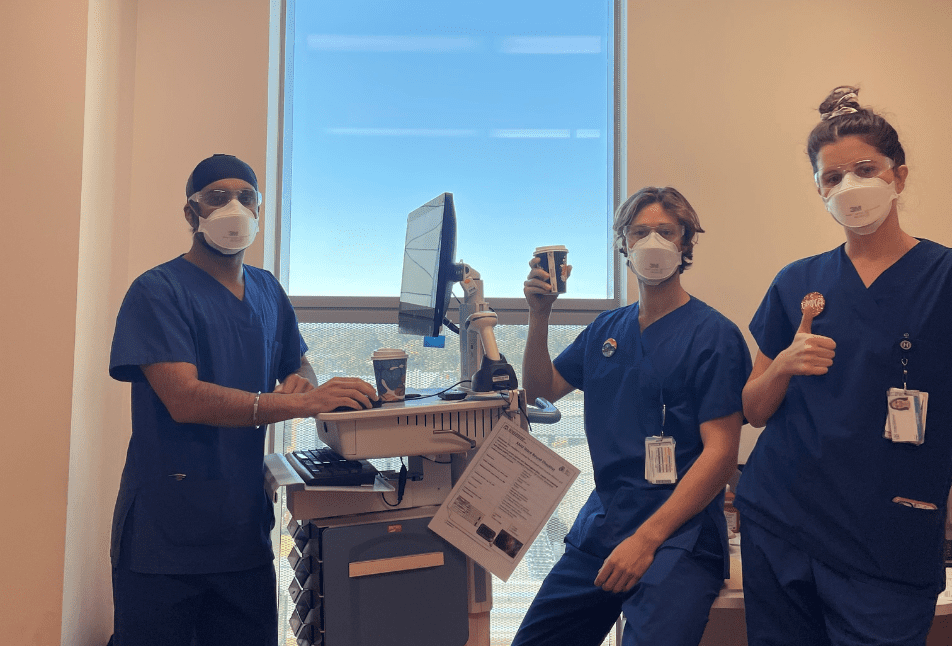 James and fellow Fiona Stanley colleagues at work.
Aside from catching COVID-19 from the ED, it's safe to say James also caught the knack for dealing with a crisis.
"I'm definitely handling emergencies a lot better. When I first started, I remember my stomach would drop and I would instantly get the sweats when the ED phone lit up,'' he said.
"When that happens it usually means there is a priority one patient on the way and it's our signal to get everything ready for their arrival. The phone has a motif on it which looks like Batman which is quite amusing in that sense, but it's actually very serious when that phone rings.
"Everyone immediately drops what they are doing and rush to assist because it could mean the difference between life and death."
James has enjoyed his first year at Fiona Stanley Hospital and is excited about what's to come.
While most days brought great joy, from seeing a patient recover and go home or make great progress in their treatment, there are dark days when situations don't have happy outcomes – and on those days James said it was important to talk to someone.
"I remember I was helping resuscitate someone whose heart had stopped for a long time before he was brought in and even though there was very little chance of survival, we still did everything we could.
"It was my first-time giving CPR to a person, and it was pretty intense. We did this for over 20 minutes and by the end of it I was dripping in sweat and my scrubs were completely soaked.
"Sadly, that patient didn't make it and afterwards I remember feeling completely drained. I was wrecked. I slowly walked away and went to have a shower in the hospital showers.
"Removing the soaked scrubs and replacing it with a new one was symbolic of me washing away the emotions of what had just happened and moving on."
While the job had its highs and lows, James said he was humbled by patients who despite their prognosis always managed to smile and be nice to staff.
"I would imagine some patients would be feeling very anxious and frightened about their diagnosis and the future, not to mention the pain or discomfort they are experiencing in terms of regular blood tests and surgery, but they are so strong,'' he said.
"You need to be able to feel to a degree what your patients are feeling and where they're coming from, but you also need to remember to look after yourself and find that balance."
After one year on the job, James said he was feeling a lot more up to the challenge.
James attends Campus often to tutor fourth year medical students.
"Hearing your friends and family call you Dr, takes some getting use to, even if they are taking the mickey half the time,'' he laughed.
"While there is still so much to learn, and my peers and I are still extremely junior, I'm slowly beginning to accept my role and I feel I've been doing it long enough now to feel a bit worthy of the title."
Fellow medical graduate and friend Saya Barnes said the incredible support from the WA hospital system and her peers helped mitigate stress and burn out.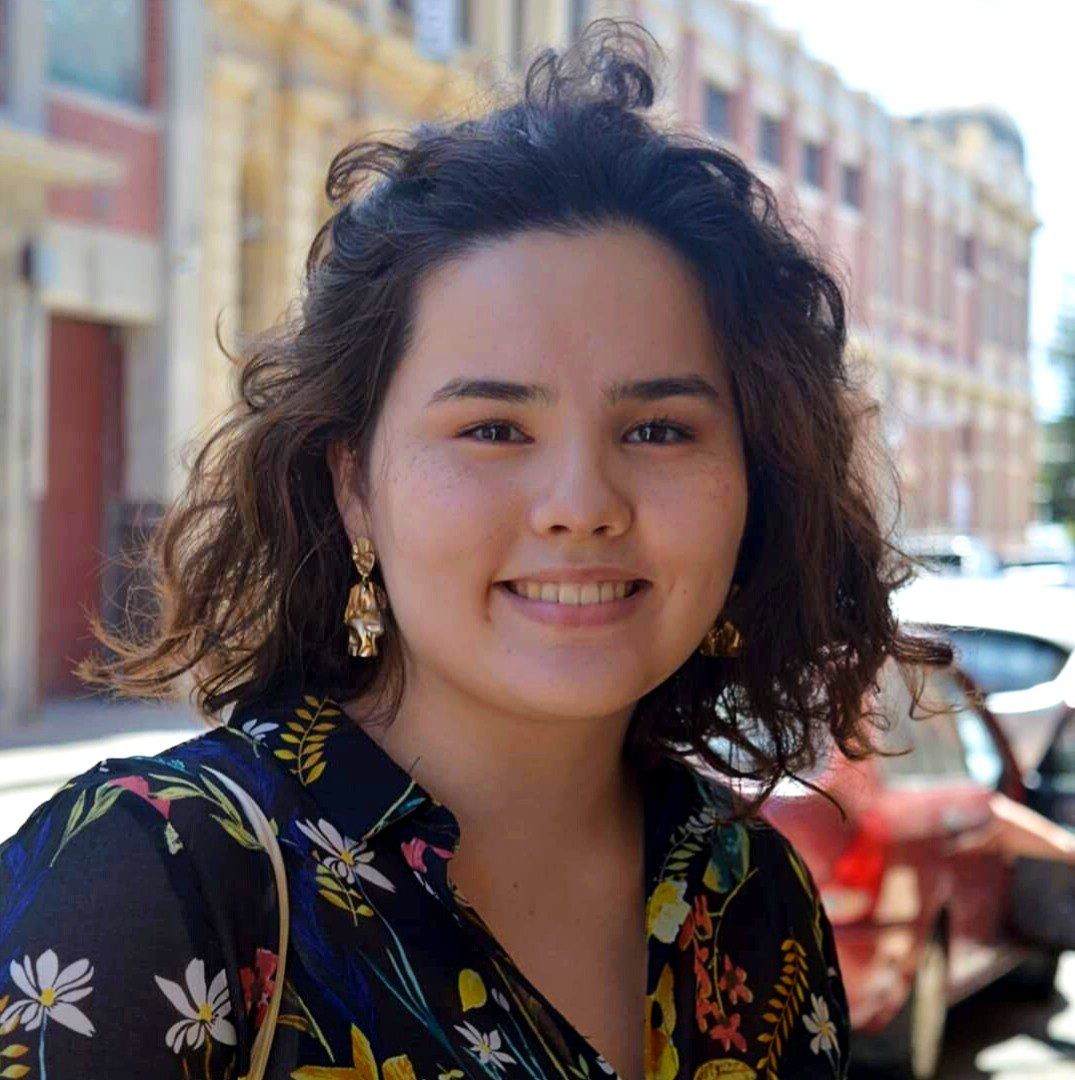 Saya has enjoyed the positive and wholesome community at Midland Hospital.
Her first year at Midland Hospital saw her work across an array of areas including general surgical, gynaecology, obstetrics, and emergency.
"One of the reasons why I chose Midland was because I did my fourth-year practice here and I found it had a very positive and wholesome community,'' she said.
"There is also a smaller cohort of interns compared to the other tertiary hospitals, which I guess in some aspects is quite similar to our cohort of medical graduates from Curtin.
"Being only 60 of us we all knew each other and there was a real sense of camaraderie."
Looking back on her first year, Saya said the highs outnumbered the lows.
"Overall, I have had quite a positive year. The support from the consultants and registrars has been amazing,'' she said.
"In terms of exposure, I got to assist with elective operations and some emergencies and by the second half of the year I was running early pregnancy loss and gynaecology clinics by myself."
Saya said one of the greatest learning curves was learning how to deal with the dreaded 'imposter syndrome', where young doctors second guess their ability.
"It's absolutely a thing, and most new doctors experience it,'' she said.
"You suddenly have to make some incredibly tough decisions at the drop of a hat, and it's common to ask yourself am I good enough? Do I know enough?
"I definitely still get the sweats and feel my stomach churn in high pressure situations but I'm learning to just believe in myself more."
Curtin medical graduate Emily Ford is wrapping up her first year at St John of God Hospital in Midland, before packing her bags and relocating to Albany next year.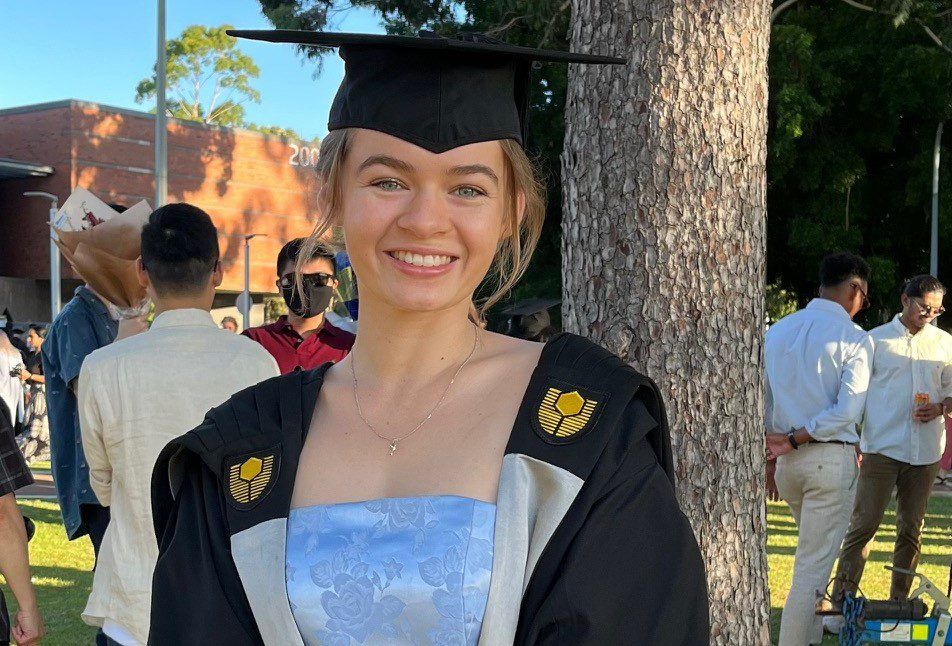 Emily at her graduation ceremony at Bentley Campus last year.
"I completed my fourth year prac in Carnarvon and really enjoyed it, so I'm looking forward to working in the country."
"Among the highlights of my year has been working with the senior doctors and hearing about their clinician pathways and how they got to where they are,'' she said.
"And that is the many great doctors and nurses who despite the challenges and chaos remain patient and calm and maintain that patient relationship. That's been really rewarding to see."
Born in Broome, to South African parents, Emily said she never really considered a future in medicine until after she left high school.
"My older sister went to Curtin, so I always knew I wanted to study at Curtin, I just wasn't sure what,'' she said.
"I had an interest in law and international relations, but also loved the mixture of art and science in health."
In the end, medicine won, and Emily hasn't looked back.
"There are so many aspects about medicine to love,'' she said.
"No two days are the same and in some situations, you find there's no text book knowledge to assist you. All you have is what is in front of you, your stethoscope and your team."
Her advice to future Curtin doctors?
"If you've had a rough day, pick up the phone and talk to someone. It always helps to talk to someone.'' she said.
"Sleep is also important and of course, exercise and eating right. You need energy to last those long shifts and you feel so much better for it."
"And for anyone considering medicine at Curtin, I'd say go for it. You're going to get a great medical education and make life-long friends."
___
Read more stories like this one