Community pantry and Dinner Twist serve up food supplies to students facing financial difficulty
15/02/2022. By Carmelle Wilkinson.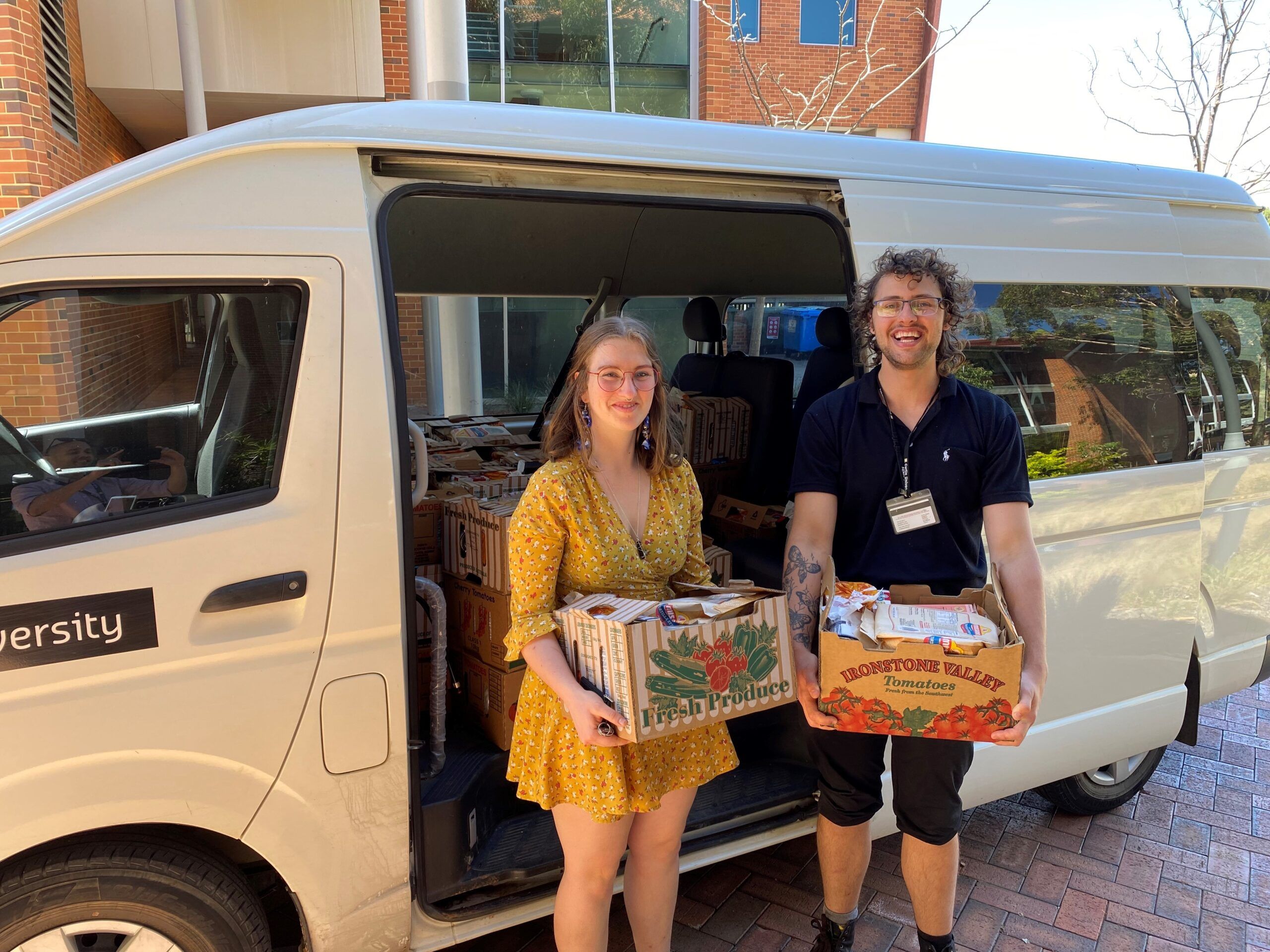 Curtin volunteers deliver food boxes to students experiencing financial hardship.
When COVID-19 struck in 2020 no one could have predicted the financial, emotional and mental pressures it would place on students.
Campus closures, limited employment opportunities in hospitality and retail and separation from family and friends pushed many students into financial and housing stress.
As the impact of the global pandemic began to hit home, our Student Success team took action to assist students most at need by setting up a community pantry.
Coordinated by Marc Phillips, Lead Community Programs and Volunteering, the Curtin Community Pantry is a fantastic initiative to support students doing it tough.
Stocked with food staples such as beans, rice, pasta, tuna and other essential items such as toiletries, the on-campus pantry is available to students who need it most.
"If you're doing it tough, we got your back. As part of the Curtin community, we want our students to know they are always supported, particularly during these uncertain and challenging times,'' Marc said.
"Something as simple as a smile goes a long way when you're having a bad day, but we wanted to do more. There is no greater stress than worrying if you have enough money for food, so we wanted to take some of that pressure off our students.
"We want people to think of Curtin's Community Pantry as their pantry at home. It's always stocked, and you're welcome to pop in and grab anything you need. There is no judgement and no need to ask for permission."
Marc said the initiative also provided an opportunity for students and staff to give back to the Curtin community through donations or volunteering their time packing, sorting and re-stocking shelves.
Last year a generous donation of $50,000 from the Curtin Cares fundraising program facilitated a successful food drive with Curtin Ignition participant, Dinner Twist.
Dinner Twist teamed up with Curtin Community Pantry volunteers and Student Success staff to prepare and distribute 900 food boxes to students doing it tough.
A further 90 Dinner Twist vouchers were distributed to students living outside of the delivery range.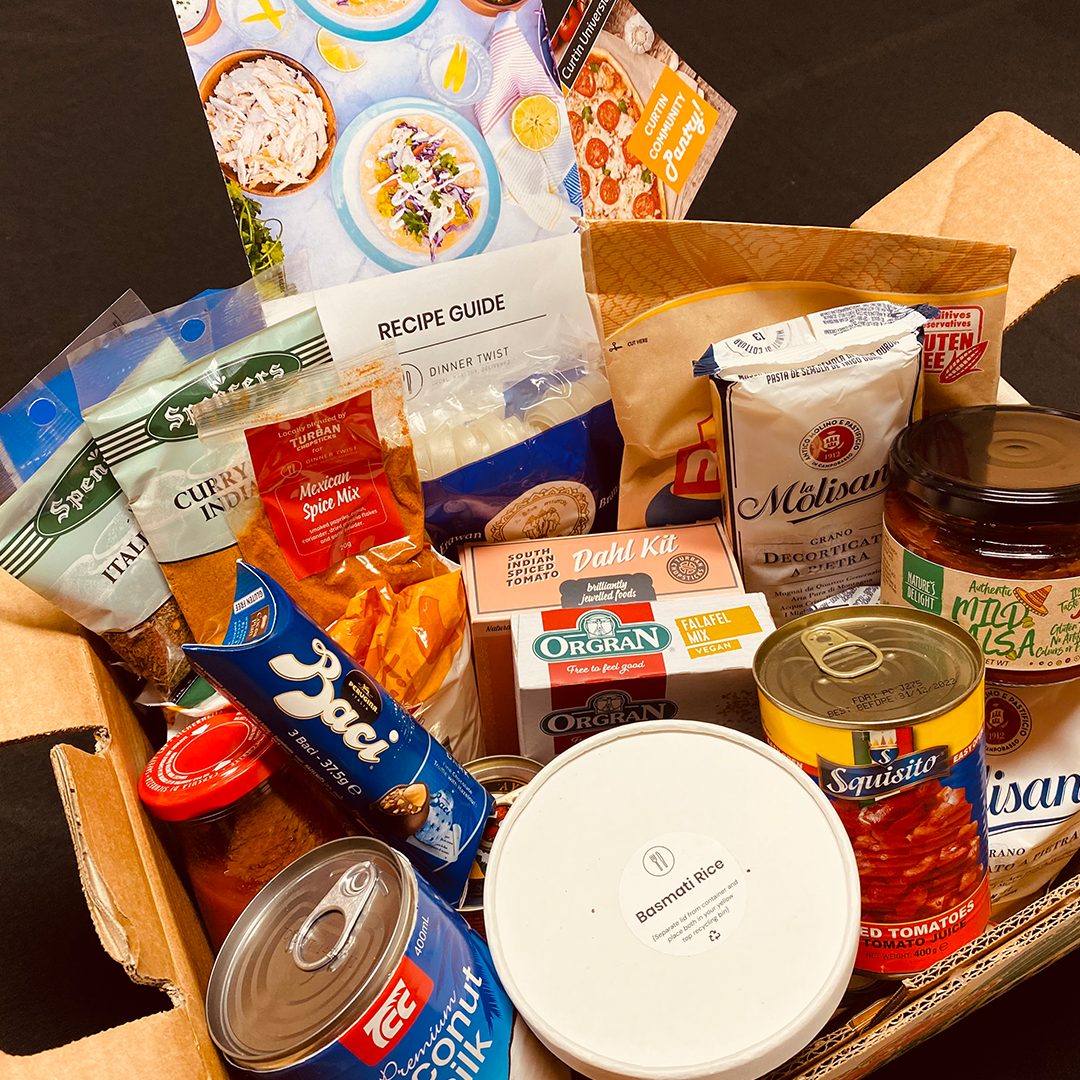 A look inside one of the food boxes prepared by Curtin Community Pantry in partnership with Dinner Twist.
Dinner Twist founder and managing director Chris Tistrand said there was no hesitation when he was invited to join the pantry drive.
"As a business, we only exist because the people of WA chose to get behind us. We owe everything to the community that allowed us to thrive. We are a purpose driven company and believe we should all strive for better, together,'' he said.
"Supporting local producers and engaging in the community is something we love doing. I was very impressed by Curtin University when I learnt of the program and loved the opportunity to help make a difference."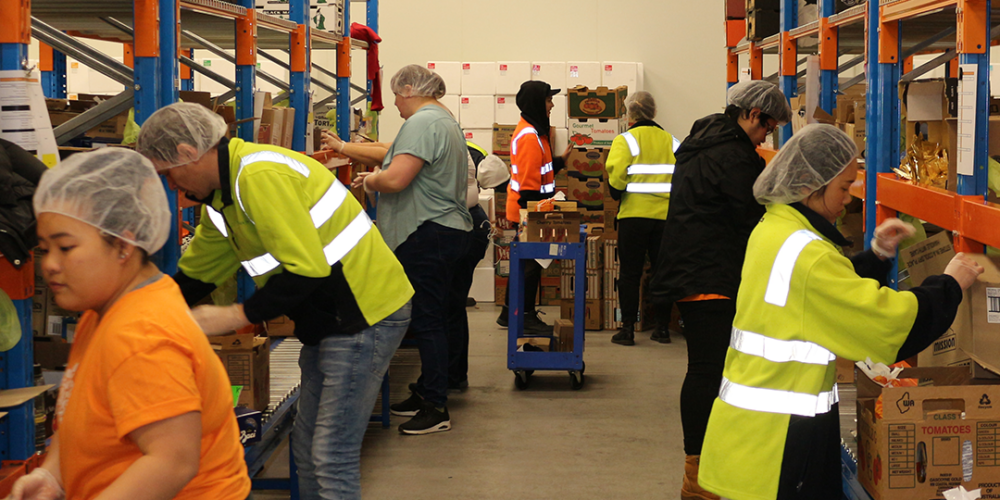 A team of 15 students and volunteers help pack food boxes at Dinner Twist headquarters in Canning Vale.
With a key goal of helping people make positive eating choices, and creating a sustainable future, Dinner Twist was born in 2012.
Located in Canning Vale, the local business is now at the forefront of bringing families in WA together for dinner and improving environmental impacts by reducing household use of plastics and food waste.
"When my wife My and I started Dinner Twist we had no idea how to run a business. However, in 2015 this all changed when we managed to get the attention of Business News who awarded us Start-up of the year, and we were awarded a spot on the Curtin Ignition program.
"The opportunity to attend an intensive week of workshops, mentoring sessions and clinics was a game changer for us. I learnt tactics that we immediately applied which freed up cash to fuel our growth. I also met many successful entrepreneurs who generously shared their knowledge and I still reach out to some of them today.
"Starting a business is super fun and super hard but I don't think we would have had the resilience to keep building our business if it hadn't of been for Curtin Ignition."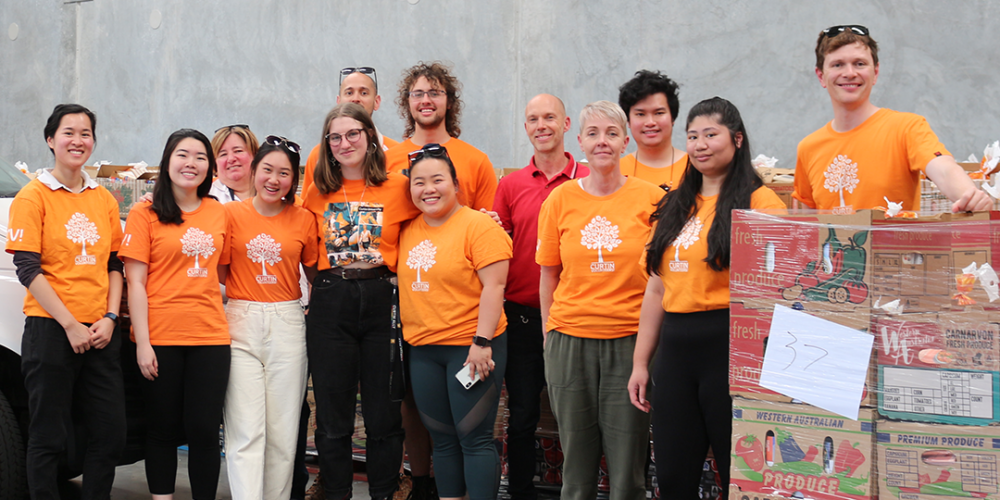 Boxed and ready. Volunteers get ready to load the food parcels for delivery.
Now in its second year, Marc said the feedback from students had been well received.
"Over 90% of the 92 respondents to our recent survey gave us 5 out of 5 stars for overall satisfaction of the service. Recipients also indicated that the support received reduced financial stress, improved mental health and wellbeing and increased their satisfaction of studying at Curtin,'' he said.
"We pride ourselves in making the service as accessible as possible and we want students to know there is support for them if they need it, that's our main priority.
"It has been a rewarding experience to be involved in and it's incredible to observe, first-hand, the generosity of our Curtin staff, students and the wider community without whom this initiative would not be possible."
Located on Level 2 of building 101, the pantry welcomes non-perishable food donations from staff, students and the community.
For more information please email communitypantry@curtin.edu.au.
___
Read more stories