Actors push disability boundaries in new Curtin production
14/10/2022. By Carmelle Wilkinson.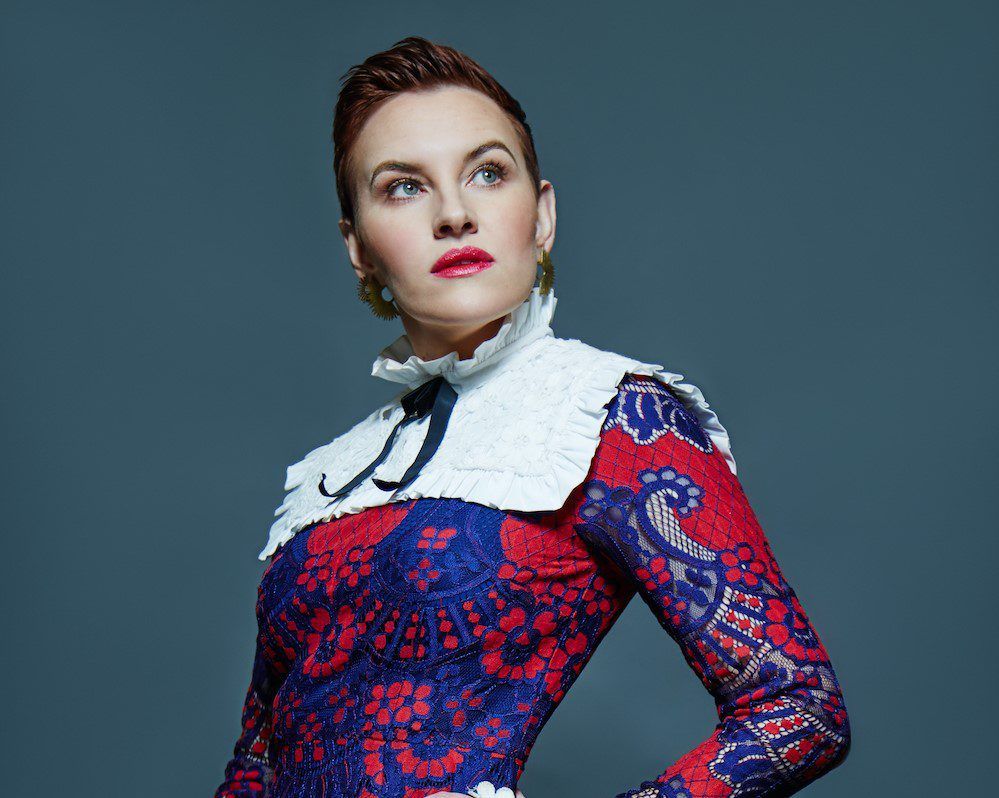 Australian actress Kate Mulvany.
Performing on stage as William Shakespeare's villainous character Richard III was an experience Australian actress, screenwriter and playwright Kate Mulvany will never forget.
The seasoned actress who appears in TV series Hunters and featured in Baz Luhrmann's Elvis movie, said playing the bloodthirsty, opportunist "hunchback" in Bell Shakespeare Company's Richard 3 in 2017, was both an enlightening and empowering experience.
The Curtin Arts graduate, who identifies as disabled herself, said spinal trauma caused by childhood renal cancer saw her spend many years in hospital.
Linked to her father's exposure to Agent Orange during his service in the Vietnam War, Kate said several rounds of radiotherapy and the removal of her kidney and several ribs had left her with severe scoliosis and chronic back pain from the age of 10.
"Terrible words which we don't use anymore, such as deformity, malfunctioning and abnormal, were used to describe me,'' she said.
"I wasn't aware I could use the word disability growing up, which I think is such a beautiful word. It wasn't until I played Richard about five years ago, that I really kind of came out and embraced it.
"I'd always talked about my cancer history, but it was the first time I really came out and owned the word disability. I am disabled and I have been since I was conceived.
"I find it to be a very freeing word and it hasn't hindered me in anyway since. In fact, it's helped me. It's helped me find another community that I didn't really know I could be a part of."
Kate said it was lying there in the oncology ward that she discovered a love for books and storytelling.
A passion which would later lead her to the stage.
"Coming from rural WA we didn't have much of a theatre presence in Geraldton, but we had deep Indigenous culture.
"I learnt from a young age that storytelling and sharing stories was what I wanted to do, so I decided to study English at Curtin and took a double major in theatre and script writing.
"I remember one day being on stage performing Claudius in Hamlet and suddenly something clicked in. And I realised, this is it. It was one of those incredibly beautiful and rare moments."
As the proud patron of the Hayman Theatre, Kate recently returned to Campus to mentor theatre arts and marketing student Crystal Nguyen who plays the lead in the university's latest production Teenage Dick.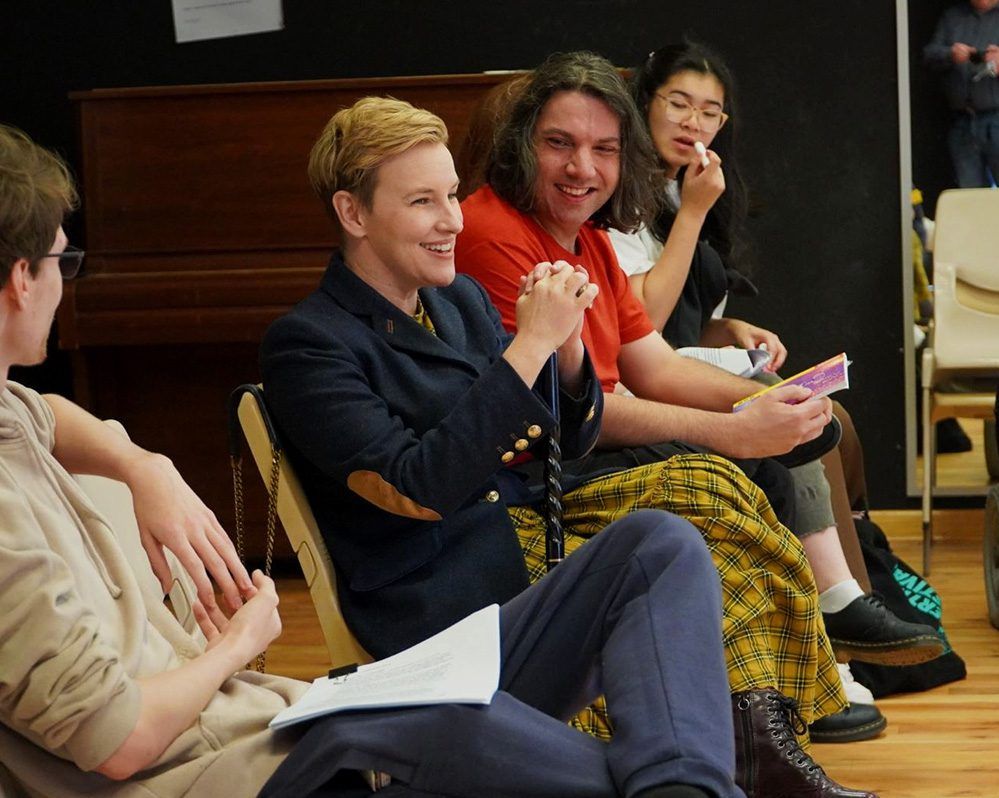 Kate offers invaluable advice to Teenage Dick cast members.
Staged by Curtin theatre arts students and led by performers and crew living with disability, Teenage Dick is a modernised adaptation of William Shakespeare's Richard III.
Set in a US high school, it features a young Richard (played by Crystal) who schemes and uses his disability to become Class President.
Directed by disability advocate Dan Graham, the Curtin production offers audience members accessibility options with an AUSLAN-interpreted performance and audio-description support.
Beyond their shared love for the stage, Crystal is also a disability advocate, who lives with Brittle Bones Disease.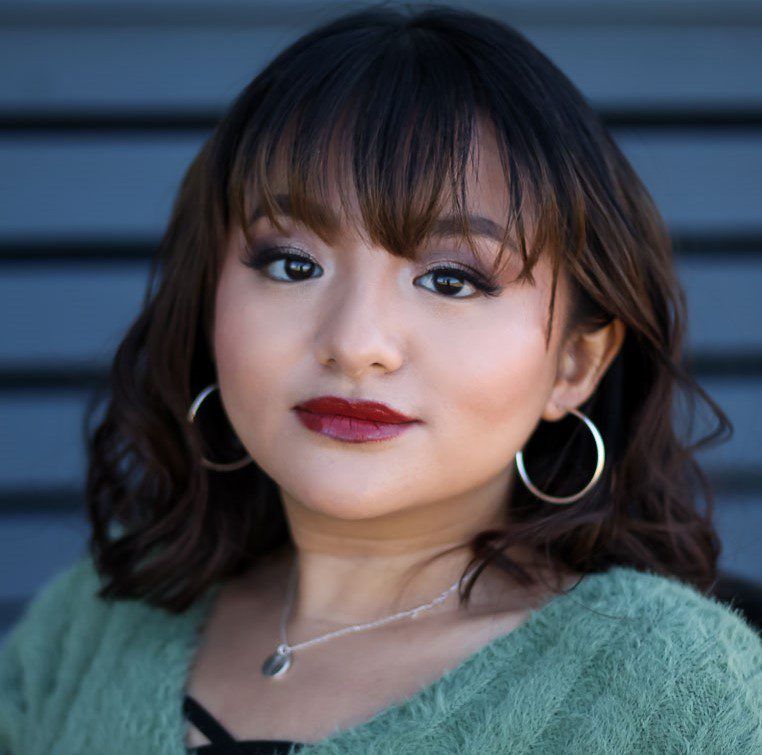 Curtin theatre arts student and lead in Teenage Dick production, Crystal Nguyen.
Originally from Vietnam, the 26-year-old said it had been a tumultuous journey to get to where she is.
"I have a complex relationship with my disability. Definitely when I was younger, say 15 or 16 my view of it was very different. I leaned into what people said about me and I just wanted to fit in,'' she said.
Crystal said working alongside an award-winning actress like Kate was an incredible privilege which was further strengthened by her deep understanding and sympathy for Richard III.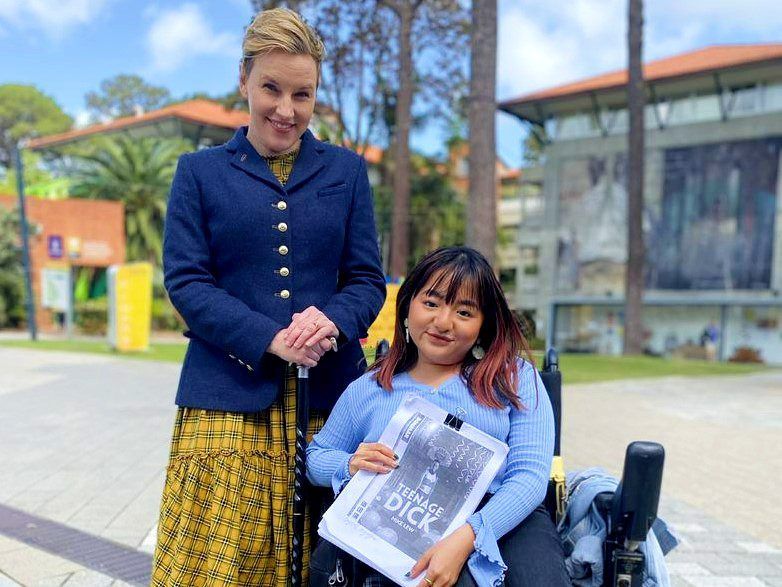 Kate and Crystal on Campus ahead of opening night.
"Kate is so down to earth and doesn't have an ounce of ego about her,'' she said.
"We met at the Basement on Campus, and I realised from the moment we started talking the similarities between our life trajectories. From living with a disability to playing Richard, and our starting points as artists.
"Kate has been a wonderful mentor. At first, I didn't like Richard and I was having a hard time understanding him.
"It took many conversations with Kate about his background and historical context to really see him as a real-life person."
Crystal describes an emotional moment during rehearsals when she realised, and finally understood his pain.
"I was doing the final monologue in front of the entire cast, and I started to cry. By the end of it I was shaking. It must have been quite scary for them to watch and afterwards they asked are you ok? It was all very dramatic,'' she laughed.
Reflecting on the advice Kate gave her, Crystal said the greatest takeaway was accepting that the pressure was on the audience if they relate or like Richard, not hers.
"I was feeling a lot of pressure at that point, and I told Kate I felt like I was almost lecturing the audience on how to view him, and she told me, Crystal, your job is to only present the facts and the story, and it is up to the audience to make up their own minds whether they see him as a villain or not,'' she said.
"And this also rings true with having a disability. It isn't up to us to make people feel a certain way towards us, I just need to act and be myself."
From giving her tips on stage, to encouraging her to dive deeper within the text to understand how Richard came to be this 'monster', Kate said mentoring young artists like Crystal was a fulfilling experience.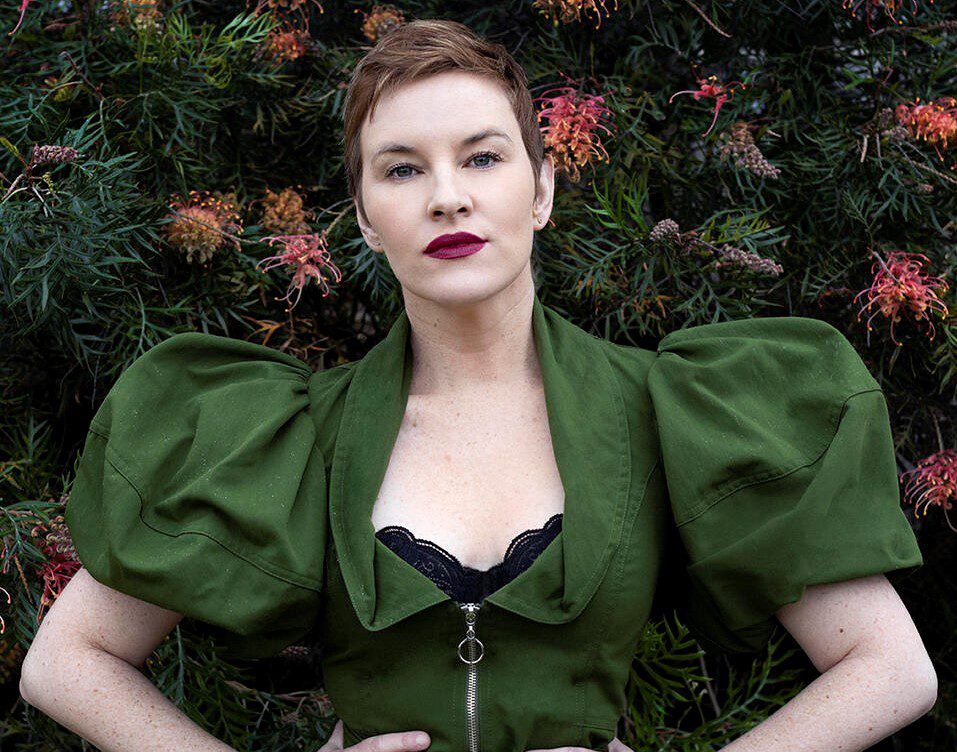 Kate is passionate about supporting young artists and preserving one of the most ancient forms of careers and crafts.
"When I was entering the profession, I didn't have too many mentors, especially those with a disability that were available to me, so I'm very passionate about being there for our young actors to help them navigate the industry, which can be a little tricky at times,'' she said.
"The first thing I tell them is they have a place. As artists, writers, actors, directors, producers, creators, I tell them we are involved in the most ancient of all careers and crafts.
"As artists you'll often hear things like how are you going to make money? How will you pay your rent? In my opinion those questions should be outlawed.
"The most important thing I tell them is that their craft has purpose, and they have every right to this career choice."
Kate said watching Crystal in rehearsals gave her goosebumps.
"Crystal is incredible. She's a true professional. I get tingles just thinking about it,'' she said.
"The audience are in for a real treat."
Teenage Dick is on at Hayman Theatre until Saturday October 15, 2022. For more information or to book tickets click here.
___
Read more stories like this one